Settle your mind - find the best care home for you, quickly and stress free
Residential care is a term that refers to the types of long-term care provided in a care home or specialist care facility. Types of care available in New Zealand are rest home, dementia, hospital and psychogeriatric. Access to residential care is via a formal assessment completed by specialised health professionals.
Where to start when considering residential care
We explain what residential care is and how it can help you here in this video.
It can be difficult knowing where to start when considering a move into a rest home, hospital or dementia care home.
Eldernet Residential Care provides unbiased and comprehensive information on every aspect of moving to aged residential care. It lists every residential care facility in New Zealand and, in most regions, provides up-to-date bed vacancies.
There is no such thing as 'the best' care home, as what suits one person doesn't suit another. Care homes vary considerably and there can be a wide range of rooms to choose from. The most important element to consider, however, is the philosophy and delivery of care. Use this website to find the care option that best suits your needs.
The Eldernet Group celebrates 25 years of empowering people
---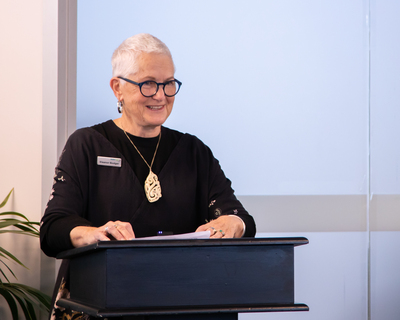 Company founder Eleanor Bodger speaking to guests and staff
The Eldernet Group recently celebrated its 25th anniversary with a special event, which included an appearance by 2022 New Zealander of the Year, Tā Tipene O'Regan ONZ. The milestone coincided with the opening of the organisation's new building, less than 1 kilometre away from where the company began in the Christchurch suburb of New Brighton.
"Over the past 25 years, we've seen people become empowered with information in ways we never thought possible, and we're delighted to have played a part in that," says Eleanor. "What we are particularly proud of is the way we haven't waivered from our vision of making life easier and better for all older people – even if that has meant rocking the boat over the years."