Victoria Care (Family Owned) - Koru
At a glance
Vacancy

Yes

Name

Victoria Care (Family Owned)

Category

Dementia

Address

901 Colombo Street
Christchurch Central
Christchurch 8013

Region

Canterbury

Phone

Fax

Email
Personnel
Manager

Sandra Williams - 02102745131

Hamish Bennett

027 630 1568
Other services
Victoria Care is a family owned and operated dementia home in a fantastic location.

Victoria care offers a slice of tranquility in the heart of Christchurch. Nestled on close to the center city with great gardens for our residents, with buses and cafes only meters away. We are a family focused boutique Dementia Home offering personal service, with security, but still providing for your independence.

Victoria Care is divided into 2 spacious homes offering slightly different homely feel so we are able to cater better for the individuals needs.

We have 2 other facilities in Christchurch - Kauri Lodge in Riccarton and Avon Lifecare in Linwood
View associated providers on the right hand side for more details

Victoria Care prides itself on having a homely environment with good home cooked meals and innovative activities.

Residents are offered a high standard of care, security, privacy, and independence in an environment which promotes good health and happiness with a family focus.
Service/Facility Details
Service/Facility Details
Detail
Status
Contract with Te Whatu Ora
Yes
Certification
Yes
ORA Applies
No
Updated: 7 Dec 2023
Bed and Vacancy Details
Bed and Vacancy Details
Detail
Status
Approximate number of beds at this level of care
49
Vacancy
Yes
Our rooms available have no additional charges. We have some ensuite rooms with additional charges.
Impending vacancy
Yes
Short stay considered
Yes
Premium Accommodation Charges
No
MOH Certification and Audit Report
View MOH certification and audit report (opens in a new tab)
Extra admission requirements due to COVID-19
Please enquire
Updated: 7 Dec 2023
Testimonials
Testimonials
"Mum and Dad are loving it at Victoria Care. The people are Great."
Dad loves to potter in the Man shed and vegetable garden he feels like he is at home the activities are great 7 days a week .
Updated: 7 Dec 2023
Personnel
Personnel
Type
Hours Per Week
Status
Details
Registered Nurse
Yes
We provide 24 hour Registered Nurse cover - Onsite hours are 7.45am - 16.15am daily - Monday to Sunday. Our nurses are oncall anytime
Healthcare Assistants/Caregivers
Yes
The heart of the community, who work hard to ensure that you or your loved one is well looked after. Our training programme ensures staff are trained in providing personal care, first aid and other important skills.
Physiotherapist
Negotiable
We have plenty of access to Physiotherapists if needed. Please ask us for more information.
Occupational Therapist
Negotiable
When required.
Social Worker (on site)
Negotiable
Accessed through Christchurch Hospital.
Activities Co-ordinator
Yes
Activities operate Monday to Sunday. There is a monthly activities planner posted around the facility.
Hairdresser
Yes
Every Wednesday morning - male and female. This is all done on site.
Podiatrist
Yes
Our Podiatrist visits every 4-6 weeks.
Dietitian
Negotiable
Our Dietitan reviews menus every 6 months and attends for special diets. We are also able to access the Dietitian at the hospital if needed.
Accredited Visitors
Yes
Age Concern registered visitors
Kaumatua
Negotiable
We endeavour to assist residents to maintain any cultural ties they may have in the community before coming to Resthaven.
Chaplain/Spiritual Advisor
Yes
Various religious groups can be arranged to visit to provide services for all of our residents.
Other Personnel
Yes
Victoria Care has a range of services available, such as Medication Delivery, Laundry Service, Appointment Transportation, Pharmacy Services, Medication Administration, and Interpreter Services.
Updated: 7 Dec 2023
Specialities or Areas of Expertise
Specialities or Areas of Expertise
Specialities or Areas of Expertise
Status
Details
Oxygen Management
Yes
We have staff who are capable in this area, and equipment to support this.
Gastronomy/Nasogastric Management
No
But we can access this if required.
End of Life/Palliative Care
Yes
The staff are experienced in end of life care.
Dialysis
No
But we can access this if required.
Wound Care
Yes
Diabetic Care
Yes
Continence Advice
Yes
Stomal Therapy
Yes
Tracheotomy Care
No
But we can access this if required.
Spinal Injuries Care
No
But we can access this if required.
Infection Control
Yes
Ongoing training of our R/Ns to ensure that they are capable in this area.
Surgical Followup
Yes
A staff member will escort residents to appointments if family member is not available, transport can also be arranged.
Psychiatric Care
No
But we can access this if required.
Clinical Management
Yes
Updated: 7 Dec 2023
Respite, Carer Support or other Short Stay
Respite, Carer Support or other Short Stay
Respite, Carer Support or other Short Stay
Status
Details
Respite
Yes
Carer Support
Yes
Other Short Stay Programme
No
Discuss your needs with us and we will see if we can help
Subsidised
Yes
Private Paying
Yes
Booking can be made in advance
Yes
Call today
Updated: 7 Dec 2023
Features
Features
Feature
Status
Details
May Bring Own Furniture
Yes
All rooms have in-built furniture units. We encourage residents to bring your own ornaments, small furniture and belongings to make your room feel just like home.
Single Rooms
Yes
All our rooms are single and are of the same size. Refurbished spacious wet areas are located close to all rooms. Light and airy rooms with TV and phone connections. The rooms are welcoming and bright.
Rooms suitable for a couple
Yes
We have some rooms with an adjoining door for couples.
Ensuite
Yes
We have a number of ensuited rooms as well as non ensuited. There are a considerable number of bathrooms around the facility which are easily accessible from all rooms.
Alcohol Permitted
Yes
By negotiation.
Negotiate To Bring Own Pet
Yes
If you have a pet we will happily discuss your needs with you.
Phone Access In Own Room
Yes
Wifi
Yes
Resident can adjust heating in own room
Yes
The building is well heated throughout. Radiators are located in each bedroom and the resident can adjust the heating level.
Cater for under 65 yrs with Disability
Yes
Provided funding is approved.
Lounges/seating areas
Yes
The main lounge and dining room are centrally situated. There are a number of small seating areas both inside and outside. We also have a beautiful large conservatory area - it is light and sunny and is able to be used by residents and their families. It's a great place for celebrations and activities!
Gay / LGBT IQ Friendly
Yes
Primary Health Funded Short Term Care
Yes
Dinner, Bed and Breakfast service available - please ask us for more information.
Day Programme for day stay clients
Yes
Day care is available by arrangement and for a small fee. The fee includes hot midday meal, morning and afternoon tea. We have a Activities Co-ordinator and the programme is exciting and varied.
Outings
Yes
We go all sorts of places! Recent outings have included The Groynes, new Brighton and the new Adventure park as well as other places of interest. We are open to suggestions too!
Whānau Room
No
Although we do not have a dedicated whanau room, we encourage family and friends to be actively involved in all aspects of our resident's life here at Victoria Care.
Māori Kaupapa
Yes
Our policy is to provide a service which acknowledges and respects the cultural and spiritual needs of each individual resident in our care. We recognise the principles of the Treaty of Waitangi - partnership, participation, and protection - which must under pin any health strategies we develop. We acknowledge taha wairua (spiritual), taha hinengaro (mental), taha tinana (physical), and taha whanau (family), as the cultural basis for provision of services to Maori.
Residents Committee
No
We do however have monthly resident's meetings.
Newsletter
Yes
Quarterley.
Policy for management of challenging behaviour
Yes
Our staff are trained to recognise and manage a range of behaviours that residents may have.
Confused Residents
Yes
Our staff are trained to recognise and manage a range of behaviours that residents may have. This may include residents who become confused.
Rural Setting
No
We are located near central Christchurch, but are very peaceful and homely.
Smoking Permitted
Yes
In designated areas only.
Semi-Secure
Yes
Updated: 7 Dec 2023
Special Features
Special Features
Victoria Care complex offers all the benefits of a care facility, including entertainment, activities and companionship. Situated among peaceful gardens in the heart of bustling Christchurch, our grounds spacious and the design of the home incorporates a number of sheltered courtyard areas, many with raised gardens surrounded by seating, onto which the rooms face. Other garden seating is provided under the large walnut tree at the end of the property.

With individual and personalized care in comfortable, homely surroundings living at Victoria Care takes the worry away and allows you to relax and enjoy the good things in life - friendship and fun. The site is fitted with accessibility ramps and safety grab rails, wide corridors, and smoke detectors with water sprinklers.
Updated: 7 Dec 2023
Interests & Activities
Interests & Activities
There's plenty to do for those who are in the mood for recreation – arts and crafts, exercise groups, music and guest speakers, just to mention a few. There are small lounges around the home and a kitchenette where residents and visitors can make a cuppa whenever it suits. Residents are very much encouraged to maintain friendships and activities outside the home.

The Activity programme is co-ordinated by our Activities co-ordinator and includes:

Baking Days, BBQs, Board games, Bowls, Canine friends - animal visitors visit the home, Companion Club, Concerts (we offer the opportunity to go to concerts at various venues), Creativity Sessions/Art and Craft, Entertainers, Exercises to suit all levels, Games, Garden Walks, Guest Speakers, Happy Hour, Housie, Indoor Games, Jigsaws, Library Trolley, Minibus Outings, Mini Golf, Movies
Newspaper Reading, Outings for coffee or to the pub, Pamper Sessions, Pastoral Care, Quizzes, Religious Services, Sing-a-longs, Videos... And anything else anyone comes up with!!

The birthdays and anniversaries of residents are very special and we would like to recognise them provided residents agree. Christmas, New Year, and Easter are especially happy and meaningful times of the year too, and we enjoy celebrating them. We will also celebrate other traditional events and local community occasions.

There are frequent outings, as Victoria Care is just a few blocks away from North Hagley Park, the Botanic Gardens and the central city shops. With regular walks to places such as the library, coffee shop and the pub for a game of pool and chips to ensure that the central city is enjoyed. Van outings go further afield to places such as the Groynes, New Brighton and visiting Llamas on a farm. Residents suggestions are always welcome.
Updated: 7 Dec 2023
Additional Information
Additional Information
Topic
Details
What's included in your fees and what's not
This core care package covers: Accommodation, meals, cleaning and laundry; Nursing, personal care and other health services if prescribed by a doctor; GP visits on a minimum 3 monthly and an as-needed basis; All prescribed medication costs (Pharmac approved); An Activities programme. Please contact our Facility Manager for further details.
Staffing qualifications and details
Good ratio of staff to residents and is always being reviewed as needs change. Many of our staff are long serving and experienced. We are a friendly team.
Details about meals
All meals are cooked on site, home baking for morning and afternoon teas. Nutritious main meals are served in the dining room. Emphasis is always on a tasty menu of good old-fashioned family favourites. Individual food preferences are catered for as much as possible. Special occasions catered for well e.g. 100 yr birthday parties. Our suppliers have told us they would come and eat here as we buy the best variety of food available! We are able to provide a meal for family provided we have notice, there may be a small charge for this.
Updated: 7 Dec 2023
Languages Spoken
Languages Spoken
Language
Status
Details
Dutch
Yes
English
Yes
Fijian Indian
Yes
Filipino
Yes
Hindi
Yes
Interpreter
Yes
Can be accessed if required.
Tagalog
Yes
Tamil
Yes
Updated: 7 Dec 2023
Religious/Spiritual Affiliations
Religious/Spiritual Affiliations
Religious/Spiritual Affiliations
Status
Details
Anglican
Yes
Monthly services
Baptist
Yes
Monthly services
Christian
Yes
Denominations/Faiths represented
Yes
Other religious denominations are available on request. Please let our manager know if you wish to access these.
Inter denominational
Yes
We have visiting clergy from Anglican, Baptist, Roman Catholic and Presbyterian churches
Presbyterian
Yes
Monthly services
Roman Catholic
Yes
Individual Roman Catholic Communion is held as required.
Salvation Army
Yes
Our Chaplin is available on call.
(Other comments)
Yes
Each resident's cultural and spiritual beliefs and practices are recognised and respected, and reflected in their care plans. Family/whanau consultation, and participation, in care is welcomed. Reasonable efforts are made to enable special cultural and spiritual beliefs and practices in relation to diet, dress, and special events to be fulfilled. Spiritual and cultural beliefs and practices are recognised and respected in relation to death, dying, and grief.
Updated: 7 Dec 2023
Distances
Distances
Location
Distance
Details
Public Transport
0.03 Km
The bus stop is right outside that will take you into the city or out into the suburbs.
Shops
0.50 Km
Cafe on the corner
Mall
2.00 Km
We are also close to a number of suburban malls such as The Palms, Riccarton and Merivale Mall
Parks
2.00 Km
Hagley Park
Library
2.00 Km
Central Library, we also have an in-house library run by our Activities Officer who changes the books monthly.
Updated: 7 Dec 2023
Credentials & Membership
What's New
What's New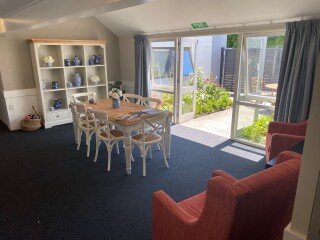 Our home has been revamped to become a modern, light, bright and airy unit with up to date artwork and access to seating in the garden areas being updated.
Updated: 7 Dec 2023
The Ministry of Health conducts regular audits of Residential Care Facilities. They can be found HERE.