'Making Life Easier' is all about supporting older people to live the life they want! We want to empower you to use your voice and to make decisions that are right for your future. Here you'll discover a huge range of care and support options, community and advocacy groups, and service providers throughout the country – not to mention a raft of information and resources – to help make your life easier.
Let us help you find what you're looking for
What should I consider when getting help at home?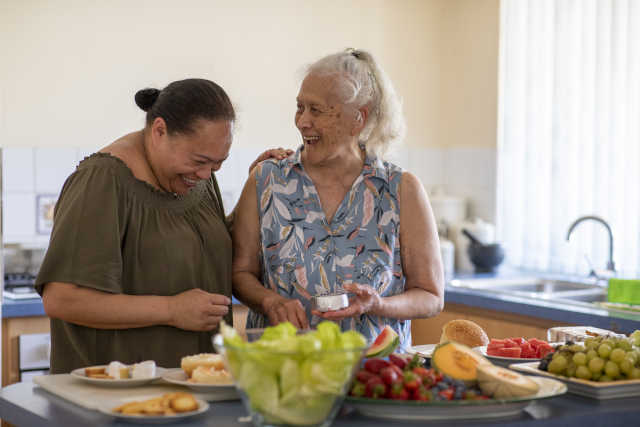 Many older people are happy living at home and just need a bit of extra support now and again – whether that means assistance around the house, getting professional support and advice, or simply connecting with like-minded people. Yet these services can be difficult to find if you don't know where to look or if you're not sure yet what you are looking for; in fact, sometimes you don't know you have a problem until you find the solution. That's where 'Making Life Easier' comes in.
As we all lead different lives, the support and assistance we need will vary widely. Perhaps you're looking to meet some like-minded people in your community, join a club or group, or take up a new hobby? Or perhaps you've moved to a new area and want to know what services are available? Whatever support you require, you'll find options in your region to suit.
We all need to look after our eyes, ears and feet – regardless of our age. Some of us may find we need a little extra help around the home, such as cooking and cleaning, while others may require help with their personal care. While there may be some challenges ahead as we get older, there are options to help you navigate these.
If you're requiring home support, there are a wide range of services to choose from, including practical services and personal care. You may be eligible to receive subsidised home help (via an interRAI assessment) or you can choose to pay privately. There is a lot to consider so use our checklist to help you navigate the process – then browse home support providers in your region. You can also find loads more information about getting help at home and in your community on our Knowledge Lab.

Eldernet Making Life Easier Checklist
Your questions answered
Looking for independent and impartial information to help you on your ageing journey? Looking for help but not sure where to start? The Knowledge Lab is our comprehensive resource library; dive in and find informative and practical articles and videos covering a wide range of topics, plus answers to questions you didn't even know you had. Start browsing now.
find more articles in the Knowledge Lab