How can we help you?
We'll explain what you can find and how the site works.
---
Want to read the latest news and events? See what's going on around NZ. This newsletter is created by contributions direct from the Eldernet community and is filled with good news and updates.
---
19 hours ago - Tauranga
The Vines retirement village is situated in the Mills Reef vineyards in Bethlehem. It is a unique location with specular surroundings offering a modern independent lifestyle. This Classic Life village is ideal for active retirees seeking a vibrant and stylish home offering world-class facilities including a café, bowling green, swimming pool and library. And with an incredible cashback deal on our brand new villas about to be announced it makes sense to find out more! Call Tony now on 021 328 767
Find out more
---
---
The Eldernet Group celebrates 25 years of empowering people
---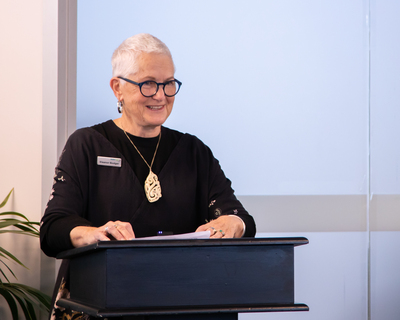 Company founder Eleanor Bodger speaking to guests and staff
The Eldernet Group recently celebrated its 25th anniversary with a special event, which included an appearance by 2022 New Zealander of the Year, Tā Tipene O'Regan ONZ. The milestone coincided with the opening of the organisation's new building, less than 1 kilometre away from where the company began in the Christchurch suburb of New Brighton.
"Over the past 25 years, we've seen people become empowered with information in ways we never thought possible, and we're delighted to have played a part in that," says Eleanor. "What we are particularly proud of is the way we haven't waivered from our vision of making life easier and better for all older people – even if that has meant rocking the boat over the years."
Questions you need answered? Look here to see if it's in our Knowledge Lab. All those new words confusing you? Our glossary might help. There's even links to some research we've been involved in.
---
You can go to a public hospital if you are seriously unwell, and it is an emergency. For all other times you need to be referred by a health professional, usually your doctor. If it's an emergency phone 111 and ask for an ambulance. If you're near the hospital and the situation is serious but not life threatening you/the person may be taken by car to the hospital. (As long as the driver knows where the hospital's emergency department is.) Public hospitals are the main providers of emergency, specialist medical, surgical, and other specialist services in New Zealand and are not an alternative to your local doctor. Unless a situation is an emergency be guided by your doctor or after-hours clinic. If you are not sure whether your situation is an emergency ring Healthline freephone 0800 611 116 and they will advise you. A list of Public Hospitals can be found here. https://www.health.govt.nz/your-health/certified-providers/public-hospital
---
---
---