Transport, vehicles & companion drivers
Monique Driving You - Caring Passenger & Mobility Transport Service
At a glance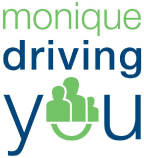 Name

Monique Driving You - Caring Passenger & Mobility Transport Service

Category

Transport, vehicles & companion drivers

Address

Havelock North

DHB

Hawke's Bay

Phone

Email

Web

Facebook
Personnel
Owner

Monique Buurmans - 06 8777 807
Caring Passenger and Mobility service covering the great Napier-Hastings area. Our Mission is to make lives easier not harder; whilst keeping the cost as low as possible. Independently owned and operated by a local businesswoman.

We recently celebrated our third birthday. Our growth has meant that we now have six vehicles in three locations and a team of nine dedicated drivers. We can cover every day of the week, almost every hour of the day.

Ring to find out what we can do for you - we are not limited to "only' driving you.

There are three ways of booking us:
1. you have an appointment and need to ensure you get there at the time you want :-> Please pre-book, or
2. You'd like to be spontaneous and go out on a whim or to do something that is not an appointment :-> Call us during our office hours (8am-8pm) and we will find a good spot in the diary for you.
3. You wish to do something outside of a normal working day (eg evening or weekend) :-> Some notice (usually a day or two) is required to ensure we can allocate a driver to the time you need.
Testimonials
Testimonials
​"I don't know what I would have done without Monique Driving You over the Covid 19 lockdown period.
They called me, they collected my shopping list and delivered my groceries to me. They even posted my mail for me........nothing is ever a problem.
​I have no family locally so was very grateful for the help, support and care." - Helen 2020

"the service is so friendly and reliable; they always get me to work or to my appointments on time. They are also happy to change the arrangements to accommodate my day to day transport needs." Kevin whom we transported on behalf of ACC.

"It's absolutely wonderful to have a service like this. It's warm, friendly and happy and they are very helpful and you feel at home in the car just like it's your own" Pat

"Monique Driving You is an excellent service which I can thoroughly recommend. I am a senior citizen who has had to rely on others driving me for the past few months. This change in lifestyle was hard for me at first as I have always been fiercely independant. Then I found Monique Driving You, whose drivers are reliable, helpful, cheerful, thoughtful - a real companion driving service. Going shopping is a breeze! Monique or one of her drivers picks me up from home, at whatever time I choose, takes me to the shop and returns to pick me and the shopping up at an agreed time. When we arrive back at my home, the driver, whether it is Monique or one of her drivers, insists on unpacking my load from the car boot and taking it indoors to my kitchen. How easy is that! What could have been a chore for me becomes a pleasant experience. I thank you, Monique Driving You for your safe driving skills which give me confidence in you and for your friendly and caring personality which makes outings such a pleasure!" Dorothy
Updated: 9 Sep 2020
Suburbs/Districts/Towns Serviced
Suburbs/Districts/Towns Serviced
Napier, Hastings, Havelock North, Clive, Haumoana, Te Awanga, Clifton, Pakipaki,Bridge Pa, Bayview, Westshore, Ocean Beach, Waimarama and further out as required.
Updated: 10 Oct 2016
Service Description
Service Description
We drive you to places for appointments, shopping, outings, or to the airport/bus stop, whether you are a child, adult, or senior person. We operate six vehicles which includes two mobility vehicles with a ramp not a hoist so your ride will be very comfortable and you will be able to see out of all the windows. We can take a wheelchair or your mobility scooter as well as passengers!

Monique and her team have many years of caring driving experience in the Havelock North and Hastings area and cover Hastings, Napier and the surrounding wider area. Prior to setting up the service Monique had a number of years' experience operating a companion driving franchise in Havelock North. She has used this experience to develop and provide a unique passenger & mobility service.

Our mission is to provide you the lowest possible rates by keeping our costs low. We give back to our community by taking small groups of clients on accompanied outings and providing a hot drink whilst assisting and facilitating great conversation, and lots of laughs.

We are happy to make appointments for you, to run errands or do any other service to make your life easier.

You will get to your appointment on time, be picked up again afterwards without having to make separate phone calls. And you will enjoy conversation and care along the way.

Our costs are usually cheaper than a taxi - but give us a call and Monique will give you a good indication of likely cost or set an agreed price for your first trip so you can try us out with no risk.

Monique Driving You operates a Passenger Service Licence which is controlled by the NZ Transport Agency. The rules for operating such a licence are strict. Our vehicles meet their high safety standards. Our drivers have a special "passenger" qualification which ensures they are thoroughly police checked and capable of providing a good service to the public. We also ensure they are fully first aid trained.

We give you as much or as little assistance as you require. We are skilled at assisting less-mobile people (including use of wheelchairs) and in our Mobility Vehicles we can take any wheelchair and most mobility scooters as well as passengers. We accept Total Mobility vouchers (taxi chits).

Our service is also used by local schools, people living independently as well as residents of retirement villages. In fact anyone can use us!

Monique Driving You is a private hire transport operator, so be sure to pre-book to enjoy our safe, friendly and genuine service.

Last but not least, we are a locally owned and operated business serving our local community. We are not a franchise and therefore don't need to satisfy any head office requirements and costs.

Updated: 10 Oct 2016
11167