Transport, vehicles & companion drivers
Driving Miss Daisy Tairawhiti-Gisborne
At a glance
Name

Driving Miss Daisy Tairawhiti-Gisborne

Category

Transport, vehicles & companion drivers

Address

812 Childers Road
Te Hapara
Gisborne 4010

Postal Address

Same as above

Region

Tairawhiti

Phone

Mobile

Email

Web

Facebook
Personnel
Manager

Monica Zwart - 021 503 816

Owner

Monica Zwart - 06 8688081
Other services
WE'RE FAMILY WHEN FAMILY CAN'T BE THERE

Live life to the full with our safe, friendly and reliable companion driving service. We offer you independence and peace of mind, enabling you to get out and about, have fun and enjoy all those occasions that are everyday living. With a wheelchair accessible vehicle as part of the fleet all travel is possible.
Suburbs/Districts/Towns Serviced
Suburbs/Districts/Towns Serviced
From Hicks Bay to Wairoa and inland to Matawai - and anywhere inbetween. We will access most areas within this East Coast region were possible.
Updated: 29 May 2020
Service Description
Service Description
Driving Miss Daisy is perfect for:
• ACC-related transport (work/rehab/physio, etc.)
• Medical and personal appointments
• Social engagements
• Grocery or other shopping trips
• Airport/bus/rail departures or pick ups
• Outings or appointments with your furry friends
• Mobility transport for clients in wheelchairs - after hours and weekends included

We offer more than just transportation and our drivers are all safety checked for peace of mind and really care about making every journey a pleasure for you.

BOOKINGS ESSENTIAL

Gift Vouchers available
ACC Registered Vendor
Pre-booked and Pre-quoted service

TOTAL MOBILITY SCHEME AVAILABLE.

Call Monica today on - (06)868 8081 OR 021 503 816 to have a chat about how we can assist you.
Updated: 29 May 2020
Access
Access
Access
Status
Details
A mobile service
Yes
A Volkswagon Caddy with Mobility access for power chairs and wheelchairs is available Plus a Skoda Yeti for ease of access for mobile passengers with mobility aids - walkers / sticks / crutches
Easy access
Yes
Vehicles available are easy to access both front and rear seating
Updated: 25 Aug 2021
After Hours
After Hours
After Hours
Status
Details
After Hours
Yes
Via bookings made only having spoken to Business owner Monica to organize date and time required
Updated: 25 Aug 2021
Payment
Payment
Payment
Status
Details
Payment required
Yes
Eftpos terminal available to use / or cash / or by arrangement via invoice to use internet banking
Subsidy may be available
Yes
The Total Mobility Scheme discount vouchers are accepted for travel - issued by Gisborne District Council
Updated: 25 Aug 2021
Languages Spoken
Languages Spoken
Language
Status
Details
English
Yes
English speaking New Zealand Owner/Driver.
Updated: 29 May 2020
What's New
What's New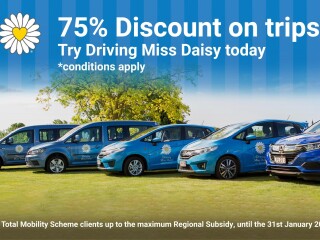 That extra Discount just keeps on giving !!!
The Total Mobility vouchers in Tairawhiti.........Increased discount from Gisborne District Council working with Waka Kotahi to help get you out and about until January 2023 !!!. Please phone 8688081 or 021 503 816 to discuss your requirements with Monica how we can help. Mobility vehicle available if required for wheelchair travel.
Updated: 27 Jul 2022
14265