Retirement Village
At a glance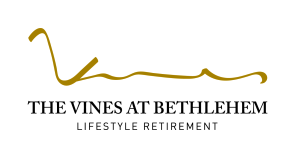 Name

The Vines at Bethlehem

Category

Retirement Village

Address

The Vines at Bethlehem
143 Moffat Road
Bethlehem
Tauranga 3110

Postal Address

PO Box 16201
Bethlehem
Tauranga 3147

Region

Bay of Plenty

Phone

Email

Web
Personnel
Sales Manager

Tony Stack - 021 328 767
Other services
Photos
Map
Downloads
Reviews
Given the current COVID-19 environment we have temporarily disabled our 'feedback' feature. We apologise for any inconvenience.

Our ethos here at The Vines is centered around enhancing your life during the finer years.
We provide you with everything you need to relax and simplify your environment so you can live freely.

Our village has been designed to feel both welcoming and sophisticated, surrounded by beautifully landscaped grounds and modern villas. The community is secure and gated, with a 24-hour emergency call service, so help is never far away should you need it.

A lively social club and several supportive community groups have been established, fostering a sense of belonging, that will only evolve as our village does.

If you need a hand with something in your home or garden, our Vines team are ready, willing and able to help. But at the end of the day, your home is just that – yours. Your privacy is respected.

Perfectly positioned on what was once the iconic Mills Reef Winery, The Vines is just moments from the thriving Bethlehem township. Residents enjoy an easy stroll to fantastic amenities, boutique shopping and sensational dining, in the prestigious suburb of Bethlehem. The Vines is within walking distance to the local doctors, pharmacy and physiotherapy practices.

Bethlehem's superb locality promises convenient access to all main arterial routes. Seaside mecca Mount Maunganui is a short drive across the harbour bridge; its golden sands and scenic walkways are an attractive drawcard.

The iconic Mills Reef winery building, once an art deco-styled winery and event space, is set to become "The Vines Clubhouse".
The Vines has been developed with a gold-class lifestyle in mind, so it is apt that its clubhouse will be the village's 'gem of a building'.

Whether you prefer to be in close reach of others, or enjoy your own space, we have the home to suit you. Choose from one of our two or three bedroom villas, in detached and duplex configurations.

To find out more about what it is like to live at The Vines, call us on 07 578 0525 and we can answer any questions and show you around.
Upcoming Open Days
Upcoming Open Days
No open days are currently scheduled.
Testimonials
Testimonials
Comments from one our residents - "I looked at numerous living options but my decision came down to design and no one could do better than The Vines. The houses are beautifully finished and I loved the look of the gardens. I have a chapel ceiling in my living room, which is a gorgeous feature but also gives a wonderful sense of space. Another drawcard was the lifestyle - The Vines is not a rest home and I like that. Everyone here is still living a very active life - there's always something to get involved with. I'm secretary of the Resident's Committee and have joined the book club. It's still early days so, as time goes on, dynamics will change and opportunities grow.

Also, the people are very nice, welcoming and friendly. I toddled off to happy hour the first night, not knowing quite what to expect, but everyone was just so welcoming."
Christine


Hi All,
I just wanted to say a BIG THANK YOU once again for your entire team there at The Vines.
I have to eat my words big time about what I've felt about retirement villages in general.
Me and my family are entirely grateful for all that you did for my Mum. I always thought retirement villages were a rip off, but I can see why people are flocking to them now. I just wish my Mum had more time there. As I told you when I saw you last my Mum was more unhappy leaving her lovely villa at The Vines than leaving her house of 30+ years. That is a great testament to her short time there.
I hope the new resident loves it as much as Mum did, and most importantly gets more quality time there.
Kind regards, Megan
Updated: 6 Jun 2019
Statutory Supervisor's Details
Statutory Supervisor's Details
Details
Name
Covenant Trustee Services Limited
Address
Level 6, 191 Queen Street, Auckland 101. P O Box 4243, Shortland Street, Auckland
City/Town
Auckland
Company
Covenant Trustee Services Limited
Phone
09 302 0638
Fax
09 302 1037
Email
View Email Address
Updated: 24 Feb 2017
Personnel & Services
Personnel & Services
Personnel / Service
Hours Per Week
Status
Details
Activities Co-ordinator
Yes
Updated: 6 Jul 2017
Facility Features
Facility Features
Feature
Status
Details
Social/Recreational Programme
Yes
Community Complex
Yes
Emergency Call System
Yes
Newsletter
Yes
Negotiate To Bring Own Pet
Yes
Swimming Pool
Yes
Craft Room
Yes
Library
Yes
Games Room
Yes
Gardens
Yes
Updated: 30 Jun 2016
Special Features
Special Features
The Vines at Bethlehem is being developed on the iconic Mills Reef winery site.

Our villas' are distinctive and timeless in their design and construction. Not all plans are the same so there are a number of villa options for you to consider.

Once completed, the Mills Reef winery building will feature a community centre that will provide resort style amenities for our residents to enjoy.
Updated: 26 Apr 2018
Interests & Activities
Interests & Activities
Pool table, Cards, Happy Hour, Library, Log fire, Pool, Mah Jong, Yoga, Tai Chi , Step classes, golf croquet to name just a few
Updated: 10 Jul 2019
Distances
Distances
Location
Distance
Details
Public Transport
0.10 Km
Bus stops just beyond The Vines entrance.
Shops
0.70 Km
Bethlehem town centre, shopping complex, supermarket, garden centers (2), cafes, chemist, doctors, restaurants, food outlets and department stores, all within walking distance of The Vines.
Mall
3.00 Km
New Tauriko shopping complex including Pak N Save, The Warehouse five minutes drive away.
Library
7.00 Km
CBD library seven minutes drive to town
Updated: 10 Jul 2019
Credentials & Membership
NOTE: The Retirement Villages Act 2003 (The Act) is designed to provide improved protection for people who 'buy' into a retirement village. If you intend to 'purchase' you must get independent legal advice before signing your occupation right agreement as required under The Act. Some Retirement Village type facilities are not required to register under The Act so different legal requirements apply. Please make sure you investigate fully.
In some villages there may be some Retirement Village units that have multiple uses e.g. a Serviced Apartment may also be used as a Residential Care Suite. The same unit may therefore show in several places on Eldernet.
12042