Retirement Village
At a glance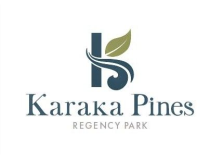 Name

Regency Park Estate

Category

Retirement Village

Address

3A Brent Road
Owhata
Rotorua 3010

Postal Address

Same as above

Region

Rotorua/Taupo

Phone

Fax

Mobile

Email

Web
Personnel
Manager

Tania Davis - 07 345 5836

Owner

KP Regency Park L.P. - 07 571 3600
Other services

A privately owned and managed gated boutique lifestyle retirement village consisting of 59 brick and tile Freehold Units set in beautiful contoured landscape grounds where you get to share in the capital gain on the Unit when it is sold.
It is a two minute walk to the local surburban shopping centre and supermarket. Bus stop outside gate.

At the hub of the village is the Community Centre where the village residents and families come together for socialising and recreation.

A new development for the village with 28 two bedroom units has started with the first units being built now.
Upcoming Open Days
Upcoming Open Days
No open days are currently scheduled.
Available Properties
Available Properties
Details
Photo

The Robertson Terraces, 2 or 3 bedroom units available

From $525,000

3 1 1 108m2

Property Type: Townhouse

The Robertson comes in 2 or 3 bedrooms. These terrace type homes are aligned for the sun. The homes on the end of each row are three bedroom and the middle units are 2 bedrooms with a study. Open the...

2 bedroom villa in the heart of the village

$510,000

2 1 1

Property Type: Villa

Get the best of both worlds. Your own 2 bedroom villa to live independently but without the worry of security and maintenance. This spacious brick and tile unit is nestled in well-established gardens...
Testimonials
Testimonials
I like the security and the fact that outside maintenance and gardens are taken care of for you which means I can carry on with my activities outside the village.

Its always a great feeling driving into the village gateway and seeing all the well kept lawns and bright flowering gardens.

I like the friendly people who live in the village and its good not to have to worry about the bills like rates and home insurance which are taken care of by management in the Body Corporate fee.

We have developed a good social network and have made some lovely new friends. Its nice to know our unit is checked every night by the security guard when we are absent.

I like the friendliness of the Manager and residents. The many and varied activities held in the Community Centre and enjoy the easy walk to the Te Ngae shops
Updated: 11 Jul 2019
Agent's Details
Agent's Details
Details
Name
Shelley Adamson
Address
P.O. Box 1588
City/Town
Rotorua Post Code 3040
Company
Regency Park Estate Ltd.
Phone
(07) 3455 836
Fax
(07) 3455836
Email
View Email Address
Updated: 8 Jul 2021
Statutory Supervisor's Details
Statutory Supervisor's Details
Details
Name
Malcolm Gray
Address
Level 6, 191 Queen St, Auckland
City/Town
Auckland 1140
Company
Covenant Trustee Services Ltd.
Phone
09 302 0638
Fax
+64-9-302 1037
Mobile
+64-27-700-7641
Email
View Email Address
Updated: 2 Dec 2019
Solicitor's Details
Solicitor's Details
Details
Address
P.O. Box 143 Tauranga 3144
City/Town
Tauranga
Company
Cooney Lees Morgan
Phone
07 578 2099
Email
View Email Address
Updated: 1 Oct 2020
Composition of Village
Composition of Village
Type
Details
2 Bedroom Units (2 Bedrooms)
Total
59
Low Price
$505,000
High Price
$570,000
Garage
Yes
Tenure Terms
Occupation Rights Agreement which lets you keep the capital gain
Surrender Details
Deferred Management Fee applicable on a sliding scale for the first 4 years up to 20% of Sale Price. Note:Capped at four (4) years.Resident also gets share of capital gain.
Service Charge Details
$185.00 per week (Body Corporate Levy).includes,council rates,insurance,all exterior painting & maint of unit,lawns,gardens,3x security patrols nightly,24 hour monitored alarm system smoke and medical,upkeep of community centre and all on site staff.
Updated: 4 Apr 2022
Personnel & Services
Personnel & Services
Personnel / Service
Hours Per Week
Status
Details
Activities Co-ordinator
Yes
Life style social club hold card games,housie,Bowls, movies every second week, and happy hour on a Friday night as well as other off site social occasions.
Meals - External Provider
Yes
Spotless (meals on wheels)
Home Help - External Provider
Yes
As and when required.
Other Personnel
Yes
Full-time Manager. Part time Receptionist, 1 Groundsman and 1 Part-Time Gardener employed.
Updated: 17 Aug 2021
Facility Features
Facility Features
Feature
Status
Details
Social/Recreational Programme
Yes
Happy hour every Friday night. Housie every Wednesday evening. Card games every Tues & Sat afternoon.Movie every second Sunday afternoon. Walking group every Mon & Thurs afternoon. Social function every 4 to 6 weeks.
Community Complex
Yes
24 Hour Security
Yes
Emergency Call System
Yes
Newsletter
Yes
Pets In Residence
Yes
Negotiate To Bring Own Pet
Yes
Fitness Complex
Yes
Spa Pool
Yes
Library
Yes
A lovely small library facility with books, jigsaws, videos and Dvds contributed to and managed by the residents.
Games Room
Yes
Snooker table in the game Lounge and card games in the main lounge on Sunday afternoons.
Lounges
Yes
Main Lounge, Game Lounge
Gardens
Yes
Updated: 11 Jul 2019
Interests & Activities
Interests & Activities
Activity programme, Advocate (onsite residents committee), BBQ, Big print books, Billiards, Bingo, Board games, Bowls, Bridge, Cards, Email, Entertainment, Exercises,Games, Happy hour, Housie, Internet, Jigsaw, Library, Mah Jong, Minigolf, Movies, Music, Outings, Parties, piano, Pool table, Reading, Recreation, Sky TV, Spa , Video, Views ( of surrounding hills, Mt Ngongotaha, and Lake Rotorua).
Updated: 11 Jul 2019
Languages Spoken
Languages Spoken
Language
Status
Details
English
Yes
Updated: 11 Jul 2019
Distances
Distances
Location
Distance
Details
Public Transport
0.01 Km
Bus stop at front entrance.
Shops
0.30 Km
Te Ngae Shopping Centre.
Mall
6.00 Km
Rotorua Central Mall and city.
Parks
1.00 Km
Library
3.00 Km
On site Library. Mobile Library calls once a week.
Updated: 11 Jul 2019
Credentials & Membership
NOTE: The Retirement Villages Act 2003 (The Act) is designed to provide improved protection for people who 'buy' into a retirement village. If you intend to 'purchase' you must get independent legal advice before signing your occupation right agreement as required under The Act. Some Retirement Village type facilities are not required to register under The Act so different legal requirements apply. Please make sure you investigate fully.
In some villages there may be some Retirement Village units that have multiple uses e.g. a Serviced Apartment may also be used as a Residential Care Suite. The same unit may therefore show in several places on Eldernet.
1204