Retirement Village
At a glance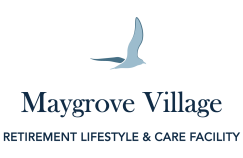 Name

Maygrove Village

Category

Retirement Village

Address

65 Tauranga Place
Orewa ,Hibiscus Coast , Rodney
Auckland , Orewa 0931

Postal Address

Same as above

Region

North Shore/West Auckland

Phone

Fax

Mobile

Email

Web

Facebook
Personnel
Manager

Leonie Knell - (09) 427 0090

Owner

Hopper Developments Ltd

Sales Person

Paul Hockly - 021 636 290
Other services
Maygrove consistently receives the peoples choice award by Aged Advisor as a winner or finalist in the best large Lifestyle Village. The established village has been designed to provide a wide range of dwelling options and recreation facilities to meet a broad range of needs and is owned and operated by Hopper Living. Maygrove Village is located at 65 Tauranga Place, nestled near the Orewa estuary and walkway. The village includes on-site an aged care facility providing an invaluable peace of mind to its residents. The coastal township of Orewa with its sweeping beach plus a broad range of shopping and associated services is within walking distance or a short drive or bus journey.
Upcoming Open Days
Upcoming Open Days
No open days are currently scheduled.
Available Properties
Available Properties
Details
Photo

Start The New Chapter In your Book of Life Here!

$740,000

2 1 1 80m2

Property Type: Apartment

From the minute you walk into this beautifully refurbished apartment, you will feel at home. Great for entertaining guests with the lounge opening out to the decking which also is assessable from the...

Maygrove Magic - Designed To Catch All Day Sun

$1,200,000

3 2 1

Property Type: Villa

Maygrove Magic Begins here.* Don't Dilly Dally and miss this freestanding 3 bedroom Villa. Designed to catch all day sun. Open plan living with ranch sliders opening from both lounge and dining ar...
Testimonials
Testimonials
A business call several years ago to measure for some library shelving made me realise that a different sort of lifestyle was available, so I hurried home that evening to tell my wife. After a lot of thought and looking at other villages we decided that Maygrove Village was the place for us.

We have now been here for over six years and wouldn't think of moving. The relaxed lifestyle, the activities that are available, also the social life and the many friends we have made ,makes this type of living at Maygrove Village second to none.

We have total independence coupled with great facilities. Our families can come and visit us knowing that we live in a caring and secure enviroment.

We would thoroughtly recommend this Village to anybody who is contemplating a move to a better retirement lifestyle.

Ian and Maureen McDonald.
Updated: 21 May 2018
Agent's Details
Agent's Details
Details
Name
Paul Hockley
Address
65 Tauranga Place
City/Town
Orewa
Company
Maygrove Village
Phone
09 4270090
Fax
09 4270099
Mobile
021 636 290
Email
View Email Address
Updated: 1 Dec 2020
Statutory Supervisor's Details
Statutory Supervisor's Details
Details
Name
Covenant Trustee Services Limited
Address
48 Shortland Street
City/Town
Auckland City
Phone
09 3020638
Fax
09 3021037
Updated: 7 Apr 2014
Solicitor's Details
Solicitor's Details
Details
Name
Minter Ellison Rudd Watts
City/Town
Auckland
Updated: 7 Apr 2014
Composition of Village
Composition of Village
Type
Details
1 Bedroom Apartments (1 Bedroom)
Low Price
$450,000
High Price
$540,000
Tenure Terms
The "Occupation Right Agreement" system adopted by Maygrove is recognized as the best method to serve the interests of residents in retirement villages throughout New Zealand. The alternative of unit title or cross lease we believe does notprovide the mechanism to ensure the promised facilities, services and overview that a Statutory Supervisor is able to provide
Service Charge Details
As required
Updated: 1 Dec 2020
Respite, Carer Support or other Short Stay
Respite, Carer Support or other Short Stay
Respite, Carer Support or other Short Stay
Status
Details
Respite
Yes
Please contact Kim , Nurse Manager , Maygrove Hospital ph 09 427 0490 for availability kim@maygroveorewa.co.nz
Carer Support
Yes
Subsidised
Yes
Private Paying
Yes
Booking can be made in advance
Yes
Updated: 21 May 2018
Personnel & Services
Personnel & Services
Personnel / Service
Hours Per Week
Status
Details
Hairdresser
Yes
Tuesday and Thursday by appointment
Podiatrist
Yes
visits the village fortnighty
Activities Co-ordinator
Yes
Meals - Available On-site
Yes
Home Help - Available On-site
Yes
Home Help - External Provider
Yes
Other Personnel
Yes
Updated: 7 Apr 2014
Facility Features
Facility Features
Feature
Status
Details
Social/Recreational Programme
Yes
Regular outings and inhouse movies , Residents social committee and residents sports clubs
Community Complex
Yes
24 Hour Security
Yes
Emergency Call System
Yes
Newsletter
Yes
Pets In Residence
Yes
Negotiate To Bring Own Pet
Yes
Outings
Yes
village, private and resident run outings
Transport Available
Yes
Village Bus to Orewa Mon - Friday Village car by special arrangement Public bus at the gate 9-3pm week days
Restaurant
Yes
7 days per week Lunch and Dinner
Fitness Complex
Yes
Fitness equipment
Swimming Pool
Yes
Heated Indoor Pool
Spa Pool
Yes
Indoor Spa
Craft Room
Yes
Painting Group , Knitting Group and Craft Group
Library
Yes
Extensive resident run library , including large print books. Plus Public Library in Orewa
Games Room
Yes
Table tennis , pool table , dart board , indoor bowls, card tables (Bridge, Scrabble etc)
Chapel
Yes
Services and Ladies Christian Fellowship
Lounges
Yes
Several lounges , dance floor , bar, gas fire and sky TV.Heralds delivered daily for your enjoyment.
Gardens
Yes
Garden plots avaiable
Other details
Yes
Large outdoor Bowling green , Croquet court , Petanque court, putting green.
Updated: 21 May 2018
Special Features
Special Features
Heated indoor pool and spa.
Outdoor Bowling green
Croquet green
Petanque Court
Putting Green
Campervan Parking
Outside clotheslines
Beautifully manicured grounds
Restuarant open 7 days
Updated: 22 May 2018
Interests & Activities
Interests & Activities
Big print books are available from the village library,

Billiard table three quarter size,

Bingo is very popular one evening a week and Housie is also played.

Board games and other similar activities take place on most days,

Bowls both indoor and outdoor are available,

Craft activities are always expanding through the craft group,

Dancing is popular during social evenings. Line dancing is also becoming popular,

Email access is available via our resident computer in the village library,

Exercises through aqua aerobics in the pool, walking and the village gymnasium,

A wide range of entertainment is organised through the residents social committee,

Happy Hour every night in the lounge bar,

Internet access in the village library,

Village Library available to all residents,

Minibus provides daily access to the shops with regular trips to larger centers,

Movies twice a week in our large screen Theatre,

Petanque,

Croquet,

Putting green,

Indoor heated Pool and Spa complex,

Sky TV is available in the lounge and large screen Theatre,

Chapel,

Cards,

BBQ,

Bridge, BBQ, Big print books, Activity programme, Age Concern, Art, Bingo, Board games, Bowls, Bridge, Canine friends, Chapel, Concerts, Log fire, Parkinson's Society, Pool table, Reflexology, Pool table, Shopping, Singing, Sky TV, Spa, Swimming, Theatre, Videos, Views, Womens Institute
Updated: 7 Apr 2014
Languages Spoken
Languages Spoken
Language
Status
Details
Dutch
Yes
Our Care Co-ordinator speaks Dutch
English
Yes
Updated: 31 May 2018
Distances
Distances
Location
Distance
Details
Public Transport
0.00 Km
Public bus from the gate to the Orewa bus depot and Orewa -Silverdale Shops. Village bus to Supermarkets Monday to Friday. 10.30- 11.30am.
Shops
2.50 Km
Orewa shopping center, the New Silverdale shopping centre, Pak and Save Silverdale, Kings garden centreand much more. 8km to Whangaparaoa Shopping Centre and Hoyts movie theatre
Mall
6.00 Km
Silverdale shopping centre 7km Whangaparaoa and 15 km by motorway to the Albany mega Center
Parks
0.30 Km
Victor eaves Park and Orewa Beach 2.5km walking distance and lovely flat walk. Other smaller parkes are closer, including 7 Km estuary walk way and lakeside lakes walkway at your doorstep.
Library
2.50 Km
Orewa public library and library on site.
Updated: 30 Jul 2015
Credentials & Membership
NOTE: The Retirement Villages Act 2003 (The Act) is designed to provide improved protection for people who 'buy' into a retirement village. If you intend to 'purchase' you must get independent legal advice before signing your occupation right agreement as required under The Act. Some Retirement Village type facilities are not required to register under The Act so different legal requirements apply. Please make sure you investigate fully.
In some villages there may be some Retirement Village units that have multiple uses e.g. a Serviced Apartment may also be used as a Residential Care Suite. The same unit may therefore show in several places on Eldernet.
1745