Royal Heights Rest Home - Waitemata West
At a glance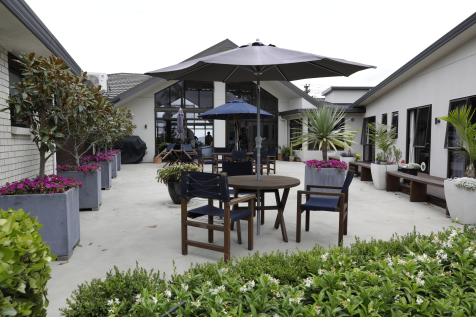 Vacancy

Yes

Name

Royal Heights Rest Home

Category

Rest Home

Address

154 Royal Road
Massey
Auckland 0614

Postal Address

Same as above

Region

Waitemata

Phone

Email

Web
Personnel
Manager

Royal Heights Rest Home - 09 833 9333

Owner

Leigh Collier - +64212255978

Update Reminders

Leigh Collier - +64212255978
Royal Heights Rest Home is a modern 47 bed, purpose built facility, with planted courtyard areas. It features a large, open, light and airy lounge and dinning area.

The site is elevated and offers views over the Waitakere Ranges, an adjacent park and Auckland City. Royal Heights has direct access to a park and is a short walk to Royal Heights Shopping Centre with easy access off the NW motorway. A bus stop is located 150m on the same side if the street. A mix of different sized and layout rooms are available.

There is a focus on the activities program with regular outings and entertainment.

Royal Heights has now achieved the highest available four year certification period twice running.

Permanent stay or short term respite and day stay available.

Please call the nurse manager on 09 833 9333 with queries or to make a time to visit.
Service/Facility Details
Service/Facility Details
Detail
Status
Contract with Te Whatu Ora
Yes
Certification
Yes
ORA Applies
No
Updated: 27 Sep 2023
Bed and Vacancy Details
Bed and Vacancy Details
Detail
Status
Approximate number of beds at this level of care
47
Vacancy
Yes
Modern purpose built home set around landscaped courtyards. All single rooms with ensuite. We have a comprehensive activities and entertainment program. Call to enquire about room availability or a visit.
Impending vacancy
Yes - Please call to discuss
Short stay considered
Yes
Premium Accommodation Charges
Some Rooms from $3.00/day up to $11.00/day as at 21 Nov 2023
MOH Certification and Audit Report
View MOH certification and audit report (opens in a new tab)
Extra admission requirements due to COVID-19
Please enquire
Updated: 7 Dec 2023
Personnel
Personnel
Type
Hours Per Week
Status
Details
Registered Nurse
Yes
Healthcare Assistants/Caregivers
Yes
Physiotherapist
Yes
As required
Social Worker (on site)
Negotiable
As required
Diversional Therapist
Negotiable
As required
Activities Co-ordinator
Yes
Our activities Co-ordinator brings to the position a positive and enthusiastic approach to encourage participation. She works with staff and volunteers to provide a varied program throughout the week.
Hairdresser
Yes
Salon on site. Regular visits.
Podiatrist
Yes
Visits regularly
Dietitian
Negotiable
We have access to a dietitian that we use when required. Reviews and approves our seasonal menus.
Accredited Visitors
Yes
Great volunteers who support our activities programme and other aspects.
Kaumatua
Yes
As required
Chaplain/Spiritual Advisor
Yes
Fortnightly church service and study groups. We also have representatives from churches visiting individual residents.
Other Personnel
Negotiable
As required
Updated: 5 Apr 2023
Respite, Carer Support or other Short Stay
Respite, Carer Support or other Short Stay
Respite, Carer Support or other Short Stay
Status
Details
Respite
Yes
Respite and day stay service available.
Carer Support
Yes
We accept carer support funding.
Other Short Stay Programme
Yes
We have a great day stay service. 7 days, by appointment. Call us to chat about this.
Subsidised
Yes
We accept all forms of funding, such as Carer Support, NASC respite, POAC and others.
Private Paying
Yes
Booking can be made in advance
Yes
Please call to discuss your needs and time frame.
Updated: 27 Sep 2023
Features
Features
Feature
Status
Details
May Bring Own Furniture
Yes
We encourage our residents to create a room that has their individuality stamped on it. We are however mindful of keeping the room clutter free. Items such as personal bed spreads are always welcome.
Single Rooms
Yes
We have a variety of different sized and configured rooms. Each room has its own ensuite toilet.
Shared Rooms
Yes
In general all our rooms are single. We have a couple of rooms that may be suitable for a couple to share. Call us to check availability.
Rooms suitable for a couple
Yes
We have a couple of rooms that can have adjoining access. We also have a couple of larger rooms that suit a double bed or two singles.
Ensuite
Yes
Alcohol Permitted
Yes
Pets In Residence
Yes
Negotiate To Bring Own Pet
Yes
Phone Access In Own Room
Yes
Easy setup service available with some competitive charges. We can use your existing home number and bring it across. Please discuss the options with us first. We also have a phone for resident's use.
Wifi
Yes
Service available with some charges.
Resident can adjust heating in own room
Yes
Each individual rooms heater can have thermostat adjusted.
Cater for under 65 yrs with Disability
Yes
LTS-CHC Funding Contract held.
Lounges/seating areas
Yes
Various lounges and seating areas to allow for either more social gatherings or to get away to a quieter space. Multiple television spaces and entertainment areas.
Day Programme for day stay clients
Yes
We have a very active day care program. Carer Support, NASC and other funding accepted.
Outings
Yes
Regular bus trips and other outings.
Whānau Room
No
We have various lounges and areas for family and visitors.
Māori Kaupapa
Yes
By request.
Residents Committee
Yes
Newsletter
Yes
Policy for management of challenging behaviour
Yes
Rural Setting
No
Extensive gardens. Great elevated views over the Waitakere Ranges, Auckland City and also the adjacent park.
Semi-Secure
No
We have building security to prevent unauthorized persons come directly in to the building. However access is free for residents to come and go, we are not a secure unit.
Updated: 5 Apr 2023
Interests & Activities
Interests & Activities
Activity programme
Gym exercise equipment
On site hair salon
Regular Bus Trips/Outings
Regular entertainers
Friday Happy Hour
Mixed denomination Church service

Art, Garden, Gardening, Gas Fire, Housie, Library, Newspaper reading, Outings, Pianist, Pool table, BBQ, Pool table, Sing-a-longs, Singing, Videos, Views, Parties, Outings, Music, Movies, Internet, Gas Fire, Exercises, Entertainers, Craft, Activity programme
Updated: 27 Sep 2023
Additional Information
Additional Information
Topic
Details
Details about meals
All meals are prepared by our staff on-site fresh daily. We are able to cater for varied needs and have specialty days and functions. Our meals are planned with oversight from dietitians and we run seasonal menus to benefit from the local seasonal produce.
Internet access
WiFi service available.
Updated: 21 Feb 2022
Languages Spoken
Languages Spoken
Language
Status
Details
English
Yes
Fijian
Yes
Filipino
Yes
German
Yes
Hindi
Yes
Interpreter
Yes
Available on request.
Korean
Yes
Māori - Te Reo
Yes
Samoan
Yes
Tongan
Yes
Updated: 11 Nov 2023
Religious/Spiritual Affiliations
Religious/Spiritual Affiliations
Religious/Spiritual Affiliations
Status
Details
(Other comments)
Yes
We encourage residents to participate in the various activities that are available. However it is not a requirement that you attend. We have various visiting services from a number of denominations.
Updated: 21 Feb 2022
Distances
Distances
Location
Distance
Details
Public Transport
0.10 Km
Bus Stop 160m away. Easy access to Western motorway for Taxi or shuttle service.
Shops
0.10 Km
Royal Heights Shopping Centre is an easier 1 minute walk (150 meters on the same side of the road). This has various amenities such as Dairy, Kiwibank and Post shop, Mobil Service Station, Pharmacy, Locksmith, Dollar Store and various food, beverage and other shops. There are a number of shops and malls including Costco at nearby Westgate shopping centre.
Mall
2.00 Km
Westgate shopping centre is 5 minutes drive.
Parks
0.01 Km
Royal Heights Park is adjacent to facility with direct access through a gate from our courtyard.
Library
0.01 Km
Mobile Library visits regularly. We also have an on site library. The public library is also located at the nearby Westgate Shopping Centre.
Updated: 27 Sep 2023
Credentials & Membership
What's New
What's New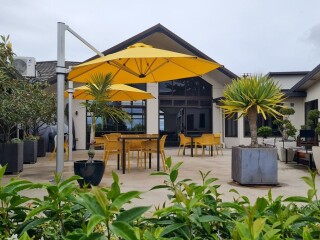 Are you looking for Rest home care or day care? We can help.
We are pleased to advise that we have again achieved the maximum four years certification.
Room Vacancy Status

We currently have no vacancy available, however we offer our popular day stay service and also have a waitlist for upcoming vacancies, please call to discuss your needs for any upcoming vacancies or for our popular day stay service.
All rooms have an ensuite toilet and there is a mix of sizes and configurations such as those with glass sliding door to a garden courtyard or others with views toward the Waitakere ranges, Royal Heights Park or Auckland City and the bridge. Please call us to discuss.
We welcome visits to view the great resources our facility has for residents and our day stay clients. Book a visit by calling 09 833 9333 or to have a chat about your needs.
Day Stay
Please have a chat to us about our day stay service. These can be either regular or occasional. Join in the activities, entertainment and meet our friendly residents and staff. This is a booked service so we do need to discuss your day care needs before hand. All the various funding support options can be utilised toward this service.
---
Royal Heights is proud to have achieved four years certification (three times running).
Updated: 11 Nov 2023
The Ministry of Health conducts regular audits of Residential Care Facilities. They can be found HERE.