Rest Home
Roseridge Rest Home Henderson
At a glance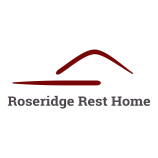 Vacancy

Yes

Name

Roseridge Rest Home Henderson

Category

Rest Home

Address

120 Rathgar Road
Henderson
Auckland 0610

Postal Address

Same as above

Region

Waitemata

Phone

Fax

Mobile

Email

Web

Facebook
Personnel
Manager

Iris Wang - 02041844923

Owner

Roseridge Health Care Limited - 098385822

Roseridge Rest Home Henderson is a little "homey" rest home located on Rathgar Road, Henderson.

We are a stone throw away from local shops and minutes' drive to large retail centres on Lincoln Road and West City Mall.

We are close to Waitakere Hospital , other private hospitals and local GP's.

All rooms are private bedrooms with own vanities.

Limited number of premium rooms are available.

All six meals are catered for throughout the day. They are freshly prepared by our in-house chef. Menus are regularly reviewed by a registered nutritionist.

Experienced caregivers are available 24 hours and 7 days.

Owned and managed by nurses.

Enjoy our well-scheduled activities, including regular outings, recreational exercises and live music.
Service/Facility Details
Service/Facility Details
Detail
Status
Contract with DHB
Yes
Certification
Yes
ORA Applies
No
Updated: 29 Sep 2020
Bed and Vacancy Details
Bed and Vacancy Details
Detail
Status
Approximate number of beds at this level of care
17
Vacancy
Yes
The rest home is owned and run by nurses. You will be in caring hands while still be encouraged to maintain your independence.
Impending vacancy
Yes - 1 beds available soon.
Premium Room Charges
Yes from $3.00/day up to $3.00/day as at 01 Mar 2022
MOH Certification and Audit Report
View MOH certification and audit report (opens in a new tab)
Extra admission requirements due to COVID-19
Please enquire
Updated: 12 Aug 2022
Testimonials
Testimonials
The best testimonial is when you walk into our home, you can hear the laughters from the residents and welcomed by smiley staff.
Updated: 12 Feb 2020
Personnel
Personnel
Type
Hours Per Week
Status
Details
Registered Nurse
30
Yes
Enrolled Nurse
40
Yes
Healthcare Assistants/Caregivers
Yes
24/7
Activities Co-ordinator
40
Yes
Ativities Coordinator arranged daily activities with variety Games, Quiz, Art , dance and Music especially taking residents out for bus trip and picnic.
Hairdresser
Yes
We provide free Haircut for our Resident.
Podiatrist
Yes
Podiatrist comes every 6 weeks.
Dietitian
Yes
Dietitian reviews the menu every 2 years.
Other Personnel
Yes
We bring that personal touch that helps create a homely environment. With the support of our very good staff we encourage our residents to be at home in our home.
Updated: 29 Sep 2020
Respite, Carer Support or other Short Stay
Respite, Carer Support or other Short Stay
Respite, Carer Support or other Short Stay
Status
Details
Respite
Yes
Carer Support
Yes
Subsidised
Yes
Private Paying
Yes
Booking can be made in advance
Yes
Updated: 29 Sep 2020
Features
Features
Feature
Status
Details
May Bring Own Furniture
Yes
Happy for you to bring your own furniture. We can discuss with you.
Single Rooms
Yes
Rooms suitable for a couple
Yes
We only have single rooms but they are a reasonable size. With a couple coming in they can choose to have one of the rooms as a bedroom and the other room could be made into a private sitting room.
Alcohol Permitted
Yes
We have a happy hour fortnightly for those who would like to be involved.
Pets In Residence
Yes
We use to have a little dog owned by one of the residents.
Negotiate To Bring Own Pet
Yes
Happy to talk to you if you have your own pet.
Phone Access In Own Room
Yes
We have a portable phone for taking into the bedroom for everyones use. We can arrange for a personal line to be put into your room but it would be at the cost of the resident.
Wifi
Yes
Resident can adjust heating in own room
Yes
Cater for under 65 yrs with Disability
Yes
Lounges/seating areas
Yes
Gay / LGBT IQ Friendly
Yes
Primary Health Funded Short Term Care
Yes
Day Programme for day stay clients
Yes
Outings
Yes
A regular outing for Bus Trip, Picnic and shopping day.
Residents Committee
Yes
We have regular meetings. This is a good way to find out what the residents want and to keep the environment a happy go lucky place to live in.
Policy for management of challenging behaviour
Yes
Confused Residents
Yes
Smoking Permitted
Yes
Outside areas are available.
Semi-Secure
Yes
We use a key pad to come in and out.
Updated: 29 Sep 2020
Special Features
Special Features
Owned and managed by nurses who are passionate about aged care. Both Owner and Facility Manager are experienced nurse.
We are small and homey rest home. We have an easy access garden for residents to enjoy. They can even do some gardening if they want to.
Updated: 12 Feb 2020
Interests & Activities
Interests & Activities
We are keen to talk to our residents to determine their entertainment interests and where ever possible provide the same.

We will encourage and assist with outings and interests. Families will be encouraged to partcipate.

We will welcome any ideas for outings, entertainment and craft days.

This place is your home for you to be able to take part in what you would like to do.
Updated: 10 Feb 2020
Languages Spoken
Languages Spoken
Language
Status
Details
Cantonese
Yes
Chinese
Yes
Chinese dialect
Yes
English
Yes
Filipino
Yes
Mandarin
Yes
Samoan
Yes
Tagalog
Yes
Updated: 31 Dec 2019
Distances
Distances
Location
Distance
Details
Public Transport
0.18 Km
108 meter walk to bus stop
Shops
0.10 Km
100 meter walk to local shops
Mall
1.10 Km
1.1 km walk to Lincoln Plaza
Parks
0.45 Km
450 meter walk to Alan Reserve
Library
2.50 Km
2.7 km walk to Waitakere Central Library
Updated: 12 Feb 2020
Credentials & Membership
Credentials & Membership
Credentials & Membership RC
Status
Details
Care Association New Zealand
Yes
Updated: 12 Feb 2020
The Ministry of Health conducts regular audits of Residential Care Facilities. They can be found HERE.
11049