Akaroa Health
At a glance
Vacancy

Yes

Name

Akaroa Health

Category

Rest Home

Address

2 Aylmers Valley Road
Akaroa
Akaroa 7520

Region

Canterbury

Phone

Fax

Email
Personnel
Manager

Emma Crew - (03) 304 7004

Owner

Akaroa Community Health Trust - (03) 304 7004
Other services
Photos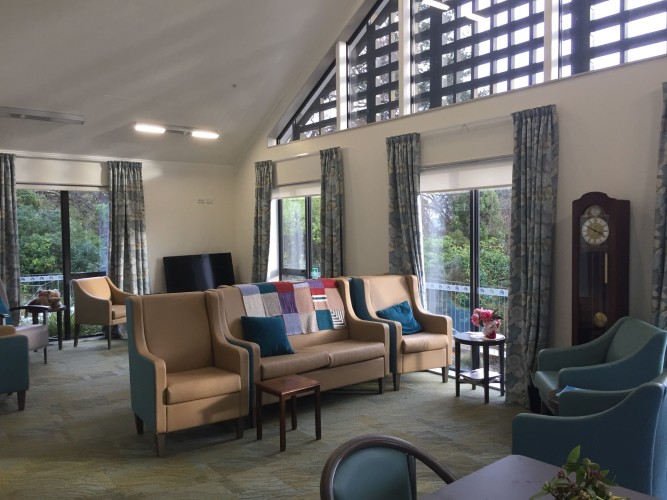 Map
Reviews
At Akaroa Health residents are given 24 hour quality care in a new, purpose built facility operated by Akaroa Community Health Trust.

We are small with a dedicated group of skilled, local care and nursing staff. We provide care with a significant emphasis on individual residents needs including home cooked meals, every room with a bathroom and an exciting activity programme.
Service/Facility Details
Service/Facility Details
Detail
Status
Contract with Te Whatu Ora
Yes
Certification
Yes
ORA Applies
No
Updated: 16 Apr 2012
Bed and Vacancy Details
Bed and Vacancy Details
Detail
Status
Approximate number of beds at this level of care
10
Vacancy
Yes
Respite.
Impending vacancy
No - Respite
Short stay considered
Yes
Premium Accommodation Charges
No
MOH Certification and Audit Report
View MOH certification and audit report (opens in a new tab)
Extra admission requirements due to COVID-19
Please enquire
Updated: 7 Dec 2023
Testimonials
Testimonials
Grandma was looked after so well and she absolutely loved the experience at Akaroa Health. She has spoken so highly of all the staff and the detail of care.

Akaroa Health staff are all part of a wonderful community asset I was fortunate to experience.

I was truly impressed with the care that I was provided with throughout my stay. The staff and the facility are fantastic.
Updated: 18 Mar 2020
Personnel
Personnel
Type
Hours Per Week
Status
Details
Registered Nurse
24/7
Yes
Healthcare Assistants/Caregivers
24/7
Yes
Physiotherapist
Yes
Works out of the facility and is available as required.
Diversional Therapist
10.5
Yes
Our Diversional Therapist is employed for 3.5 hours Monday, Wednesday and Friday plus volunteer helpers to provide our residents with activities which maintain their mental status and mobility
Activities Co-ordinator
Yes
We have a comprehensive and varied activity programme.
Hairdresser
Yes
Hairdresser visits or residents may attend the local Salon.
Podiatrist
Yes
Monthly clinic in the facility
Dietitian
Yes
We have a dietician available as requested and our meal plans have dietician sign off. We strive to provide meals that meet the necessary requirements of individual residents.
Kaumatua
Yes
Chaplain/Spiritual Advisor
Yes
There are monthly services in the facility and regular visits are made by clergy from the three churches in Akaroa.
Other Personnel
Yes
The Akaroa Health doctors are always on call to attend residents as necessary.
Updated: 15 Jul 2020
Specialities or Areas of Expertise
Specialities or Areas of Expertise
Specialities or Areas of Expertise
Status
Details
Oxygen Management
Yes
The nursing staff are competent in the management of oxygen therapy.
Gastronomy/Nasogastric Management
Yes
The nursing staff are trained to provide management of gastronomy and nasogastric treatment
End of Life/Palliative Care
Yes
The Akaroa Health Centre is set up to provide end of life care to our community.
IV Antibiotic Capability
Yes
The nursing staff are all able to provide IV therapy.
Wound Care
Yes
The nursing staff are skilled at wound care and work closely with wound specialist nurses as required.
Diabetic Care
Yes
The DHB specialist diabetes team provides a monthly clinic and our nursing staff are skilled in diabetic care
Continence Advice
Yes
Stomal Therapy
Yes
Infection Control
Yes
Akaroa Health has a Infection Control Nurse and a strong commitment to our Infection Control Programme starting at Board level.
Primary Rural Health Care
Yes
Akaroa Health also provides Primary Rural Health services including Doctors, Nurses and 24/7 on call services.
Community Health
Yes
Akaroa Health also provides District Nursing services and has access to other Community Health services.
Clinical Management
Yes
Updated: 18 Mar 2020
Respite, Carer Support or other Short Stay
Respite, Carer Support or other Short Stay
Respite, Carer Support or other Short Stay
Status
Details
Respite
Yes
Akaroa Health offers respite care for those who 'need a break'. Whether on a private basis or through Older Persons Health Assessment Team, a room is generally available for this type of care. Just phone for further information (03) 304 7004.
High Care Needs
Yes
Subsidised
Yes
Private Paying
Yes
Booking can be made in advance
Yes
We recommend booking in advance for respite care as we are popular. Please contact us on (03) 304 7004 reception@akaroahealth.nz
Updated: 18 Mar 2020
Features
Features
Feature
Status
Details
May Bring Own Furniture
Yes
Own furniture may be brought if suitable.
Single Rooms
Yes
All single rooms.
Ensuite
Yes
All rooms at Akaroa Health have ensuites
Alcohol Permitted
Yes
Phone Access In Own Room
Yes
Most of our residents have mobile phones. There is a cordless phone available to take or make calls in any area of the facility.
Wifi
Yes
Wifi is available through the facility
Resident can adjust heating in own room
No
Our facility is centrally heated with each room having an individual thermostat. The resident room have under floor heating.
Lounges/seating areas
Yes
Large sunny lounge adjacent to Dining Area.
Gay / LGBT IQ Friendly
Yes
Primary Health Funded Short Term Care
Yes
Provide End of Life/Palliative Care
Yes
Palliative Care Contract
Yes
Outings
Yes
We have a comprehensive activities programme including outings to a variety of places i.e. the beach, museum, movies, alpaca farm, home visits.
Māori Kaupapa
Yes
Newsletter
Yes
Akaroa Health has a quarterly newsletter that incudes the aged care services
Policy for management of challenging behaviour
Yes
Confused Residents
Yes
Rural Setting
Yes
We enjoy a peaceful quiet environment in one of the most beautiful villages in New Zealand.
Smoking Permitted
Yes
Non smoking policy except for outside.
Semi-Secure
Yes
Updated: 18 Mar 2020
Special Features
Special Features
We are able to ensure that our residents feel safe, comfortable and at home.

We are small and provide individualised care to our residents. As we are a Community Trust we enjoy the support of all the community in this beautiful village, set by a stunning harbour and magnificent hillside. There are amazing views from the facility and we are situated across the road from a large native bush. Residents wake to the sounds of birds in the trees.

All the residents are encouraged to be as independent with the freedom to choose their activities both within and out of the House.

Local doctors are in constant contact to ensure that health issues are regularly monitored. In addition spiritual needs are met through the three local Churches. Social contacts with the local community are strong, through organisations such as "Gradians of Akaroa Health Centre" and a strong volunteer culture in the community.

We have a caring team ably led by the Clinical Nurse Lead and General Manager. The nurses and care staff are well trained and committed to the welfare of each individual resident.
Updated: 18 Mar 2020
Interests & Activities
Interests & Activities
At Akaroa Health the Diversional Therapist works with all staff and individual residents to provide friendship and a quality of life. The whole team works together to achieve the best care possible for our residents.
Links with the local community are maintained and supported through involvement with churches, schools, craft, music and book clubs. Activities, routines and meals can be tailored to suit a person's individuality, faith and cultural identity.
Our residents have choices including options from meals to activities and medical advice. Some residents assist with menu ideas and cooking of new dishes.
We provide exercise programmes, van outings, entertainment, happy hours, use of a scooter, sing a longs, church services and support from many locals (both of the 2 and 4 legged kind). Big Print and talking books are available from the local Library who visit us monthly. We are regularly visited by the local schools.

The residents enjoy breakfast in bed, home baked morning and afternoon tea with lunch and dinner in the light and bright dinning room.

Email, fax and wifi facilities are available to residents.

Some residents enjoy gardening which is made available to them with a newly developed courtyard which includes growing some of our own vegetables.

Free view is available in the lounge television and there is connectibility in each room for a television and Sky.
Updated: 18 Mar 2020
Additional Information
Additional Information
Topic
Details
What's included in your fees and what's not
Please note: Fees are well within the Ministry funding level. Fees cover all meals and laundering. Personal items are not covered by fees.
Staffing qualifications and details
High ratio of Staff Caregivers who are trained or training with Career Force.
Details about meals
Breakfast in bed. Special diets catered for.
Updated: 15 Jul 2020
Languages Spoken
Languages Spoken
Language
Status
Details
English
Yes
Updated: 1 Apr 2008
Religious/Spiritual Affiliations
Religious/Spiritual Affiliations
Religious/Spiritual Affiliations
Status
Details
Anglican
Yes
Christian
Yes
Denominations/Faiths represented
Yes
Inter denominational
Yes
Non denominational
Yes
Presbyterian
Yes
Roman Catholic
Yes
(Other comments)
Yes
We work individually with residents to ensure their spiritual needs are met.
Updated: 15 Jul 2020
Distances
Distances
Location
Distance
Details
Public Transport
0.83 Km
Akaroa Shuttle and CityLine are available to carry passengers to Akaroa in the morning and return to Christchurch in the afternoon, seven days per week.
Shops
0.50 Km
Regular van trips into the shops for those residents who are not able to manage the walk.
Parks
0.10 Km
Adjacent.
Library
0.50 Km
Books, Dvd's and talking books are available from the Akaroa Library. Next door is the Akaroa Cinema with a wide range of movies during the week.
Updated: 15 Jul 2020
The Ministry of Health conducts regular audits of Residential Care Facilities. They can be found HERE.