Rest Home Care
At a glance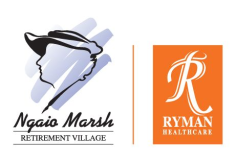 Vacancy

Yes

Care Apartment Vacancy

No

Name

Ngaio Marsh

Category

Rest Home Care

Address

95 Grants Road
Papanui
Christchurch 8052

Postal Address

95 Grants Road
Papanui
Christchurch 8052

DHB

Canterbury

Phone

Fax

Email

Web

Facebook
Personnel
Manager

Anna Thomson - 03 352 5140

Owner

Ryman Healthcare - 03 366 4069

Clinical Manager

Jane Escalera
Other services

Winner: 2021 Trusted Brand Aged Care & Retirement Villages

Your health needs may change over time and if they do, it's good to know you won't have to move again. At Ngaio Marsh Retirement Village, we're dedicated to caring for you now and into your future.

As well as independent living and assisted living in serviced apartments, we also provide resthome and hospital care.

Providing the full range of living and care options is just one of Ryman's points of difference.

We've won the Reader's Digest Trusted Brand: Aged Care and Retirement Villages award seven times. And we've been awarded the gold medal six times in the Reader's Digest Quality Service award.

Of all the large providers in New Zealand (with 15 villages or more), Ryman has the highest number of care centres with 4 years' certification – the 'gold standard' in care – from the Ministry of Health.

Ngaio Marsh is one such village that has achieved this 'gold standard' in care. To achieve this, it has been determined that the care centre has exceeded the sector standard for aged care.

Innovations such as our custom-made electronic care app, myRyman, contribute to this high standard. In every care room, a device enables nurses and carers to see and record information about each resident. This award-winning technology creates greater efficiencies, allowing our teams to spend more time with residents as a result.

Ryman's seasonal Delicious menu continues to be highlighted as an area that we go above and beyond in. Meals are prepared fresh on site by our village chefs. There is a choice of three main courses, including a vegetarian option, where the aim is to tempt all taste buds. We also cater for special dietary requirements.

Private rooms are spacious and include monitored call bells. You can choose from a selection of room layouts, all with an ensuite bathroom.

Amenities include a hair and beauty salon, café and shop. To ensure your safety at all times, we have 24-hour security on site. Our village also has emergency generators in our care centre, serviced apartments and village centre.

What really makes a difference in Ryman care centres, is the daily dedication of our caring teams. Residents and their families think the world of our nurses and carers. And because our staff ratios are some of the highest in the care sector, the individualised care we provide creates the unique experience that residents tell us they love.

Choosing the right care centre is one of the most important decisions you will make. At Ngaio Marsh, our dedication to care begins even before you or your loved one has moved in.

The Lifestyle at Ngaio Marsh Retirement Village has so many wonderful aspects. We appreciate that everyone has different needs and expectations, so we encourage you to come and visit.

Compare our care centre with other providers, and join in with the activities or events on offer. That way, you'll obtain a real appreciation of the care centre lifestyle, and whether you can see yourself living there.

You'll be supported by our care team every step of the way, to ensure your move into resthome care is a smooth and informed transition.

We look forward to introducing you to our warm and caring community.
Service/Facility Details
Service/Facility Details
Detail
Status
Contract with DHB
Yes
Certification
Yes
ORA Applies
No
Updated: 17 Mar 2022
DHB Respite Care Booking Service
DHB Respite Care Booking Service
We provide DHB Respite Care Booking Service.
Bed and Vacancy Details
Bed and Vacancy Details
Detail
Status
Approximate number of beds at this level of care
62
Vacancy
Yes
We have 2 Resthome beds available
Impending vacancy
Yes - we have rest home beds avail
Premium Room Charges
Some Rooms as at 15 Feb 2022
MOH Certification and Audit Report
View MOH certification and audit report (opens in a new tab)
Extra admission requirements due to COVID-19
Unknown
Updated: 27 May 2022
Care Apartment Bed and Vacancy Details
Personnel
Personnel
Type
Hours Per Week
Status
Details
Registered Nurse
Yes
Our resthome has a full time registered nurse dedicated to this area, as well as a highly skilled Clinical Manager, who overviews the clinical care of all residents in the resthome.
Nurse Practitioner
Negotiable
We are able to access the expert advice of a nurse practitioner should this be required.
Enrolled Nurse
Yes
Healthcare Assistants/Caregivers
Yes
As much as possible, the same caregivers will care for you each shift so they will get to know you well. All our caregivers are supported to undertake training in care of the older person.
Physiotherapist
Negotiable
There is a physiotherapist who visits our facililty regularly and will review residents as required.
Activities Co-ordinator
Yes
We have a dedicated Activities Coordinator in the resthome who works 5 days per week and delivers a wide range of activities for the resident to participate in should they wish.
Hairdresser
Yes
We have a fully equiped hairdressing salon on site.
Podiatrist
Yes
Dietitian
Yes
Accredited Visitors
Negotiable
Kaumatua
Yes
Chaplain/Spiritual Advisor
Yes
Other Personnel
Yes
We welcome visitors to our resthome and should you require the services of specialists we will assist you in accessing the appropriate people to meet your requirements.
Updated: 17 Mar 2022
Specialities or Areas of Expertise
Specialities or Areas of Expertise
Specialities or Areas of Expertise
Status
Details
Oxygen Management
Yes
Gastronomy/Nasogastric Management
Yes
As we also have a hospital associated with this resthome we have registered nurses available 24 hours per day and the expertise available to met all your needs. Please talk directly with Anna Thomson for more information.
End of Life/Palliative Care
Yes
Wound Care
Yes
Diabetic Care
Yes
Continence Advice
Yes
Stomal Therapy
Yes
Stroke Rehabilitation
Yes
Infection Control
Yes
Clinical Management
Yes
Other Specialties
Yes
As required
Updated: 17 Mar 2022
Features
Features
Feature
Status
Details
May Bring Own Furniture
Yes
Single Rooms
Yes
Ensuite
Yes
Alcohol Permitted
Yes
Negotiate To Bring Own Pet
Yes
Phone Access In Own Room
Yes
Lounges/seating areas
Yes
Day Programme for day stay clients
Yes
Outings
Yes
Whanau Room
Yes
Residents Committee
Yes
Meetings held bi-monthly
Family Committee
Yes
Meetings held six monthly
Newsletter
Yes
Policy for management of challenging behaviour
Yes
Confused Residents
Yes
Smokers Room
Yes
Smoking Permitted
Yes
Semi-Secure
Yes
Updated: 17 Mar 2022
Special Features
Special Features
All resthome rooms have access to an internal atrium creating and outdoor setting indoors. The atrium has water features and is ideal in both the winter cold and the summer heat.

Ryman have now introduced a new initiative of providing Resthome Level care in our Serviced Apartments. Please contact the village for information.
Updated: 17 Mar 2022
Interests & Activities
Interests & Activities
We have an extensive activities programme and are involved in many of the varying interests of our residents. Please feel free to contact at any time for further information.
Updated: 17 Mar 2022
Additional Information
Additional Information
Topic
Details
What's included in your fees and what's not
Please contact management for details
Details about meals
All our meals are prepared on site and so have that lovely home cooked quality. Our menus are prepared with the input of a dietitian and rotated regularly. The main meal is served at midday with a lighter meal being served in the evening. Morning and afternoon tea and supper are all home baked goodies and residents are free to help themselves to fruit between meals. We are experienced in catering for different dietary requirements so please let us know if you have require a special diet.
Associated Complexes
We are part of the Rymans Group of Care Facilities
Updated: 17 Mar 2022
Languages Spoken
Languages Spoken
Language
Status
Details
Czechoslovaki
Yes
English
Yes
Fijian
Yes
Filipino
Yes
Hindi
Yes
Thai
Yes
Updated: 17 Mar 2022
Religious/Spiritual Affiliations
Religious/Spiritual Affiliations
Religious/Spiritual Affiliations
Status
Details
(Other comments)
Yes
We respect all religions and denominations
Updated: 17 Mar 2022
Distances
Distances
Location
Distance
Details
Public Transport
0.00 Km
Bus stop outside the village
Shops
0.50 Km
Numerous
Mall
0.50 Km
Northlands Mall
Parks
1.00 Km
St James Park
Library
1.00 Km
Papanui Library
Updated: 17 Mar 2022
Credentials & Membership
The Ministry of Health conducts regular audits of Residential Care Facilities. They can be found HERE.
672