Rest Home Care
Highgrove Village & Patrick Ferry House
At a glance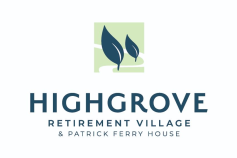 Vacancy

Yes

Name

Highgrove Village & Patrick Ferry House

Category

Rest Home Care

Address

Highgrove Village & Patrick Ferry House
47 Condor Place
Albany
Auckland 0632

Postal Address

Highgrove Village & Patrick Ferry House
47 Condor Place
Unsworth Heights
Auckland 0632

DHB

Waitemata

Phone

Fax

Email

Web

Facebook
Personnel
Manager

Claire Parker - 09 444 6655

Owner

Patrick Ferry House Ltd - 09 447 1551
Other services

The close proximity to Highgrove Retirement Village allows couples and community friends to remain together and connected, even when circumstances dictate a more intensive level of care is required for one of our residents.

Consistent with our FAMILY FIRST ethos, the Highgrove concept is all about keeping family and loved ones together. Patrick Ferry House Aged-Care Hospital was designed to be closely connected with the independent living apartments – literally just a short internal walk away.

Patrick Ferry House provides a range of aged care needs. We offer: day, respite, rehabilitation & recovery, full rest home and palliative care. Our team of trained Registered Nurses and Healthcare Assistants provide support when required while always encouraging our residents to maintain their dignity and independence as much as possible.

Our single occupancy rooms are modern in function and are designed to make you feel more at home. They are equipped with emergency response systems to ensure you feel a sense of comfort and security. Each room has a private ensuite and access to either our Mediterranean courtyard or an individual balcony.

Designed to keep family and loved ones together, the hospital is closely connected with the independent living apartments – literally just a short internal walk away. We provide four comfortable lounges for use by our residents and their families. You can enjoy time with company, participate in some activities or relax with a bit of TV. You can even get a breath of fresh air in the courtyards right off the lounge. With a dining room and kitchenette on each floor of the hospital, a cup of tea or coffee is always close at hand.
Service/Facility Details
Service/Facility Details
Detail
Status
Contract with DHB
Yes
Certification
Yes
ORA Applies
No
Updated: 4 Aug 2021
Bed and Vacancy Details
Bed and Vacancy Details
Detail
Status
Approximate number of beds at this level of care
18
Vacancy
Yes
Admissions accepted on the condition of a clear Covid test
Impending vacancy
No - 0
Premium Room Charges
Yes from $35.00/day up to $50.00/day as at 17 Aug 2021
MOH Certification and Audit Report
View MOH certification and audit report (opens in a new tab)
Updated: 28 Jan 2022
Testimonials
Testimonials
Our grateful thanks to the staff and management of Patrick Ferry House where Mum was very well cared for with affection and respect. We know she had happy times at Patrick Ferry House.
Eileen's family

Thanks to all the lovely carers, we can't thank you enough for all you do for Mum.
Tanya & family

I really appreciate the care and support you provided my Mother. The encouragement provided really helped in getting her mobile again.
Gary

Thank you so, so much for your care, your patience and kindness over the last few months shown to my Dad, myself and my family.
Judi

A big thank you for all the care you have shown me in the short time I have been at Patrick Ferry House. Everyone has been very kind.
Mike (Interim Care Resident)
Updated: 8 Mar 2018
Personnel
Personnel
Type
Hours Per Week
Status
Details
Registered Nurse
Yes
Ancy, Claire, Joy, Marie, Mark, Meldrid, Romy, Sheila and Sam are our Registered Nurses and part of our Team.
Nurse Practitioner
No
Pearl and Maree are our Clinical Managers and together with Linda, our Hospital Manager, work together in taking care of our Residents and their needs.
Healthcare Assistants/Caregivers
Yes
Our Healthcare Assistants are very caring and bring a variety of experience and knowledge to our Team.
Physiotherapist
No
Darrell, our Physiotherapist, visits us regularly to assess our Residents and their physiotherapy needs.
Diversional Therapist
Yes
Yvette is our Diversional Therapist and Una is our Activities Co-ordinator.
Activities Co-ordinator
Yes
Yvette and Una are our Activities Team and offer a variety of topics and activities to our Residents.
Hairdresser
Yes
Lynn, our Hairdresser visits our residents weekly.
Podiatrist
Yes
Sarah and Sophie, our Podiatrists visit our Residents every 5 to 6 weeks.
Dietitian
Yes
Robyn, one of our Dietitians visits us upon request.
Kaumatua
Negotiable
Chaplain/Spiritual Advisor
Negotiable
Other Personnel
Yes
Other members of our Team are Laura, our Hospital Administrator and Carol, our Receptionist.
Updated: 14 Sep 2017
Specialities or Areas of Expertise
Specialities or Areas of Expertise
Specialities or Areas of Expertise
Status
Details
Oxygen Management
Yes
End of Life/Palliative Care
Yes
Wound Care
Yes
Diabetic Care
Yes
Continence Advice
Yes
Stomal Therapy
Yes
Stroke Rehabilitation
Yes
ACC Rehabilitation
Yes
Spinal Injuries Care
Yes
Infection Control
Yes
Surgical Followup
Yes
Clinical Management
Yes
Updated: 28 Sep 2021
Respite, Carer Support or other Short Stay
Respite, Carer Support or other Short Stay
Respite, Carer Support or other Short Stay
Status
Details
Respite
Yes
Carer Support
Yes
Other Short Stay Programme
Yes
High Care Needs
Yes
Subsidised
Yes
Private Paying
Yes
Booking can be made in advance
Yes
Updated: 8 Mar 2018
Credentials & Membership
The Ministry of Health conducts regular audits of Residential Care Facilities. They can be found HERE.
9593