Cunliffe House
At a glance
Vacancy

Yes

Name

Cunliffe House

Category

Rest Home

Address

7 Cunliffe Road
Redwood
Christchurch 8051

Region

Canterbury

Phone

Fax

Mobile

Email
Personnel
Manager

Trisha and Steve Hanson - (03) 3238702

Owner

Trisha and Steve Hanson - (03) 3238702

Mr S Hanson

Mrs P Hanson
Other services
Photos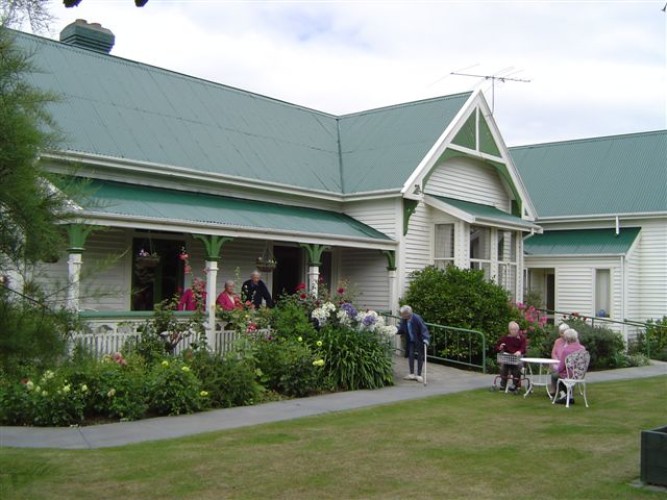 Map
Reviews
Our aim is to provide a home with quality care in a warm friendly family environment.
Service/Facility Details
Service/Facility Details
Detail
Status
Contract with Te Whatu Ora
Yes
Certification
Yes
ORA Applies
No
Updated: 16 Aug 2018
Bed and Vacancy Details
Bed and Vacancy Details
Detail
Status
Approximate number of beds at this level of care
23
Vacancy
Yes
We currently have one double shared room with a male
Impending vacancy
No
Short stay considered
Yes
Premium Accommodation Charges
No
MOH Certification and Audit Report
View MOH certification and audit report (opens in a new tab)
Extra admission requirements due to COVID-19
Yes
Updated: 7 Dec 2023
Personnel
Personnel
Type
Hours Per Week
Status
Details
Registered Nurse
Yes
On call 24 hours a day
Healthcare Assistants/Caregivers
Yes
Physiotherapist
Negotiable
As required
Occupational Therapist
Negotiable
As required
Activities Co-ordinator
Yes
The home engages an Activities Co-ordinator who organises a range of activities to meet the differing capabilities of our residents, with everyone being encouraged but not obliged to participate.
Hairdresser
Yes
Vists first Saturday of every Month
Podiatrist
Yes
Regular visits or on request
Dietitian
Yes
Menus reviewed on a regular basis
Other Personnel
Yes
Co-owner Steve is often on site to assist in tasks
Updated: 16 Aug 2018
Specialities or Areas of Expertise
Specialities or Areas of Expertise
Specialities or Areas of Expertise
Status
Details
Oxygen Management
Yes
Wound Care
Yes
Registered nurse available for this
Diabetic Care
Yes
Continence Advice
Yes
Infection Control
Yes
Clinical Management
Yes
Updated: 16 Aug 2018
Respite, Carer Support or other Short Stay
Respite, Carer Support or other Short Stay
Respite, Carer Support or other Short Stay
Status
Details
Respite
Yes
Carer Support
Yes
Subsidised
Yes
Private Paying
Yes
Updated: 16 Aug 2018
Features
Features
Feature
Status
Details
May Bring Own Furniture
Yes
We encourage residents to furnish their rooms topersonal liking
Single Rooms
Yes
We have a varity of single rooms that are individually decorated in warm colours
Shared Rooms
Yes
These are very large and suited to couples or friends who wish to share
Rooms suitable for a couple
Yes
We have several very large sunny rooms that are ideal for couples
Ensuite
Yes
Some of our rooms are equiped with ensuite toliets
Alcohol Permitted
Yes
As alcohol can interact with some medications adversely, it is advised that only limited amounts of alcohol are consumed. Alcohol may also be provided on special occasions. Happy Hour is held every Friday at 4.00pm. This is a good opportunity to socalise
Pets In Residence
Yes
Yes we have a large black cat named Petal, a bird aviery and a fish pond
Negotiate To Bring Own Pet
Yes
Pets by negotiation
Phone Access In Own Room
Yes
At residents cost
Resident can adjust heating in own room
Yes
All rooms have there own thermostat
Cater for under 65 yrs with Disability
Yes
Lounges/seating areas
Yes
We have two large lounges that are tastefully decorated and are well position to take full advantage of the sun and outside views. We have several lovely sitting areas within our large garden and a lovely shelted verandah.
Primary Health Funded Short Term Care
Yes
Day Programme for day stay clients
Yes
Outings
Yes
We have our own minibus which we use for resident outings on Monday and Friday afternoons. We visit all places of interest and welcome requests.
Residents Committee
Yes
The committee meets on a regular basis and is chaired by the Activities Coordinator
Newsletter
Yes
This is sent to residents, resident's families, staff, and service providers
Policy for management of challenging behaviour
Yes
Confused Residents
Yes
Rural Setting
Yes
We are right on the boundary of a rural setting but are still very close to the central city.
Smoking Permitted
Yes
Smoking is permitted on our verandah.
Updated: 16 Aug 2018
Special Features
Special Features
Situated in a tranquil garden setting at 7 Cunliffe Road in Redwood/Belfast, residents enjoy a picturesque garden featuring a bird aviary,fish pond and sunny courtyards and veranda. Cunliffe House is well situated to service the direct area as well as North Canterbury.
Facilities:
We pride ourselves on being 100% owner operated facility. Comprising of 23 beds, we are smaller sized rest home that allows residents to be treated as individuals in a friendly family style environment. The rest home is set in a grand old home which retains the character while offering the benefits of modern day living.
Our aim is to ensure residents receive the best possible care by qualified and experienced staff, ensuring their individual needs and well being are met in a safe environment.
Although each bedroom is fully furnished, we encourage our residents to bring articles and furniture of their choice that will enable them to feel at home.
All rooms are equipped with a call bell to ensure assistance is accessible at all times and fully automated fire sprinkler system.
Our two lounges look out onto garden areas. Outdoor seating is situated in these garden courtyards and on the verandah, for your enjoyment.
Heating to resident's rooms is individually thermostatically controlled to allow for individual preference.
We offer a variety of rooms and can cater for couples.
Décor and Environment:
The decor is tasteful with neutral tonings and full carpeting. We are a smoke-free environment throughout the main part of the facility. An area is available on the verandah for those who wish to smoke. As well as the outdoor sitting areas, there is a bird aviary and fish pond in the garden area for your enjoyment.

Updated: 16 Aug 2018
Interests & Activities
Interests & Activities
The home engages an Activities Co-ordinator who organises a range of activities to meet the differing capabilities of our residents, with everyone being encouraged but not obliged to participate.
Activities are of great importance in promoting socialisation, mental and physical stimulation, and encouraging a general sense of vitality.
Communication is encouraged through the increased stimulation of outside activities and a supportive atmosphere is developed increasing residents confidence and independence. Visitors are encouraged to assist with these activities where they feel comfortable doing so.
Some of the regular activities are:
• Hand Crafts – painting, flower arranging, card making.
• Trips in the Van twice weekly
• Local Belfast friendly Club
• Picnics
• Casino
• Board games
• Quizzes
• Exercises
• Newspaper readings
• Musical entertainment
• Happy hour
We are always open to suggestions.

Updated: 16 Aug 2018
Additional Information
Additional Information
Topic
Details
What's included in your fees and what's not
Available on request.
Staffing qualifications and details
We have wonderful team that care for all our residents in a caring and loving manner. All of staff are suitably experienced and qualified in their area of responsibility
Details about meals
Breakfast: Served between 7- 45 to 8.30am either in resident's bedrooms or dining room as desired. Morning Tea: Served at 10-00am in the main lounge, dining room / bedrooms / outside. Lunch: Served at 12.00pm in the dining room. This is the main meal of the day followed by dessert. Afternoon Tea: Served at 2.45pm in the dining room. Tea: Served at 5.00pm in the dining room consisting of a soup followed by a savoury dish and fresh fruit. Supper: Served at 7.30pm in the lounges, dining room or bedrooms. Food and refreshments are available outside these times by request. A wide variety of home cooked meals and delicious home baking is enjoyed by residents, (and family by arrangement), with special dietary needs being catered for. We believe in providing as much homemade and home grown foods as possible including homemade preserves. The menu is adjusted on a seasonal basis taking advantage of in-season fruit and vegetables. We welcome your ideas in relation to meal content.
Updated: 16 Aug 2018
Languages Spoken
Languages Spoken
Language
Status
Details
English
Yes
Updated: 16 Aug 2018
Religious/Spiritual Affiliations
Religious/Spiritual Affiliations
Religious/Spiritual Affiliations
Status
Details
Anglican
Yes
Christian
Yes
All denominations are catered for through monthly church services provided on the premises on Thursdays. Residents are assisted to attend Church services in the community at their request.
Inter denominational
Yes
Updated: 16 Aug 2018
Distances
Distances
Location
Distance
Details
Public Transport
0.02 Km
Bus stop available at the end of the street.
Shops
0.04 Km
Dairy, hairdresser, bakery, take aways and service station.
Mall
1.00 Km
Northwood mega centre
Parks
0.50 Km
Styx Mill reserve is close by and a lovely place for a stroll.
Library
1.00 Km
Redwood Public Library. We also have a collection of books from the library that are changed regularly.
Updated: 16 Aug 2018
Credentials & Membership
The Ministry of Health conducts regular audits of Residential Care Facilities. They can be found HERE.