Cornwall Rest Home
At a glance
Vacancy

Yes

Name

Cornwall Rest Home

Category

Rest Home

Address

Cornwall Rest Home
3 Cornwall Street
Masterton
Masterton 5810

Postal Address

Same as above

Region

Wairarapa

Phone

Mobile

Email
Personnel
Manager

Reece Rhind

Owner

Reece Rhind
Photos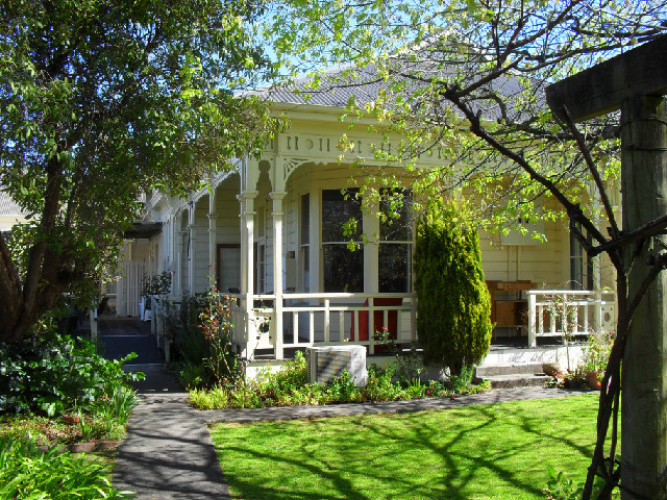 Map
Reviews
Our Mission Statement states that Cornwall Rest Home will provide a welcoming family environment embracing peoples' uniqueness whilst delivering meaningful support on their journey through life with the utmost respect and dignity.

We are not part of a large multi-facility nationwide company where making any change is like turning the Titanic, or where profits can be a disproportionate influence on the decision making process. What we are is a warm and friendly home where people are treasured. On walking into our older world home you will feel the warmth and see the smiles that is central to any real home. We don't want to be a sterile or clinical residence, we love to have a laugh with our residents where we enjoy some lively banter. Our main focus is on empowering people because at the end of the day the rest home is THEIR home. We have a resident committee which is involved in our quality assurance programme and also forms part of our interview panel for new staff, and plays a part in our annual staff appraisal process. We believe there is no better person to comment on the level of care than those who receive that care. We also focus on getting people out and about, to go get an ice cream, to visit the park, to go to the shops, and when the weather is warmer to have trips to the beach for a picnic. And central to any good home is food where we are blessed by our two fantastic cooks who make delicious meals which are constantly remarked upon by both residents and visiting family members. Nothing beats the delicious smell of home baking wafting through the home.

So if you want a warm friendly home where your loved one is more than just a number then come and visit us. You will always be welcome :)
Service/Facility Details
Service/Facility Details
Detail
Status
Contract with Te Whatu Ora
Yes
Certification
Yes
ORA Applies
No
Updated: 29 Sep 2019
Bed and Vacancy Details
Bed and Vacancy Details
Detail
Status
Approximate number of beds at this level of care
27
Vacancy
Yes
Respite bed available
Impending vacancy
No
Short stay considered
Yes
Premium Accommodation Charges
Some Rooms from $15.00/day up to $15.00/day as at 15 Sep 2023
MOH Certification and Audit Report
View MOH certification and audit report (opens in a new tab)
Extra admission requirements due to COVID-19
Yes
Updated: 7 Dec 2023
Personnel
Personnel
Type
Hours Per Week
Status
Details
Registered Nurse
Yes
Our Registered Nurse is wonderful. She is very experienced and supportive of residents and staff and are available if needed after hours.
Healthcare Assistants/Caregivers
Yes
We have wonderful caring caregivers who work together as a brilliant team.
Physiotherapist
Negotiable
We are able to access a local Physiotherapist as required
Occupational Therapist
Negotiable
We are able to access a local occupational therapist as required
Activities Co-ordinator
Yes
Avon is our activities coordinator. She is very motivated to ensuring peoples interests are met. She works in conjunction with our manager Reece to ensure our residents recreational needs are met. We have our own van where we ensure there are outings Monday to Friday depending on the weather. We like people to get out and about as much as possible.
Hairdresser
Yes
We have a hairdresser who visits two weekly. We also have a barber who visits regularly too for our men.
Podiatrist
Yes
Visits if requested.
Dietitian
Negotiable
We do not have an in house dietitian however they provide oversight for our seasonal menus. If specific needs arise we are able to access a local dietitian. Our cooks provide fantastic meals, the quality and taste of which have been commented on many times by family.
Kaumatua
Negotiable
We do not have an in house kaumatua but will access the local Iwi to assist where requested or deemed necessary to maintain the cultural safety of an individual.
Chaplain/Spiritual Advisor
Negotiable
We do not have in house spiritual advisors but are able to access assistance from the local community where desired.
Other Personnel
Negotiable
We have a very good rapport with our district nurses who will call as required following a GP referral. Residents have easy access to their own GP.
Updated: 13 Mar 2023
Specialities or Areas of Expertise
Specialities or Areas of Expertise
Specialities or Areas of Expertise
Status
Details
End of Life/Palliative Care
Yes
Available with a nurse referral.
Wound Care
Yes
We have a registered nurse with excellent skills in wound care management. If a wound nurse specialist is required we can access them via a nurse referral.
Diabetic Care
Yes
Available with a nurse referral.
Continence Advice
Yes
Available with a nurse referral.
Infection Control
Yes
Available with a nurse referral.
Psychiatric Care
Yes
Available with a nurse referral.
Other Specialties
Yes
Available with a nurse referral.
Updated: 13 Mar 2023
Respite, Carer Support or other Short Stay
Respite, Carer Support or other Short Stay
Respite, Carer Support or other Short Stay
Status
Details
Respite
Yes
We provide respite care if you need a break.
Carer Support
Yes
Subsidised
Yes
Private Paying
Yes
Booking can be made in advance
Yes
Please ring for availability.
Updated: 13 Mar 2023
Features
Features
Feature
Status
Details
May Bring Own Furniture
Yes
We like people to bring their own furniture if possible, as we think this makes the room feel a 'part of them'.
Single Rooms
Yes
Our rooms are spacious, especially in the older part of the home. It could even be said that there is some wasted space! High ceilings in the new rooms continue the theme.
Ensuite
Yes
We have five rooms with ensuites. As this is a large family home everyone is in close proximity to the bathroom facilitites.
Alcohol Permitted
Yes
We care for our residents as family members and cater for individual preferences and some have a sherry early evening or a drink of their choice.
Pets In Residence
No
We do not currently have an in house pet
Negotiate To Bring Own Pet
Yes
We will do our best to accommodate individual needs. Negotiations will depend on the type and size of the pet and how many existing pets we already have within the home.
Phone Access In Own Room
Yes
Cordless phones are available and residents may have a connection in their own room if they wish (connection and monthly charges are at your own cost).
Wifi
Yes
Free WIFI is available throughout the home.
Resident can adjust heating in own room
Yes
Cater for under 65 yrs with Disability
Yes
We believe we provide a comfortable environment for people of all ages.
Lounges/seating areas
Yes
We have two lounges, both with spacious verandas. The veranda areas are a very popular place for residents to spend time catching up on the day's conversation and events.
Gay / LGBT IQ Friendly
Yes
Palliative Care Contract
No
Whilst we do not have a contract for palliative care, if any of our residents require terminal/palliative care we will do our best to care for them over this time.
Day Programme for day stay clients
Yes
We have day stay people who partake in our day programme. We know it can be difficult to blend into a larger group but we do all we can to make sure the transition is easy and harmless.
Outings
Yes
We have outings most days of the week, and whilst not everyone wants to go to the same place this is easily managed by taking turns.
Whānau Room
No
As we are a small family home and generally have high occupancy this leaves us with limited space to meet this need. We do however have great links within the community and would do our best to accommodate whanau
Residents Committee
Yes
We have monthly residents meetings.
Policy for management of challenging behaviour
Yes
This a requirement. We are happy to discuss our policy with you.
Confused Residents
Yes
Occasionally residents will become confused. Our caring staff are trained to manage this. However, we can not safely accommodate those who wander.
Smoking Permitted
Yes
In designated outdoor areas. Non smokers are also catered for.
Updated: 13 Mar 2023
Special Features
Special Features
We enjoy the informality and usual 'comings and goings' of a family home. A variety of things happen in the typical day, for example, on many days of the week friends with children drop in and spend time with us. Sometimes they join with us to play the games that our residents have taught them.

Individual interests and hobbies are encouraged in the home or out in the community.

We all contribute to the household, some enjoy the garden and have particular gardening interests, others enjoy helping with domestic tasks: setting the table, putting dishes away, folding the clothes etc. We like everyone to feel useful and valued.

We think that it is understandable that new residents need time to settle into new surroundings as we all come from different backgrounds, life experiences, values and beliefs. We aim to create a sense of harmony in the home.

The original rest home of 8 beds expanded to 14 beds in late 2002. In 2005 the previous owners expanded to 22 beds with a second lounge area, dining area, and bathroom. Our office is located in this new area. The new additions are sympathetic in style with the original building.

In 2010 the previous owners renovated and built a new wing onto an existing wing adding 4 more bedrooms, which all have their own toilets, and one respite room now giving us 27 rooms.
Updated: 13 Mar 2023
Interests & Activities
Interests & Activities
Our residents have a variety of interests, which we encourage. Because we are small we are able to focus on individual preferences. Several residents are keen on doing crosswords and playing bingo; others enjoy the garden whilst others enjoy outings. A number are also keen readers. Many of the activities and interests revolve around the 'comings and goings' of the household

We have a car we can use for appointments and a van for group outings.

The style of the home makes for easy movement and integration of activities. The kitchen is very accessible and lies at the heart of the house with an adjacent lounge. It is common for our visitors and friends to be invited to sit at the kitchen table and be offered a 'cuppa' and some home baking.

The home is set in an established 'old world' garden.
Updated: 13 Mar 2023
Additional Information
Additional Information
Topic
Details
What's included in your fees and what's not
Please see Reece for these details.
Staffing qualifications and details
We have one Registered Nurse working a total of 5 days per week. Nicky is an excellent nurse who gives expert care and advice to ensure our Residents health needs are met. Our caregivers are either very experienced care givers and/or at varying points in their studies towards Health and Well-Being Certificates Levels 2 to 4. They are loved and appreciated by everyone. Their caring manner is shown in a number of ways e.g. if a resident requires hospitalisation staff will often visit in their own time. The staff are fantastic and really do care for those who live at the home, and always try their best to keep the residents happy and feeling useful.
Details about meals
The meals are one of the features of the home. We have two fantastic cooks who prepare our home cooked meals which are regularly commented on by both residents and visiting family. We cater for individual dietary needs and peoples' likes and dislikes. This means that if someone doesn't like broccoli they won't be served it, or if they prefer a cooked breakfast then this is no trouble at all. We have our hot meal at midday with home baking featuring at morning and afternoon tea times.
Internet access
There is free WIFI throughout the home.
Updated: 13 Mar 2023
Languages Spoken
Languages Spoken
Language
Status
Details
English
Yes
Filipino
Yes
Interpreter
Yes
We have access to an interpreter service
Māori - Te Reo
Yes
Updated: 13 Mar 2023
Religious/Spiritual Affiliations
Religious/Spiritual Affiliations
Religious/Spiritual Affiliations
Status
Details
Non denominational
Yes
Updated: 13 Mar 2023
Distances
Distances
Location
Distance
Details
Public Transport
0.00 Km
Public transport is not available. We arrange our own and will try to meet individual needs.
Shops
0.20 Km
Kuripuni shopping centre , Pak n Save and The Warehouse are a short distance away. The main shopping centre is only a minutes drive away.
Mall
0.50 Km
Masterton town centre (not a covered mall)
Parks
1.00 Km
The park and lake in the town are popular places to visit.
Library
1.00 Km
The library deliver and collect books for return for our residents. (We have a number of keen readers.) We are well known at the library.
Updated: 13 Mar 2023
Credentials & Membership
The Ministry of Health conducts regular audits of Residential Care Facilities. They can be found HERE.