Rest Home
Waihi Lifecare (2018) Limited
At a glance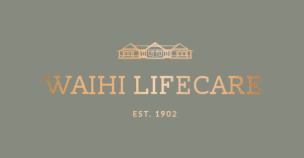 Vacancy

Soon

Name

Waihi Lifecare (2018) Limited

Category

Rest Home

Address

Waihi Lifecare
18 Toomey Street
Waihi
Waihi 3610

Postal Address

Same as above

DHB

Waikato

Phone

Fax

Email

Web
Personnel
Manager

Wendy Rowe - 0272635853

Owner

Steven Wallace - 02102669258
Other services

Waihi Lifecare offers an exceptional Hospital and Resthome level of care in a warm and loving environment. Our rooms have been recently renovated in a peaceful, homely decor and the facility is located in an attractive garden setting.

We are very focused on the holistic wellbeing of all our residents, ensuring that both their physical and psychological needs are met at all times. A professional and caring service is delivered by our team of highly qualified Registered Nurses and Health Care Assistants, 24 hours a day. They cover all aspects of personal care from medication and pain management to ongoing emotional support.

Our two qualified Diversional Therapists implement recreation and leisure-based activity programs to support, challenge and enhance the psychological, spiritual, social, emotional and physical wellbeing of our residents and patients.

The following services are also offered;

Under 65s with long term disability or chronic illness
Long term care is available for young (under 65 years) physically disabled (YPD) or those with chronic long term illnesses, who require assistance with self-care, communication or general mobility. We have a great team of skilled and experienced care staff, who work closely with residents to nurture and maintain optimum independence and control.

GP Inpatient Service
Our highly professional Waihi General Practitioners can admit patients who are unwell or where the older person and their family or whanau are unable to care for the patient. This service includes "emergency or unplanned respite" where an immediate service response is required to avoid admission to a public hospital.

End of life – Palliative Care
We provide a caring and supportive environment where the people who are dying are supported in an environment that provides comfort, privacy and dignity for the resident and their family.

Transition to Home Post-Acute Convalescent Care
A public hospital can refer a patient who are unable to return home/stay home safely in the interim because of;
• an acute illness/episode from which they are expected to recover within 10-14 days
• A period of non-weight bearing is required (up to 42 days) post fracture
• There is a need for home modification/equipment/decisions that is leading to a delayed discharge home and the patient has otherwise completed their acute episode of care.

Respite Care
Short-term stays, or respite care services, are available to those who are unwell (eg, recovering from an illness or hospital stay) or who simply are in need of extra support. Whether it's for a couple days or a few of weeks. This gives the patient a change of scenery whilst being well cared for along with the usual carer being able to take a break.
Service/Facility Details
Service/Facility Details
Detail
Status
Contract with DHB
Yes
Certification
Yes
ORA Applies
No
Updated: 13 Feb 2020
Bed and Vacancy Details
Bed and Vacancy Details
Detail
Status
Approximate number of beds at this level of care
24
Vacancy
Soon
1
Impending vacancy
Yes
Premium Room Charges
Some Rooms from $10.00 -$25.00/day up to $45.00/day as at 05 May 2022
MOH Certification and Audit Report
View MOH certification and audit report (opens in a new tab)
Extra admission requirements due to COVID-19
No
Updated: 1 Jul 2022
Personnel
Personnel
Type
Hours Per Week
Status
Details
Registered Nurse
168
Yes
Registered Nurse on duty 24 hours a day
Healthcare Assistants/Caregivers
Yes
24 hours a day. Our Healthcare Assistants attend regular training and development to ensure that optimum services are provided to our residents each and every day.
Physiotherapist
Yes
Available as required. Our Physiotherapist works on a part time basis and is involved with assessment and support of residents and manages components of our training relating to moving and handling.
Activities Co-ordinator
Yes
3 days a week. Full range of activities provided on Monday, Wednesday & Friday
Hairdresser
Yes
Available as required
Podiatrist
Yes
Three Monthly visits
Dietitian
No
Our menu's are audited by an external dietitian every 2 years.
Accredited Visitors
Yes
St John Pet Therapy visits first Friday of the month St John volunteers visit every Thursday
Kaumatua
No
Available if required
Chaplain/Spiritual Advisor
Yes
Resident's own minister can be contacted on request or facility can provide spiritual advisor. Weekly church service and communion available to all residents.
Other Personnel
Yes
Cleaning staff, Laundry staff, Kitchen staff, Maintenance, Painter, and Office Administrator
Updated: 29 Jul 2016
Specialities or Areas of Expertise
Specialities or Areas of Expertise
Specialities or Areas of Expertise
Status
Details
Oxygen Management
Yes
Oxygen is stored onsite and available for use.
Palliative Care (Contracted)
Yes
Contract with Waikato District Health Board. Hospice Waikato.
End of Life/Palliative Care
Yes
Dialysis
Yes
Yes, If required
Wound Care
Yes
We have access to the wound specialist based at Thames Hospital
Diabetic Care
Yes
We have access to the allocated Diabetic Nurse through Thames Hospital as well as the diabetic nurse in each of the local medical centres.
Continence Advice
Yes
We have access to a continence advisor who is visiting each three months
Tracheotomy Care
Yes
Yes, If required
Infection Control
Yes
We have a trained Registered Nurse allocated in charge of our infection control programme in our facility.
Community Health
No
Clinical Management
Yes
Waihi Hospital has experienced Senior Nurse who is Clinical Manager.
Updated: 28 Jul 2016
Respite, Carer Support or other Short Stay
Respite, Carer Support or other Short Stay
Respite, Carer Support or other Short Stay
Status
Details
Respite
Yes
Respite care available
Subsidised
Yes
Private Paying
Yes
Booking can be made in advance
Yes
Updated: 29 Jul 2016
Features
Features
Feature
Status
Details
May Bring Own Furniture
Yes
Residents may bring their own furniture or Furniture available for use.
Single Rooms
Yes
Rooms suitable for a couple
Yes
Large rooms available for couples
Ensuite
Yes
Rooms with own Ensuite.
Alcohol Permitted
Yes
Pets In Residence
Yes
Negotiate To Bring Own Pet
Yes
Discretion of Manager
Phone Access In Own Room
Yes
On request own expense.
Resident can adjust heating in own room
Yes
Lounges/seating areas
Yes
two big lounge area with big screen TV, Room for activities, games etc
Primary Health Funded Short Term Care
Yes
GP Beds available on referral from Local GP.
Provide End of Life/Palliative Care
Yes
Palliative Care Contract
Yes
Outings
Yes
Planned outings to RSA, town, shopping centres, animal farm, Supermarkets etc Van with wheel chair access available.
Whanau Room
Yes
Maori Kaupapa
Yes
We have access via the local Marae.
Residents Committee
Yes
General resident meetings monthly and activity meetings for residents two monthly.
Newsletter
Yes
Monthly
Policy for management of challenging behaviour
Yes
Policy easily accessible to all staff and families can access on request.
Confused Residents
Yes
Rural Setting
Yes
Waihi is situated in a rural setting.
Smoking Permitted
Yes
Outside the premises.
Updated: 28 Jul 2016
Special Features
Special Features
Historic building with high ceilings and spacious hallways

Spacious rooms available for couples

Beautifully maintained gardens and grounds

Heating throughout facility

Petanque area for use in summer time
Updated: 5 Oct 2020
Interests & Activities
Interests & Activities
Activities include:

- Annual Residents Xmas Party
- Winter Christmas Party
- Art
- Bowls
- Bingo
- Board games
- Cards
- Crafts
- Classical Music
- Concerts
- Baking
- Dancing
- Entertainers and Entertainment
- Exercises
- Games
- Indoor Games
- Jigsaw
- Newspaper reading
- Outings
- Parties
- Puzzles
- Reading
- TV & Videos
- Visits from SPCA

Mini-bus Trip

Email & Fax:
The administration staff have access to e-mail and a fax machine and can use it on behalf of the residents.

Food/Meals
Because we have our own kitchen on site, we can cater for all residents needs including vegetarians and special medical dietary requirements.
Updated: 9 Aug 2016
Additional Information
Additional Information
Topic
Details
Staffing qualifications and details
Registered Nurse available 24 hour per day. Staffing levels according to legal requirements. Staff members include RN's, Health Care Assistants, Activity team, cleaners, laundry- and kitchen staff, maintenance staff, Administration Staff,Clinical Manager. Contracted Doctors that visit the facility three times per week.Over weekends have access to emergency doctors and hospital.
Details about meals
Access to dietition who designs menus for our facility. Meals prepared on site in own kitchen and delivered to different areas. Individual food preferences are respected. Cater for different medical requirements. "Meals on wheels" available to villas and Community on request. Cater for special functions eg. Christmas, Mid Christmas, Easter, Patricks day etc.
Updated: 29 Jul 2016
Languages Spoken
Languages Spoken
Language
Status
Details
Chinese
Yes
Dutch
Yes
English
Yes
Filipino
Yes
Hindi
Yes
Maori - Te Reo
Yes
Punjabi
Yes
Russian
Yes
Updated: 5 Oct 2020
Religious/Spiritual Affiliations
Religious/Spiritual Affiliations
Religious/Spiritual Affiliations
Status
Details
Anglican
Yes
Baptist
Yes
Christian
Yes
Hindu
Yes
Jehovah Witness
Yes
Methodist
Yes
Roman Catholic
Yes
Salvation Army
Yes
Updated: 28 Jul 2016
Distances
Distances
Location
Distance
Details
Public Transport
0.50 Km
Shops
0.50 Km
There is a dairy less than half a kilometre away.
Mall
60.00 Km
Parks
0.50 Km
A children playground just down the road. Gilmour lake is one KM away.
Library
0.50 Km
Waihi Library
Updated: 28 Jul 2016
Credentials & Membership
The Ministry of Health conducts regular audits of Residential Care Facilities. They can be found HERE.
1249