Rest Home
At a glance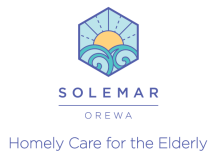 Vacancy

No

Name

SOLEMAR

Category

Rest Home

Address

163 Hibiscus Coast Highway
Orewa
Red Beach 0932

Postal Address

Same as above

DHB

Waitemata

Phone

Fax

Email
Personnel
Other services
SOLEMAR is a privately owned and operated aged care home located in a peaceful, pleasant haven on Hibiscus Coast Highway in Orewa. We overlook Red Beach, with a panoramic view of the sea.

With just 29 beds, Solemar is a boutique residence offering individual, personalized care from rest home level and respite care, through hospital and secure dementia facilities.

Bedrooms are large, sunny and well ventilated, all with ranch sliders facing the decks with those wonderful coastline views. Living areas are well equipped including wide screen smart TV & audio facilities as music is a popular activity with most of our residents.

There are no more than 14 in care in our hospital wing at one time, and 15 in the dementia unit. Our staff are professionally trained and understand the special needs of residents with age-related illnesses and dementia. Our GP is onsite weekly.

Solemar has been fully refurbished to create a more homely, comfortable and stimulating environment.

Our cook caters to individual dietary needs and our staffing levels enable a registered nurse to be on duty at all times. In addition to the services of a full time Activities Coordinator, Solemar residents enjoy regular visits by a physiotherapist, podiatrist, and hairdresser.

Solemar has District Health Board contracts for Rest Home, Dementia Care, Hospital Care and Long Term Support – Chronic Health Conditions.

Solemar is handy to Orewa town center amenities and only 15 minutes from Albany and Auckland's North Shore. We provide regular outing and shopping trips for our residents, who also enjoy occasional visits by entertainers.

Our Facility Manager and Clinical Manager are available at all times for anything you may wish to discuss.
Service/Facility Details
Service/Facility Details
Detail
Status
Contract with DHB
Yes
Certification
Yes
ORA Applies
No
Updated: 21 Dec 2021
Bed and Vacancy Details
Testimonials
Testimonials
SOLEMAR was our first choice; it has everything we required , caring professional staff and a great atmosphere. Our very first impression was "this feels just like home". The kindness and caring shown to all your residents is an inspiration, we can not speak too highly of it.' - New residents family

'Of all the care facilities we inspected SOLEMAR stood out as far as we were all concerned. All your staff have gone out of their way to make the whole family feel welcome which has been very much appreciated. Congratulations on having such a delightful home and such wonderful caring staff' - new admission

To all the fantastic staff at SOLEMAR. Thankyou for making everything as happy as possible for my mum. I really appreciate everything you do for her. -

On behalf of the family I would like to thank you and your staff for being so caring to June. The friendly personal environment you provided was special to us and so well supported with your compassionate staff. June was treated with dignity and kindness by them all as if she was their mother. We found the staff to have a wonderful sense of humor and warm relationships with all the residents.

Once again thank you for the caring of June in the professional manner you did and will remember with fondness the time she had with you all

Just felt I had to let you know how we as a family are so pleased with the care mum is getting. Every one of your team treats each and every patient with the utmost respect and dignity mixed with such warm caring loving natures. It was a wonderful moment watching mum feed another resident her dinner and desert. The pair of them chatting away talking about god knows what. What a character. I left smiling from ear to ear. Haven't felt this happy in a long long time. If there was ever a home away from home, mum has found it. What more could we ever ask for. Thanks again.
Updated: 21 Dec 2021
Personnel
Personnel
Type
Hours Per Week
Status
Details
Registered Nurse
Yes
24 hours per day.
Nurse Practitioner
Yes
As needed
Healthcare Assistants/Caregivers
Yes
Full time
Physiotherapist
Yes
Social Worker (on site)
Negotiable
As requested
Diversional Therapist
Yes
As needed
Activities Co-ordinator
Yes
Full Time
Hairdresser
Yes
Podiatrist
Yes
Dietitian
Yes
as needed
Accredited Visitors
Yes
Kaumatua
Negotiable
Chaplain/Spiritual Advisor
Negotiable
Other Personnel
Negotiable
Updated: 21 Dec 2021
Specialities or Areas of Expertise
Specialities or Areas of Expertise
Specialities or Areas of Expertise
Status
Details
Oxygen Management
Yes
Wound Care
Yes
Diabetic Care
Yes
Continence Advice
Yes
Stomal Therapy
Yes
as needed
Stroke Rehabilitation
Yes
Tracheotomy Care
Yes
Spinal Injuries Care
Yes
Infection Control
Yes
Surgical Followup
Yes
Clinical Management
Yes
Other Specialties
Yes
Updated: 21 Dec 2021
Respite, Carer Support or other Short Stay
Respite, Carer Support or other Short Stay
Respite, Carer Support or other Short Stay
Status
Details
Subsidised
Yes
All government and ACC subsidies taken
Private Paying
Yes
Yes Private service available.
Booking can be made in advance
Yes
Updated: 18 Feb 2022
Features
Features
Feature
Status
Details
May Bring Own Furniture
Yes
Single Rooms
Yes
Ensuite
Yes
Wifi
Yes
Resident can adjust heating in own room
Yes
Cater for under 65 yrs with Disability
Yes
Lounges/seating areas
Yes
2 Lounges and Deck
Primary Health Funded Short Term Care
Yes
Provide End of Life/Palliative Care
Yes
Day Programme for day stay clients
Yes
Outings
Yes
Newsletter
Yes
Policy for management of challenging behaviour
Yes
Confused Residents
Yes
Rural Setting
No
Sea view
Smoking Permitted
Yes
In designated area
Semi-Secure
Yes
Updated: 21 Dec 2021
Special Features
Special Features
Our most special features are: our staff, our size and our location. We provide quality and homely environment.
Updated: 21 Dec 2021
Interests & Activities
Interests & Activities
Activity programme, Advocate, Age Concern, Art, Big print books, Bingo, Breakfast in bed, Canine friends, Care and Craft, Cards, , Church, Children, Classical Music, Concerts, Cooking, Craft, Electric beds, Entertainers, Entertainment, Flower arranging, Exercises, Games, Garden, Gardening, Indoor Games, Minibus, Music, Movies, Newspaper reading, Pianist, Reading, Shopping, Vegetarian, Activity programme
Updated: 21 Dec 2021
Additional Information
Additional Information
Topic
Details
Staffing qualifications and details
Staff are all fully trained in their field. Qualified Registered Nurses in 24 hours per day.
Details about meals
Cook has over 15 years experience and has implemented a gourmet menu. She will cook to your requirements and fancies.
Updated: 21 Dec 2021
Languages Spoken
Languages Spoken
Language
Status
Details
English
Yes
Filipino
Yes
Hindi
Yes
Updated: 21 Dec 2021
Distances
Distances
Location
Distance
Details
Public Transport
0.50 Km
Accross the road is the bus stop.
Shops
0.50 Km
Accross the road: a dairy, liquor, fruit and vegetables stores, restaurant.
Mall
1.00 Km
Silverdale and Orewa town centre
Parks
0.50 Km
Golf Course and Beach
Library
1.00 Km
Orewa town centre
Updated: 21 Dec 2021
Credentials & Membership
Credentials & Membership
Credentials & Membership RC
Status
Details
Care Association New Zealand
Yes
Updated: 21 Dec 2021
The Ministry of Health conducts regular audits of Residential Care Facilities. They can be found HERE.
9719