Rest Home
At a glance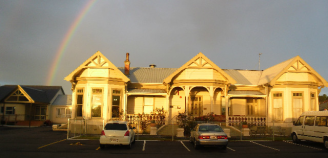 Vacancy

No

Name

New Vista

Category

Rest Home

Address

129 Harrison Street
Whanganui
Whanganui 4500

Postal Address

Same as above

DHB

Whanganui

Phone

Fax

Email

Web
Personnel
Manager

Victoria Bell - (06) 345 2381
Other services

New Vista Resthome aims to support and promote the interests of our residents and to ensure the highest quality of care through honesty,integrity and vision.
Service/Facility Details
Service/Facility Details
Detail
Status
Contract with DHB
Yes
Certification
Yes
ORA Applies
No
Updated: 18 May 2012
Bed and Vacancy Details
Bed and Vacancy Details
Detail
Status
Approximate number of beds at this level of care
27
Vacancy
No
Impending vacancy
No
Premium Room Charges
No
MOH Certification and Audit Report
View MOH certification and audit report (opens in a new tab)
Extra admission requirements due to COVID-19
Please enquire
Updated: 1 Jul 2022
Personnel
Personnel
Type
Hours Per Week
Status
Details
Registered Nurse
Yes
We have Registered Nurses on duty 24 hours per day. In addition we have a highly experienced Clinical Nurse Manager who leads the Clinical Team in both Hospital and Rest Home.
Enrolled Nurse
Yes
We have 2 Enrolled Nurses on staff
Healthcare Assistants/Caregivers
Yes
All New Vista Caregivers hold Healthcare qualifications with ongoing onsite education and training provided.
Physiotherapist
0.00
Yes
As required.
Occupational Therapist
0.00
Yes
As required
Social Worker (on site)
0.00
Negotiable
As required
Diversional Therapist
Yes
We have one qualified Diversional Therapist and one Activities Officer who cover Monday to Friday from 9am to 3.30 pm
Activities Co-ordinator
Yes
Our Diversional Therapist and Activity Officer provide both group and 1 on 1 activities with each resident having been assessed to identify individual needs and interests.
Hairdresser
Yes
Visits weekly or as necessary
Podiatrist
Yes
Visits once a month or as required
Dietitian
Yes
Dietitian approved Menu with special requirements catered for. Home cooked meals
Accredited Visitors
Yes
We have volunteered help with group activities and outings.
Kaumatua
Yes
We are able to contact on behalf of the resident if requested, with all cultural preferences supported.
Chaplain/Spiritual Advisor
Yes
We have interdenominational church services providing pastoral care and communication for those who wish it, along with individual visits for those who are unable to attend a group service.
Other Personnel
Yes
Updated: 12 Apr 2018
Respite, Carer Support or other Short Stay
Respite, Carer Support or other Short Stay
Respite, Carer Support or other Short Stay
Status
Details
Respite
Yes
We have the dedicated respite bed for the Whanganui DHB.We run a booking system and take advanced bookings.
Carer Support
Yes
Subsidised
Yes
Private Paying
Yes
Booking can be made in advance
Yes
Updated: 4 Apr 2013
Features
Features
Feature
Status
Details
May Bring Own Furniture
Yes
Rooms are fully furnished and we encourage residents to bring in personal items.
Single Rooms
Yes
Our new rooms have ensuites. We have no extra charges
Ensuite
Yes
Our new rooms have ensuites.We have no extra charges for these rooms.
Alcohol Permitted
Yes
Pets In Residence
Yes
We have a resthome cat who recently came to visit and decided to stay.
Phone Access In Own Room
Yes
Portable phone is available. Phones are available in new hospital rooms
Resident can adjust heating in own room
Yes
Wall switch in each room.
Cater for under 65 yrs with Disability
Yes
Dependant upon funding being arranged.
Lounges/seating areas
Yes
Primary Health Funded Short Term Care
Yes
We have the designated respite bed for the Whanganui area and run a booking system.
Provide End of Life/Palliative Care
Yes
Palliative Care Contract
No
Our Registered Nurses have considerable experience in nursing in the hospice setting. Should a resident require this care we can therefore provide it in consultation with hospice.
Day Programme for day stay clients
Yes
We will pick up and deliver those who come to spend the day with us. We currently have a number of local people who use this service.
Outings
Yes
Group outings happen twice weekly. We also enjoy taking residents on individual outings as required or preferred.
Whanau Room
Yes
We are able to use rooms that are vacant for this purpose.
Newsletter
Yes
We publish a quarterly family newsletter
Policy for management of challenging behaviour
Yes
Plese see the Manager if you would like to discuss this
Confused Residents
Yes
Smokers Room
Yes
Internal covered court yard .
Smoking Permitted
Yes
In designated areas only
Semi-Secure
Yes
Updated: 4 Apr 2013
Special Features
Special Features
OUR LOCATION

We are very centrally located and this allows those residents who are mobile to go to the shops, TAB or Club with relative ease. It is also very convenient for those who are visiting

OUR HISTORY

New Vista started its life as a stately Wanganui villa. It has been remodelled into a rest home and still retains some of these features.A new hospital wing was added in 2011 offering ensuite rooms.

OUR PHILOSOPHY OF CARE

Through our mission and values we are committed to address the needs in the Community by providing high quality services which will enhance the quality of life of our residents.We aim to do this by providing timely, safe and appropriate services delivered by professional competent staff who respect the dignity of older people.
Updated: 4 Apr 2013
Interests & Activities
Interests & Activities
.
Updated: Unknown
Additional Information
Additional Information
Topic
Details
What's included in your fees and what's not
We have no extra charges for any rooms including our ensuite rooms.
Staffing qualifications and details
We have Registered Nurse cover 24 hours a day.Our clinical Nurse Leader is highly experienced and leads our team of registered and enrolled Nurses. Our Healthcare assistants all have a relevant qualification.We have two trained Diversional Therapists who organise a program that caters for individual needs.
Details about meals
All meals are prepared on site. An example of the way we demonstrate resident choice is the structure of our meal times. We open the dining room for breakfast at 7am and close it for open dining at 9am. You may therefore wander in at your convenience and help yourself or if you prefer breakfast may be served in your own room. Other meals are served at standard times but again the choice is yours as to whether you want to join other residents or have your meal in your room. We understand that some residents prefer to dine in their own room. Our staff are flexible enough to be able to spend time with you if you would like to socialise a little, or perhaps go walking with you to get some exercise.
Associated Complexes
Annie Brydon Complex In Hawera. Te Mahana Rest Home in Patea.
Updated: 4 Apr 2013
Languages Spoken
Languages Spoken
Language
Status
Details
English
Yes
Maori - Te Reo
Yes
Samoan
Yes
Updated: Unknown
Religious/Spiritual Affiliations
Religious/Spiritual Affiliations
Religious/Spiritual Affiliations
Status
Details
Non denominational
Yes
Updated: Unknown
Distances
Distances
Location
Distance
Details
Public Transport
0.00 Km
Shops
0.50 Km
Mall
0.50 Km
We are located close to the city centre.
Parks
0.50 Km
Queens Park - Sarjeant Galley, Wanganui Regional Museum, Wanganui District Library and the Memorial Hall.
Library
0.50 Km
Wanganui District Library
Updated: Unknown
The Ministry of Health conducts regular audits of Residential Care Facilities. They can be found HERE.
670