Rest Home
HBH Senior Living - Rest Home
At a glance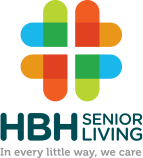 Vacancy

No

Name

HBH Senior Living

Category

Rest Home

Address

139 Union Rd
Howick
Auckland 2014

Postal Address

PO Box 38093
Howick
Auckland 2145

DHB

Counties Manukau

Phone

Fax

Email

Web
Personnel
Manager

Bonnie Robinson - (09) 538 0804

Owner

HBH Senior Living
Other services

For those who need a little more assistance with daily living, HBH Senior Living offers a dedicated, 32-bed rest home. Meals, activities and personal care are provided and you can rest assured that a highly trained nurse is in charge at all times.

CARE PHILOSOPHY
Living life to the full, as independently as possible, with support and medical care at hand 24/7.

LIVING SPACE
Rooms are larger than most (17 metres square with a full ensuite), so there is plenty of space to bring the things you treasure. All rooms have a built-in wardrobe, vanity and storage and are pre-wired for Sky, phone and Internet. And best of all, every room opens onto a deck or patio.
There are also three communal lounges (with Wifi available), as well as a large dining room and activities space.

FEATURES OF OUR CARE
> Managed by the Director of Nursing, with day-to-day management by an enrolled nurse.
> Support with personal care (showering and dressing assistance) and supervision of medical conditions.
> Three GPs who undertake regular check-ups every three months or as medically required.
> Regular family meetings with senior staff to review care.
> Occupational therapist, physiotherapist and podiatrist available.
> Activities programme and support for residents to organise their own activities and hobbies.
> Laundry is taken care of, although we have a resident laundry and drying room available if you want to do any of your own laundry or special items.
> All meals and snacks provided fresh from own onsite kitchen, including an optional buffet breakfast so residents can get up when they wish.
> Menus are supervised by a dietician.

INDUSTRY ENDORSEMENTS
Our rest home has been awarded four years certification (the highest level of certification available) from the Ministry of Health. HBH Senior Living is a fully registered Eden Alternative facility, only one of two in Auckland

WELLBEING
We offer chaplaincy and weekly church services and have an onsite shop, library trolley, weekly Happy Hour and hairdresser, as well as a range of daily activities, regular social functions and celebrations. For those with green fingers, a raised garden is available and animal lovers can enjoy our resident pets. Residents may also be able to bring their own pet.

COMMUNITY
A mini bus is available to take you on organised outings. Volunteers help with a range of activities as well as friendship and companionship, and HBH Senior Living is a member of the Eden Alternative, a philosophy of care based on helping older people to have a life of purpose, meaning and variety.
Service/Facility Details
Service/Facility Details
Detail
Status
Contract with DHB
Yes
Certification
Yes
ORA Applies
No
Updated: 6 Jul 2021
Bed and Vacancy Details
Bed and Vacancy Details
Detail
Status
Approximate number of beds at this level of care
32
Vacancy
No
Please contact Jenny Moore re rest home waiting list.
Impending vacancy
No
Premium Room Charges
Yes from $45.00/day up to $55.00/day as at 22 Jun 2022
MOH Certification and Audit Report
View MOH certification and audit report (opens in a new tab)
Extra admission requirements due to COVID-19
Yes
Updated: 28 Jun 2022
Testimonials
Testimonials
"Yesterday we celebrated Mum's 90th. She had a wonderful day with friends and family. We have much to thank the wonderful staff at your rest home for. I have been into many rest homes over the years; there is nowhere I have seen that is up to the standard of care that my mum receives from your amazing staff."
Thanks again, Mary

All of the staff do such a great job and we appreciate it very much."

"Everybody is so friendly and we as a family feel very comfortable to discuss any worries we may have - we always feel very welcome."
Updated: 22 Sep 2020
Personnel
Personnel
Type
Hours Per Week
Status
Details
Registered Nurse
160+
Yes
24 hours every day
Physiotherapist
24
Negotiable
on referral from G.P..
Occupational Therapist
30
Yes
Co-ordinates all activities
Social Worker (on site)
35
Yes
Jenny Moore
Diversional Therapist
100
Yes
Daycare co-ordinator
Hairdresser
30
Yes
Tues to Fri
Podiatrist
Negotiable
Visiting podiatrist
Dietitian
Negotiable
As required
Accredited Visitors
Yes
Volunteers help with morning teas, assist with the day programme and church services, and driving of the mini bus.
Kaumatua
Yes
Chaplain/Spiritual Advisor
Yes
Available at any time
Other Personnel
Yes
The Administration and Property Manager and Receptionist are well known to residents and families.
Updated: 6 Aug 2020
Specialities or Areas of Expertise
Specialities or Areas of Expertise
Specialities or Areas of Expertise
Status
Details
End of Life/Palliative Care
Yes
Wound Care
Yes
Diabetic Care
Yes
Continence Advice
Yes
Stroke Rehabilitation
Yes
Infection Control
Yes
Psychiatric Care
Yes
Visiting Specialist
Clinical Management
Yes
Other Specialties
Yes
Updated: 6 Aug 2020
Respite, Carer Support or other Short Stay
Respite, Carer Support or other Short Stay
Respite, Carer Support or other Short Stay
Status
Details
Respite
Yes
We have an ensuited respite room in our rest home and can take bookings for this. Level of care must be rest home. Bookings can be made in advance with the social worker
Carer Support
Yes
Subsidised
Yes
Private Paying
Yes
Booking can be made in advance
Yes
Updated: 6 Aug 2020
Features
Features
Feature
Status
Details
May Bring Own Furniture
Yes
Subject to inspection to ensure safety.
Single Rooms
Yes
All Rest Home rooms are single
Shared Rooms
No
Only single rooms in the Rest Home.
Ensuite
No
Each room has an ensuite bathroom.
Alcohol Permitted
Yes
Under supervision. Happy hour on Wednesday before dinner.
Pets In Residence
Yes
We have two resident cats and two budgies in the Rest Home.
Phone Access In Own Room
Yes
Own phone line at residents expense. A residents' phone is located near reception.
Wifi
Yes
Resident can adjust heating in own room
Yes
Cater for under 65 yrs with Disability
Yes
Lounges/seating areas
Yes
We have several small lounges that provide choice for the residents and their families including outside seating areas.
Primary Health Funded Short Term Care
Yes
Primary options for acute care may be offered if there is a vacancy.
Provide End of Life/Palliative Care
Yes
We accept residents requiring palliative care. The Hospice will follow up those who have been referred here.
Day Programme for day stay clients
Yes
Day Programme open Monday to Saturday. Contract with Counties Manukau District Health Board.
Outings
Yes
Weekly outing in the mini bus. Other outings arranged on an ad hoc basis.
Residents Committee
Yes
Residents meetings are held bi monthly.
Newsletter
Yes
Policy for management of challenging behaviour
Yes
Confused Residents
Yes
We can not provide care for those who wander or intrude into other residents space.
Smoking Permitted
No
This is a smoke free facility
Updated: 6 Aug 2020
Special Features
Special Features
32 bed modern Rest Home, QHNZ Accredited. 24 hour Registered Nurse Care. Registered Occupational Therapist and Physiotherapist available. Experienced Medical Practitioners visit daily.
Updated: 6 Aug 2020
Interests & Activities
Interests & Activities
Activity programme, Advocate, BBQ, Big print books, Billiards, Bingo, Blind Foundation, Board games, Bowls, Breakfast in bed, Cards, CMA, Communicare, Concerts, Craft, Daily Devotions, Entertainers, Entertainment, Exercises, Fax, Games, Garden, Happy Hour, Interdenominational, Library, Meal choices, Men, Minibus, Movies, Music, Newspaper reading, Organ, Outings, Pastoral care, Pianist, Picnic facilities, Pool table, Quizzes, Reading, Religious services, Shopping, Stroke Group, Video, Visitors.
Updated: 6 Aug 2020
Additional Information
Additional Information
Topic
Details
What's included in your fees and what's not
X-Rays, Medical Specialists
Staffing qualifications and details
24 Hour Registered Nurses and Trained Caregivers
Details about meals
Provided by Medi-restSpecial Dietary requirements available
Updated: 6 Aug 2020
Languages Spoken
Languages Spoken
Language
Status
Details
Afrikaans
Yes
Cantonese
Yes
English
Yes
Hindi
Yes
Interpreter
Yes
Korean
Yes
Day Care area only
Mandarin
Yes
Maori - Te Reo
Yes
Samoan
Yes
Tagalog
Yes
Tokelauan
Yes
Tongan
Yes
Other Information
Yes
This section is currently being updated.
Updated: 6 Aug 2020
Religious/Spiritual Affiliations
Religious/Spiritual Affiliations
Religious/Spiritual Affiliations
Status
Details
Anglican
Yes
Baptist
Yes
Christian
Yes
Inter denominational
Yes
Methodist
Yes
Non denominational
Yes
Presbyterian
Yes
Roman Catholic
Yes
Salvation Army
Yes
Seventh Day Adventist
Yes
Updated: 6 Aug 2020
Distances
Distances
Location
Distance
Details
Public Transport
0.01 Km
Bus at gate
Shops
0.03 Km
Local block of shops
Mall
3.50 Km
Botany Town Centre
Parks
1.50 Km
Lloyd Elsmore
Library
0.50 Km
Highland Park Centre
Updated: 6 Aug 2020
Credentials & Membership
The Ministry of Health conducts regular audits of Residential Care Facilities. They can be found HERE.
434