Rest Home
Fraser Manor Rest Home - "Best small rest home in town"
At a glance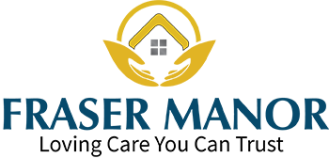 Vacancy

Yes

Name

Fraser Manor Rest Home

Category

Rest Home

Address

122 Fraser Street
The Avenues
Tauranga 3112

Postal Address

Same as above

DHB

Bay of Plenty

Phone

Fax

Email

Web
Personnel
Manager

Cami Arend

Owner

Bob Arend

Fraser Manor prides itself on being a family-oriented facility that caters to the needs of our residents. Being privately owned and operated, we have the flexibility to work with families to ensure that residents continue to enjoy their existing interests and maintain their individuality. The team strives to create an environment that supports independence and ensures residents live with dignity and respect.

We are committed to providing individualised, exceptional, and compassionate aged care for the families in our community so that they may be empowered to live full and abundant lives.

Our staff have the expertise to care for residents with varying needs. Health professionals are readily available to provide medical and personal services. Nutritious meals are cooked on site, a range of activities and outings are provided and we also offer inter-denominational religious services on a weekly basis for those who want to attend.

We encourage prospective families to contact us to discuss how we can meet the needs of their loved one. We will do our best to tailor our care to accommodate the new resident.
Service/Facility Details
Service/Facility Details
Detail
Status
Contract with DHB
Yes
Certification
Yes
ORA Applies
No
Updated: 15 Oct 2019
Bed and Vacancy Details
Bed and Vacancy Details
Detail
Status
Approximate number of beds at this level of care
36
Vacancy
Yes
Premium room available
Impending vacancy
Yes - standard rooms available.
Premium Room Charges
Some Rooms from $5.00/day up to $25.00/day as at 18 Aug 2021
MOH Certification and Audit Report
View MOH certification and audit report (opens in a new tab)
Extra admission requirements due to COVID-19
Please enquire
Updated: 24 Jun 2022
Testimonials
Testimonials
I would like to wholeheartedly pass on my sincere warm thanks to all concerned for the first class care that has been given to me since residing here in this "Rest Home." I appreciate the way everyone here have shown a loving and happy aptitude towards me, and hope ti will remain that way forever in providing harmony to the home.
God bless all,
Garry
August 2018

******

Our thanks to the staff at Fraser Manor who looked after our Mum so well for the last 15 months.
Resident's Family
June 2018

******

I feel I must thank you all for your kindness and attention during my recent "bout of sickness" - without a doubt I couldn't have coped without you. Obviously this is my first (and only) experience of living in this environment and I must say I have been more than pleasantly surprised at the dedication and care shown by all of you. So thank you again for all your efforts in keeping us residents happy and content!
Sincerely, Louisa
March 2017

******

Thank you for attending the funeral and your very kind words on behalf of Fraser Manor. The care, warmth and aroha shown towards him, and indeed his family was fantastic. Our heart-felt thanks to your all.
Arohanui
Laurie's family
March 2017

******

Thank you for the loving care given to mum. Words cannot express our gratitude for the care and love you gave mum and her family.
Gwen's family
July 2016

******

My husband and I enjoyed our time immensely with you and would not hesitate in returning if necessary. In fact I thought it was a mini holiday for me after my knee surgery. Am finding it hard getting back into the old routine!!!
Thanks again.
Mary
July 2016

*****

We can't thank you enough for all the care and love you have shown to our beloved mother, Joyce. She very much enjoyed her time as a resident at Fraser Manor during the past 18 months and the friendships she made.
Joyce's daughters
February 2016

*****

Please accept my gratitude for the love and respect you gave to Mum. We loved her and appreciated the affection and support you all showed her and the genuine friendliness shown to our family.
To each one of you thank you.
Mary's daughter

I wish to thank you all for your love and care for Mum during her final years. It was always a great comfort to return to Auckland knowing she was in safe hands.
Best wishes to you all.
Mary's son
February 2016

*****

I just wanted to say thank you so much for the opportunity of working at Fraser Manor. I have absolutely loved being a part of the team here. So many of you made me feel so welcome and a part of the family since day one. I am beyond grateful for all the time that has been invested in teaching me skills that will last forever. Through working at Fraser Manor I have learnt to care for others with such a compassionate heart, just as the caregivers here have demonstrated to me. I wish you all the best for the upcoming year.
Blessings
Rebekah
January 2016

*****

My mother, who was in her nineties, lived at Fraser Manor Rest Home, Fraser Street, Tauranga for 18 months, until her recent death.

She entered Rest Home care late in life so we were very concerned about how she would cope. It was a huge change for her and happened quickly due to failing physical health. Initially we saw Fraser Manor as respite until she could be moved nearer to us.

Fraser Manor was recommended to us by an ambulance Paramedic whose grandmother was a resident there. Without this recommendation we may not have given it a second look. And we are so very glad and grateful that we did.

If you are looking for accommodation that is modern, with all the latest mod cons then Fraser Manor is not for your loved one. But if you are looking for a 'family' atmosphere' that is caring, supportive and totally professional then we would suggest you make a visit or phone call. From the moment we first made contact with Scott and his staff, they were welcoming, transparent and attentive. More importantly, they helped Mum feel at home from the first moment she entered the residence. She enjoyed the activities, the entertainment, those extra special celebrated events , the variety in meals and the positive interactions with the carers. This level of exceptional care remained until Mum's death.

I have to admit that I did look at other places nearer to us but they could not match the level of aged care shown at Fraser Manor. And Mum herself decided that she did not want to move either - this was her new family.

Scott is a hands-on owner and the staff and both residents and families love his personal approach. Nothing is too much trouble. We found it comforting to know that he is very aware of what is happening within the home and makes himself accessible to families when they need to communicate with him. We liked the fact that he knew how Mum was doing at any given time.

It gives us great pleasure to highly recommend Fraser Manor Rest Home as a safe, family-type environment for any elderly loved one.

Chris Bush (Auckland)
March 2015

******

Thank you very much for your kindness shown to our Mum during her 16 months as a resident at Fraser Manor.

We know our Mum enjoyed her time as a guest - from breakfast in bed, attention and excellent care during her time with you and especially the entertainment sessions, thoroughly enjoyable meals and baking, even Birthday Cakes!

The staff, too numerous to mention whom Mum knew by name, were great at her bedside and she took an interest in each one. I could go on and on.... Mum chatted away about how kind the staff were to her.

A big thank you from the family, especially in the later stages when Mum was in her "Special Hospital Bed", (her words).

Joan's family
April 2014
Updated: 6 Aug 2018
Personnel
Personnel
Type
Hours Per Week
Status
Details
Registered Nurse
Yes
Registered Nurses are On-Call 24 hours per day.
Healthcare Assistants/Caregivers
Yes
Excellent caregivers are on 24 hours per day, who are very adept at providing excellent care for all of our residents.
Physiotherapist
Yes
Occupational Therapist
Yes
Activities Co-ordinator
Yes
Mon - Fri, 5 hours per day.
Hairdresser
Yes
Hairdresser visits every week.
Podiatrist
Yes
Our podiatrist visits once a fortnight.
Dietitian
Yes
All meals are assessed and planned with input from a Dietitian.
Kaumatua
Yes
Chaplain/Spiritual Advisor
Yes
Inter-denominational church services are held every Monday. Our Chaplain and spiritual advisors are also available on request.
Other Personnel
Yes
We have many volunteers from the community who visit regularly.
Updated: 28 May 2018
Specialities or Areas of Expertise
Specialities or Areas of Expertise
Specialities or Areas of Expertise
Status
Details
Oxygen Management
Yes
Gastronomy/Nasogastric Management
Yes
End of Life/Palliative Care
Yes
Close links with Waipuna Hospice.
Wound Care
Yes
Up to date registered nurses
Diabetic Care
Yes
Up to date registered nurses
Continence Advice
Yes
Up to date registered nurses
Stomal Therapy
Yes
Stroke Rehabilitation
Yes
Up to date registered nurses
Infection Control
Yes
Up to date registered nurses
Surgical Followup
Yes
Psychiatric Care
Yes
Some mental health respite care provided. Prior assessment by manager.
Clinical Management
Yes
Other Specialties
Yes
Counselling and accredited training assessor.
Updated: 27 Oct 2009
Respite, Carer Support or other Short Stay
Respite, Carer Support or other Short Stay
Respite, Carer Support or other Short Stay
Status
Details
Respite
Yes
Carer Support
Yes
Other Short Stay Programme
Yes
Subsidised
Yes
There is a one-time admission fee of $25 for respite care.
Private Paying
Yes
Booking can be made in advance
Yes
Updated: 15 Oct 2019
Features
Features
Feature
Status
Details
May Bring Own Furniture
Yes
Single Rooms
Yes
Rooms suitable for a couple
Yes
Ensuite
Yes
Some ensuited rooms.
Alcohol Permitted
Yes
Phone Access In Own Room
Yes
A private line can be arranged. The public residents' line has portable access.
Wifi
Yes
Resident can adjust heating in own room
Yes
Cater for under 65 yrs with Disability
Yes
Lounges/seating areas
Yes
3 lounges and access to outdoor seating areas.
Primary Health Funded Short Term Care
Yes
Provide End of Life/Palliative Care
Yes
Day Programme for day stay clients
Yes
Outings
Yes
Residents Committee
Yes
Residents' meetings are held every three months.
Newsletter
Yes
Policy for management of challenging behaviour
Yes
Confused Residents
Yes
Smoking Permitted
Yes
Outside only.
Semi-Secure
Yes
Updated: 12 May 2016
Special Features
Special Features
We are a single level complex with access to the outdoors which include boxed gardens and shady grassed areas with seating.

There is off street parking available.

We are centrally located with easy access by car or bus to local shopping areas.
Updated: 12 May 2016
Interests & Activities
Interests & Activities
Activity programme includes outings, care and craft, 65+ club, bingo, entertainers, church services, exercises, walks, gardening, darts, bowls, board games, playing cards, cake making, knitting, jigsaw puzzles, library books, newspaper reading, quizzes, organ, piano, singing, high teas, pastoral care, films and large screen tv.

Special events are celebrated, e.g. Birthdays, ANZAC Day, Melbourne Cup, Queen's Birthday, St Patrick's Day, Easter, Mid-Winter Christmas and more. We host a Christmas Party for the residents and their families. Raffles are held regularly.

Lots of activities to engage in!
Updated: 28 May 2018
Additional Information
Additional Information
Topic
Details
What's included in your fees and what's not
Please discuss with manager.
Staffing qualifications and details
Low staff turnover. Use of outside agency staff is quite rare.
Details about meals
Meals are cooked on site with fresh ingredients. Home made baking is provided for morning tea.
Updated: 12 May 2016
Languages Spoken
Languages Spoken
Language
Status
Details
English
Yes
Hindi
Yes
Interpreter
Yes
Available via public hospital
Maori - Te Reo
Yes
Punjabi
Yes
Tagalog
Yes
Updated: 26 Nov 2018
Religious/Spiritual Affiliations
Religious/Spiritual Affiliations
Religious/Spiritual Affiliations
Status
Details
Anglican
Yes
Baptist
Yes
Brethren
Yes
Christian
Yes
Inter denominational
Yes
Non denominational
Yes
Pentecostal
Yes
Presbyterian
Yes
Roman Catholic
Yes
Salvation Army
Yes
(Other comments)
Yes
Inter-denominational service held every Monday.
Updated: 12 May 2016
Distances
Distances
Location
Distance
Details
Public Transport
Available within short walking distance.
Shops
Small complex outside front door.
Parks
1.00 Km
Close to Memorial Park where residents enjoy having picnics.
Library
4.00 Km
Books and trips organised to Library.
Updated: 12 May 2016
Credentials & Membership
Credentials & Membership
Credentials & Membership RC
Status
Details
Village Registration not Required
Yes
Updated: 26 Nov 2018
The Ministry of Health conducts regular audits of Residential Care Facilities. They can be found HERE.
1942