Rest Home
Cardrona Rest Home & Hospital
At a glance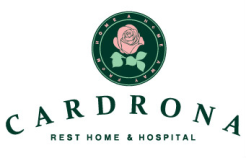 Vacancy

Yes

Name

Cardrona Rest Home & Hospital

Category

Rest Home

Address

16 MacKenzie Street
Putaruru
Putaruru 3411

Postal Address

16 Mackenzie Street
Putaruru 3411

DHB

Waikato

Phone

Fax

Email

Web

Facebook
Personnel
Manager

Debbie Beer - 078833708

Owner

Doreen & Trevor Beer - 078833708

Clinical Operations Manager

Katherine McLeod - 078833708
Other services

"A home away from home"

Offering you and your loved ones a family atmosphere and quality care

Cardrona Rest Home and Hospital takes pride in catering to the needs of our community by providing personal, hands on care for all of our residents.

Offering 24/7 registered nurse care, spacious rooms, nutritious home style cooking and a friendly staff. The team at Cardrona are dedicated to hosting our residents and their families in a comfortable and cheerful environment.

For all enquiries please contact Debbie Beer, General Manager or Katherine McLeod, Clinical Operations Manager on

Phone: (07) 883 3708 Email: office@cardronahome.co.nz


We look forward to meeting with you
Service/Facility Details
Service/Facility Details
Detail
Status
Contract with DHB
Yes
Certification
Yes
ORA Applies
No
Updated: 26 Jun 2020
Bed and Vacancy Details
Bed and Vacancy Details
Detail
Status
Approximate number of beds at this level of care
27
Vacancy
Yes
Double room
Impending vacancy
Yes
Premium Room Charges
Some Rooms from $10.00/day up to $10.00/day as at 16 Jun 2022
MOH Certification and Audit Report
View MOH certification and audit report (opens in a new tab)
Extra admission requirements due to COVID-19
Yes
Updated: 28 Jun 2022
Testimonials
Testimonials
A big thank you from me for all your help and considerate care of me the past few weeks. Remembering everyone's names and their special needs and having endless patience makes such a difference. I think all of you do a wonderful job and thank you again from me. - M.R
Updated: 23 Apr 2020
Personnel
Personnel
Type
Hours Per Week
Status
Details
Registered Nurse
24/7
Yes
We have friendly and skilled Registered Nurses rostered on duty 24 hours a day 7 days a week.
Healthcare Assistants/Caregivers
Yes
A great team of dedicated caregivers are on hand to help with all residents personal cares. Many have been with us for years. We staff according to need and this changes as required.
Physiotherapist
Negotiable
This is assessed as required for each resident
Occupational Therapist
Negotiable
This is assessed as required for each resident
Activities Co-ordinator
Yes
Cardrona has two lovely ladies who run a wide variety of activities for residents Monday - Friday. This includes arts and crafts, current events, music, games and regular walks and outings in the van when the sun is shining. Throughout the COVID lock down and ongoing visitor restrictions we have also put on Activities over the weekends to keep everyone's spirits up.
Hairdresser
Yes
We have a wonderful hairdresser who comes to the home regularly/ upon request
Podiatrist
Yes
We organise a podiatrist to visit the home regularly as required
Dietitian
Yes
All menus are regularly reviewed by a dietitian. Extra services can be arranged as required
Kaumatua
Negotiable
Chaplain/Spiritual Advisor
Yes
Regular church services are conducted at the home across a number of denominations
Updated: 22 Jan 2021
Specialities or Areas of Expertise
Specialities or Areas of Expertise
Specialities or Areas of Expertise
Status
Details
Oxygen Management
Yes
Bariatric (Care of the very overweight)
Yes
Palliative Care (Contracted)
Yes
End of Life/Palliative Care
Yes
Our staff are trained in end of life care and provide compassionate and sensitive care to suit the residents' needs. We also have large rooms which enable family to comfortably spend as much time as they like with their family member.
Dialysis
Yes
Wound Care
Yes
Diabetic Care
Yes
Continence Advice
Yes
Stomal Therapy
Yes
ACC Rehabilitation
Yes
Tracheotomy Care
Yes
Infection Control
Yes
Surgical Followup
Yes
Clinical Management
Yes
Katherine McLeod our Clinical Operations Manager has built her career in the aged care sector and is happy to share her knowledge and advice with staff and families. She is also a Registered Nurse Prescriber which we are very proud of. This means that she is able to assist residents with routine scripts or treatment of simple issues immediately. Katherine works closely with our broader medical team and is very well respected for her knowledge in this area.
Updated: 22 Jan 2021
Respite, Carer Support or other Short Stay
Respite, Carer Support or other Short Stay
Respite, Carer Support or other Short Stay
Status
Details
Respite
Yes
We are able to cater for all levels of respite care needs subject to room availability.
Carer Support
Yes
We are able to cater for all levels of carer support or other short stay care needs subject to room availability.This also includes convalescence, ACC and PAC funding.
Subsidised
Yes
Private Paying
Yes
Updated: 14 Feb 2017
Features
Features
Feature
Status
Details
May Bring Own Furniture
Yes
Single Rooms
Yes
Shared Rooms
Yes
Rooms suitable for a couple
Yes
If required
Alcohol Permitted
Yes
Phone Access In Own Room
Yes
Resident can adjust heating in own room
Yes
Cater for under 65 yrs with Disability
Yes
We have a Ministry of Health contract to deliver this service and use it regularly
Lounges/seating areas
Yes
Several seating areas indoors and outdoors. Our sunroom which overlooks the back garden is a popular area.
Day Programme for day stay clients
Yes
We are happy to take day care residents and assimilate them into our daily programe here at C ardrona
Outings
Yes
Whanau Room
Yes
Policy for management of challenging behaviour
Yes
Confused Residents
Yes
Rural Setting
Yes
We are located in the rural township of Putaruru. WE have expansive grounds and part of the home overlooks playing fields next door.
Smoking Permitted
Yes
In designated area.
Updated: 14 Feb 2017
Special Features
Special Features
We have a lovely warm family type home. We have the opportunity to get to know everyone very well due to our size and we like to have a laugh too!

We are an owner operated service.

Please feel free to talk to existing residents and their families about our service. We are confident that you will get 'glowing' reports.
Updated: 22 Jan 2021
Interests & Activities
Interests & Activities
Activity programme, Advocate, Art, BBQ, Big print books, Bingo, Board games, Breakfast in bed, Canine friends, Care and Craft, Chapel, Children, Church, Cooking, Craft, Electric beds, Email, Entertainers, Entertainment, Exercises, Fax, Games, Garden, Gardening, Golden Oldies, Indoor Games, Internet, Jigsaw, Library, Minibus, Movies, Music, Newspaper reading, Outings, Parties, Picnic facilities, Quizzes, Reading, Roses, Shopping, Sing-a-longs, Views
Updated: 22 Jan 2021
Additional Information
Additional Information
Topic
Details
What's included in your fees and what's not
Please see the manager for details
Staffing qualifications and details
Come and meet our staff.
Details about meals
Home cooked meals.
Updated: 17 Dec 2010
Languages Spoken
Languages Spoken
Language
Status
Details
English
Yes
Filipino
Yes
Maori - Te Reo
Yes
Updated: 22 Jan 2021
Religious/Spiritual Affiliations
Religious/Spiritual Affiliations
Religious/Spiritual Affiliations
Status
Details
Anglican
Yes
Baptist
Yes
Christian
Yes
Denominations/Faiths represented
Yes
Evangelical
Yes
Jehovah Witness
Yes
Methodist
Yes
Non denominational
Yes
Roman Catholic
Yes
(Other comments)
Yes
We have regular church services and ties with all denominations in our community
Updated: 22 Jan 2021
Distances
Distances
Location
Distance
Details
Shops
0.30 Km
Walking distance
Updated: 17 Dec 2010
Credentials & Membership
The Ministry of Health conducts regular audits of Residential Care Facilities. They can be found HERE.
169