Rest Home
Alpine View Lifestyle Village
At a glance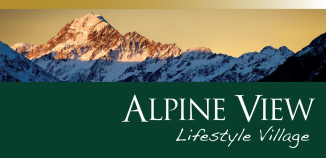 Vacancy

No

Care Apartment Vacancy

Yes

Name

Alpine View Lifestyle Village

Category

Rest Home

Address

Alpine View Care Centre
10 Alpine View Lane
Parklands
Christchurch 8083

DHB

Canterbury

Phone

Mobile

Email

Web

Facebook
Personnel
Manager

Mark Baccay - 0274103836

Owner

Qestral Corporation

Sales Manager

Lynn Hill - 027 430 4622
Other services

Alpine View's forty-three bed care facility is located just 2km away from Burwood Hospital - Christchurch's main hospital for the elderly.

Set in three and a half acres of land, the care facility has lovely landscaped gardens providing a wonderful environment for residents.

Each bedroom has its own ensuite unit with shower and toilet, telephone jackpoint, LCD TV and heat pump. Each bedroom and ensuite is equipped with a nurse-call system for immediate communication.

Our dedicated care facility has been structured so that personalised care is continually on hand. Our individual care plans are developed in consultation with the resident, family and whanau... together with our specialized staff and consultants. It is a collaborative approach from a highly professional and friendly staff .
Please come and have a look around at our friendly homely atmosphere , and judge for yourself what a fantastic place it is to start the next chapter of your life
Service/Facility Details
Service/Facility Details
Detail
Status
Contract with DHB
Yes
Certification
Yes
ORA Applies
No
Updated: 16 Nov 2021
Bed and Vacancy Details
Bed and Vacancy Details
Detail
Status
Approximate number of beds at this level of care
24
Vacancy
No
Impending vacancy
No
Premium Room Charges
Yes from $41.00/day up to $66.00/day as at 15 Jun 2022
MOH Certification and Audit Report
View MOH certification and audit report (opens in a new tab)
Extra admission requirements due to COVID-19
Please enquire
Updated: 28 Jun 2022
Care Apartment Bed and Vacancy Details
Personnel
Personnel
Type
Hours Per Week
Status
Details
Registered Nurse
Yes
24/7 Registered Nurse
Healthcare Assistants/Caregivers
Yes
Physiotherapist
0.00
Negotiable
physiotherapist under contract and will attend as required
Diversional Therapist
Yes
Hairdresser
Yes
available on set days
Podiatrist
Yes
6 weekly visits
Dietitian
Yes
menu reviewed by a dietitian
Kaumatua
Negotiable
Cultural advisors as required
Chaplain/Spiritual Advisor
Yes
Updated: 16 May 2022
Specialities or Areas of Expertise
Specialities or Areas of Expertise
Specialities or Areas of Expertise
Status
Details
Oxygen Management
Yes
Gastronomy/Nasogastric Management
Yes
Bariatric (Care of the very overweight)
Yes
2 rooms will be available for bariatric care. Includes ceiling hoist and suitable shower chair
End of Life/Palliative Care
Yes
Wound Care
Yes
Diabetic Care
Yes
Continence Advice
Yes
Stomal Therapy
Yes
ACC Rehabilitation
Yes
on negotiation
Infection Control
Yes
Clinical Management
Yes
Updated: 16 May 2022
Respite, Carer Support or other Short Stay
Respite, Carer Support or other Short Stay
Respite, Carer Support or other Short Stay
Status
Details
Respite
No
Not until June 2022
High Care Needs
Yes
Subsidised
Yes
Private Paying
Yes
Booking can be made in advance
Yes
Updated: 16 Nov 2021
Features
Features
Feature
Status
Details
May Bring Own Furniture
Yes
Single Rooms
Yes
Ensuite
Yes
Alcohol Permitted
Yes
Phone Access In Own Room
Yes
Wifi
Yes
Resident can adjust heating in own room
Yes
Lounges/seating areas
Yes
Gay / LGBT IQ Friendly
Yes
Primary Health Funded Short Term Care
No
from June 2022
Provide End of Life/Palliative Care
Yes
Outings
Yes
Whanau Room
No
extra lounge and dining space available for private use if required
Residents Committee
No
residents and family meetings will be held on a regular basis
Newsletter
Yes
Policy for management of challenging behaviour
Yes
Updated: 16 May 2022
Special Features
Special Features
Alpine View takes a very Individualised approach to care - aspects include:
- Nutrition and hydration assessments. Special diets are catered for.
- Infection control procedures.
- Pain management programmes.
- Continence management programmes.
- Grooming and hygiene protocols.
- Showering assistance.
- Attention to special needs for rest and sleep.
- Individualised activities and exercise programmes.
- Personalised attention from the facility medical practitioner (or your own medical practitioner if you choose).
- Access to an optician, dentist, podiatrist, speech language therapist, audiologist and hairdresser
- Personal grooming assistance (clothes, dressing, hair style, makeup etc).
Updated: 16 Nov 2021
Interests & Activities
Interests & Activities
Comprehensive activities programme with opportunites for residents to join with activites on site such as: Singing, dancing, housie, flower arranging, happy hour, cards, interdenominational church services, Visitors, Shopping, Reading, Pianist, Petanque, Outings, Music, Housie, Gardening.
Updated: 16 Nov 2021
Additional Information
Additional Information
Topic
Details
What's included in your fees and what's not
Additional charges for hairdresser and podiatrist
Staffing qualifications and details
Facility Nurse Manager and Clinical Nurse Manager are both experienced nurses and have previously worked in aged care in Christchurch
Details about meals
12 week menu designed by White Tie Catering.
Visitor information
Visitors are welcome at any time. All visitors must have had the Covid19 vaccination.
Updated: 16 May 2022
Languages Spoken
Languages Spoken
Language
Status
Details
English
Yes
Filipino
Yes
Hindi
Yes
Maori - Te Reo
Yes
Tagalog
Yes
Vietnamese
Yes
Updated: 16 Nov 2021
Religious/Spiritual Affiliations
Religious/Spiritual Affiliations
Religious/Spiritual Affiliations
Status
Details
Anglican
Yes
Baptist
Yes
Christian
Yes
Inter denominational
Yes
Methodist
Yes
Presbyterian
Yes
Roman Catholic
Yes
Salvation Army
Yes
Seventh Day Adventist
Yes
Updated: 16 Nov 2021
Distances
Distances
Location
Distance
Details
Public Transport
1.00 Km
Bus stop.
Shops
1.50 Km
Burwood shops.
Mall
3.00 Km
Parks
0.50 Km
Bottle plantation.
Library
3.00 Km
Shirley Library,
Updated: 16 Nov 2021
Credentials & Membership
The Ministry of Health conducts regular audits of Residential Care Facilities. They can be found HERE.
26