Respite / short term care
Alternative Care Northland
At a glance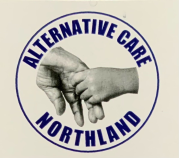 Name

Alternative Care Northland

Category

Respite / short term care

Address

Aroha House
80 Western Hills Drive
Kensington
Whangārei 0112

Postal Address

Same as above

DHB

Northland

Mobile

Email

Web

Facebook
Personnel
Manager

Donna Cooper - 021 774586

Owner

Donna Cooper

Founded in August 2009

Our mission at Alternative Care Northland is to provide the Older Adults of Northland with Reliable and Affordable assistance in their own home or ours, whilst ensuring that their Right to Privacy and independence is maintained.
Testimonials
Testimonials
Donna,
Thank you so much. It has been a pleasure to meet you and work with you and the family you have been supporting. Your dedication and care for the people you support and their families has not gone unnoticed. If the world was had a few more people like you in it, it would be a much better place.

For anyone in need of the care offered by Alternative Care Northland... you will not find a better service provider, I can not recomend then enough.

Thank you

Aaron Gray
Funeral Director | Embalmer
Whangarei

Donna Cooper arrived in our lives via one of our Mother's best friends, Tricia Wilson (RIP) and came to give support and wise counsel when we were most desperate for this to happen December 2017. In the past months/weeks and days with our 96 year old WWII veteran Father living alone in his own home, she has been an absolute Legend. Nothing is too much for her. Medical visits and consultations with his GP and Specialists - managing his medications, preparing food for him, picking up a new chair for him and each morning putting his socks on and ensuring he starts the day with a clean kitchen.... Our family are beyond grateful for her care. As he is not able to have cleaning support, she has turned her hand to anything that she sees needs attention. Quite simply at this enormously difficult time for the entire world, her care and his and our gratitude for her services and 'going the extra mile' are exceptional. And she is working tirelessly in her capacity as a Nurse alongside this care for our father and others whilst ensuring he is able to stay independent which is his wish. Sass Hosking
Updated: 3 Oct 2021
Service Description
Service Description
Since 2009 Alternative Care Northland has been enabling people to live at home independently. Our home help and personal-care or nursing services enable our clients to stay in the comfort of their own home by supporting the highest quality of life that is achievable.
As an extension to our business we now offer Short term / Respite care as an option @ Aroha House situated in Whangarei, for those caring for their loved ones to get a much deserved break.
We care for our clients as though caring for a member of our own family. Our superior quality of nursing and elderly care has been recognised independently and we can give you the confidence that you will recieve the highest standard of nursing care or home care.
Updated: 3 Oct 2021
Suburbs/Districts/Towns Serviced
Suburbs/Districts/Towns Serviced
Alternative Care Northland provides elderly care for the elderly living within Whangarei and surrounding districts.
Updated: 3 Oct 2021
Meeting the needs of older people
Meeting the needs of older people
We now have a Respite Facility in Whangarei central to be able to provide quality assistance for those looking after their loved ones within the Whangarei community and surrounding districts.
Updated: 3 Oct 2021
Additional Information
Additional Information
Topic
Details
What's included in your fees and what's not
* Fees given on application * Carer Support forms accepted as part / full payment - conditions apply * A place holding Fee of $10 will apply if cancellation to Regular bookings not made within 48hours prior to a secured booking.
Staffing qualifications and details
Manager of Aroha House is a Registered Nurse and Donna lives onsite
Details about meals
Individual Dietary needs catered for
Visitor information
Visiting hours arranged with Management
Recreational opportunities
Therapy dog - Emotional support TV in individual rooms Puzzles / Games Large selection of large print books
Internet access
WiFi provided
Transport
Courtesy pickup and Drop off - within city limits
Updated: 3 Oct 2021
Features
Features
Feature
Status
Details
Single Rooms
Yes
Rooms suitable for a couple
Yes
Alcohol Permitted
Yes
Within moderation and safe drinking limits
Pets In Residence
Yes
Wifi
Yes
Resident can adjust heating in own room
Yes
Cater for under 65 yrs with Disability
Yes
Specific needs discussed as facility not fully wheelchair friendly inside
Lounges/seating areas
Yes
Provide End of Life/Palliative Care
Yes
Day Programme for day stay clients
Yes
Outings
Yes
Smoking Permitted
Yes
Outside only
Semi-Secure
Yes
Updated: 3 Oct 2021
Access
Access
Access
Status
Details
Easy access
Yes
Ramps to front door
Updated: 3 Oct 2021
Respite, Carer Support or other Short Stay
Respite, Carer Support or other Short Stay
Respite, Carer Support or other Short Stay
Status
Details
Respite
Yes
Short term / Respite care option @ Aroha House situated in Whangarei - Carer support forms accepted
Carer Support
Yes
High Care Needs
Yes
Subsidised
Yes
Private Paying
Yes
Booking can be made in advance
Yes
Updated: 3 Oct 2021
After Hours
After Hours
After Hours
Status
Details
After Hours
Yes
Enquires responded to no later than 8pm
Updated: 3 Oct 2021
Payment
Payment
Payment
Status
Details
Payment required
Yes
In advance
Subsidy may be available
Yes
Accepting Ministry of Health 28day Carer Relief Subsidy
Updated: 3 Oct 2021
Languages Spoken
Languages Spoken
Language
Status
Details
English
Yes
Updated: 3 Oct 2021
What's New
What's New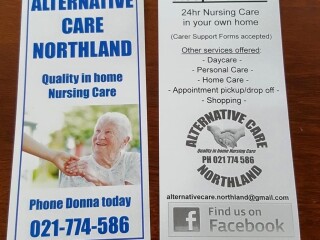 Contact Donna 021 774586 for further information about Aroha House, a Respite / Short stay option to allow the Carers of Whangarei and surrounding districts to have a much deserved break.
Updated: 3 Oct 2021
13243