Respite / short term care
Alternative Care Northland
At a glance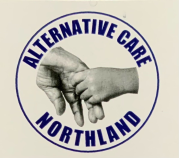 Name

Alternative Care Northland

Category

Respite / short term care

Address

Aroha House
80 Western Hills Drive
Kensington
Whangārei 0112

Postal Address

Same as above

Region

Northland

Mobile

Email

Web

Facebook
Personnel
Manager

Donna Cooper - 021 774586

Owner

Donna Cooper

Founded in August 2009

Our mission at Alternative Care Northland is to provide the Older Adults of Northland with Reliable and Affordable assistance either in their own home or at Aroha House whilst ensuring that their independence and Right to Privacy is maintained. Respite or Short term care provided at Aroha House is for those needing some respite from full time caring of their loved ones or for those returning home from hospital but still requiring some specialized care
Testimonials
Testimonials
This service is absolutely unique. Where else is the management team made up of an outstanding registered nurse, a fantastic male contractor who does the evening shift and a very friendly but well trained dog. Seriously Donna, Gerry and Aroha you offer an unparalleled service. Cherry Daly Whangarei

My experience at Aroha House was a positive one. I initially didn't want to go but realised Peter (my husband/caregiver) needed a break.
I cannot say enough how well they cared for me. After the first day of settling in I enjoyed my time at Aroha House.
I had my own private cosy room and the bed was so comfortable.
They were very good at accommodating to my dietary needs. They waited on me hand and foot and I returned home having had a good rest.
From Alison July 2022

Thankyou for looking after my friend Jorj. She improved beyond belief during her two week stay. If I ever need temporary care for any reason I would ask you first. Thanks Donna! Nicki Reid

My Mum recently stayed with Donna at Aroha Lodge lShe was so happy there, the food was tailored to her needs, the personal care was exceptional. The bilingual dog Aroha was a highlight for Mum. Our Whanau just wished she could have stayed there permanently but understandably there are many many families requiring this sort of short term respite care. Be assured that if your loved one is at Aroha Lodge they will be getting the very best of care. Jacquie O'Connell May 2022

Donna of Alternative Care Northland has been an absolute God send. I can't recommend her highly enough. My Mother recently stayed with Donna for two weeks and we both had a good break. I didn't have to worry about anything as my Mum settled so well and was happy with the Aroha House environment that I could have a rest confidently knowing that she was getting the best of care. Thank you Donna, Gerry and team. From Win and Jacquie Williams Onerahi Whangarei Jan 2022

I have just spent a very pleasant 3weeks at Aroha House. The care and attention from Donna and Gerry was great and I was given the feeling of a friendly family atmosphere throughout my stay at all times. I would certainly recommend a stay at Aroha House for anyone needing Respite care. Marion Waters - Kamo Whangarei Jan 2022

Donna,
Thank you so much. It has been a pleasure to meet you and work with you and the family you have been supporting. Your dedication and care for the people you support and their families has not gone unnoticed. If the world was had a few more people like you in it, it would be a much better place
Aaron Gray
Funeral Director | Embalmer
Whangarei
Updated: 28 Jul 2022
Service Description
Service Description
Since 2009 Alternative Care Northland has been enabling people to live at home independently. Our home help and personal-care or nursing services enable our clients to stay in the comfort of their own home by supporting the highest quality of life that is achievable.
As an extension to our business we now offer Short term / Respite care as an option @ Aroha House situated in Whangarei, for those caring for their loved ones to get a much deserved break. We can also support those living independently that have been medically cleared from hospital but may require a few days to convalescence before returning to their own home.
We care for our clients as though caring for a member of our own family. Our superior quality of nursing and elderly care has been recognised independently and we can give you the confidence that you will recieve the highest standard of nursing care or home care.
Updated: 12 Jul 2022
Suburbs/Districts/Towns Serviced
Suburbs/Districts/Towns Serviced
Alternative Care Northland provides nursing care or additional support to the older adults living within the Whangarei and surrounding districts.
Updated: 12 Jul 2022
Meeting the needs of older people
Meeting the needs of older people
Aroha House is a Respite Facility in Whangarei central to be able to provide quality 24hour Respite Care for those looking after their loved ones within the Whangarei community and surrounding districts.
Contact Donna today, to book a place for the coming months - Currently bookings are being taken for August 2022 and beyond
Updated: 12 Jul 2022
Additional Information
Additional Information
Topic
Details
What's included in your fees and what's not
* Fees given on application * Carer Support forms accepted as part / full payment - conditions apply * A place holding Fee of $10 will apply if cancellation to Regular bookings are not made within 24hours prior to a secured booking.
Staffing qualifications and details
Manager of Alternative Care Northland is a Registered Nurse, all staff working within Aroha House have been Fully Vaccinated against Covid 19
Details about meals
Individual Dietary needs catered for
Visitor information
Visiting hours after 11am daily unless pre arranged with Management
Recreational opportunities
Emotional support - therapy dog TV in individual rooms Puzzles / Games Large selection of large print books
Internet access
WiFi provided
Transport
Courtesy pickup and Drop off - within city limits
Updated: 12 Jul 2022
Where service is provided
Where service is provided
Status
Details
In your own home
Yes
Not in Aged Residential Care
Yes
Aroha House is a 2 bed boutique facility - management live onsite
Updated: 12 Jul 2022
Features
Features
Feature
Status
Details
May Bring Own Furniture
No
All rooms fully equipped including TV
Single Rooms
Yes
Rooms suitable for a couple
Yes
Alcohol Permitted
Yes
Within moderation and safe drinking limits
Pets In Residence
Yes
Therapy dog - emotional support. Cat
Wifi
Yes
Resident can adjust heating in own room
Yes
Cater for under 65 yrs with Disability
Yes
Specific needs discussed as facility not fully wheelchair friendly inside
Lounges/seating areas
Yes
Primary Health Funded Short Term Care
Yes
Provide End of Life/Palliative Care
Yes
Day Programme for day stay clients
Yes
Outings
Yes
Whanau Room
Yes
Confused Residents
Yes
Smoking Permitted
Yes
Outside only
Semi-Secure
Yes
Updated: 12 Jul 2022
Access
Access
Access
Status
Details
Easy access
Yes
Ramps to front door -
Updated: 12 Jul 2022
Respite, Carer Support or other Short Stay
Respite, Carer Support or other Short Stay
Respite, Carer Support or other Short Stay
Status
Details
Respite
Yes
Short term / Respite care option @ Aroha House situated in Whangarei - Carer support forms accepted
Carer Support
Yes
28 day Carer Support forms accepted
Other Short Stay Programme
Yes
Daycare is an option at affordable rates - max 4hours
High Care Needs
Yes
Subsidised
Yes
Ministry of Health Carer Relief 28day Funding
Private Paying
Yes
Booking can be made in advance
Yes
Currently accepting bookings from 1 month in advance
Updated: 12 Jul 2022
After Hours
After Hours
After Hours
Status
Details
After Hours
Yes
Emails or Phone calls responded to from 9am but no later than 7pm during the working week.
Updated: 12 Jul 2022
Payment
Payment
Payment
Status
Details
Payment required
Yes
As per invoice
Subsidy may be available
Yes
Accepting Ministry of Health 28day Carer Relief Subsidy.
Updated: 12 Jul 2022
Languages Spoken
Languages Spoken
Language
Status
Details
English
Yes
Updated: 12 Jul 2022
Personal Assistance
Personal Assistance
Type
Self Funded
Subsidised
After Hours
Registered Nurse (eg Wound Care, Medication)
Yes
Yes
Yes
Manager of Alternative Care is a Registered Nurse and supporting staff are wound care trained
Hairdresser (Home Visits)
Negotiable
No
No
Transport to / from hairdresser as required for a small fee
Hospice
Yes
Yes
Yes
Pallitive Care with Hospice support provided @ Aroha House
Carer Support
Yes
Yes
Yes
Respite care - relief for the main carer
Sitter Service/Companions
Yes
Yes
Yes
Live In Care (24 Hr)
Yes
Yes
Yes
24hr Respite care at Aroha House to allow a Full time carer to have relief care support
Personal Care (Showering, Dressing)
Yes
Yes
Yes
Regular or casual visits
Nail Cutting (Home Visits)
Yes
Yes
No
Finger nail cutting
Updated: 12 Jul 2022
Specialities or Areas of Expertise.
Specialities or Areas of Expertise.
Specialities or Areas of Expertise.
Status
Details
Oxygen Management
Yes
Gastronomy/Nasogastric Management
Yes
End of Life/Palliative Care
Yes
Wound Care.
Yes
Diabetic Care.
Yes
Continence Advice
Yes
Stomal Therapy
Yes
Stroke Rehabilitation.
Yes
Infection Control.
Yes
Surgical Followup
Yes
Transport to / from appointments
Clinical Management
Yes
Dementia Care
Yes
Diversional Therapy
Yes
Physiotherapy
Yes
Continuing physio care plan adherence
Dietary Advice
Yes
Community Health Nursing
Yes
Updated: 12 Jul 2022
Domestic Assistance
Domestic Assistance
Type
Self Funded
Subsidised
After Hours
Meals (Frozen)
No
No
Negotiable
Meals (Fresh or Hot)
Yes
Yes
No
cooked in your own home - dietery requirments taken into account
Home Help (Housework/Cleaning etc.)
Yes
Yes
No
at a time or day that fits around your routines
Shopping Assistance
Yes
Yes
No
Assisted shopping or shopping done for you
Transport Assistance
Yes
Yes
No
To and from appointments - pick up, drop off or attend with you for reassusrance
Updated: 12 Jul 2022
Credentials & Membership
Description
Description
Respite facility - 2 bed short term care
Updated: 12 Jul 2022
13243