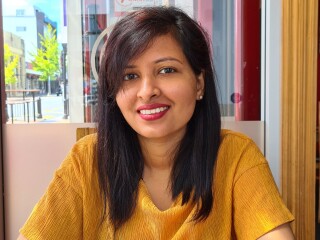 March 2021
SOUMY SAJU – ACTING CLINICAL MANAGER
We are delighted to announce that Soumy Saju has agreed to step into the role of Acting Clinical Manager of Tasman Rest Home until such time as a decision on a permanent appointment is made.
We extend our thanks to Simon Hamley for so ably filling this role in the interim.
Soumi has 9 years experience as a Registered Nurse in the Intensive Care Unit and Emergency Department in India and Saudi Arabia, and has strong clinical experience and interpersonal and communication skills. She completed her Competency Assessment Programme for International Nurses at Otago Polytechnic, Dunedin, and worked a part of her clinical placement as CAP Registered Nursing with the District Nursing Board, which allowed her to gain an understanding of community nursing and New Zealand work culture.
Prior to joining Tasman, Soumi worked as a Registered Nurse at our sister rest home Aberleigh in Blenheim, and is thus has a sound working knowledge of our policies, procedures and philosophy of care.
We join in congratulating Soumi on this key role with our organisation and wish her the very best as she takes on this new challenge, which is effective from 1 March 2021.
January 2021:
Introducing Sumy Saju
We are delighted to announce the appointment of Sumy Saju to the key role of Operations Manager here at Tasman Rest Home and Dementia Care.
Sumy has worked for Avonlea Dementia Care in Christchurch since 2017 as a Senior Caregiver, Home Manager and Health and Safety Representative. Sumy brings a Level 4 Qualification in Health and Wellbeing (Advanced Support), a bachelor's degree in Information Technology, and experience in business analysis to the role.
More importantly, her passion for aged care, hands-on experience in dementia, commitment to our Vision and Values, and leadership potential have identified her as a person with true potential to contribute to our organisation at a management level.
We are delighted that Sumy has agreed to relocate to Nelson and take on the Tasman operations management position.
We all join in extending our congratulations to Sumy as she moves into her new role, and wish her every success.
JUANITA AKAUOLA APPOINTED AS CLINICAL MANAGER:
Welcome to the Tasman family Juanita!
Juanita brings a strong clinical background to the position, as well as personal values which align closely with our organisational Vision and Values of honesty, integrity and open communication. Juanita's background includes delivery of holistic client-based care at Nelson Hospital, Wairau Hospital and for Nelson District Nursing Services and Maori Health Services, as well as experience in rest home and hospital environments as both a Caregiver and a Registered Nurse.
We join in congratulating Juanita on this key role with our organisation and wish her the very best as she takes on this new challenge.
We know you will stand together in support of Juanita and Corrine in continuing to provide stable, settled and loving support to our residents and their families as we move ahead into the new chapter of our lives here at Tasman.
Arah Cartagena
National Clinical Manager
March 21 2020
IMPORTANT NOTICE REGARDING COVID-19 AND VISITATION.
We have decided to temporarily close our home over the weekend to visitors as we work towards implementing the latest advice from the Ministry of Health as of 21st March 2020. We are reviewing our processes to ensure they meet the new recommendations from the Ministry. We will advise you of the new process for visiting our home on Monday, 23rd March 2020.
We acknowledge the importance of visits for our residents and their loved ones. Closing our doors is not a step we take lightly. However, preventing the spread of COVID-19 has to take priority.
Andrew Sheard
Director
January 2020:
We are delighted to welcome Corrine Coombe to the position of Operations Manager at Tasman Rest Home and Dementia Care
Corrine's professional background is varied, including experience in teaching, catering, graphic design and management. She brings a wide range of skills and interests to her new role, together with a passion for community involvement and a strong belief in the power of working collectively.
Corrine has been based at Tasman in an accounts role for the past eight years and is familiar with our organisation's Vision and Values and culture. She looks forward to working as a team to maintain a safe and happy environment where both staff and residents flourish.
October:
Recently we had the wonderful opportunity to have the community activities organiser from Bunnings, Melanie Haymes, come on board with us at Tasman Rest Home and do something special for our residents. Melanie and our lead diversional therapist Aash arranged for residents, staff and family members to assist with an amazing garden project made possible by the donation of approximately $500 worth of flowers and gardening equipment by Bunnings Warehouse. We had a wonderful day together planting out all of the flowers and beautifying the outdoor environment of our home. Thank you Bunnings!
``
March 2018:
Easter is a special celebration for us here in our home. We love to enjoy loving time together and share memories evoked by the scent of fresh hot cross buns and the feeling of anticipation as we unwrap the first Easter egg.
We wish you all a safe and happy Easter with those you love.
As always, we welcome your visits and remind you that our visiting times are the same throughout the holidays.
March 2018:
Dance and movement are beneficial in many ways, and especially enjoyable along with good friends and laughter.
December 2017:
To our dear friends
It's the end of 2017, a time of reflection on the past year. As always, there have been many moments of joy, laughter, peace and wonder: what we call 'magic moments'. We are full of gratitude and would like to say thank you to you all. Thank you for encouraging us by being part of this online community. Thank you to the people who visit our homes - it is always lovely to see you. Most of all a very big thank you to those of you who share your family member or friend with us. It is a huge privilege to take care of the people who live here with us in their home. They are a wonderful inspiration to us and we love them dearly.
We would also like to say an enormous thank you to each and every member of our staff team. We appreciate you and value you so much. Thank you for everything you do.
We are grateful for the highs and lows, the challenges and opportunities this past year has brought. Thank you for being part of it.
September 2017:
The Alzheimer's memory walk is a yearly event organised by Alzheimer's New Zealand. This years memory walk in Nelson was held in Founders Heritage park. Founder's heritage Park is a museum which houses old original structures and replica buildings here in Nelson. A number of our residents and staff participated this year and had such a happy time together helping to raise awareness about dementia.
September 2017:
Aina Duro is our newest addition to the Tasman team. She is originally from the Philippines and brings with her a wealth of experience and passion for nursing. She especially enjoys interacting with the residents and making their day special. A huge warm welcome to you Aina!
July 2017 - They say 'if you don't use it you lose it'. This photo speaks for itself about how much we enjoy keeping on our toes and enjoying the stunning environment life in Tasman has to offer.
Our Piano - July 2016


We love having a piano available for family, friends, entertainers and residents. We especially love seeing our musical residents engage and enjoy the powerful medium of music. Music is one of the last things that we forget. It is so special to watch residents become so present in the moment, when they play our piano.
New website for Dementia Care NZ:

We have a wonderful new website and invite you to take a browse!
At a number of our homes we have been holding a weekly 'coffee club'. This is a time for socialisation, reminiscing, sharing time with family and friends, creating magic moments. Out come the lovely table cloths, the special china, the flowers on the tables not to mention the lovely home baked goodies and coffee! If you would like to join your friend or loved one for coffee club, please conta
...
ct the operations manager of the facility for details. We would love to share this time with you.
Donya Nee, on behalf of the Diversional Therapy Team from Dementia Care NZ.
WE DO THINGS DIFFERENTLY ... AND IT WORKS.
WHAT IS SPECIAL ABOUT US?
Our Vision and Values – Are the cornerstone of all we do. We select our staff based upon our vision and values. This means we attract the right people and have a great staff retention. Staff have a high level of job satisfaction and many opportunities to grow which naturally results in best performance and positively impacts upon our residents' well being.
Open home – Our families are always welcome. You have an open invitation to share mealtimes with your loved one, at no charge. We want you to have as much special time with your loved one as possible. This benefits us all.
Small Homes – Small homes mean that the environment feels more normalised, and residents orientate to their environment more easily.. There is a family feel. We get to know our residents very well. There are fewer faces to get to know. There is a higher staff ratio than in many larger facilities.
Open Plan kitchens - Purpose designed kitchens mean that residents and their families have full, assisted and safe access to familiar homely activities. People can help rinse the dishes, make a cup of tea, wipe down the bench, and be part of the running of their home. Baking and cooking activities occur regularly.
Bedrooms – Are warm and cosy. There is under-floor heating as well as wall unit heating. People are encouraged to bring special things from home, to make their room feel familiar and homely. We provide all of the necessities.
Family Support – Our families have the opportunity to meet monthly with an independent facilitator to share thoughts, feelings and concerns about having a loved one in care. At Levin and Waikanae support is available over the phone.
Special Programmes for Families - We enjoy having two special courses for our families: 'Orientation For Families' and 'Sharing the Journey'. These courses help people to settle into having a loved one in care, and provide information about dementia and improving the quality of the journey with your loved one in care.
Our team: Our staff team are hand-picked and are with us because they love working with people who have dementia. They are given many opportunities to grow within the organisation and are supported to be their very best. We provide them with free medical attention and staff support from 'Work Place Support' . They are also given much in the way of Education. We are great believers in the power of education and support for growth.
Education - We have an Education Coordinator who coordinates , supports, motivates and encourages staff to grow and develop as much as possible.
Best Friends Approach to Dementia Care training – All our staff attend this training as a part of their comprehensive 'orientation' program. It is based on the ground-breaking work of Virginia Bell and David Troxell, and originated in the U.S.A. The main focus is on developing empathy, communication and an understanding of our residents' needs.
Non Violent Crisis Intervention – This is an internationally recognised qualification that we encourage all staff members to participate in. This course supports what is learnt in the Best Friends Approach to Care training.
Intercultural training – Our staff team have the opportunity to be a part of comprehensive training around intercultural awareness. This training is designed to help staff understand the varying cultural needs of our residents, as well as fellow staff members.
Occupational Therapy – We have a very experienced Occupational Therapist who leads our team of Diversional Therapists. She is also available for consulting regarding residents' specific needs and/or behaviours of concern.
Physiotherapist – Our Physiotherapist visits our home regularly.
Dietician – Our dietician is on site on a regular basis and is available for advice at anytime.
Community Care – We have a proactive approach to education for the wider community around dementia care.
We speak at both national and international conferences on the subject of excellence in person-centred care. Community education, removing the stigma from dementia and increasing the quality of life for people who have dementia are passions we love to share with others.
TASMAN REST HOME AND DEMENTIA CARE HAS RECENTLY UNDERGONE EXTENSIVE RENOVATIONS AND LANDSCAPING.
WE HAVE LOVELY NEW OPEN PLAN KITCHENS FOR OUR PEOPLE PROVIDING A STRONGER SENSE OF HOMELINESS AND FURTHER OPPORTUNITY FOR HOMELY ACTIVITIES.
OUR RESIDENTS ARE GREATLY ENJOYING BEING A PART OF 'THE RUNNING' OF THEIR HOME.
THE NEWLY LANDSCAPED GARDEN PATHS AND CHOICE OF PLACES TO SIT IN THE GARDENS, ARE ESPECIALLY ENJOYED WITH THE WARMER WEATHER.
PERSON-CENTRED CARE HIGHLIGHTED AT OPENING OF TASMAN REST HOME 17/02/2012
Warmth, community spirit and a focus on the immense value of people with dementia were the hallmarks of the recent opening of Tasman Rest Home and Dementia Care. The official opening of the renewed and renovated facility began with a warmly welcoming Whaikorero (Blessing and Speech of Welcome) by Archdeacon Harvey Ruru QSM, followed by a waiata. Interest in the new facility was intense among those present. Openness and an eagerness to share and be part of the occasion characterised the involvement of the Nelson community, who were excited about what the facility means in terms of the betterment of aged care in the area. The mayor of Nelson, Aldo Miccio, spoke passionately about the importance of catering for specialised needs of the ageing community, and the need to raise public awareness of the challenges the elderly can encounter. He reminded guests that the staff at Tasman are caring for some of the most vulnerable people among us, and need the support of the community in doing this important work. He emphasised the importance of developing understanding and empathy towards people with dementia, and of supporting them to remain an essential part of our community. Tasman director Alison Hume spoke from the heart about the right of people with dementia to a homely, tranquil and loving home where they are accepted, valued and respected. Her short address honoured the staff who have worked under difficult conditions during the year-long renovation process. Guests were invited to consider what makes a house a 'home', what positive things happen in their own home, and what each one of us associates with tranquil family times. This is the atmosphere the staff of Tasman are committed to creating for residents, who are supported by the loving and accepting 'best friends' approach to care. "We want this to be a place where people can relax and just 'be'", Alison Hume said. The opening of facility was hailed as a 'truly special day' for residential care in the Nelson area by National Director of Alzheimer's NZ, Mr Johan Vos. The facility now offers a full continuum of care, which means that people with dementia are able to stay in one place as their needs change. The facility is also the only home in the NMDHB which offers hospital level dementia care. Mr Vos congratulated the management of Tasman, Tanya Tuscano and Andrew Sheard, and the NMDHB for the proactive way in which they have worked together to provide essential services for people with dementia in the area. The important service provided by Alzheimer's Nelson in the areas of community education, information and support was also acknowledged. It was vital for local Alzheimer's bodies to continue to work closely with residential care providers such as Tasman, said Mr Vos. Mr Vos commended Tasman Rest Home and Dementia Care on its philosophy of care, which focuses on care in small homes and in so doing, creates an enhanced sense of wellbeing for a person with dementia. The importance of supporting independence, freedom of choice and the ability to continue with familiar and purposeful activities for people with dementia was also highlighted by Mr Vos. "A person with dementia is still a person that has a right to be treated with dignity, respect, love and compassion as we would any other human being." The occasion was a celebration of the value and dignity of the elderly people in our community, and reflected the importance of providing them with the best possible care in a homely, loving environment.
(photograph - Operations manager Andrew Sheard and Alzheimers New Zealand Director Johan Vos).