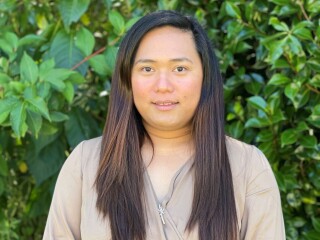 We are delighted to announce the appointment of Elgie Ocariza as our new Operations Coordinator, effective Monday 15 February 2021.
Elgie has been working as a Caregiver at Millvale Lodge Lindale for the past year, and has a strong commitment to our Vision and Values and philosophy of care. Elgie brings a formal qualification in the form of a Graduate Diploma in Applied Management from Wellington Institute of Technology to the OC position, and also practical experience in Project Management in the Philippines for almost 4 years before she immigrated to New Zealand.
After finishing her Management Diploma Elgie chose to continue to work in Aged Care because of the sense of fulfilment and 'family' this environment provides. Elgie is looking forward to getting to know our families and staff team at Millvale Waikanae, and doing all she can to support them.
We all join in extending our congratulations to Elgie in her new role.
Easter :
Easter is a special celebration for us here in our home. We love to enjoy loving time together and share memories evoked by the scent of fresh hot cross buns and the feeling of anticipation as we unwrap the first Easter egg.
We wish you all a safe and happy Easter with those you love.
As always, we welcome your visits and remind you that our visiting times are the same throughout the holidays.
March 2018:
We are so proud of our team here at Millvale House Waikanae. Thanks to their hard work and professionalism we have maintained our four year certification from the Ministry of Health at our recent audit. This is the best result it is possible to obtain, and is achieved by very few facilities nation-wide.
To have maintained this level of certification for a further 4 years is a reflection of the hard work, energy and commitment the team has put into providing wonderful care to our residents, support for our families, and maintaining the DCNZ quality systems to a high standard.
This is a magnificent outcome. We are enormously proud of every member of our team and appreciative of their contribution to this great result.
December 2017:
To our dear friends
It's the end of 2017, a time of reflection on the past year. As always, there have been many moments of joy, laughter, peace and wonder: what we call 'magic moments'. We are full of gratitude and would like to say thank you to you all. Thank you for encouraging us by being part of this online community. Thank you to the people who visit our homes - it is always lovely to see you. Most of all a very big thank you to those of you who share your family member or friend with us. It is a huge privilege to take care of the people who live here with us in their home. They are a wonderful inspiration to us and we love them dearly.
We would also like to say an enormous thank you to each and every member of our staff team. We appreciate you and value you so much. Thank you for everything you do.
We are grateful for the highs and lows, the challenges and opportunities this past year has brought. Thank you for being part of it.
October 2017:
The residents at Millvale House Waikanae are like family to me. What I love most about my job as a Caregiver is the opportunity to help others, to provide loving personal care, give support and assist with the simple activities of daily life. It is so fulfilling to share in people's lives as they become older and more dependent on the care of others. Rose.
August 2017:
This gentleman, who has dementia, comes from a background in the hospitality industry. It is wonderful to see his sense of pride and purpose when helping out with familiar activities in the home.
The team at Millvale House Waikanae are thrilled to announce that they have recently achieved four years audit certification. This is the highest achievable result from a certification audit. 17/02/2014
New Website for Dementia Care NZ:
We have a wonderful new Website and we invite you to take a tour!

www.dementiacarenz.co.nz
At a number of our homes we have been holding a weekly 'coffee club'. This is a time for socialisation, reminiscing, sharing time with family and friends, creating magic moments. Out come the lovely table cloths, the special china, the flowers on the tables not to mention the lovely home baked goodies and coffee! If you would like to join your friend or loved one for coffee club, please conta...ct the operations manager of the facility for details. We would love to share this time with you.
Donya Nee, on behalf of the Diversional Therapy Team from Dementia Care NZ.
WE DO THINGS DIFFERENTLY ... AND IT WORKS....
WHAT IS SPECIAL ABOUT US?
Our Vision and Values – Are the cornerstone of all we do. We select our staff based upon our vision and values. This means we attract the right people and have a great staff retention. Staff have a high level of job satisfaction and many opportunities to grow which naturally results in best performance and positively impacts upon our residents' well being.
Open home – Our families are always welcome. You have an open invitation to share mealtimes with your loved one, at no charge. We want you to have as much special time with your loved one as possible. This benefits us all.
Small Homes – Small homes mean that the environment feels more normalised, and residents orientate to their environment more easily.. There is a family feel. We get to know our residents very well. There are fewer faces to get to know. There is a higher staff ratio than in many larger facilities.
Open Plan kitchens - Purpose designed kitchens mean that residents and their families have full, assisted and safe access to familiar homely activities. People can help rinse the dishes, make a cup of tea, wipe down the bench, and be part of the running of their home. Baking and cooking activities occur regularly.
Bedrooms – Are warm and cosy. There is under-floor heating as well as wall unit heating. People are encouraged to bring special things from home, to make their room feel familiar and homely. We provide all of the necessities.
Family Support – Our families have the opportunity to meet monthly with an independent facilitator to share thoughts, feelings and concerns about having a loved one in care. At Levin and Waikanae support is available over the phone.
Special Programmes for Families - We enjoy having two special courses for our families: 'Orientation For Families' and 'Sharing the Journey'. These courses help people to settle into having a loved one in care, and provide information about dementia and improving the quality of the journey with your loved one in care.
Our team: Our staff team are hand-picked and are with us because they love working with people who have dementia. They are given many opportunities to grow within the organisation and are supported to be their very best. We provide them with free medical attention and staff support from 'Work Place Support' . They are also given much in the way of Education. We are great believers in the power of education and support for growth.
Education - We have an Education Coordinator who coordinates , supports, motivates and encourages staff to grow and develop as much as possible.
Best Friends Approach to Dementia Care training – All our staff attend this training as a part of their comprehensive 'orientation' program. It is based on the ground-breaking work of Virginia Bell and David Troxell, and originated in the U.S.A. The main focus is on developing empathy, communication and an understanding of our residents' needs.
Non Violent Crisis Intervention – This is an internationally recognised qualification that we encourage all staff members to participate in. This course supports what is learnt in the Best Friends Approach to Care training.
Intercultural training – Our staff team have the opportunity to be a part of comprehensive training around intercultural awareness. This training is designed to help staff understand the varying cultural needs of our residents, as well as fellow staff members.
Occupational Therapy – We have a very experienced Occupational Therapist who leads our team of Diversional Therapists. She is also available for consulting regarding residents' specific needs and/or behaviours of concern.
Physiotherapist – Our Physiotherapist visits our home regularly.
Dietician – Our dietician is on site on a regular basis and is available for advice at anytime.
Community Care – We have a proactive approach to education for the wider community around dementia care.
We speak at both national and international conferences on the subject of excellence in person-centred care. Community education, removing the stigma from dementia and increasing the quality of life for people who have dementia are passions we love to share with others.
This week I have been pondering on something that I read recently. It went something like this: Everything that we think and do as an individual person has an effect on the service we give. I find this rather challenging. For me, it means that my thoughts and my actions in every area of my life have an affect on the care given at Millvale House.
It follows on from something we have sometimes talked about in our management team meetings. Millvale House reflects who we are as people. Our vision and values are personal statements about what we believe is important and what we strive to achieve. Members of our staff team are at the forefront of the care we offer to your loved ones. I want to maximize the chances of each of them reflecting the Millvale House vision and values in all that they do.
We do this by talking about our vision and values before engaging any new employee. Each staff member participates in a session with me about the meaning of our vision and values, talking about examples and sharing stories of how these have been implemented. Every employee is participating in training sessions on the "Best Friends Approach to Care." In these four sessions participants talk about how to treat each resident as if he/she is our very best friend. We assist each other to develop the knack of being alongside a person who has dementia. These are fun, interactive sessions. We talk of our vision and values at every opportunity.
At our recent team gathering, after dinner, a handout generated from Avonside Girls in Christchurch was shared. It was headed "10 secrets to success." Each person was asked to share one statement that really stood out for them. A number of people chose "Treat each person as though he/she is the most important person in the world." What a challenge!! Imagine what Millvale House would be like if we all did this. Imagine what Christchurch would be like. Imagine what a different world we would live in.
Several members of our Millvale House staff teams have just begun a ten week leadership development course. This is being facilitated by an external company, specializing in people development - Vargo and Lewis. The people chosen to participate in this show huge leadership potential. We need leaders functioning at all levels and roles within Millvale House and we feel very fortunate indeed to have these people within our teams. There is a real buzz of excitement and anticipation about these people right now.
You, as family members and friends of the people who live here are extremely important to us. Quite often you make your loved ones day. People coming in and out make our homes interesting places to be. Quite often you make our day lighter as well. A friendly hello and an interest in the Millvale House communities are really helpful to all of us. I hope that you are always welcomed and cared for when you visit.
It is a great privilege to be caring for your loved ones and I take this responsibility very seriously. This work that we do takes all that I have – it takes my heart and my soul. It is very rewarding work. It is work that I love. Thank you for trusting all of us at Millvale House to care for your loved one.
Alison Hume.