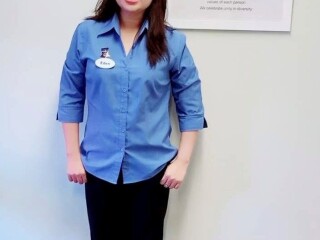 June 2021
INTRODUCING EDEN MAE RETUERTO - CLINICAL MANAGER
We are delighted to formally announce that Eden Retuerto has accepted the position of Clinical Manager of Millvale House Miramar.
We extend our thanks to Mary Calonzo for so ably filling this position while we identified just the right person for this key leadership role.
Eden has eight years' professional experience as an overseas Health and Safety nurse specialist; however her primary interest has always been in geriatric and dementia care. This passion was inspired by caring for her own invalid grandmother and her aunt, who had dementia. Eden says, "The goal to provide holistic, quality, and culturally sensitive care to health consumers in their senior years is highly humbling and fulfilling."
Eden has been working as a Registered Nurse for Millvale House Miramar since mid-2020, and has become a valued and highly respected senior member of our care team during that time. She brings sound clinical skills, a knowledge and understanding of our residents and staff team, and a comprehensive working knowledge of our policies, procedures and philosophy of care to her new role.
We join in congratulating Eden and wish her the very best as she takes on this new challenge.
September 2020:
We know you will share our excitement as we confirm the appointment of Marianne Zamora as the new Clinical Manager of Millvale House Miramar.
Marianne commences her role on Thursday 17 September 2020.
Marianne brings a strong clinical background and sound knowledge of dementia to her new role, as well as an invaluable commitment to and understanding of our Vision and Values and philosophy of care. Continuity in terms of her relationships with staff, residents and families will ensure Marianne's successful and smooth transition into this key leadership position.
We have all come to know Marianne well and to have the highest respect for her proficiency, compassion and integrity. In taking on this role Marianne pledges her commitment to "contribute my skills, knowledge, and ability with responsibility, dedication, and hard work for the development of my professional growth and in the best interests of this institution and the public."
We join in congratulating her on this exciting career move and wish her the very best as she takes on this new challenge.
March 2018:
Easter is a special celebration for us here in our home. We love to enjoy loving time together and share memories evoked by the scent of fresh hot cross buns and the feeling of anticipation as we unwrap the first Easter egg.
We wish you all a safe and happy Easter with those you love.
As always, we welcome your visits and remind you that our visiting times are the same throughout the holidays.
September 2017:
The warm spring weather has inspired us to get our vegetable garden ready. It's been all hands on deck here getting the raised beds ready for planting. We love getting our hands in the soil and can't wait to plant, nurture and harvest our own fresh vegetables.
July 2017:
There's something in the Miramar soil that not only breeds good characters but clearly some mighty good vegetables. Now that's a carrot! We love growing our own vegetables here at Millvale House Miramar. There's nothing as homely as tending to and harvesting your own healthy organic veges right out of the back yard.
New Website for Dementia Care NZ:
We have a wonderful new Website and we invite you to take a tour!

www.dementiacarenz.co.nz
At a number of our homes we have been holding a weekly 'coffee club'. This is a time for socialisation, reminiscing, sharing time with family and friends, creating magic moments. Out come the lovely table cloths, the special china, the flowers on the tables not to mention the lovely home baked goodies and coffee! If you would like to join your friend or loved one for coffee club, please conta...ct the operations manager of the facility for details. We would love to share this time with you.
Donya Nee, on behalf of the Diversional Therapy Team from Dementia Care NZ.
WE DO THINGS DIFFERENTLY ... AND IT WORKS....
WHAT IS SPECIAL ABOUT US?
Our Vision and Values – Are the cornerstone of all we do. We select our staff based upon our vision and values. This means we attract the right people and have a great staff retention. Staff have a high level of job satisfaction and many opportunities to grow which naturally results in best performance and positively impacts upon our residents' well being.
Open home – Our families are always welcome. You have an open invitation to share mealtimes with your loved one, at no charge. We want you to have as much special time with your loved one as possible. This benefits us all.
Small Homes – Small homes mean that the environment feels more normalised, and residents orientate to their environment more easily.. There is a family feel. We get to know our residents very well. There are fewer faces to get to know. There is a higher staff ratio than in many larger facilities.
Open Plan kitchens - Purpose designed kitchens mean that residents and their families have full, assisted and safe access to familiar homely activities. People can help rinse the dishes, make a cup of tea, wipe down the bench, and be part of the running of their home. Baking and cooking activities occur regularly.
Bedrooms – Are warm and cosy. There is under-floor heating as well as wall unit heating. People are encouraged to bring special things from home, to make their room feel familiar and homely. We provide all of the necessities.
Family Support – Our families have the opportunity to meet monthly with an independent facilitator to share thoughts, feelings and concerns about having a loved one in care. At Levin and Waikanae support is available over the phone.
Special Programmes for Families - We enjoy having two special courses for our families: 'Orientation For Families' and 'Sharing the Journey'. These courses help people to settle into having a loved one in care, and provide information about dementia and improving the quality of the journey with your loved one in care.
Our team: Our staff team are hand-picked and are with us because they love working with people who have dementia. They are given many opportunities to grow within the organisation and are supported to be their very best. We provide them with free medical attention and staff support from 'Work Place Support' . They are also given much in the way of Education. We are great believers in the power of education and support for growth.
Education - We have an Education Coordinator who coordinates , supports, motivates and encourages staff to grow and develop as much as possible.
Best Friends Approach to Dementia Care training – All our staff attend this training as a part of their comprehensive 'orientation' program. It is based on the ground-breaking work of Virginia Bell and David Troxell, and originated in the U.S.A. The main focus is on developing empathy, communication and an understanding of our residents' needs.
Non Violent Crisis Intervention – This is an internationally recognised qualification that we encourage all staff members to participate in. This course supports what is learnt in the Best Friends Approach to Care training.
Intercultural training – Our staff team have the opportunity to be a part of comprehensive training around intercultural awareness. This training is designed to help staff understand the varying cultural needs of our residents, as well as fellow staff members.
Occupational Therapy – We have a very experienced Occupational Therapist who leads our team of Diversional Therapists. She is also available for consulting regarding residents' specific needs and/or behaviours of concern.
Physiotherapist – Our Physiotherapist visits our home regularly.
Dietician – Our dietician is on site on a regular basis and is available for advice at anytime.
Community Care – We have a proactive approach to education for the wider community around dementia care.
We speak at both national and international conferences on the subject of excellence in person-centred care. Community education, removing the stigma from dementia and increasing the quality of life for people who have dementia are passions we love to share with others.
We are thrilled to announce that renovations have commenced at Millvale House Miramar.
We have new carpet, freshly painted walls and lovely new furniture for our people to enjoy.
We look forward to alterations in the near future including open plan kitchens in our two small and homely units.