Mobility aids & useful products
At a glance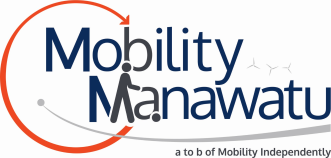 Name

Mobility Manawatu

Category

Mobility aids & useful products

Address

222 Ruahine Street
Roslyn
Palmerston North 4414

Postal Address

Po Box 4660
Manawatu Mail Centre
Palmerston North 4442

DHBS

MidCentral, Northland, Waitemata, Auckland, Counties Manukau, Waikato, Bay of Plenty, Lakes, Tairawhiti, Taranaki, Whanganui, Hawke's Bay, Wairarapa, MidCentral, Capital & Coast, Hutt Valley, Nelson Marlborough, West Coast, Canterbury, South Canterbury, Southern (Otago), Southern (Southland)

Phone

Email

Web
Personnel
Manager

Rob or Letitia - 06 357 7943

Owner

as above
Enhancing lifestyles by providing personal and mobility aids so you or your loved ones can stay independant with dignity and confidence
Testimonials
Testimonials
Hi Rob & Letitia
Just a note to let you know the AA card arrived. I haven't ventured out since Friday as the weather has been so lousy but I am all prepared for the next fine-ish day.
I have appreciated all the help you have given me and offerd me for the future. Your customer care is brilliant, you have a good understanding of prople and their needs, and apply your knowledge with warmth and humour. It has been great spending time with you.
See you when the weather is better.
Judith.

Thank you for selling my Father's mobility scooter on his behalf now he can no longer use it.
Thanks also for treating him with respect over the years you have looked after him. You have a good rapport with your customer in this case and, if that is indicative of how you treat others, I can see your business being very successful as well as persoanally rewarding for you both. Thanks again. Harvey.

On behalf of the Ezi Rider Scooter Group, we would ike to thank you for all the hard work that went into the recent mobility cup day. All that I spoke to really enjoyed them selves.
Thank you Rob & Letitia for supplying extra loan scooters so all present who wanted to have a go but didn't have their own scooter were able to.
Once more many thanks
Chris (on behalf of the Ezi Rider Scooter Group, Palmerston North)

I found your business on the Google search engine, gave your contact number to my mother who lives in Wanganui and within a couple of days of her contacting you, you had visited my mother with a selection of walker frames for her to try. She purchased one and is so happy with it - it has greatly increased her confidence, mobility and quality of life. As I live in Australia, it is very difficult for me to be able to assist my mother with things like this and I appreciate it when a business such as Mobility Scooters Manawatu Ltd can step in and assist. Thank you for such a prompt and satisfactory service. Di.

Approximately a month ago you visited my mother in Foxton with some of your mobility scooters and she selected a second hand scooter. Since she has got her new set of wheels it is obvious that she has got something back that was missing, and its not just the mobility.
A good part of her day is now spent tossing up between staying home or going out, planning trips or potential excursions and rediscovering the town again. It doesn't really matter if she does 'hit the road' on a particular day, it's the fact that she could if she wanted to, and that has made her (and us, the family) extremely happy with the purchase.
I really appreciate how easy you made it for her to test drive and select a mobility scooter that suited her, and for your friendly service as well.
Yours Faithfully, Peter.

On behalf of the Levin Mobility Group I would like to thank you both sincerely for all your effort to make our Scooter Cup Day such a success. Without your input we would not have been able to take part in such a great fun day. Thanks also for having so many scooters at our disposal, the power wheelchair and walker, making it possible for us all to enjoy the great day it was. All our members really enjoyed the day very much.
From all the members at the Levin Mobility Group.

In the Midcentral District Health Boards Primary Health Awards, held October 2007, Mobility Scooters Manawatu Ltd was selected as a finalist in the 'Excellence in Services for Older People' category. At the awards night, we received a commendation (a close second to the Levin Masonic Rest Home & Rehab Unit who won the award.) We feel extremely honoured to be recognised this way and wish to thank all of you who support us.
Rob & Letitia, Mobility Scooters Manawatu Ltd.

We were lucky enough to meet Rob & Letitia at a mobility scooter club meeting in Palmerston North. They soon became friends and helped Carl fill out forms to apply for a Grant through the Lotteries Commission for a Mobility Scooter. All the hard work they did without it being a problem, right down to supplying contacts of Occupational Therapists we could choose from for the grant assessment. They now support out mobility scooter club and attend our monthly luncheon meeting.
Rob will quiet often ring or pop around to check all is well with the scooter, down to trying a new foot rest to give more comfort for Carls foot. They Are always just a phone call away for and queries and are just wonderful people to deal with.
I would personally recommend any one who is thinking about purchasing a mobility aid to contact Rob & Letitia.
All the very best
Carl & Chris, Palmerston North.

'We recently purchased two mobility scooters from Rob & Letitia at Mobility Scooters Manawatu Ltd, who are the local distributers for Heartway Medical Products. We have found these scooters to be of great value - not only in price but in their reliability also as we travel around a lot and they are our only means of transport. We have found them easy to control and manoeuvre around streets, shops and in the public.
The after sales service we have received is 100% as nothing is too much trouble for the team.'
Lawrence & Carol, Palmerston North.

To Mobility Scooters Manawatu Ltd
We, the Ezi Riders, would like to thank you very much for the first aid kit, sign writing for our jackets and stickers for our scooters. Now everyone will see us coming & going and know who we are.
So once again, thank you for all you have done.
The Ezi Rider Scooter Club, Palmerston North.

Thank you for supplying me recently with the used scooter and later the appropriate used carrier and tailoring of same to fit my vehicle.
I am grateful also, for your attendance at a call-out recently, in response to my phone call for help, when the tow bar failed. The service was prompt & courteous to rescue me and collect the scooter.
The initial response to my enquiry about a scooter was very helpful and in understanding of my own needs in selecting a suitable scooter.
Thank you for your patience and thoughtfulness in explaining how everything works. This was most appreciated, all well beyond the call of duty.
I have no hesitation in recommending your reliable firm for any enquiry and subsequent purchase of a suitable scooter. The service you gave was very unexpected and most appreciated. A pleasant surprise. The help you have extended to me, and the accompanying associated prompt accounting practices involved, have been second to none.
Gordon, Palmerston North.
Updated: 5 Mar 2013
Languages Spoken
Languages Spoken
Language
Status
Details
English
Yes
Updated: 1 Feb 2009
Equipment & Products
Equipment & Products
Equipment & Products
Status
Details
Housing Modifications/Stair Lifts
Yes
Ramps - portable & permanent, grab bars - supply & install, custom grab rails - supply & install
Clothing
Yes
Incontinence & bedwetting - washable & disposable available
Linen
Yes
Brolley sheets, absorbant bed sheets, mattress protectors, quilt protectors, slippery sams available
Equipment/Aids
Yes
Mobility Manawatu is a one stop shop for all your mobility & disability needs. All equipment, parts & accessories, repairs, maintanence, servicing. U Step unique laser cue on walker frame & walking stick to help parkinsons sufferers to be mobile again.
Updated: 18 Feb 2019
Equipment Options
Equipment Options
Equipment Options
Status
Details
Service/Repair
Yes
Repairs and servicing of most makes & models of mobility equipment. If you can't come to us, no worry we have fully equipped vans that can come to you!
Loan
Yes
Hire/Lease
Yes
At Mobility Scooters Manawatu Ltd, we have a range of rental equipment available for short or long term use. As what is available changes regularly, please contact us with your request even if you don't see what you are looking for on this page we might be able to help you
Purchase
Yes
a
Updated: 18 Feb 2019
9840