Lister Home
At a glance
Vacancy

Yes

Name

Lister Home

Category

Hospital

Address

Lister Home
24 Innes Street
Waimate
Waimate 7924

Postal Address

Lister Home
PO Box 25
Waimate 7960

Region

South Canterbury

Phone

Fax

Email
Personnel
Manager

Mandy Workman - 03 689 8935

Owner

Incorporated Society

Clinical Manager

Daphne Del Castillo - 03 689 8935
Other services
Photos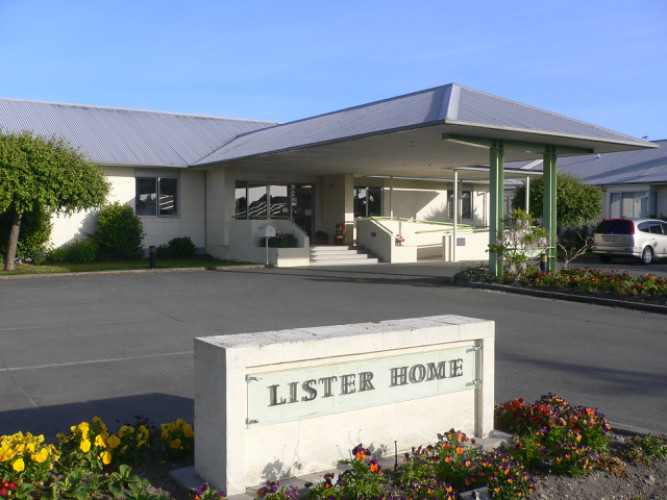 Map
Reviews
As per the recent Alert Level 2 guidelines, Lister Home have introduced new visiting hours from Monday to Friday. There are still some strict restrictions in place for these new visiting hours and if you wish to make an inquiry or a booking please call us on 03 689 8935.
Service/Facility Details
Service/Facility Details
Detail
Status
Contract with Te Whatu Ora
Yes
Certification
Yes
ORA Applies
No
Updated: 4 Oct 2012
DHB Respite Care Booking Service
DHB Respite Care Booking Service
We provide DHB Respite Care Booking Service.
Bed and Vacancy Details
Bed and Vacancy Details
Detail
Status
Approximate number of beds at this level of care
37
Vacancy
Yes
Impending vacancy
No
Short stay considered
Yes
Premium Accommodation Charges
No
MOH Certification and Audit Report
View MOH certification and audit report (opens in a new tab)
Extra admission requirements due to COVID-19
Yes
Updated: 7 Dec 2023
Personnel
Personnel
Type
Hours Per Week
Status
Details
Registered Nurse
24
Yes
Registered Nurse available 24 hours a day
Healthcare Assistants/Caregivers
24
Yes
Physiotherapist
Yes
Our physio comes in twice a week
Diversional Therapist
Yes
We have two fully qualified Diversional Therapists.
Activities Co-ordinator
Yes
On Saturdays our activities takes over from the Diversional Therapists
Hairdresser
Yes
Visits twice a week and by appointment as required.
Podiatrist
Negotiable
Dietitian
Yes
Calls every six weeks
Accredited Visitors
No
Community groups in Waimate visit on a regular basis.
Kaumatua
Yes
As and when required.
Chaplain/Spiritual Advisor
Yes
Visits at least one a week and more often when required for both residents and staff.
Other Personnel
Yes
Our Administration team is skilled and always willing to assist.
Updated: 21 Nov 2019
Specialities or Areas of Expertise
Specialities or Areas of Expertise
Specialities or Areas of Expertise
Status
Details
Oxygen Management
Yes
Palliative Care (Contracted)
Yes
End of Life/Palliative Care
Yes
We are certified to deliver palliative care
Wound Care
No
Some staff are trained in wound care
Continence Advice
Yes
Staff are trained in the management of continence
Infection Control
No
Staff are specially trained in the infection control
Surgical Followup
Yes
Please see us for more details
Clinical Management
Yes
Clinical management is undertaken by the Nurse Manager.
Updated: 21 Nov 2019
Respite, Carer Support or other Short Stay
Respite, Carer Support or other Short Stay
Respite, Carer Support or other Short Stay
Status
Details
Respite
Yes
We have one dedicated respite bed.
Carer Support
Yes
Private Paying
Yes
We are happy to discuss this on an individual basis.
Updated: 2 Apr 2013
Features
Features
Feature
Status
Details
May Bring Own Furniture
Yes
Single Rooms
Yes
Ensuite
Yes
Alcohol Permitted
Yes
Pets In Residence
Yes
Negotiate To Bring Own Pet
Yes
Phone Access In Own Room
Yes
Lounges/seating areas
Yes
Primary Health Funded Short Term Care
Yes
Palliative Care Contract
Yes
A specialist palliative care unit is available
Outings
Yes
Residents Committee
Yes
Newsletter
Yes
Policy for management of challenging behaviour
Yes
Confused Residents
Yes
Updated: 23 Jul 2013
Interests & Activities
Interests & Activities
Activity programme, Advocate, Alzheimer's Society, Aromatherapy, Art, BBQ, Big print books, Bingo, Blind Foundation, Board games, Bowls, Breakfast in bed, Canine friends, Cards, Care and Craft, Children, Church, Classical Music, Companion Club, Concerts, Cooking, Craft, Dancing, Digital camera, Electric beds, Email, Entertainers, Entertainment, Exercises, Fax, Flower arranging, Games, Garden, Gardening, Greypower, Happy Hour, Holidays, Housie, Indoor Games, Internet, Jigsaw, Library, Lions, Lotto, Massage, Men, Minibus, Movies, Music, Newspaper reading, Organ, Outings, Park, Parties, Pastoral care, Petanque, Pianist, Picnic facilities, Probus, Quizzes, Reading, Roses, Rotary, RSA, Senior Citizens, Shopping, Sing-a-longs, Singing, Sky TV, TAB, Vegetarian, Videos, Views, Womens Institute
Updated: 18 Dec 2005
Additional Information
Additional Information
Topic
Details
Details about meals
All meals cooked on site. Breakfast in bed ,resident input into designing menus.
Updated: 21 Nov 2019
Religious/Spiritual Affiliations
Religious/Spiritual Affiliations
Religious/Spiritual Affiliations
Status
Details
Anglican
Yes
on a rostered basis
Christian
Yes
Inter denominational
Yes
Methodist
Yes
Non denominational
Yes
Presbyterian
Yes
Roman Catholic
Yes
Salvation Army
Yes
Updated: 10 Jan 2013
Credentials & Membership
Credentials & Membership
Credentials & Membership RC
Status
Details
National Certificate in Diversional Therapy
Yes
We have one fully trained diversional therapist and one completing the training
New Zealand Aged Care Association (NZACA)
Yes
New Zealand Council of Christian Social Services (NZCCSS)
Yes
Updated: 10 Jan 2013
The Ministry of Health conducts regular audits of Residential Care Facilities. They can be found HERE.