Hospital
Craigweil House Home and Hospital
At a glance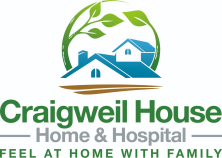 Vacancy

Yes

Name

Craigweil House Home and Hospital

Category

Hospital

Address

143 Parkhurst Road
Parakai
Helensville 0830

Postal Address

Same as above

Region

Waitemata

Phone

Fax

Email

Web
Personnel
Manager

David Halewood - 09 420 8277
Other services

We are immensely proud to welcome you to Craigweil House Home and Hospital. Our unique boutique facility boasts a relaxed family feel and is situated on the Twin Coast Discovery, off state Highway 16, within reach of Muriwai Beach and the Kaipara Coast.

We are situated directly opposite the Parakai geothermal pools, which for many of our residents, families and visitors is a great place for a dip in the relaxing and healing mineral waters.

Our mission is to make life great every day for our residents, by providing top quality accredited care for the elderly and individuals in need of care. We promote a homely atmosphere of respect, dignity, and independence.

We provide a continuum of care from Rest Home care through to our contemporary purpose-built Hospital and Memory Unit. We also provide care services for WDHB Respite, Carer Support, Private Short-Term Care and Day Stay Residents.

Our compassionate care team consists of nursing staff that are onsite 24 hours a day. We promote and encourage the independence of residents and involvement of family and community, which helps our residents to have a positive living environment and to stay connected. The facility bus and small appointments vehicle make travelling out for activities, sightseeing or getting to appointments accessible.

Rooms are comfortable, contemporary and some boast idyllic rural views. Hospital rooms are available with en-suites including shower and toilet amenities and wall mounted TV's. All our rooms have no additional or premium room charges.

Please call us today to request an info pack through this site or arrange a viewing.
Service/Facility Details
Service/Facility Details
Detail
Status
Contract with DHB
Yes
Certification
Yes
ORA Applies
No
Updated: 4 Nov 2021
Bed and Vacancy Details
Bed and Vacancy Details
Detail
Status
Approximate number of beds at this level of care
23
Vacancy
Yes
This wing can accommodate care at a hospital level. We offer respite care, long term care including palliative care. Our caring staff welcome new residents. We have registered nurse coverage 24/7.
Impending vacancy
No
Premium Room Charges
No
MOH Certification and Audit Report
View MOH certification and audit report (opens in a new tab)
Extra admission requirements due to COVID-19
Unknown
Updated: 12 Aug 2022
Testimonials
Testimonials
Thank you all for the amazing care you do for mum, I know that she is in good hands. It is not easy the work you people do but from the bottom of my heart thank you - Residents Daughter
Updated: 4 Nov 2021
Personnel
Personnel
Type
Hours Per Week
Status
Details
Registered Nurse
Yes
RN cover 24/7
Nurse Practitioner
Yes
We have access for a nurse practitioner through our WDHB contract.
Healthcare Assistants/Caregivers
Yes
We are well covered with HCA on each shift.
Physiotherapist
Yes
1 visit weekly over all the units
Occupational Therapist
No
We have access for this service.
Diversional Therapist
Yes
We have some wonderful DT staff at Craigweil House. Call us to find out what fun and interesting things we are doing this week
Activities Co-ordinator
Yes
The activities program is designed with each residents needs according the their care plans.
Hairdresser
Yes
Our Local friendly hairdresser visits the facility regularly when required, we also have a hairdresser in the local shops.
Podiatrist
Yes
Visits every 6 weeks.
Dietitian
Yes
We have the dietitian check our menus at the change of season.
Accredited Visitors
Yes
Age Concern, Local Churches, Community Organisations
Chaplain/Spiritual Advisor
Yes
We have local Spiritual advisors if required
Other Personnel
Yes
RSA,
Updated: 4 Nov 2021
Specialities or Areas of Expertise
Specialities or Areas of Expertise
Specialities or Areas of Expertise
Status
Details
Oxygen Management
Yes
We have a good supply and Oxygen Management system
Bariatric (Care of the very overweight)
Yes
We can cater for this care need, please call the manager to discuss.
Palliative Care (Contracted)
Yes
We have access to this care including POI programmes through Hospice.
End of Life/Palliative Care
Yes
We have access to this care including POI programmes through Hospice.
Wound Care
Yes
This is an important care system for our RN's. We have a wound care nurse specialist that visits regularly.
Diabetic Care
Yes
Yes we offer this care.
Continence Advice
Yes
Continence assessment, advise and management is apart of our service.
Stomal Therapy
Yes
We have access for advice in this area of care
Stroke Rehabilitation
Yes
With physio and O.T guidance
ACC Rehabilitation
Yes
Infection Control
Yes
We have a very strong IFC team.
Surgical Followup
Yes
This is available
Primary Rural Health Care
Yes
We work with the medical centre to see if we can assist with any local people that need help.
Community Health
Yes
Yes we work in with these community health providers.
Clinical Management
Yes
Our Clinical Manager is supported by a clinical team and our RN's.
Other Specialties
Yes
Grief nurse services, Dementia nurse specialists, Speech Therapists, Hospice, Wound care nurses,
Updated: 4 Nov 2021
Respite, Carer Support or other Short Stay
Respite, Carer Support or other Short Stay
Respite, Carer Support or other Short Stay
Status
Details
Respite
Yes
We offer respite care for residents. Care funding and durations are allocated to families and carers.
Carer Support
Yes
Yes we offer this carer support and short stays.
Other Short Stay Programme
Yes
Flexifunding, WDHB funding and Mental Health Funding.
High Care Needs
Yes
Subsidised
Yes
Yes we can talk you through this process.
Private Paying
Yes
Many of our Long Term residents began as Short Term admissions. We offer a wide range of private short term care durations.
Booking can be made in advance
Yes
Yes please contact us today on 09 420 8277 or email us on info@craigweil.co.nz
Updated: 4 Nov 2021
Features
Features
Feature
Status
Details
May Bring Own Furniture
Yes
This needs to be talked through with the manager as some furniture doesn't fit into our rooms.
Single Rooms
Yes
Ensuite
Yes
Shared between two rooms
Alcohol Permitted
Yes
This can be given the resident by the HCA during meal times. It is the expense of the resident/family
Phone Access In Own Room
Yes
At the resident or family expense this is able to be connected.
Wifi
Yes
Cater for under 65 yrs with Disability
Yes
Yes this has to go through the assessment process.
Lounges/seating areas
Yes
We have these areas for seating.
Primary Health Funded Short Term Care
Yes
yes this can be available as long as the criteria is met.
Provide End of Life/Palliative Care
Yes
Yes we offer this very sensitive area of care.
Palliative Care Contract
Yes
We have palliative care available, we work along side with Hospice.
Day Programme for day stay clients
Yes
Day care is available, this often makes the long term plan easier.
Outings
Yes
We have 2 vans that we use for outings, one has a wheelchair hoist. Plus we have a car that can hold a wheelchair
Maori Kaupapa
Yes
Residents Committee
Yes
We have a resident meetings 6 weekly.
Family Committee
Yes
We have a family support meeting bi- monthly.
Newsletter
Yes
We do have a news letter.
Policy for management of challenging behaviour
Yes
Our Quality Assurance Manual has the management of challenging behaviour policy.
Confused Residents
Yes
yes we do have confused residents.
Rural Setting
Yes
Hot pool across the road. Park to stroll in.
Smokers Room
Yes
We have a smokers area.
Smoking Permitted
Yes
Outside
Updated: 4 Nov 2021
Interests & Activities
Interests & Activities
Our activities program varies in accordance to the residents needs.
They enjoy the variety of what we have for them on a daily basis.
We work closely with local community groups to come to the facility and entertain our residents
Updated: 4 Nov 2021
Additional Information
Additional Information
Topic
Details
What's included in your fees and what's not
We are able to take subsidised and private payers.
Staffing qualifications and details
We have full coverage of RNs and HCA on each shift.
Details about meals
Our meals are all prepared and cooked on site.
Associated Complexes
With the resources that we have available we are able to manage associated health complexes
Updated: 4 Nov 2021
Languages Spoken
Languages Spoken
Language
Status
Details
English
Yes
Fijian Indian
Yes
Filipino
Yes
Maori - Te Reo
Yes
Polish
Yes
Samoan
Yes
Updated: 4 Nov 2021
Religious/Spiritual Affiliations
Religious/Spiritual Affiliations
Religious/Spiritual Affiliations
Status
Details
Anglican
Yes
Baptist
Yes
Evangelical
Yes
Methodist
Yes
Presbyterian
Yes
Seventh Day Adventist
Yes
Updated: 4 Nov 2021
Distances
Distances
Location
Distance
Details
Public Transport
0.00 Km
We have a bus stop directly outside our front gate. This service links to the Helensville shops, Northwest Shopping Centre and the Westgate shopping centre.
Shops
0.00 Km
We have several immediate local shops including a 4 Square supermarket located adjacent to the home. There is also a hairdresser and bakery/cafe nearby. Helensville is 5 min drive with a town centre and large supermarket.
Mall
20.00 Km
Westgate shopping centre and the Northwest Shopping Centre is accessible by bus or we can do this as part of our shopping outings.
Parks
0.00 Km
There is a park reserve across the road, with flat pathways, with wheelchair and scooter access. The Parakai Geothermic Hot pools is also located across the road from Craigweil House.
Library
3.00 Km
Our local library is the Helensville Library. We offer library bus trips or you can choose the bus. We also have library books delivered regularly.
Updated: 4 Nov 2021
Credentials & Membership
The Ministry of Health conducts regular audits of Residential Care Facilities. They can be found HERE.
726