Hospital
At a glance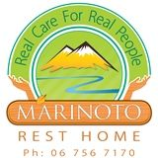 Vacancy

No

Name

Marinoto Rest Home

Category

Hospital

Address

72 Matai Street
Inglewood
New Plymouth 4330

Postal Address

Same as above

DHB

Taranaki

Phone

Fax

Mobile

Email
Personnel
Manager

Janine Vollebregt - 06 7567170

Owner

Inglewood welfare society

Inglewood Welfare society

Denise Loveridge
Other services
Photos Map
Reviews
Given the current COVID-19 environment we have temporarily disabled our 'feedback' feature. We apologise for any inconvenience.

We believe the elderly resident who shares our Home
is an individual, worthy of the best care our staff can
provide. We encourage our Residents' family, friends
and members of our community to share the
happiness and well-being of the Residents and with
respect to their capabilities, let them be themselves,
within a safe, secure and happy environment.
Service/Facility Details
Service/Facility Details
Detail
Status
Contract with DHB
Yes
Certification
Yes
ORA Applies
No
Updated: 27 Feb 2020
Bed and Vacancy Details
Bed and Vacancy Details
Detail
Status
Approximate number of beds at this level of care
8
Vacancy
No
We welcome your enquiry and are happy to show you around our warm and friendly , welcoming Facility..
Impending vacancy
No
Premium Room Charges
Some Rooms from $5.00/day up to $10.00/day as at 01 Jun 2022
MOH Certification and Audit Report
View MOH certification and audit report (opens in a new tab)
Extra admission requirements due to COVID-19
Yes
Updated: 22 Jun 2022
Specialities or Areas of Expertise
Specialities or Areas of Expertise
Specialities or Areas of Expertise
Status
Details
Oxygen Management
Yes
Palliative Care (Contracted)
Yes
End of Life/Palliative Care
Yes
Wound Care
Yes
Diabetic Care
Yes
Continence Advice
Yes
Stomal Therapy
Yes
Infection Control
Yes
Community Health
Yes
Clinical Management
Yes
Updated: 4 Mar 2020
Respite, Carer Support or other Short Stay
Respite, Carer Support or other Short Stay
Respite, Carer Support or other Short Stay
Status
Details
Respite
Yes
Carer Support
Yes
Other Short Stay Programme
Yes
High Care Needs
Yes
Subsidised
Yes
Private Paying
Yes
Updated: 4 Mar 2020
Features
Features
Feature
Status
Details
May Bring Own Furniture
Yes
This is your home, We encourage you to personalize your room.
Single Rooms
Yes
All rooms have a vanity unit.
Ensuite
Yes
We have a number of ensuited rooms.
Alcohol Permitted
Yes
Residents are welcome to consume alcohol in moderation in conjunction with the clinical team.
Pets In Residence
Yes
We have an outside cat that calls our facility his home . Spoilt and Loved by many of the residents.
Negotiate To Bring Own Pet
No
We are happy for pets to visit from time to time. We have K9 visits weekly, enjoyed by many residents and staff.
Phone Access In Own Room
No
Residents are encouraged to have a cell phone for personal use.
Wifi
Yes
For resident use.
Resident can adjust heating in own room
Yes
Some rooms are adjustable, others are climate controlled.
Lounges/seating areas
Yes
There are several lounges with seating arrangements to accommodate different activities such as watching T.V, listing to music, doing puzzles or just watching the world go by from the large north facing windows.
Gay / LGBT IQ Friendly
Yes
We endeavour to create an environment that is respectful of all people.
Female residents only
No
We have both female and male residents.
Male residents only
No
We have both male and female resident in our facility.
Provide End of Life/Palliative Care
Yes
We have a dedicated clinical team whom are able to provide excellent end of life care, in consultation with the Inglewood district health nurses and hospice taranaki.
Palliative Care Contract
Yes
Day Programme for day stay clients
Yes
We provide day care for Inglewood community residents in conjunction with community support.
Outings
Yes
We provide regular outings around Taranaki. (Example) An ice cream at the beach or fish and chip lunch in the park. Museum visits , art gallery visits, Garden visit to name just a few.
Whanau Room
Yes
We have a Whanau room available upon request for family / whanau to use for small events or sharing a meal with your loved one.
Maori Kaupapa
Yes
Available upon request.
Policy for management of challenging behaviour
Yes
Challenging behaviour is monitored and evaluated as necessary.
Confused Residents
Yes
We will endeavour to manage and redirect confused residents to the best of our ability. Ensuring the safety of our residents, staff and facility at all times.
Smokers Room
No
No smoking within the facility.
Smoking Permitted
Yes
We have a designated smoking area outside.
Updated: 4 Mar 2020
Interests & Activities
Interests & Activities
Activity programme, Advocate, Age Concern, Alzheimer's Society, Big print books, Bingo, Board games, Bowls, Breakfast in bed, Cards, Care and Craft, Church, Craft, Electric beds, Entertainment, Exercises, Fax, Games, Garden, Gas Fire
Updated: 27 Feb 2020
The Ministry of Health conducts regular audits of Residential Care Facilities. They can be found HERE.
588