Elizabeth Knox Home and Hospital
At a glance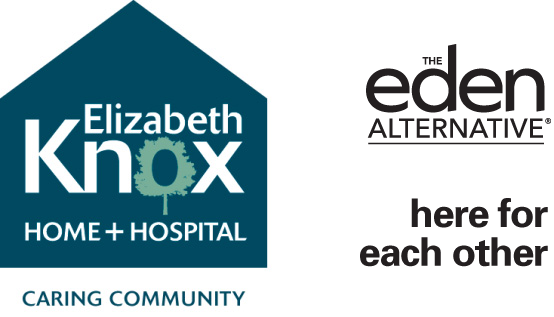 Vacancy

Yes

Name

Elizabeth Knox Home and Hospital

Category

Hospital

Address

10 Ranfurly Rd
Epsom
Auckland 1023

Postal Address

PO Box 74060
Greenlane
Auckland 1546

Region

Auckland

Phone

Fax

Email

Web

Facebook
Personnel
Manager

Jill Woodward (CEO)

Owner

Elizabeth Knox Trust Board

Admission Enquiries

Megan Bell - (09) 520 8448
Other services
Visiting Hours:
10am - 11.30am
2pm - 8:00pm

MORE MEANINGFUL LIVES

There are more distinct differences that set Knox apart from others. A decision we made back in 2009 to adopt the Eden Alternative™ means that we simply have a different DNA to other care homes.

The Ten Principles of the Eden Alternative™ guide us to create a home where our residents love living, where families have confidence that their loved ones are safe, content and cared for, and where our focus is on combating loneliness, helplessness and boredom for enriched lives.

The small differences you find at Knox really make a big difference to the lives of our residents. Primarily though, our service to the community is about people, not a business about property.

Knox is for residents to experience more living and to continue making more memories. We ensure companion animals, children and plants are part of our daily lives, just as they might have been earlier in life.

MORE THAN A CENTURY OF CARE

In 1911 the not-for-profit Knox Home Trust Board was formed to administer the generous bequest left to build and endow Elizabeth Knox Home and Hospital. It has been caring for thousands upon thousands in sickness and health ever since.

Today, we are a caring community still proudly continuing the valuable work that Elizabeth Knox started.

Every day at Knox is a gift. Our mission is to make sure we add more to the fulfilment and enjoyment of every single one.
Service/Facility Details
Service/Facility Details
Detail
Status
Contract with Te Whatu Ora
Yes
Certification
Yes
ORA Applies
No
Updated: 6 Mar 2013
Bed and Vacancy Details
Bed and Vacancy Details
Detail
Status
Approximate number of beds at this level of care
173
Vacancy
Yes
6
Impending vacancy
No
Short stay considered
Yes
Premium Accommodation Charges
No
MOH Certification and Audit Report
View MOH certification and audit report (opens in a new tab)
Extra admission requirements due to COVID-19
Please enquire
Updated: 4 Dec 2023
Personnel
Personnel
Type
Hours Per Week
Status
Details
Registered Nurse
Yes
We have 24-hour Registered Nurse (RN) cover with at least 7-8 RNs rostered on weekday morning shifts. 7-8 RNs each afternoon shift and 3 RNs on night shift.
Nurse Practitioner
Yes
Visiting DHB service
Healthcare Assistants/Caregivers
Yes
Highly valued members of the Knox team, Care Partners provide personal care and support. Available 24 hours a day, 7 days a week.
Physiotherapist
Yes
Knox has 2.5 full time Physiotherapists, plus Physiotherapy Assistants, available Monday to Friday. Our physiotherapy team support residents to engage in appropriate physical activity to enhance wellbeing and quality of life.
Occupational Therapist
Yes
The Knox Occupational Therapist is on-site 3 days a week to assess residents therapy needs and to plan intervention that promotes independence.
Diversional Therapist
Yes
As an Eden Alternative home, Knox focuses on helping residents find meaning in purposeful activities. We have a vibrant Leisure and Lifestyle Team who not only plan and schedule a programme of stimulating activities but also support residents to live meaningful lives.
Activities Co-ordinator
Yes
See Diversity Therapy above.
Hairdresser
Yes
2 days a week
Podiatrist
Yes
Monthly
Dietitian
Yes
As required
Accredited Visitors
Yes
Religious and Cultural Support, Dogs, Disability Support Agencies
Kaumatua
Yes
Chaplain/Spiritual Advisor
Yes
Other Personnel
Yes
Updated: 4 Feb 2019
Specialities or Areas of Expertise
Specialities or Areas of Expertise
Specialities or Areas of Expertise
Status
Details
Oxygen Management
Yes
Gastronomy/Nasogastric Management
Yes
Palliative Care (Contracted)
Yes
Knox works closely with specialist palliative care services Mercy Hospice and ADHB.
End of Life/Palliative Care
Yes
Knox works closely with Hospice Specialist Services. All members of the clinical team receive ongoing palliative care education.
Wound Care
Yes
Diabetic Care
Yes
Continence Advice
Yes
Stomal Therapy
No
Accessed as required
Stroke Rehabilitation
Yes
Tracheotomy Care
Yes
Infection Control
Yes
Psychiatric Care
Yes
Clinical Management
Yes
Updated: 6 Mar 2020
Respite, Carer Support or other Short Stay
Respite, Carer Support or other Short Stay
Respite, Carer Support or other Short Stay
Status
Details
Respite
Yes
Private Respite Care available when vacancies allow.
Carer Support
Yes
Carer Support when vacancies allow.
Subsidised
Yes
Private Paying
Yes
Booking can be made in advance
Yes
When possible.
Updated: 4 Feb 2019
Features
Features
Feature
Status
Details
May Bring Own Furniture
Yes
Knox is fully furnished. You are welcome to bring small personal items to create a feeling of home eg. a favourite small chair and/or occasional table. All rooms have a TV provided. Fridges, microwaves, toasters, and kettles are provided in the fully equipped kitchens located around Knox for your use.
Single Rooms
Yes
Shared Rooms
Yes
Knox has 5 double rooms that are designed to accommodate two people. Most often these are used by couples or two people known to each other.
Rooms suitable for a couple
Yes
Knox has 5 double rooms appropriate for couples to share.
Ensuite
Yes
Knox has a mix of ensuite and shared facility rooms.
Alcohol Permitted
Yes
We encourage both elders and young to follow their usual patterns of socialising.
Pets In Residence
Yes
We have a large number of pets as a permanent part of our community and residents may be able to bring their pets to Knox.
Negotiate To Bring Own Pet
Yes
This is encouraged and support is provided in settling and caring for a loved pet.
Phone Access In Own Room
Yes
All rooms have telephones available.
Wifi
Yes
Free basic WiFi is available for residents and visitors in public areas. This is provided at slower speed and restricted bandwidth which is adequate for emailing and light browsing of the internet. For a faster, reliable WiFi service with unlimited data and high bandwidth, residents can pay a monthly fee.
Resident can adjust heating in own room
Yes
Cater for under 65 yrs with Disability
Yes
Elizabeth Knox Home and Hospital has a long history of providing high quality, independence-focused care and support to younger physically disabled. Respite care offered when vacancies allow.
Lounges/seating areas
Yes
Each home within Knox has its own lounge and kitchen in addition to other lounges throughout the home.
Provide End of Life/Palliative Care
Yes
Knox has a commitment to the provision of high quality palliative care services.
Palliative Care Contract
Yes
Day Programme for day stay clients
Yes
Outings
Yes
Regular outings to a wide range of destinations. Knox has a fully accessible van for group outings with a group of team members who have undertaken specialised driving and safety training to become registered Knox van drivers.
Māori Kaupapa
Yes
Residents Committee
Yes
Monthly residents committee meetings and weekly residents meeting. We also run Eden Alternative meetings which anyone is welcome to attend
Family Committee
Yes
Bi-monthly Family and Friends meetings.
Newsletter
Yes
The KnoxLife magazine is professionally published four times through the year.
Policy for management of challenging behaviour
Yes
Confused Residents
Yes
Rural Setting
No
Knox is on a large suburban Epsom site with lovely gardens including the resident's own gardens for flowers, fruit and vegetables.
Smoking Permitted
No
Knox is a Smoke-Free environment.
Semi-Secure
Yes
Updated: 4 Feb 2019
Special Features
Special Features
INCREDIBLE TEAM

We ensure that we work as a team, embrace change with optimism, promote well-being, reciprocate care, are hardworking and productive, are reliable, are curious and innovative ... and importantly we laugh and have fun.

INCREDIBLE VOLUNTEERS

Knox has the most amazing team of more than 800 Volunteers making a personal and meaningful contribution to companionship at Knox.

CULTIVATE PROGRAMME

Our Cultivate programme develops links and relationships with a wide range of community groups and organisations so that Knox Residents can be meaningfully involved in the community.

Cultivate brings together the opportunities for you to do what you want to. It may be a regular thing or a one-off arrangement but every experience makes a big difference to the lives of those participating.

Residents may want to help others, learn a new skill, take up or reinvigorate a hobby, join a special interest group, perform a kind deed, give someone a surprise or simply experience something new.
Updated: 5 Feb 2019
Interests & Activities
Interests & Activities
Activity programme, Advocate, Alzheimer's Society, Art, BBQs, Big print books, Bingo, Blind Foundation, Board games, Bowls, Breakfast in bed, Canine friends, Cards, Care and Craft, Chapel, Chickens, Children, Church, Classical Music, Communicare, Companion Club, Concerts, Craft, Cooking, Dancing, Digital camera, Electric beds, Entertainers, Entertainment, Exercises, Fax, Games, Garden of Knowledge, Greypower, Happy Hour, Housie, Indoor Games, Jigsaw, Kosher cooking, Library, Lotto, Massage, Movies, Music, Newspaper reading, Outings, Park, Parties, Parkinson's Society, Pastoral care, Pianist, Picnic facilities, Quizzes, Reading, RSA, Shopping, Sing-a-longs, Sky TV, Stroke Group, Travel, Vegetarian, Videos
Updated: 4 Feb 2019
Additional Information
Additional Information
Topic
Details
What's included in your fees and what's not
Personal spending such as haircuts, optometrist visits etc is at the resident's own cost. Medical care is included in the fee unless the resident chooses to remain with their own doctor.
Staffing qualifications and details
Staff to resident ratio of 1:5 on day shifts.
Details about meals
All meals are prepared on site by our chef and his superb team. All dietary needs can be catered for and the varied and high quality menu ensures all needs are met. The Food for Thought residents committee provides feedback on our menus.
Updated: 4 Feb 2019
Languages Spoken
Languages Spoken
Language
Status
Details
Afrikaans
Yes
Arabic
Yes
Bengali
Yes
Bulgarian
Yes
Cantonese
Yes
Chinese
Yes
Chinese dialect
Yes
Cook Island Maori
Yes
Croatian
Yes
Dutch
Yes
English
Yes
Fijian
Yes
Fijian Indian
Yes
Filipino
Yes
Flemish
Yes
French
Yes
German
Yes
Gujarati
Yes
Hindi
Yes
Interpreter
Yes
Japanese
Yes
Korean
Yes
Mandarin
Yes
Māori - Te Reo
Yes
Marathi
Yes
Niuean
Yes
Punjabi
Yes
Rarotongan
Yes
Samoan
Yes
Telugu
Yes
Tokelauan
Yes
Tongan
Yes
Urdu
Yes
Updated: 22 May 2014
Religious/Spiritual Affiliations
Religious/Spiritual Affiliations
Religious/Spiritual Affiliations
Status
Details
Non denominational
Yes
(Other comments)
Yes
Knox is non-denominational and we support all forms of worship. Services, communion and fellowship meetings are held regularly at Knox by various denominations
Updated: 6 Mar 2015
Distances
Distances
Location
Distance
Details
Public Transport
0.00 Km
At the front gate The Link bus is also available on Manukau Road - this is an easy way to access Newmarket and the City Centre.
Shops
0.50 Km
Mall
1.00 Km
Newmarket
Parks
0.50 Km
Across the road
Library
0.60 Km
Epsom Library 1.5km Remuera Library
Updated: 6 Mar 2015
Credentials & Membership
Credentials & Membership
Credentials & Membership RC
Status
Details
National Certificate in Diversional Therapy
Yes
New Zealand Aged Care Association (NZACA)
Yes
New Zealand Council of Christian Social Services (NZCCSS)
Yes
Other details
Yes
Eden Alternative Registered - Eden in OZ&NZ
Updated: 5 Mar 2013
The Ministry of Health conducts regular audits of Residential Care Facilities. They can be found HERE.