Home help & personal care
At a glance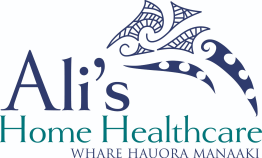 Name

Ali's Home Healthcare

Category

Home help & personal care

Address

14 Settlers Crescent
Ferrymead
Christchurch 8023

DHB

Canterbury

Phone

Email

Web
Personnel
Manager

Kelly Seed - 03 379 3131

Owner

Kelly Seed - 03 379 3131
Ali's Home Healthcare has been Canterbury owned and operated for 20 years. We pride ourselves on providing a reliable service and the highest standard of in-home care.

We believe everyone deserves to have quality of life in their own home, and we take the time to provide empathetic care that leaves clients feeling comfortable, valued, and safe.

Our clients are valued individuals, and that's how we treat them: we listen to their needs and often go above and beyond prescribed care to make sure they feel safe and supported.

Our support workers are experienced and friendly - the kind of people you'd like to catch up with for a chat and a cup of tea! Wherever possible we allocate one support worker to each client, so clients can build a strong relationship with their carer.

Our services include nursing, domestic care, personal care, home shopping, companionship, and spring cleans.

If you have any questions about your loved one's care our Christchurch team is always just a phone call away
Service Description
Service Description
As our bodies age, we can't always do everything we'd like - but that doesn't mean we have to lose our independence. Ali's Home Healthcare can provide home and personal support at a level that suits your current needs and allows you to continue leading an enjoyable lifestyle.


Our staff are respectful, culturally aware, and will take the time to go the extra mile - whether that's helping you unpack the shopping, or topping up your firewood for the night. They'll show kindness and positivity, and they'll remember how you take your tea!


Some examples of ways we care for older people:


Popping in to help with small daily tasks - like dressing, taking medication or getting the house ready for the day.



Transport and outings - like accompanying you to the supermarket, or driving you to and from your bowls game or book club.



Sleepover service - to give you the peace of mind that someone will be there if anything should happen during the night.
Updated: 19 Apr 2022
Meeting the needs of older people
Meeting the needs of older people
Our Personal Support Services are designed to help with life's daily tasks.

Services are completely tailored to meet each client's individual needs, and may include:

Assistance with showering, bathing, or going to the toilet

Assistance with dressing and undressing

Assistance washing or drying hair, or shaving

'Sleepover and wakeover' night support

Medication oversight

Nursing cares

Meal preparation

Feeding


These services can help support our clients to safely remain in their own homes following a temporary or permanent disability. Services are available seven days a week if required.
Home Help Services (or Domestic Assistance) help our clients keep on top of jobs around the house. Services are completely tailored to meet each client's individual needs, and may include:

Vacuuming, mopping the floors, or dusting

Preparing food and doing the dishes

Doing the washing and hanging it out

Ironing, folding, and putting away clothes

Essential shopping

Transport to and from activities - like clubs, events, or the weekly supermarket shop
Often, clients may not wish to enter residential living; in the home care means they are able to stay in their homes, retain their independence, and live the life they want.

Many of our clients need a helping hand with daily tasks due to physical or learning disabilities. We also provide support for older people who wish to remain in their own home but need support with daily tasks.

We also provide in-home healthcare for people with progressive illnesses (MS, Cystic Fibrosis, Huntingtons) and ensure the level of the care supplied is developed and is kept appropriate for the current state of the condition.
Updated: 19 Apr 2022
Suburbs/Districts/Towns Serviced
Suburbs/Districts/Towns Serviced
From Rangiora to Ashburton, we able to meet your care requirements
Updated: 27 Aug 2020
1680