Dementia Care (Secure)
At a glance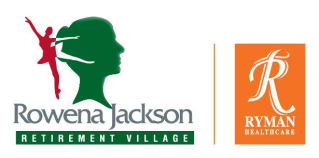 Vacancy

No

Name

Rowena Jackson

Category

Dementia Care (Secure)

Address

40 O'Byrne St North
Waikiwi
Invercargill 9810

Postal Address

40 O'Byrne Street
Waikiwi
Invercargill 9810

DHB

Southern (Southland)

Phone

Fax

Email

Web

Facebook
Personnel
Manager

Steve Wakeman - (03) 215 9988

Owner

Ryman Healthcare

Clinical Manager:

Sue O'Brien
Other services

Winner: 2022 Trusted Brand Aged Care & Retirement Villages

Your health needs may change over time and if they do, it's good to know you won't have to move again. It's comforting for couples at different stages in their health to know that they can be cared for within the same Ryman village, by the same Ryman team.

At Rowena Jackson Retirement Village, we not only provide independent and assisted living in serviced apartments, we also provide a full care offering, which includes specialist dementia care. Providing the full range of living and care options is just one of Ryman's points of difference.

Our village is a supportive and caring community that works to improve the experience of residents living with dementia. We provide a safe environment for residents to enjoy living in, with a focus on experiences, rather than processes.

Our myRyman Life model of dementia care is an innovative approach to supporting residents living with dementia. The approach focuses on supporting residents to live in the moment, and to feel kindness, love, and security. It promotes spontaneity, laughter, and fun.

Our dementia care area has an easy-to-navigate environment, including a welcoming and tranquil outdoor area for people to relax in. Cues and signage support memory and help residents with orientation.

We've won the Reader's Digest Trusted Brand: Aged Care and Retirement Villages award seven times. And we've been awarded the gold medal six times in the Reader's Digest Quality Service award.

Of all the large providers in New Zealand (with 15 villages or more), Ryman has the highest number of care centres with 4 years' certification – the 'gold standard' in care – from the Ministry of Health.

Rowena Jackson has been awarded with this 'gold standard' in care. To achieve this, it has been determined that our care centre, which includes dementia care, has exceeded the sector standard for aged care.

Innovations such as our custom-made electronic care app, myRyman, contribute to this high standard. In every care room, a device enables nurses and carers to see and record information about each resident. This award-winning technology creates greater efficiencies, allowing our teams to spend more time with residents as a result.

Private rooms are warm and spacious, and every room includes an ensuite bathroom. Dementia residents are discreetly monitored by a sensor system, which alerts our care team if a resident is out of bed at night. The system switches on lights that help guide the resident to their ensuite, and then back to bed.

We provide all meals and snacks from our seasonal Delicious menu. Meals are prepared fresh on site by our village chefs, with a choice of three main courses, including a vegetarian option. We also cater for special dietary requirements.

Ryman has emergency generators at every village so our residents and our people can be safe and comfortable in a power outage. For dementia residents, maintaining a calm environment is an essential part of our myRyman Life approach to dementia care. Therefore, emergency generators provide real peace of mind.

What really makes a difference in Ryman care centres, is the daily dedication of our care teams. Residents and their families think the world of our nurses and carers. And because our staff ratios are some of the highest in the care sector, the individualised care we provide creates the unique experience that residents tell us they love.

Choosing the right care centre for a loved one with dementia is one of the most important decisions you will make. At Rowena Jackson, our dedication to care begins even before you or your loved one has moved in.

You'll be supported by our care team every step of the way, to ensure the move into dementia care is a smooth and informed transition.

We look forward to introducing you to our warm and caring community.
Service/Facility Details
Service/Facility Details
Detail
Status
Contract with DHB
Yes
Certification
Yes
ORA Applies
No
Updated: 17 Mar 2022
Bed and Vacancy Details
Bed and Vacancy Details
Detail
Status
Approximate number of beds at this level of care
32
Vacancy
No
Rowena Jackson Retirement Village offers the finest in retirement living in Southland. With independent living, assisted-living apartments and a resthome and hospital with a special care unit the village offers a full range of lifestyle options. For more information please phone our village manager on 215 9988.
Impending vacancy
No
Premium Room Charges
Some Rooms as at 09 May 2022
MOH Certification and Audit Report
View MOH certification and audit report (opens in a new tab)
Extra admission requirements due to COVID-19
Yes
Updated: 27 May 2022
Personnel
Personnel
Type
Hours Per Week
Status
Details
Registered Nurse
Yes
24 hours, 7 days a week. With an attached Hospital, Rowena Jackson's continuum of care and availability of experienced registered nurses is a huge advantage.
Nurse Practitioner
Negotiable
We have working relationship with the Nurse Practitioner from SDHB.
Enrolled Nurse
Yes
Healthcare Assistants/Caregivers
Yes
Physiotherapist
0.00
Negotiable
Negotiable. Rowena Jackson has an excellent relationship with the physiotherapists at the local hospital, although with physiotherapy practices within close proximity to the complex, a resident wishing to use their usual one is never an issue.
Social Worker (on site)
0.00
Negotiable
The local Hospital social workers are very happy to visit at our recommendation
Diversional Therapist
Yes
Activities Co-ordinator
Yes
Hairdresser
Yes
We have our own hair salon on site.
Podiatrist
Yes
Appointments are made at our front reception and Rosemary visits every Friday for the whole day.
Dietitian
Negotiable
We have dietitian available, (referral made by Registered Nurse in consultation with GP and Family)
Accredited Visitors
Negotiable
Kaumatua
Negotiable
Chaplain/Spiritual Advisor
Yes
We have all denominations visit Rowena Jackson and weekly church services on a Thursday
Updated: 17 Mar 2022
Specialities or Areas of Expertise
Specialities or Areas of Expertise
Specialities or Areas of Expertise
Status
Details
Oxygen Management
Yes
Residents on mobile oxygen therapy can be managed comfortably in our rest home so long as they meet the criteria set by the local DHB governing admission to a rest home
Gastronomy/Nasogastric Management
Yes
We are more than happy to accommodate a resident with a nasogastric tube and PEG tube, so long as they meet the criteria set by the local DHB governing admission to a rest home.
End of Life/Palliative Care
Yes
Rowena Jackson have a dedicated and team of Registered and Enrolled nurses who are passionate about providing the very best care, they are exceptionally good at providing palliative care to residents and supporting the families.
Wound Care
Yes
Rowena Jackson have a dedicated team of Registered/Enrolled nurses who are passionate about wound care management, we have a good working relationship with the Wound Nurse Specialist from SDHB.
Diabetic Care
Yes
Continence Advice
Yes
We have a very experienced registered nurse who provides advice and guidance and our current supplier of incontinent products visits regularly for education. The local hospital continence specialist is happy to visit on request.
Stomal Therapy
No
The stoma therapist will visit from the local hospital if requested
Infection Control
Yes
We have a dedicated registered nurse in the role of Infection Control Officer.
Surgical Followup
No
We are happy to provide private paying care for elderly people post surgery if we have a bed available however any surgical outpatient clinics or follow up occurs by their own arrangements.
Clinical Management
Yes
Sue O'Brien has a great wealth of knowledge and experience, having worked in aged care and here at Rowena Jackson for over 15 years.
Other Specialties
Yes
Updated: 17 Mar 2022
Respite, Carer Support or other Short Stay
Respite, Carer Support or other Short Stay
Respite, Carer Support or other Short Stay
Status
Details
Respite
Yes
Call Steve Wakeman or Sue O'Brien to enquire about respite care.
Carer Support
Yes
Call Steve Wakeman or Sue O'Brien to enquire
Subsidised
Yes
Private Paying
Yes
Booking can be made in advance
Yes
Updated: 17 Mar 2022
Features
Features
Feature
Status
Details
May Bring Own Furniture
Yes
We provide all rooms with a single bed, chest of drawers, bedside cabinet, television and a tall backed chair.
Single Rooms
Yes
All our rooms are single with their own toilet and sink
Rooms suitable for a couple
Yes
We will work very hard to accommodate the needs of couples
Ensuite
Yes
Alcohol Permitted
Yes
Some of our residents keep their own alcohol in their rooms so they can enjoy a pre dinner drink with family or friends and we are happy to accommodate this. We also provide a free happy hour once a week for all residents
Negotiate To Bring Own Pet
Yes
Cats are not recommended although many of our residents and staff love them.
Phone Access In Own Room
Yes
All rooms are provided with a jack point
Resident can adjust heating in own room
No
All rooms have underfloor heating
Lounges/seating areas
Yes
Primary Health Funded Short Term Care
Yes
Palliative Care Contract
Yes
Day Programme for day stay clients
Yes
Wednesday and Thursday are day care days. Referrals come from the local Need Assessment and Service Coordination (NASC) service at the DHB. We hold a pre dementia day care on Fridays
Outings
Yes
Every week there is an arranged outing for residents. Other outings for individuals can be arranged with the activities coordinator.
Whanau Room
Yes
We have small intimate lounges scattered through out the complex available for visitors, families/whanau. Most are equipped with tea and coffee making facilities
Family Committee
Yes
Newsletter
Yes
The Rowena Rambler is circulated out three times a year
Policy for management of challenging behaviour
Yes
Confused Residents
Yes
Rural Setting
No
Rowena Jackson is surrounded by beautiful gardens
Smoking Permitted
Yes
This is not encouraged however there is a very small area outside to the south of the rest home that has been set aside for smokers
Semi-Secure
Yes
Updated: 17 Mar 2022
Interests & Activities
Interests & Activities
We have a full range of activities available within and around the village with dedicated activities coordinators on staff. If you wish to know more please enquire. We look forward to hearing from you.
Updated: 17 Mar 2022
Additional Information
Additional Information
Topic
Details
What's included in your fees and what's not
The fee covers most of the care. Some medications are on charged if not subsidised by Pharmac. Some Doctor fees are on charged. If you are unsure please ask
Staffing qualifications and details
Village Manager - Steve Wakeman, Clinical Manager - Sue O'Brien, Unit Coordinator - Martin Greenfield, Registered Nurse - works Morning shift daily. Care Staff - dedicated and passionate team who have completed or are working towards their ACE dementia level.
Details about meals
All Meals are served in the dining room for our residents to enjoy. A selection of delicious home cooked muffins and sandwiches as well as slices and cakes are served at morning and afternoon teas as well as supper. The menu is designed by a qualified dietitcian and caters for specialist diets of all types.
Associated Complexes
Rowena Jackson has an attached Hospital and Secure wing. There are also available Town houses and Serviced apartments for more independent living. We are also a part of the Ryman Healthcare Group. Ryman Healthcare is one of New Zealand's leading providers of Retirement Village Living for New Zealanders over the age of 65. The company has built an unprecedented reputation building exceptional Retirement Villages, employing professional and caring staff and as a result, are six-time winners of the Australasian Aged Care Awards for "Best Retirement Village in New Zealand".
Updated: 17 Mar 2022
Languages Spoken
Languages Spoken
Language
Status
Details
English
Yes
Other Information
Yes
There is a multi cultural dedicated team of staff employed at Rowena Jackson. If there is a language difficulty please ask and we will aim to assist.
Updated: 17 Mar 2022
Religious/Spiritual Affiliations
Religious/Spiritual Affiliations
Religious/Spiritual Affiliations
Status
Details
Anglican
Yes
Baptist
Yes
Brethren
Yes
Buddhist
Yes
Christian
Yes
Denominations/Faiths represented
Yes
Hindu
Yes
Inter denominational
Yes
Methodist
Yes
Presbyterian
Yes
Roman Catholic
Yes
Salvation Army
Yes
(Other comments)
Yes
We respect all denominations and provide services throughout the year of various faiths. Please ask.
Updated: 17 Mar 2022
Distances
Distances
Location
Distance
Details
Public Transport
0.00 Km
At entrance to village is the local bus stop. This is situated on the main North Road
Shops
0.50 Km
Waikiwi shops. The Woolworths supermarket is situated here
Mall
2.00 Km
Windsor Village. There is a lovely selection of boutique type clothing shops and cafes here. The rest home doe take residents here for shopping and food for some outings
Parks
1.00 Km
Donovan Park. Queens Park 2km.
Library
3.00 Km
Central City. Rowena Jackson does have its own library. The public library also supplies books to the village on a monthly basis for lending
Updated: 17 Mar 2022
Credentials & Membership
The Ministry of Health conducts regular audits of Residential Care Facilities. They can be found HERE.
838