Hoon Hay House Dementia
At a glance

Vacancy

Yes

Name

Hoon Hay House Dementia

Category

Dementia

Address

16 Anvers Place
Hoon Hay
Christchurch 8025

Region

Canterbury

Phone

Fax

Mobile

Email

Web
Personnel
Manager

Franziska Gloor

Owner

Heritage Lifecare
Other services
Photos
Map
Downloads
Reviews
We offer a unique opportunity for your loved one to be part of a small family, homelike environment, in a harmonious setting.

Golden Healthcare Group, Hoon Hay House (Dementia) is a newly refurbished secure 20 bed dementia home suitable for rest home dementia care level.

We offer a Woman-Only space in one of our 10 bed wings.

We strive to maintain the independence and personal interests of individuals to promote satisfaction and quality of life.
Service/Facility Details
Service/Facility Details
Detail
Status
Contract with Te Whatu Ora
Yes
Certification
Yes
ORA Applies
No
Updated: 7 Dec 2023
Bed and Vacancy Details
Bed and Vacancy Details
Detail
Status
Approximate number of beds at this level of care
20
Vacancy
Yes
Single rooms with ensuites.
Impending vacancy
Yes - Bookings are available
Short stay considered
Yes
Premium Accommodation Charges
Some Rooms from $25.00/day up to $35.00/day as at 04 Oct 2023
MOH Certification and Audit Report
View MOH certification and audit report (opens in a new tab)
Extra admission requirements due to COVID-19
No
Updated: 7 Dec 2023
Testimonials
Testimonials
Even though my Mum has only been in care for two weeks we are absolutely thrilled with beautiful meals the loveliest of staff and the wonderful way my mom is treated, the care and concern is wonderful to see. We couldn't be happier. JC

A wonderful home where my husband was a resident after being diagnosed with Dementia, sad that he is no longer with us, I enjoyed visiting him every day at the facility for a cup of tea. AH

Having seen this wonderful dementia care facility and from speaking to the staff and Managers, it is just what I wanted for my 91 year old mum. I prefer the small homelike environment plus plenty of activities and interaction, as well as lots of loving care, and good, proactive nursing practice, responsive to any arising issues and I believe Hoon Hay Village offers this. The staff were great, especially the Nurse Manager whom when I said I want my mum here replied immediately, " bring her in , we will love her!" and I believe they would. Having had Mum at home with me for 8 years, and being a medical professional I know good care and a great environment when I experience it. It clearly is best practice dementia care and what you would want for your loved one. DH
Updated: 7 Dec 2023
Personnel
Personnel
Type
Hours Per Week
Status
Details
Registered Nurse
48
Yes
Monday to Sunday coverage and on call in the evenings
Healthcare Assistants/Caregivers
Yes
Our staff are trained in dementia care and are supported in their ongoing training
Physiotherapist
Yes
Diversional Therapist
Yes
Activities run on all days of the weeks and are organised and supported by our DT
Activities Co-ordinator
Yes
Hairdresser
Yes
Our hairdresser comes to our salon on regular intervals to ensure our residents feel cared for
Podiatrist
Yes
on site every 6 weeks
Dietitian
Yes
Kaumatua
Negotiable
Chaplain/Spiritual Advisor
Negotiable
Updated: 7 Dec 2023
Specialities or Areas of Expertise
Specialities or Areas of Expertise
Specialities or Areas of Expertise
Status
Details
Wound Care
Yes
Diabetic Care
Yes
Continence Advice
Yes
Infection Control
Yes
Clinical Management
Yes
Updated: 19 Sep 2023
Respite, Carer Support or other Short Stay
Respite, Carer Support or other Short Stay
Respite, Carer Support or other Short Stay
Status
Details
Respite
Yes
Carer Support
Yes
Subsidised
Yes
Private Paying
Yes
Booking can be made in advance
Yes
Updated: 4 Oct 2023
Features
Features
Feature
Status
Details
May Bring Own Furniture
Yes
Single Rooms
Yes
Ensuite
Yes
All our rooms have their own spacious ensuite with shower.
Alcohol Permitted
Yes
Pets In Residence
Yes
We have a cat who lives with us.
Wifi
Yes
Cater for under 65 yrs with Disability
Yes
Lounges/seating areas
Yes
Gay / LGBT IQ Friendly
Yes
Female residents only
Yes
We have a dedicated 10 bed women-only wing.
Primary Health Funded Short Term Care
Yes
Outings
Yes
Whānau Room
Yes
Newsletter
Yes
Policy for management of challenging behaviour
Yes
Confused Residents
Yes
Updated: 4 Oct 2023
Special Features
Special Features
Each of our generous bedrooms have a full sized en-suite with shower, hand basin toilet and vanity mirror/ cabinet.
Outdoor access from a personal ranch slider door feature in each bedroom provides freedom to explore the secured walking area or courtyard, with the ability to have a small chair and table to relax at.
A fully functional kitchen allows for participation of baking sweet treats for enjoyment.
Updated: 19 Sep 2023
Interests & Activities
Interests & Activities
Activity programme, Alzheimer's Society, Big print books, Bingo, Board games, Bowls, Church, Cooking, Craft, Entertainers, Garden, Gardening, Games, Indoor Games, Jigsaw, Newspaper reading, Outings, Quizzes, Shopping, Sing-a-longs
Updated: 19 Sep 2023
Additional Information
Additional Information
Topic
Details
Staffing qualifications and details
All of our carers are Dementia qualified
Details about meals
All are meals are dietitian verified and cooked onsite
Updated: 19 Sep 2023
Languages Spoken
Languages Spoken
Language
Status
Details
Chinese
Yes
English
Yes
Fijian Indian
Yes
German
Yes
Mandarin
Yes
Swiss German
Yes
Updated: 19 Sep 2023
Religious/Spiritual Affiliations
Religious/Spiritual Affiliations
Religious/Spiritual Affiliations
Status
Details
Anglican
Yes
Monthly Service available
(Other comments)
Yes
Catholic Service available
Updated: 19 Sep 2023
Ethnic Diets
Ethnic Diets
Ethnic Diet
Status
Details
Halal
Yes
Vegetarian
Yes
Updated: 17 Jul 2023
Distances
Distances
Location
Distance
Details
Public Transport
0.50 Km
On Lincoln Road
Shops
0.50 Km
Close by
Updated: 17 Jul 2023
Credentials & Membership
What's New
What's New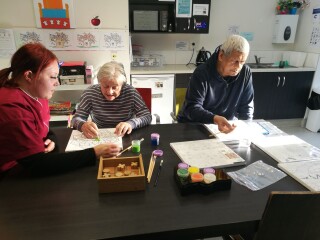 Here at Hoon Hay Village, we make the most of our days and engage with our residents in meaningful activities. This includes outings into the communities, enjoying entertainment and music activities as well as doing craft, quizzes and gardening.
At Hoon Hay House we offer a unique opportunity to enjoy all the comforts of home in our facility. Our staff are passionate about dementia care and ensure your loved ones are getting the best care.
Updated: 1 Dec 2023
The Ministry of Health conducts regular audits of Residential Care Facilities. They can be found HERE.