Dementia
Aberleigh Rest Home and Dementia Care - Dementia Care NZ - Two Small And Homely Care Units
At a glance
Vacancy

No

Name

Aberleigh Rest Home and Dementia Care - Dementia Care NZ

Category

Dementia

Address

19 McCallum Street
Springlands
Blenheim 7201

Postal Address

19 McCallum Street
Springlands
Blenheim 7201

Region

Nelson Marlborough

Phone

Fax

Mobile

Email

Web
Personnel
Manager

Maja Yu

Owner

Jim Haines and Alison Hume
Other services
We are open and accepting admissions!

At Aberleigh we create a loving, warm and homely atmosphere where each person is supported to experience each moment richly.

Each person is immensely valuable and wonderfully unique.

Our team of staff know how to care for and connect with the people who live at Aberleigh like they would a very best friend.

Small homes have been created so that things are familiar. Each person has a private bedroom and can enjoy the beautiful garden.

We encourage people to continue with familiar roles like baking, gardening, arranging flowers, setting the table, raking up the leaves in autumn.

Family become an important part of the Aberleigh community

OUR VISION
To accept all people with kindness and love
To provide peace, comfort and joy
To be proactive, innovative and courageous
To enrich each person, the community and the world

OUR VALUES
We strive to achieve this vision by working
with openness, honesty, integrity and passion

THE WORK WE DO
We establish trusting relationships based on
respect and acceptance
We encourage people's participation in
companionship-based care in their small homes
We are privileged to accompany people as they
journey towards the end of their life
We welcome family/whanau and the wider
community as integral to people's lives
We promote inclusion and the rights and
values of each person
We celebrate unity in diversity





Dementia Care New Zealand is one of New Zealand's highly regarded aged care providers.
We provide a full range of residential care including general rest home care, dementia rest home care, general hospital level care, and dementia hospital level care. At many of our facilities, a full continuum of care is available.
We specialize in person-centred care for people who live with dementia. This is the work we have passionately chosen to do.
We care for people in small, cosy homes with a loving, warm and homely atmosphere where each person is supported to experience each moment richly. Our small homes concept means that people with dementia experience life in a less clinical and more normalised, familiar way. Small homes that inter connect, also bring a sense of 'community' for a person with dementia.
Service/Facility Details
Service/Facility Details
Detail
Status
Contract with DHB
Yes
Certification
Yes
ORA Applies
No
Updated: 16 Mar 2022
Bed and Vacancy Details
Bed and Vacancy Details
Detail
Status
Approximate number of beds at this level of care
18
Vacancy
No
We currently have a lovely sunny room available at Aberleigh Rest Home. At Aberleigh we offer two, small, 10 room care units. Please visit our comprehensive web site for further information about Aberleigh. Please call Maja Yu on (03) 578 7966, if you would like to come and meet our team. We welcome your enquiry and look forward to meeting you.
Impending vacancy
No
Premium Room Charges
Some Rooms as at 12 Jan 2022
MOH Certification and Audit Report
View MOH certification and audit report (opens in a new tab)
Extra admission requirements due to COVID-19
Please enquire
Updated: 12 Aug 2022
Testimonials
Testimonials
My dear wife, of 52 years, was admitted to Aberleigh's care on the 15th of July 2015, since that time, I have endeavoured to visit Delia three times a week and now I believe I am a critical observer of the care and attention given to Delia and all the other people living at Aberleigh.

Which is impeccable at all times.

When Delia was admitted to Aberleigh in July 2015, she had advanced Alzheimer's which continued to move along until Delia was unable to make her own way along life's pathway, this of course meant on going increased levels of care and attention.

Which never faltered.

During my life thus far I have often wondered about the existence of Angels and now since 2015 I am sure they are here……..

And a large number of them are employed at 17 to 19 McCallum Street, Springlands.

Kind regards
Terry Climo
November 2018



I have been approached by Aberleigh Rest Home Limited regarding writing a testimonial as to the facilities and care that they provide at 17-19 McCallum Street, Springlands, Blenheim. I am delighted to do so.
My elder sister has been in the Rest Home since the beginning of June 2008. She has lived there ever since. For approximately the last 12 months she has suffered from dementia and therefore requires special care and attention. My wife and I have tried to visit at least once a week and therefore we consider we have gained a meaningful insight into the merits of the Rest Home, the standard of care provided and the abilities and attitude of the staff that they employ.
It is readily apparent that rest home staff needs to possess very special qualities. It is not an easy job but at all times I have found that the staff at Aberleigh to be absolutely dedicated, reliable and conscientious. I have no complaints whatsoever regarding their attitude and the standard of care they provide. It is not an easy job but they carry out their duties to a very high standard.
It is significant that my sister really dreaded the thought of going into a rest home but she is now probably happier than she has ever been. Today she does not have to worry about the normal tasks associated with living on your own. We have asked her many times about the rest home facilities, the standard of the meals, the staff and the care they provide. Almost without exception she highly praises the staff and the excellent standard of care they provide.


David Oliver
Updated: 16 Mar 2022
Personnel
Personnel
Type
Hours Per Week
Status
Details
Registered Nurse
Yes
There is a Registered Nurse on site 24 hours a day seven days a week. Should you require any information regarding your loved one the nurse on duty is the person to see.
Enrolled Nurse
Yes
Healthcare Assistants/Caregivers
Yes
Physiotherapist
Yes
Our physiotherapist works with us each fortnight. She assesses each resident's needs and develops a safe handling plan for each resident. She also trains the staff to transfer residents safely.
Social Worker (on site)
Yes
As required
Diversional Therapist
Yes
Our diversional therapists know each resident very well and know what works for each person creating meaningful activities to support creativity, socialisation, stimulation and fun as well as assisting residents in the daily running of their home.
Activities Co-ordinator
Yes
Hairdresser
Yes
Visits weekly and more frequently when required.
Podiatrist
Yes
We have a poditarist who comes on a regular basis to attend to the needs of the residents.
Dietitian
Yes
Our dietitian comes to Aberleigh monthly to review nutritional requirements of the residents
Kaumatua
Negotiable
Please enquire
Chaplain/Spiritual Advisor
Yes
Aberleigh is interdominational so we have people from several demoninations that visit. Should you require an individual visit this can be arranged.
Other Personnel
Yes
We have a person who facilitates a support group for family members of people who live at Aberleigh. Many people find talking with others very helpful. She is also available by phone for any family member who just need someone to talk with.
Updated: 13 Jul 2022
Specialities or Areas of Expertise
Specialities or Areas of Expertise
Specialities or Areas of Expertise
Status
Details
End of Life/Palliative Care
Yes
Our registered nurses have received training in caring for people as they experience the final stages of their life journey.
Wound Care
No
Wound care specialist care is available on referral
Diabetic Care
No
Specialist care is available on referral
Continence Advice
Yes
We have a continence advisor who calls on us regulary. She also runs in house training sessions for staff and is available to be contacted when we require her service.
Stomal Therapy
No
Specialist care input is available on referral
Stroke Rehabilitation
No
Specialist care input is available on referral
Infection Control
Yes
We have a registered nurse who does special training in infection control and who has a role in infection control at Aberleigh. Specialist care input is available on referral
Psychiatric Care
No
Specialist care input is available on referral
Clinical Management
Yes
Our Clinical Manager George John advises and mentors the registered nurse team and also knows each resident and their requirements. Should you have any concerns or queries regarding the health of your loved one, please contact George.
Other Specialties
Yes
Simon Hamley is a Registered Mental Health Nurse and our Education Coordinator. He ensures staff compliance with their training, coordinates staff in-services and special training programs, and is trained in Managing of Actual or Potential Aggression (MAPA).
Updated: 16 Mar 2022
Respite, Carer Support or other Short Stay
Respite, Carer Support or other Short Stay
Respite, Carer Support or other Short Stay
Status
Details
Respite
Yes
We have a dedicated respite care service which means that carers can book care in advance, knowing that their loved one has a booked room in a well established home which specialises in care of people who have dementia. This is provided the room is available at the time you require.
Carer Support
Yes
High Care Needs
Yes
Subsidised
Yes
Private Paying
Yes
Booking can be made in advance
Yes
If the room is available. Please call our Operations Manager to confirm.
Updated: 16 Mar 2022
Features
Features
Feature
Status
Details
May Bring Own Furniture
Yes
You are able to bring your own furniture subject to space and safety contraints. It can be very nice for a resident to have their own things about them - this reminds them of home.
Single Rooms
Yes
Ensuite
Yes
Alcohol Permitted
Yes
We have a regular happy hour.
Negotiate To Bring Own Pet
Yes
Please talk to the Operations Manager about this.
Phone Access In Own Room
No
We have a portable phone that residents can use.
Resident can adjust heating in own room
Yes
Cater for under 65 yrs with Disability
Yes
We have a contract with the DHB for these services
Lounges/seating areas
Yes
We have 4 seperate lounges. Two open out to the gardens.
Day Programme for day stay clients
Yes
We may be able to assist someone requiring day care. Please contact Maja Yu about this.
Outings
Yes
We have weekly outings in our van
Whanau Room
No
We have a quiet space that can be used by family requiring a quiet and private space.
Maori Kaupapa
Yes
Residents Committee
No
A meeting is held regularly with residents. It is important that they have opportunity to give feedback and to talk about how they would like their home run.
Family Committee
No
We encourage family members to give feedback whenever possible. Ideas, complaints, improvement suggestions are welcomed.
Newsletter
Yes
We have a newsletter four times a year.
Policy for management of challenging behaviour
Yes
We work to minimise resident's symptoms of dementia in a creative and loving way. There is regular and ongoing staff training.
Confused Residents
Yes
Many of our residents are confused. These are the people we have chosen to care for. This is our work. We are very skilled in working with people who are confused.
Smoking Permitted
Yes
We have a designated smoking area out side
Semi-Secure
Yes
In the dementia home we are fully secure.
Updated: 16 Mar 2022
Special Features
Special Features
Aberleigh offers rest home and hospital care to those with dementia as well as rest home and hospital care for elderly who do not have dementia.

Our home for people who need care because they have dementia is highly specialised. Each resident is loved and known. Each person is very precious. Our team is highly skilled in managing behavioural and psychological symptoms of dementia. We love this work - it is hugely satisfying to enrich these peoples lives.
Updated: 16 Mar 2022
Interests & Activities
Interests & Activities
We have diversional therapists who are trained or training. They work with residents to help them to get to know each other, have fun, develop interests, exercise their bodies and stimulate their minds. Entertainers come into the home on a regular basis for the residents' enjoyment.

We have an activity programme which includes art, bingo, bowls, care and craft, weekly church services, cooking, craft, dancing, visits from entertainers, flower arranging, games, Happy Hour, housie, jigsaws, music, daily newspaper reading, quizzes and sing-a-longs.

Exercises include regular walks, quoits, "bobs" and balloon tennis. We also have a lovely, freshly landscaped garden with paths to walk and shaded areas to sit. We have a vege garden and residents are free to assist with these if they wish.

We have links with or can assist with contact with the following community groups: Age Concern, Alzheimer's Society, Blind Foundation, RSA and Senior Citizens Presbyterian Support.

At Aberleigh we also have on site or can provide access to aromatherapy, a BBQ, a range of big print books, board games, classical music, a piano, picnic facilities, a library, a van for outings and Lotto. Sky TV can be arranged at the individual resident's expense.

A volunteer from the community acts as an advocate for our residents should they have any problems or concerns.

Residents are able to have breakfast in bed at any time if they wish.

We also encourage visits from canine friends and children.
Updated: 16 Mar 2022
Additional Information
Additional Information
Topic
Details
What's included in your fees and what's not
Please contact our manager Maja Yu in regards to fees
Staffing qualifications and details
We have a staff education programme and we actively encourage all our staff to further their qualifications. Our education coordinator supports and encourages staff development.
Details about meals
We do our own inhouse cooking. Our main meal is served in the evening and includes roasts twice a week. We will cater to individual preferences. Morning and afternoon tea consists of home baked goodies.
Updated: 16 Mar 2022
Languages Spoken
Languages Spoken
Language
Status
Details
English
Yes
Fijian Indian
Yes
Filipino
Yes
Updated: 16 Mar 2022
Religious/Spiritual Affiliations
Religious/Spiritual Affiliations
Religious/Spiritual Affiliations
Status
Details
Anglican
Yes
Baptist
Yes
Brethren
Yes
Christian
Yes
Denominations/Faiths represented
Yes
We care people from all faiths and denominations. We want people from all cultures, religions, faiths and denominations to feel comfortable. Family only need ask and we will endeavour to provide any spiritual care that is necessary.
Inter denominational
Yes
We have a weekly church service which is conducted on a rotating basis by each of the local churches. We also have a weekly bible study conducted by a volunteer from the community. Roman Catholic Holy Communion is also held once a week.
Updated: 16 Mar 2022
Distances
Distances
Location
Distance
Details
Mall
1.00 Km
We are approximately 1 km from Blenheim town centre with its many cafes and shops.
Parks
0.50 Km
We are close to Pollard Park which has wonderful gardens, a river walk and children playground.
Library
Blenheim Library is our closest being in the centre of the shopping area in town.
Updated: 13 Jul 2022
Credentials & Membership
Credentials & Membership
Credentials & Membership RC
Status
Details
National Certificate in Diversional Therapy
Yes
New Zealand Aged Care Association (NZACA)
Yes
Other details
Yes
Our Education Coordinator Simon Hamley is a trained instructor for Managing of Actual or Potential Aggression (MAPA) from the Crisis Prevention Institute.
Updated: 13 Jul 2022
What's New
What's New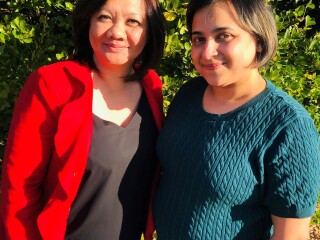 Strengthening our clinical team
We are delighted to have recently secured the services of two highly skilled and experienced clinicians to join our organisational team in key leadership roles.
Urmee Rahman and Arrah Bagtang have accepted positions as Regional Clinical Managers with Dementia Care NZ. Their role will be to mentor, guide and support the Clinical Managers of our rest homes, and through them the Registered Nursing and care teams.
Based in the South and North Islands respectively, they will provide leadership through regular on-site visits, zoom sessions and telephone support. They in turn will be supported by our wider DCNZ team.
In welcoming Urmee and Arrah to our family, we would like to take this opportunity to introduce them to you.
A dedicated professional with over 8 years of clinical and managerial experience in the health sector, Urmee's expertise is in aged care nursing, with the past four years in clinical management roles.
Urmee's approach is strongly people-focused, with a commitment to empowering and supporting our older population to continue to be in charge of living their lives in the way that makes them happy.
Urmee is at home working within a multi-disciplinary team setting to provide the highest quality of care at all times. She thrives on leading and developing successful teams, and implementing change in a dynamic and complex healthcare environment.
Her personal interests include reading, travelling, and exploring and getting to know different cultures and places.
Arrah comes to us with more than seven years experience as Clinical Manager for Aged Care facilities providing rest home, hospital and dementia levels of care, with proven ability to support both residents and staff. Her most recent role has been as Clinical Manager of a 60-bed rest home providing hospital and rest home level care.
Arrah has expertise in Infection Control, Health and Safety, Quality Improvement, facilitating staff education, interRAI assessments and all aspects of clinical team leadership. Her focus is on creating and maintaining warm, caring and effective relationships with residents, their families and the staff team to provide truly excellent holistic care.
Above all, Arrah's passion for older persons' care, and especially dementia, shine through the work she has chosen to do.
This dual appointment broadens and strengthens the clinical expertise of our team, making an additional level of knowledge, skills and experience readily accessible to staff, residents and families. The added benefits in terms of care will be significant, with a true passion for dementia and aged care characterising each member of our outstanding clinical team.
Havening - August 2022

Havening is sometimes known as 'first aid for the emotions' for its ability to very quickly soothe and down-regulate stress neuro-chemistry and promote calm and tranquility.
Havening is a psycho-sensory therapy that helps people identify the root causes of their issues and rewire their response so that they can release issues like stress, trauma and anxiety.
Over the past 18 months I've completed Havening training including a three-day intensive training programme, passing 30 written client case studies, two client case study videos, ethics and a neuro-science exam.
The objective of this training is to explore how Havening techniques might help people living with dementia. Over the next few months we will be considering how simple Havening techniques could help de-escalate situations our residents find distressing or confronting, and create a sense of safety and calm in our homes.
How it works
Havening is based on neuro-science and is all about training the brain to respond differently to particular issues. People's brains can become stuck in a pattern of high alert around certain circumstances and situations. These situations will trigger extreme or disproportional responses.
Havening techniques can interrupt this pattern by creating healing delta waves. It is gentle, healing, effective and often rapid, and has no negative side effects.
In a session we use Havening Touch to create the change. This technique switches off the brain's 'alarm' button associated with a particular stored trauma, preventing future unhelpful responses. Havening is simple, safe and highly effective, gently down-regulating anxiety and distress and creating a sense of safety … a sense of a safe 'Haven'.

Donya Nee, Promotions and Public Relations Coordinator and Havening practitioner.
March 21 2020
IMPORTANT NOTICE REGARDING COVID-19 AND VISITATION.
We have decided to temporarily close our home over the weekend to visitors as we work towards implementing the latest advice from the Ministry of Health as of 21st March 2020. We are reviewing our processes to ensure they meet the new recommendations from the Ministry. We will advise you of the new process for visiting our home on Monday, 23rd March 2020.
We acknowledge the importance of visits for our residents and their loved ones. Closing our doors is not a step we take lightly. However, preventing the spread of COVID-19 has to take priority.
Andrew Sheard
Director
March 2018:
Easter is a special celebration for us here in our home. We love to enjoy loving time together and share memories evoked by the scent of fresh hot cross buns and the feeling of anticipation as we unwrap the first Easter egg.
We wish you all a safe and happy Easter with those you love.
As always, we welcome your visits and remind you that our visiting times are the same throughout the holidays.
March 2018:
We love getting together with friends out in the community, especially over a friendly game of darts, a catch up and a delicious afternoon tea. Each month we are holding a 'community darts session' where residents from other rest homes are invited to join us for an in-house game. Recently we had a lovely group of friends from Bethsaida Rest Home here in Blenheim. Such a fun way to stay connected with friends both old and new.
January 2018:
Having a good old BBQ is the epitome of a perfect summer Kiwi dinner in the back yard. Every one loves getting involved and sharing tips and techniques.
December 2017:
To our dear friends
It's the end of 2017, a time of reflection on the past year. As always, there have been many moments of joy, laughter, peace and wonder: what we call 'magic moments'. We are full of gratitude and would like to say thank you to you all. Thank you for encouraging us by being part of this online community. Thank you to the people who visit our homes - it is always lovely to see you. Most of all a very big thank you to those of you who share your family membe...r or friend with us. It is a huge privilege to take care of the people who live here with us in their home. They are a wonderful inspiration to us and we love them dearly.
We would also like to say an enormous thank you to each and every member of our staff team. We appreciate you and value you so much. Thank you for everything you do.
We are grateful for the highs and lows, the challenges and opportunities this past year has brought. Thank you for being part of it.
December 2017:
Recently we joined the Blenheim Christmas parade in our van. It was fun preparing and participating with our residents, and we were all proud to showcase our happy and united community and share the fun and laughter we enjoy at Aberleigh.
August 2017:
Continuing with familiar roles, assisting people to maintain involvement and valuing activities that are special to people is foundational for us at Aberleigh. Recently, our gardener had pruned some hedges in the garden of our dementia hospital. A gentleman resident carefully collected the offcuts and proceeded to re plant them meticulously in a perfect row. When asked what he was doing he replied 'I am planting a hedge'. It turns out that that particular plant can take root, and nearly two weeks later they have not withered. We look forward to seeing our new hedge grow and continue to learn so much from the wisdom and initiative of our residents.
At Aberleigh we offer respite care for people at rest home, dementia rest home, general hospital and dementia hospital level care.
This is dependant on whether we have a vacant room at the time.
General information:
• Most people want to keep their loved one at home as long as possible. Respite services help you do this successfully
• Caring for your loved one begins with caring for yourself. Taking a break is an important way of staying rested and strong
• Respite is available in homes which specialize in person centered aged care
• Respite encourages friendship, stimulation and fun
• Comprehensive 'respite packs' include information about the service, as well as detailed questionnaires regarding your loved one's care needs and daily routines
• Respite care is often for a short period of about a week, and can be repeated during the year
• Respite bookings can be organized through the NMDHB
Benefits to the caregiver:
• A chance to rest, recharge and revitalize knowing their loved one is receiving safe person centered aged care
• Allows loved ones to remain at home longer, through carers giving themselves time to rest
Benefits to the person receiving care:
• An opportunity to socialize and be involved in meaningful activities that comfort, stimulate and bring enjoyment
• Provides a short term experience of the sense of community that comes with facilitated care
• Continuation of daily roles and routines
• An opportunity for group activities and company in a safe and secure environment
Very often, respite care is the first experience of rest home care for families. This can be an emotional time for everyone including the person receiving care
Building trust through open communication:
It is important to gain as much information as possible about what to expect. Gaining trust and developing open communication with the people who will be taking care of your loved one is important. They too must gain as much information as possible about your loved one (their likes and dislikes, interests and routines) to give the very best of care. Every person is unique and has different responses and needs. The information you provide enables the rest home to develop a comprehensive plan of care specific to those unique and special needs.
All information about your loved one is available to you, so you should feel free to ask staff about anything that concerns you. People responsible for the care of your loved one write notes throughout the day and night so it is possible to find out how your loved one is doing over the 24 hour period. We provide 24 hour registered nursing coverage, 7 days a week.
Please contact our Operations Manager Maja or Clinical Manager Susan to discuss respite care options for your loved one.
Autumnal van trips: May 2017
Every weekend, our Activities Coordinator takes a group of residents on a van outing somewhere special in the community. Last weekend they all enjoyed a colourful trip up the Wairau Valley to observe the autumnal leaves of the vineyards. Everyone enjoyed the stunning display and friendly chats with passers by.
February 2017 - Our BBQ lunch.
At Aberleigh Rest Home last Saturday our residents and some family members enjoyed a wonderful Kiwi-style BBQ lunch. Nothing beats eating outside on a lovely summer's day, and it was great to see our residents helping out with the cooking and teaching our staff a trick or two. This coming Saturday we will having BBQ lunches for residents in our dementia homes. We are sure this will be greatly enjoyed and hope our families pop in for a sausage too.
December 2016
In May of this year a number of our dedicated Diversional Therapists and care staff commenced an 8 month course called 'Walking In Another's Shoes' that runs only once a year. This was facilitated by Dementia Educator Alison Rowe from Older Persons Mental Health at the Wairau Hospital. The course is all about encouraging person centred care for people living with dementia. We are proud that now nine of our staff team have completed this wonderful course since it began in 2014. Our staff have gained so much from this specialised training, which in turn benefits residents and family members.
It is with great pleasure that the team at Aberleigh are announcing the approved conversion of our 8 bed unit 'Totora', to a new dementia rest home.
This means that 8 new dementia rest home level care beds will be available to the community.
Please feel free to come and visit our new dementia rest home unit anytime.
Taylor Dam: October 2016

Our residents are relishing the fact that summer is finally upon us meaning we can go on so many more adventures.
Last week a number of us spent time at Taylor Dam. We loved the peaceful environment and feeding the ducks. This brought back so many memories for some people. A lovely day and we look forward to visiting more often.
Recently we held our winter family gatherings. The theme was full of elegance and fun, being 'Gold & Lace'. We had delightful live music and a good turn out of families and some great dancing to boot. We love our family gatherings at Aberleigh. A special opportunity to celebrate our residents and their loved ones.
Preparing our spring bulbs - July 2016:

With the mild winter comes the opportunity to get our spring bulbs ready early at Aberleigh. The 'green thumbs' among us loved potting the daffodil bulbs recently. We cant wait for them to come out!
SPCA visits for our residents - June 2016:

We are very lucky at Aberleigh to receive regular visits from our friends at the SPCA. At least twice a month our residents and a special animal get to spend time together lighting up each others day.

New Website for Dementia Care NZ:
A loved one with dementia?
Rest, recharge, revitalise!

Respite helps you keep your loved one at home longer by 'caring for the carer'.
Respite care is usually taken for a week or two to enable the carer to rest and recharge. This is often fully subsidised.

We now have a dedicated respite room available in our new dementia home.

This enables you to book respite care in advance, knowing that your loved one will be cared for in a secure, well established home which specializes in care of the elderly and people who have dementia.

This dedicated respite service means:
• A chance to rest, recharge, revitalise
• A familiar, trusted relationship develops over time with repeat visits
• An opportunity for socialisation and meaningful activities
• A homely environment encouraging continuation of daily roles and routines
• Loving, person-centred, one to one care

To find out more about this service and for a detailed information pack, ring Maja Yu on 03 578 7966

We would love to hear from you!

13th March 2013
Warmest greetings!
POSITIVE DEVELOPMENTS AT ABERLEIGH
We are writing to advise you about some important positive changes underway at Aberleigh.
An extensive construction project is currently in progress to build on some additional bedrooms and to upgrade an area of the current rest home. This will improve the environment for our residents and also enable us to provide hospital care for more of our residents. This means that when our residents become more frail and require hospital care they will be able to stay on at Aberleigh. This is important – residents can stay here in the place they call home, with the people who know them well and who know just how to care for them. It brings a measure of comfort to residents and their families, knowing that they will not have to move.
Work on the first phase of the project, in the existing carpark, is well underway. It is exciting to see our plans for an improved environment for our residents becoming a reality.
Once the first stage is complete we will be moving on to the redevelopment of the Ngaio wing. The significant upgrade we have planned will require the existing Ngaio wing to be completely taken down and rebuilt. This will mean that all the residents who currently live in the Ngaio wing will move into the beautiful new wing, Koromiko, which will become their new home.
With the provision of hospital level care, there is now a registered nurse on duty 24 hours a day seven days a week.
The extended level of care will be delivered with the same loving care and uncompromising standards which recently earned Aberleigh 4 year Ministry of Health Audit Certification.
When the alterations at Aberleigh are complete, one of the services we will be able to provide is a dedicated respite bed where people can book respite care in advance.
We will be celebrating the completion of the renovations with a formal opening in May this year. We look forward to inviting you to join us for this special occasion.
In the interim, we warmly welcome your questions or comments.
Yours sincerely
Maja Yu Susan Villacorta
Operations Manager Clinical Manager
Soon Aberleigh will be offering a dedicated respite bed where carers will be able to book care up to six months in advance.
This service will be available once all of our alterations and rebuilds are complete.
Watch this space for further updates.
February 2013
There is something in the soil at Aberleigh and we think it might have something to do with Gilbert! Gilbert Apperley pictured above, is a resident at Aberleigh rest home in Blenheim and loves to garden. "My garden always had lots of vege
s. I used to tell the owner of the local super market that if he ran out of vegetables, he could always come over to my house and have a look around". Silver Beet has been the shining star this summer. The picture of Gilbert with his healthy harvest.......was the fourth! Harvest this summer.
Donya Nee on behalf of the Aberleigh Diversional Therapy team.
At a number of our homes we have been holding a weekly 'coffee club'. This is a time for socialisation, reminiscing, sharing time with family and friends, creating magic moments. Out come the lovely table cloths, the special china, the flowers on the tables not to mention the lovely home baked goodies and coffee! If you would like to join your friend or loved one for coffee club, please conta
...
ct the operations manager of the facility for details. We would love to share this time with you.
Donya Nee, on behalf of the Diversional Therapy Team from Dementia Care NZ.
December 2012
Aberleigh Rest Home currently provides rest home and dementia level care for up to 46 residents. Following the successful audit, the facility is able to provide hospital level care for up to 10 residents, with round-the-clock registered nursing care. This service commenced in September 2012.
We are embarking on a building project to build on some additional bedrooms and to improve an area of the current rest home. This will improve the environment for our residents and also enable us to provide hospital care for more of our residents. This means that when our residents become more frail and require hospital care they will be able to stay on at Aberleigh. This is important – residents can stay here in the place they call home, with the people who know them well and who know just how to care for them. It brings a measure of comfort to residents and their families knowing that they will not have to move.
Building will be phased and carefully managed to provide maximum benefit with minimum disruption to residents and visitors.
September 2012
Following our recent successful audit, Aberleigh has been authorised to provide hospital level care, with round-the-clock nursing care. This service commenced in September 2012.
We are embarking on a building project to provide some additional bedrooms and to improve an area of the current rest home. This will improve the environment for our residents and also enable us to provide hospital care for more of our residents. This means that when our residents become more frail they will be able to stay on at Aberleigh. It is important that residents can stay here in the place they call home, with the people who know them well and with the people who know just how to care for them.
Building will be carefully managed to provide maximum benefit with minimum disruption to residents and visitors.
ABERLEIGH ACHIEVES 4 YEAR AUDIT CERTIFICATION
We extend our congratulations to our team at Aberleigh Rest Home in Blenheim who on the 14th of June 2012 underwent a full certification audit for the MOH. On Friday we received notification that Aberleigh has been awarded 4 years certification. Very few aged care facilities in NZ attain this level of certification which reflects the highest quality standard. Aberleigh is the only rest home in the Nelson Marlborough DHB to have achieved this distinction. Well done to Andrew, Tanya and the team. We are delighted that Aberleigh has joined Avonlea Rest Home and Admatha Dementia Care in Christchurch with 4 year certification.
Please click on the link below to read the Marlborough Express article:
http://www.stuff.co.nz/marlborough-express/news/7622890/Rest-home-wins-4-year-certification
Exercise Programme
After many months of discussion and planning, a four week training course for staff took place in March at Admatha and Avonlea in Christchurch on how to introduce regular exercise for residents into our dementia facilities.
The course was facilitated by Janet Earle, Registered Physiotherapist, who knows our residents and staff well from her weekly visits to both Admatha and Avonlea. Janet has vast experience in the area of falls prevention, and has worked extensively with the elderly and with people who have dementia.
This opportunity was met with great enthusiasm by the staff of both Christchurch facilities, with a pleasing attendance of Caregivers, Registered Nurses and Diversional Therapy trainees at the sessions.
The training covered a range of topics over the four weeks, from the benefits of exercise to the elderly, through which specific exercises to include and which to avoid. Janet summarised the main benefits to our residents as being the "Four F's"… Fitness, Freedom, Falls Prevention, and Fun!
It was envisaged that at the completion of the course, staff would have a greater understanding of exercise benefits, together with the tools to assist with incorporating increased exercise and movement into our residents' daily routine. It is envisaged that exercise will take place throughout the day. However, there will be a distinct focus on movement to music during the mid to late afternoon, when many of our residents struggle with 'sundowning' symptoms of dementia.
We are now getting ready to introduce this programme to people in facilities in other areas.
We plan to review the success of the training and exercise programme later in the year. Additionally, we intend to carry out some comparative evidence-based research to establish whether there have been any tangible benefits to our residents, such as a decrease in falls, as a result of the programme.
WE DO THINGS DIFFERENTLY ... AND IT WORKS.
OUR POINTS OF DIFFERENCE:
Our Vision and Values – Are the cornerstone of all we do. We select our staff based upon our vision and values. This means we attract the right people and have a great staff retention. Staff have a high level of job satisfaction and many opportunities to grow which naturally results in best performance and positively impacts upon our residents' well being.
Open home – Our families are always welcome. You have an open invitation to share mealtimes with your loved one, at no charge. We want you to have as much special time with your loved one as possible. This benefits us all.
Small Homes – Small homes mean that the environment feels more normalised, and residents orientate to their environment more easily.. There is a family feel. We get to know our residents very well. There are fewer faces to get to know. There is a higher staff ratio than in many larger facilities.
Open Plan kitchens - Purpose designed kitchens mean that residents and their families have full, assisted and safe access to familiar homely activities. People can help rinse the dishes, make a cup of tea, wipe down the bench, and be part of the running of their home. Baking and cooking activities occur regularly.
Bedrooms – Are warm and cosy. There is under-floor heating as well as wall unit heating. People are encouraged to bring special things from home, to make their room feel familiar and homely. We provide all of the necessities.
Family Support – Our families have the opportunity to meet monthly with an independent facilitator to share thoughts, feelings and concerns about having a loved one in care. At Levin and Waikanae support is available over the phone.
Special Programmes for Families - We enjoy having two special courses for our families: 'Orientation For Families' and 'Sharing the Journey'. These courses help people to settle into having a loved one in care, and provide information about dementia and improving the quality of the journey with your loved one in care.
Our team: Our staff team are hand-picked and are with us because they love working with people who have dementia. They are given many opportunities to grow within the organisation and are supported to be their very best. We provide them with free medical attention and staff support from 'Work Place Support' . They are also given much in the way of Education. We are great believers in the power of education and support for growth.
Education - We have an Education Coordinator who coordinates , supports, motivates and encourages staff to grow and develop as much as possible.
Best Friends Approach to Dementia Care training – All our staff attend this training as a part of their comprehensive 'orientation' program. It is based on the ground-breaking work of Virginia Bell and David Troxell, and originated in the U.S.A. The main focus is on developing empathy, communication and an understanding of our residents' needs.
Non Violent Crisis Intervention – This is an internationally recognised qualification that we encourage all staff members to participate in. This course supports what is learnt in the Best Friends Approach to Care training.
Intercultural training – Our staff team have the opportunity to be a part of comprehensive training around intercultural awareness. This training is designed to help staff understand the varying cultural needs of our residents, as well as fellow staff members.
Occupational Therapy – We have a very experienced Occupational Therapist who leads our team of Diversional Therapists. She is also available for consulting regarding residents' specific needs and/or behaviours of concern.
Physiotherapist – Our Physiotherapist visits our home regularly.
Dietician – Our dietician is on site on a regular basis and is available for advice at anytime.
Community Care – We have a proactive approach to education for the wider community around dementia care.
We speak at both national and international conferences on the subject of excellence in person-centred care. Community education, removing the stigma from dementia and increasing the quality of life for people who have dementia are passions we love to share with others.
At Aberleigh, we have undergone some exciting new renovations and improvements over the past months. Rata, our dementia care home, has been separated into two small units of ten residents with full completion of renovations in two weeks.
We are very happy about these renovations and changes. Smaller homes ensure that people with dementia have a familiar, comfortable and homely environment.
Small open kitchens and gas fires create a stronger homely atmosphere and offer the opportunity for people to be involved in the running of their home.
Residents love to help rinse the dishes, set up afternoon teas, wipe down the bench, or help to bake muffins for example.
All of these homely activities help increase and maintain a sense of purpose, belonging and homeliness. Staff and residents share in these homely activities, increasing and supporting special moments together.
We have a new Dietician who is involved on a monthly basis and a Physiotherapist who visits our residents fortnightly.
Updated: 8 Aug 2022
The Ministry of Health conducts regular audits of Residential Care Facilities. They can be found HERE.
6