Care Apartment
At a glance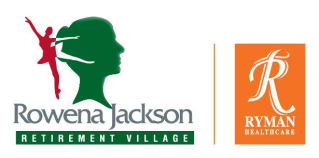 Vacancy

No

Levels of Care Offered

Rest Home

Name

Rowena Jackson

Category

Care Apartment

Address

40 O'Byrne St North
Waikiwi
Invercargill 9810

Postal Address

40 O'Byrne Street
Waikiwi
Invercargill 9810

DHB

Southern (Southland)

Phone

Fax

Email

Web

Facebook
Personnel
Manager

Steve Wakeman - (03) 215 9988

Owner

Ryman Healthcare

Clinical Manager:

Sue O'Brien
Other services

Winner: 2022 Trusted Brand Aged Care & Retirement Villages

At Rowena Jackson Retirement Village, we're dedicated to caring for you now and into your future. One in five Ryman Healthcare residents lives in a serviced apartment – and it's easy to see why. You have the independence of living in your own home with help as you need it.

As well as independent living and assisted living in serviced apartments, Rowena Jackson also provide resthome, hospital and specialist dementia care. This is just one of our points of difference.

When Ryman Healthcare was founded over 35 years ago, our co-founder Kevin Hickman thought about what he'd want for his own mother. He set one simple standard for the care we provide:
It's got to be good enough for Mum.

Today, we not only uphold that same standard, we continue to raise the bar in retirement living and aged care.

Assisted-living apartments are in the heart of the village, with easy access to everything Rowena Jackson has to offer.

Leading innovation is something that Ryman villages are becoming renowned for. Our seasonal Delicious menu is made fresh on site by in-house chefs. As an assisted-apartment resident, you will enjoy a home-cooked main meal every day. You can choose from three main courses, including a vegetarian option. We also cater for special dietary requirements.

Ryman offer some of the most resident-friendly and transparent terms in Australasia, with agreements written in plain language so they are easy for everyone to understand.

Our base weekly fee is fixed for the entire time you occupy your assisted-living apartment, guaranteed.* And our deferred management fee is capped at 20 percent – one of the lowest in the retirement sector.

We've developed our own ACC accredited Triple A exercise programme. Catering for all ability levels, this free programme improves strength, balance and mobility. Our Engage activities programme provides events and activities for residents, such as the weekly Happy Hour, arts and crafts, and outings in the village van.

Having daily activities and events to look forward to, combined with a friendly village environment, is what life is all about. It's those moments of shared joy and laughter. Because At Ryman villages, we create the kind of community that our residents grew up in – connected and caring.

Rowena Jackson is nestled amongst beautifully landscaped gardens which creates a peaceful and lush environment for residents.

Assisted-living apartments have a kitchenette with a fridge-freezer and microwave, a separate bedroom, and a private ensuite. The call bells mean help is always there, as they are monitored 24 hours a day by on-site staff.

Amenities include an all-weather bowling green, café, indoor heated swimming pool, spa, library, gymnasium, hair salon, bar, shop and movie theatre.

We've won the Reader's Digest Trusted Brand: Aged Care and Retirement Villages award seven times. And we've been awarded the gold medal six times in the Reader's Digest Quality Service award.

Of all the large providers (with 15 villages or more) in New Zealand, Ryman has the highest number of care centres with 4 years' certification – the 'gold standard' in care – from the Ministry of Health. Rowena Jackson is one such village that has achieved this 'gold standard' in care.

The Lifestyle at Rowena Jackson Retirement Village has so many wonderful aspects. We appreciate that everyone has different needs and expectations, so we encourage you to come and visit.

Compare Ryman terms with other retirement village providers, find out what care options they provide for the future, and join in with the activities or events on offer. That way, you'll obtain a real appreciation of village lifestyle, and whether you can see yourself living there.

We look forward to introducing you to our wonderful community.


*Some conditions apply
Service/Facility Details
Service/Facility Details
Detail
Status
Contract with DHB
Yes
Certification
Yes
ORA Applies
No
Updated: 17 Mar 2022
Bed and Vacancy Details
Bed and Vacancy Details
Detail
Status
Approximate number of beds at this level of care
46
Levels of care offered in Care Apartments
Rest Home
Vacancy
No
Impending vacancy
No
MOH Certification and Audit Report
View MOH certification and audit report (opens in a new tab)
Extra admission requirements due to COVID-19
Yes
Updated: 23 Jun 2022
Agent's Details
Agent's Details
Details
Name
Julie Crofts Sales Advisor Rowena Jackson
Address
c/o 40 O'Byrne Street Waikiwi Invercargill 9810
City/Town
Invercargill
Company
Ryman Health
Phone
03) 215 9752
Fax
03) 215 9707
Mobile
027 228 6399
Email
View Email Address
Updated: 17 Mar 2022
Statutory Supervisor's Details
Statutory Supervisor's Details
Details
Name
Richard McLaughlin
City/Town
Christchurch
Company
Anchorage Trust Christchurch
Updated: 17 Mar 2022
Solicitor's Details
Solicitor's Details
Details
Name
Cruickshank Pryde
Address
42 Don Street
City/Town
Invercargill
Phone
03) 214 4069
Updated: 17 Mar 2022
Subsidy Details
Subsidy Details
Please contact Julie or Steve for more information.
Updated: 17 Mar 2022
Personnel
Personnel
Type
Hours Per Week
Status
Details
Registered Nurse
Negotiable
Residents in the serviced apartments can seek advice by phone from one of our highly qualified Registered Nurses 24/7.
Nurse Practitioner
Negotiable
Enrolled Nurse
Yes
Janice Munro - Enrolled nurse and Assisted-living Apartment coordinator works Tuesday - Saturday.
Healthcare Assistants/Caregivers
Yes
We have highly qualified, experienced, dedicated and passionate team of Care Staff.
Physiotherapist
Negotiable
We have a good working relationship with PRO health Physio, who are available at a cost.
Diversional Therapist
Negotiable
Activities Co-ordinator
Yes
Our dedicated Activities co-ordinator works to provide a wonderful and enjoyable programme for our residents in the assisted-living apartments and town houses.
Hairdresser
Yes
Our Hairdressers take appoinments Monday-Friday, Saturdays by negotiation.
Podiatrist
Yes
Rosemary provides our residents with excellent care, by appointment.
Dietitian
Yes
Referral to dietitian upon request.
Kaumatua
Negotiable
We have access to Nga Kete
Chaplain/Spiritual Advisor
Yes
Church services are held weekly, for all denominations.
Other Personnel
Yes
Updated: 17 Mar 2022
Specialities or Areas of Expertise
Specialities or Areas of Expertise
Specialities or Areas of Expertise
Status
Details
Oxygen Management
Yes
Wound Care
Yes
Diabetic Care
Yes
Continence Advice
Yes
Stomal Therapy
Yes
Stoma Nurse avaliable through the Public hospital.
Infection Control
Yes
Clinical Management
Yes
Updated: 17 Mar 2022
Features
Features
Feature
Status
Details
May Bring Own Furniture
Yes
Single Rooms
Yes
Rooms suitable for a couple
Yes
Ensuite
Yes
Alcohol Permitted
Yes
Pets In Residence
Yes
Contact the village manager to discuss
Negotiate To Bring Own Pet
Yes
Contact the village manager to discuss
Phone Access In Own Room
Yes
Resident can adjust heating in own room
Yes
Most serviced appartments have individually controlled underfloor heating.
Lounges/seating areas
Yes
Primary Health Funded Short Term Care
Yes
Day Programme for day stay clients
Yes
Outings
Yes
Newsletter
Yes
Policy for management of challenging behaviour
Yes
Updated: 17 Mar 2022
Facility Features
Facility Features
Feature
Status
Details
Social/Recreational Programme
Yes
ENGAGE programme featuring exercises, crafts, day and overnight trips, BBQ
Community Complex
Yes
Large well appointed lounge with adjoining dining room.
24 Hour Security
Yes
Emergency Call System
Yes
Nurse call system is linked to the main call system.
Newsletter
Yes
Weekly Residents Newsletter. Three monthly Rowena Rambler. Three monthly newsletter to the relatives. From Head Office - Ryman times.
Pets In Residence
Yes
Contact the village manager to discuss.
Negotiate To Bring Own Pet
Yes
Contact the village manager to discuss.
Outings
Yes
Arranged outings to local shops, and as far away as Dunedin and West Coast of the South Island for overnight trips.
Transport Available
Yes
We have two air conditioned and comfortable vans for outings. We also have a small village car for that special appointment if required.
Restaurant
Yes
Fine dining occurs approximately every six weeks, for a small fee. This includes a three course meal with your choice of wine or beer.
Fitness Complex
Yes
Our Gym has a selection of free hand weights, rowing machine, treadmill and exercycle. We offer a free functional fitness and circuit training program twice a week with a highly qualified instructor from the YMCA.
Swimming Pool
Yes
Generous sized indoor heated pool.
Spa Pool
Yes
New Spa pool
Library
Yes
We have a large selection of books including large print books and a computer with internet access.
Games Room
Yes
Chess set, cards, puzzles avaliable.
Lounges
Yes
Gardens
Yes
Beautifully established gardens maintained, by our highly qualified team.
Other details
Yes
Movie theatre, Pool table, Bar, 80 inch TV, Grand piano, Choir, Ukelele group, Bowls (indoor and out door)
Updated: 17 Mar 2022
Special Features
Special Features
Well established Village, with beautiful gardens, we have a dedicated, passionate and highly qualified team who have worked together for many years.
Updated: 17 Mar 2022
Additional Information
Additional Information
Topic
Details
What's included in your fees and what's not
Contact the sales adviser for more information.
Staffing qualifications and details
Assisted-living Apartment coordinator - Janice Munro (Enrolled Nurse) Experienced Care Staff
Details about meals
Contact the village manager if you would like to experience our wonderful dining, as part of your tour of our fantastic village.
Associated Complexes
Ryman Villages throughout New Zealand
Updated: 17 Mar 2022
Languages Spoken
Languages Spoken
Language
Status
Details
English
Yes
Other Details
Yes
Please liaise with the village manager should you require an interpreter.
Updated: 17 Mar 2022
Religious/Spiritual Affiliations
Religious/Spiritual Affiliations
Religious/Spiritual Affiliations
Status
Details
(Other comments)
Yes
We welcome all denominations
Updated: 17 Mar 2022
Distances
Distances
Location
Distance
Details
Public Transport
0.00 Km
Easy access and frequent bus services.
Shops
0.50 Km
Countdown supermarket, postal and pharmacy services within walking distance from the Village.
Parks
Donovan and Queens Park approx. 5min drive from the Village
Library
We have our own library at the village, and the Public library located in the centre of Invercargill approx. 2km from Village.
Updated: 17 Mar 2022
Credentials & Membership
The Ministry of Health conducts regular audits of Residential Care Facilities. They can be found HERE.
NOTE: The Retirement Villages Act 2003 (The Act) is designed to provide improved protection for people who 'buy' into a retirement village. If you intend to 'purchase' you must get independent legal advice before signing your occupation right agreement as required under The Act. Some Retirement Village type facilities are not required to register under The Act so different legal requirements apply. Please make sure you investigate fully.
In some villages there may be some Retirement Village units that have multiple uses e.g. a Serviced Apartment may also be used as a Residential Care Suite. The same unit may therefore show in several places on Eldernet.
838