Pacific Vision International - Pacific Vision
At a glance

Name

Pacific Vision International

Category

Vision

Address

Unit 25
105 Bamford Street
Woolston
Christchurch 8023

Regions

Canterbury, Waitemata, Auckland, Counties Manukau, Nelson Marlborough, South Canterbury

Phone

Fax

Email

Web

Facebook
Pacific Vision International provides a range of quality and innovative assistive technology that help people who are blind or sight impaired.
We are the leading provider of low vision aids and devices, as well as software solutions for people with vision impairment and blindness.

Whether your vision is affected by Macular Degeneration, Glaucoma, Cataracts, Retinitis Pigmentosa or Diabetic Retinopathy we have a low vision solution.

Our extensive line of low vision aids and electronic magnifiers helps to regain visual independence by providing the ability to read, write, see loved ones, or enjoy the outdoors.

Our mission is to supply easy-to-use low vision and blindness aids that meet the needs of those living with vision impairment.
ACC
ACC
ACC
Status
Details
Approved
Yes
ACC equipment supplier
Updated: 1 Jul 2022
Testimonials
Testimonials
"In July 2020 Pacific Vision Supplies provided me with a keyboard that had large black lettering on yellow keys. As I have macular degeneration the new keyboard was a god-send" - John



Stella,
Returning to study was a daunting prospect, I wasn't sure what I would need equipment wise to help with my studies. The staff at Pacific Vision have been so helpful and listened to what my concerns were before recommending any equipment. I recently purchased Magic software, a Ruby HD7 inch and a Magic keyboard. This new equipment has changed my life, not only am I finding it much much easier to type up my essays and read notes and books, the Ruby helps me read menus and food packages as well as recently being able to play a board game with a little friend of mine, he is 3 and so can't read the cards and without the Ruby nor could I. With the Ruby we were able to play our game and then read his books. The magic software is easy to use, the only fault I've found is that it doesn't magically write my papers for me. The staff at Pacific Vision are very patient and helpful I would suggest anyone who is looking for help with this type of equipment to give them a call.
Updated: 1 Jul 2022
Service Description
Service Description
We understand the challenges experienced with low vision and blindness. Our knowledge has been built up over 20 years.
We are passionate about what we do and our highly qualified team is dedicated to providing our customers with all the information they need to make an informed decision.

We offer:
- Comprehensive advice and expertise in relation to selection of suitable low vision and blindness devices for your specific requirements
- Help with getting assistance and funding through ACC, Enable, Disability Allowance, Ministry of Social Development and Veterans' Affairs
- Conducting Support Funds Assessments
- Full training
- Technical support
Updated: 1 Jul 2022
Suburbs/Districts/Towns Serviced
Suburbs/Districts/Towns Serviced
New Zealand wide
Updated: 1 Jul 2022
Languages Spoken
Languages Spoken
Language
Status
Details
English
Yes
German
Yes
Hindi
Yes
Polish
Yes
Sign Language
Yes
Updated: 1 Jul 2022
Payment
Payment
Payment
Status
Details
Payment required
Yes
Credit Card - Visa &Mastercard, Debit Card, Bank Transfer
Subsidy may be available
Yes
Updated: 8 Jul 2022
What's New
What's New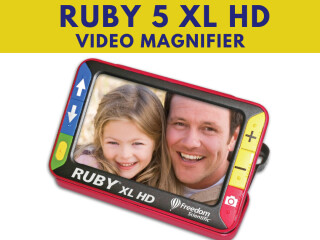 Say goodbye to the limitations of a conventional magnifying glass when it comes to reading small print.
Experience a whole new level of clarity and convenience with our cutting-edge magnification technology. Don't let low vision hold you back any longer; unlock the power of enhanced reading with our innovative solution.
Introducing the ideal companion for shopping, banking, accessing libraries, dining out, and travelling - the ultimate electronic handheld magnifier, designed to perfectly fit in your pocket or purse!
Magnification on the go has never been easier than with the RUBY 5 XL HD Handheld Electronic Magnifier.
The RUBY 5 XL HD Handheld Electronic Magnifier puts crystal-clear, high-definition magnification in the palm of your hand.
The slim RUBY 5 goes anywhere with you, while the five-inch screen brings out even the finest details. You can magnify materials up to 14 times: books, photographs, newspapers, labels, and more.
FEATURES:
See more on the 5-inch widescreen LCD
Continuous zoom with 2x - 14x magnification
Lightweight design
Fast reading with no blur
Built-in reading stand
Two-position flip-out handle
It goes anywhere with 3 hours continuous use
Save images and send to computer with USB port
Includes batteries, charger, wrist strap, case, and USB cable
Take advantage of this opportunity to enhance your vision and transform your daily life.
To learn more about the Ruby 5" XL HD Handheld Electronic Magnifier, click the following link: RUBY 5 XL HD handheld-magnifier
Updated: 9 Nov 2023