Vision
Pacific Vision International - Pacific Vision
At a glance

Name

Pacific Vision International

Category

Vision

Address

Unit 25
105 Bamford Street
Woolston
Christchurch 8023

DHBS

Canterbury, Waitemata, Auckland, Counties Manukau, Nelson Marlborough, Canterbury, South Canterbury

Phone

Fax

Email

Web

Facebook
Other services
Pacific Vision International provides a range of quality and innovative assistive technology that help people who are blind or sight impaired.
We are the leading provider of low vision aids and devices, as well as software solutions for people with vision impairment and blindness.

Whether your vision is affected by Macular Degeneration, Glaucoma, Cataracts, Retinitis Pigmentosa or Diabetic Retinopathy we have a low vision solution.

Our extensive line of low vision aids and electronic magnifiers helps to regain visual independence by providing the ability to read, write, see loved ones, or enjoy the outdoors.

Our mission is to supply easy-to-use low vision and blindness aids that meet the needs of those living with vision impairment.
Testimonials
Testimonials
"In July 2020 Pacific Vision Supplies provided me with a keyboard that had large black lettering on yellow keys. As I have macular degeneration the new keyboard was a god-send" - John



Stella,
Returning to study was a daunting prospect, I wasn't sure what I would need equipment wise to help with my studies. The staff at Pacific Vision have been so helpful and listened to what my concerns were before recommending any equipment. I recently purchased Magic software, a Ruby HD7 inch and a Magic keyboard. This new equipment has changed my life, not only am I finding it much much easier to type up my essays and read notes and books, the Ruby helps me read menus and food packages as well as recently being able to play a board game with a little friend of mine, he is 3 and so can't read the cards and without the Ruby nor could I. With the Ruby we were able to play our game and then read his books. The magic software is easy to use, the only fault I've found is that it doesn't magically write my papers for me. The staff at Pacific Vision are very patient and helpful I would suggest anyone who is looking for help with this type of equipment to give them a call.
Updated: 14 Jan 2021
Service Description
Service Description
Pacific Vision started trading in 2002 and in the last 15 years has gone from a family business run from Lyttelton to a multinational company with staff and offices throughout New Zealand, Australia and Asia.

The original goal in 2002 was to achieve a business where their clients will have confidence in their integrity and reliability. We are achieving this by providing timely service at realistic prices.

We understand the challenges experienced with low vision and blindness. Our knowledge has been built up over many years. We travel the world to find the latest technological solutions and to keep up to date with available products and news.

We offer a wide range of product solutions, from portable and desktop CCTV's to hand magnifiers, keyboards, software and Braille equipment.

We are passionate about what we do and our highly qualified team is dedicated to providing our customers with all the information they need to make an informed decision.
Updated: 25 Aug 2021
Languages Spoken
Languages Spoken
Language
Status
Details
English
Yes
Hindi
Yes
Sign Language
Yes
Updated: 1 Sep 2017
What's New
What's New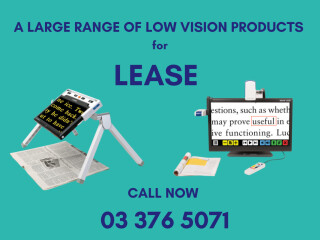 Not ready to buy Low Vision Devices?
TRY OUT our LEASE PROGRAM
A wide variety of low vision devices are available to lease.
Our unique lease program is a practical and easy option to consider if you are currently not in a position to own your own low vision equipment.
We offer high quality products and our lease program is the most affordable in New Zealand! Monthly rental prices start as low as NZ $25 per month.
HOW DOES IT WORK?

Choose from our big range of low vision devices from almost every leading supplier. If you require expert advice, call our office and one of our friendly staff will discuss and explain all the suitable options with you.

You may also be eligible for financial assistance through government funding (disability allowance). Our lease coordinator will be able to assist you with it.

Your monthly payments remain affordable and decrease over time.


APPLICATION PROCESS

We will discuss terms and conditions of the lease program, and are more than happy to assist you in filling out the application form.


WHAT IF?
We want to make sure you are fully satisfied and happy with your device, so we are here to assist and support you with all your questions.
If the device you have leased is not suited for you we will help to select another product.
We also offer unlimited technical support and repair.
TERMINATION OF LEASE

You can cancel your lease at any time with no penalty or cancellation fees (1- month notice period applies).
For more information about the lease program and the list of devices available for lease call 03 376 5071 or click on the link below:
Updated: 1 Oct 2021
12959