Manor Park Private Hospital
At a glance
Vacancy

Yes

Name

Manor Park Private Hospital

Category

Psychogeriatric

Address

14 Manor Park Rd
Lower Hutt
Lower Hutt 5019

Postal Address

Same as above

Region

Hutt Valley

Phone

Fax

Email
Personnel
Manager

Angie Green - (04) 563 5240

Owner

(04) 563 5240

Clinical Co-ordinator

Surleny Bermudez - (04) 563 5240
Photos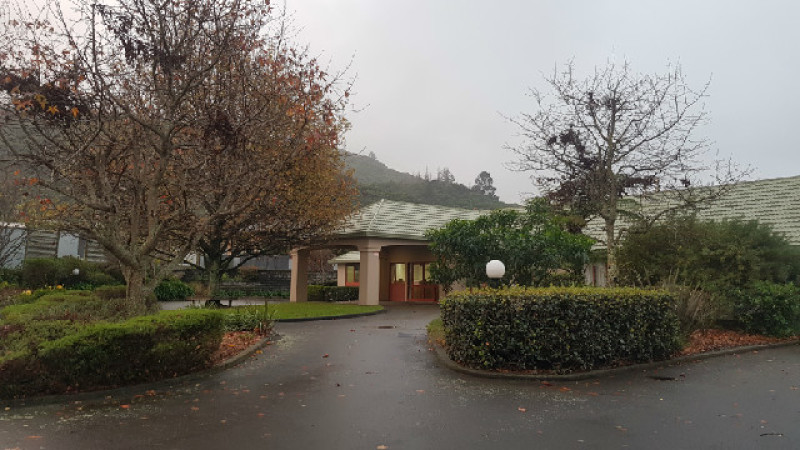 Map
Reviews
Manor Park Hospital is a purpose-built facility providing high dependency and mental health continuing care. It is a fully secure unit set in tranquil park-like surroundings and enjoying all day sun.
The hospital is strategically situated to provide easy access from the greater Wellington/Lower Hutt area as well as the Kapiti Coast and the Wairarapa.
The aim of Manor Park Hospital is to provide the highest standard of personal and individual care to each resident and to maintain the dignity and well-being of each resident in every respect.
We offer care to those who have been assessed as requiring level 5, high dependency psychogeriatric care or have Mental Health Needs requiring long term care.
Service/Facility Details
Service/Facility Details
Detail
Status
Contract with Te Whatu Ora
Yes
Certification
Yes
ORA Applies
No
Updated: 1 Oct 2014
Bed and Vacancy Details
Bed and Vacancy Details
Detail
Status
Approximate number of beds at this level of care
47
Vacancy
Yes
Please contact us for more information and to come arrange a visit to the facility
Impending vacancy
No
Short stay considered
No
Premium Accommodation Charges
Some Rooms as at 30 Nov 2023
MOH Certification and Audit Report
View MOH certification and audit report (opens in a new tab)
Extra admission requirements due to COVID-19
Please enquire
Updated: 6 Dec 2023
Personnel
Personnel
Type
Hours Per Week
Status
Details
Registered Nurse
Yes
Our team has experience in (but not limited to) palliative care, wound care, dementia, stroke, mental health, complex conditions, rehabilitation, and neurological conditions such as Parkinson's Disease. We have a Registered Nurse on site 24 hours a day.
Enrolled Nurse
Yes
Healthcare Assistants/Caregivers
Yes
Our caregivers and skilled in the care of the older person, and we provide ongoing education and training for skill development and support them to achieve industry based qualifications.
Physiotherapist
Yes
We have a regular visiting physiotherapist and access to additional physiotherapy assessment and support to meed the needs of our residents.
Occupational Therapist
Yes
Social Worker (on site)
No
Social work support accessed via Hutt Valley DHB if and when required
Diversional Therapist
94
Yes
We have a comprehensive and individualised activities programme which is arranged and delivered by our Activities team.
Activities Co-ordinator
Yes
Hairdresser
Yes
Available on site.
Podiatrist
Yes
Regular visiting podiatrist to attend to resident's foot care requirements.
Dietitian
Yes
We have a 4 week rotating menu which is dietician reviewed to ensure that nutritious and delicious meals are provided to our residents.
Kaumatua
Yes
We have a local connection with Koraunui Marae in Stokes Valley, and also access the Maori Health Development Unit at Hutt Valley DHB.
Chaplain/Spiritual Advisor
Yes
We have visiting chaplains who provide non-denominational services to our residents.
Other Personnel
Yes
We have an independent resident advocate who visits several times a week and spends time with the residents and their families. We have our own on-site Nurse Educator and Quality Improvement Coordinator.
Updated: 29 May 2018
Respite, Carer Support or other Short Stay
Respite, Carer Support or other Short Stay
Respite, Carer Support or other Short Stay
Status
Details
Respite
Yes
By negotiation, dependent on vacancies
Subsidised
Yes
Updated: 29 May 2018
Specialities or Areas of Expertise
Specialities or Areas of Expertise
Specialities or Areas of Expertise
Status
Details
Oxygen Management
Yes
Gastronomy/Nasogastric Management
Yes
Bariatric (Care of the very overweight)
Yes
End of Life/Palliative Care
Yes
Our GP's and nursing staff are skilled in Palliative Care. We have close connections with Te Omanga Hospice and have Palliative Care Link Nurses.
Wound Care
Yes
Diabetic Care
Yes
Continence Advice
Yes
Stomal Therapy
Yes
Infection Control
Yes
Psychiatric Care
Yes
The Older Person's Mental Health Team has a Psychiatrist and Nurse Practitioner who visit every second week. We also access to other Nurse Specialists from Hutt Valley DHB for advice and support when required.
Other Specialties
Yes
Updated: 29 May 2018
Features
Features
Feature
Status
Details
May Bring Own Furniture
Yes
Single Rooms
Yes
There are 46 single rooms.
Shared Rooms
Yes
We have four double rooms.
Rooms suitable for a couple
Yes
Ensuite
Yes
We have 20 single rooms with ensuites.
Alcohol Permitted
Yes
By negotiation.
Pets In Residence
Yes
Our black and white cat George. We also have Mollie the dog visit twice weekly.
Cater for under 65 yrs with Disability
Yes
With Psychogeriatrician involvement
Lounges/seating areas
Yes
There are both large and small lounges as well as enclosed courtyards with seating and shade areas.
Provide End of Life/Palliative Care
Yes
Day Programme for day stay clients
Yes
By negotiation.
Outings
Yes
Wheelchair hoist van for outings.
Whānau Room
Yes
Policy for management of challenging behaviour
Yes
Management of Challenging Behaviour is one of our specialties.We do not use restraint and staff attend regular training in managing challenging behaviours.
Confused Residents
Yes
Rural Setting
Yes
Park like setting adjacent to a golf course.
Smokers Room
Yes
Yes - for residents only.
Smoking Permitted
Yes
In designated area only. Residents only.
Semi-Secure
Yes
The facility is fully secure.
Updated: 7 Sep 2021
Special Features
Special Features
VALUES

We, the staff of Manor Park Private Hospital, value life, love, security, shelter, food, comfort, health, dignity, peace, respect, cleanliness, friendship, privacy, empathy, kindness, honesty, integrity, consistency, compassion, humour, tolerance, entertainment, understanding, variety, recognition, approval and consideration.

Why?

Because we are human beings
We undertake to bring these things to our Residents to the full extent of our abilities.

Why?

Because, like us, they are human beings and whatever their frailties, their entitlement to these things is no less than our own. Indeed, their very frailty makes their claim the greater.
Updated: 29 May 2018
Interests & Activities
Interests & Activities
Activity programme, Advocate, Age Concern, Alzheimer's Society, Art, BBQ, Big print books, Bingo, Blind Foundation, Board games, Bowls, Breakfast in bed, Canine friends, Cards, Chapel, Children, Church, Classical Music, Concerts, Cooking, Craft, Dancing, Email - not for residents' use, Entertainers, Entertainment, Exercises, Fax, Flower arranging, Games, Garden, Gardening, Happy Hour, Holistic, Housie, Hydrotherapy Pool, Interdenominational, Internet, Jigsaw, Library, Meal choices, Minibus, Motivational, Music, Newspaper reading, Outings, Park, Parties, Pastoral care, Pianist, Picnic facilities, Reading, Recreation, Religious services, RSA, Shopping, Sing-a-longs, Singing, Swimming, Vegetarian, Videos, Views, Visitors, Email
Updated: 1 Oct 2014
Additional Information
Additional Information
Topic
Details
What's included in your fees and what's not
Personal toiletries and clothing; The provision of equipment, aids, medical supplies or services that are funded through the Ministry of Health or DHB. En-suite rooms incur an additional charge.
Updated: 1 Oct 2014
Languages Spoken
Languages Spoken
Language
Status
Details
Interpreter
Yes
Interpreting services are accessed if and when required
Updated: 29 May 2018
Religious/Spiritual Affiliations
Religious/Spiritual Affiliations
Religious/Spiritual Affiliations
Status
Details
Non denominational
No
The facility is non denominational however there are regular rostered services in our chapel for various denominations.
Updated: 1 Oct 2014
Distances
Distances
Location
Distance
Details
Public Transport
0.40 Km
We are located 400m from the Manor Park Train Station (approximately 4 minutes walking).
Shops
5.00 Km
We are approximately 5 minutes drive from the the shops at Silverstream (which includes the New World supermarket)
Mall
10.00 Km
There are two nearby shopping malls, both within approximately 10km of Manor Park. These are Queensgate and Upper Hutt Mall.
Parks
0.50 Km
We are located next to a Golf Course and the Hutt City River Trail. There are numerous parks located through Lower Hutt and Upper Hutt which are easily accessed from Manor Park.
Library
10.00 Km
There are two libraries within 10km of Manor Park, situated in Stokes Valley and at the Walter Nash Centre in Taita.
Updated: 29 May 2018
Credentials & Membership
The Ministry of Health conducts regular audits of Residential Care Facilities. They can be found HERE.