Retirement Village
At a glance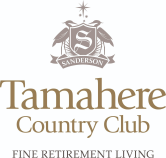 Name

Tamahere Country Club

Category

Retirement Village

Address

46 Tamahere Drive
Tamahere
Hamilton 3283

Postal Address

Same as above

Region

Waikato

Phone

Mobile

Email

Web
Personnel
Owner

Sanderson Group - 0800 826243
Other services

Few locations are as sought-after as Tamahere, situated half way between Hamilton and Cambridge and nestled on the edge of the mighty Waikato River.

A strong community is flourishing here and the Tamahere Country Club will put you right at the centre of it. Our newest retirement village is expecting its first residence in January 2020 and interest has been overwhelming . Enjoy architecturally-designed detached villas all with 2.7 metre stud, centrally ducted heating and cooling systems,spacious garaging options, camper van parking and quality fittings and fixtures with an on-site club house featuring acoustically design movie theatre , luxurious library, cafe and bar facilities, health spa, bowling green and care facilities including secure dementia care.

A brand new village shopping precinct is close by and includes a fine foods grocer, medical centre, pharmacy, hair and beauty salon. St Stephen's church is right next door and hosts a popular monthly country market, while the Riverside Golf Club is just 5 minutes away. The Te Awa walk and cycleway stretches right along the Waikato River and offers superb views and wide flat pathways to explore, and Hamilton Airport is six minutes down the road.

The quality, amenities and convenience of this retirement destination will be hard to beat.

To arrange an appointment to view plans or find out more please phone 0800 826243 or email sales@tamaherecountryclub.co.nz
Our sales office is located at 46 Tamahere Drive . Mon-Fri 10.00am -2.00pm
Upcoming Open Days
Upcoming Open Days
No open days are currently scheduled.
Statutory Supervisor's Details
Statutory Supervisor's Details
Details
Name
Richard McLoughlin
Address
Duncan Cotterill Plaza 148 Victoria Street Christchurch 8013
City/Town
Christchurch
Company
Anchorage Trustee Services Ltd
Phone
03 - 366 6713
Fax
03 - 379 2424
Email
View Email Address
Updated: 4 Jul 2019
Solicitor's Details
Solicitor's Details
Details
Name
Georgina Smith
Address
525 Cameron Rd, 3110
City/Town
Tauranga
Company
Holland Beckett
Phone
07 577 8684
Email
View Email Address
Updated: 17 Jul 2019
Interests & Activities
Interests & Activities
Activity programme, Age Concern, Art, BBQ, Big print books, Billiards, Bingo, Board games, Bowls, Bridge, Canine friends, Cards, Care and Craft, Chapel, Children, Church, Classical Music, Concerts, Cooking, Craft, Dancing, Digital camera, Entertainers, Entertainment, Exercises, Flower arranging, Games, Garden, Gardening, Gas Fire, Golden Oldies, Golf, Happy Hour, Holidays, Home League, Housie, Indoor Games, Internet, Library, Lions, Log fire, Mah Jong, Massage, Minibus, Minigolf, Movies, Music, Never Alone Club, Newspaper reading, Open fire, Park, Pastoral care, Pianist, Picnic facilities, Pool, Pool table, Quizzes, Reading, Reflexology, Rotary, RSA, Senior Citizens, Shopping, Sing-a-longs, Singing, Spa, Swimming, Theatre, Travel, Vegetarian
Updated: 4 Jul 2019
Distances
Distances
Location
Distance
Details
Public Transport
0.50 Km
Shops
1.00 Km
Mall
1.00 Km
Parks
0.80 Km
Library
6.00 Km
Updated: 19 Jul 2019
NOTE: The Retirement Villages Act 2003 (The Act) is designed to provide improved protection for people who 'buy' into a retirement village. If you intend to 'purchase' you must get independent legal advice before signing your occupation right agreement as required under The Act. Some Retirement Village type facilities are not required to register under The Act so different legal requirements apply. Please make sure you investigate fully.
In some villages there may be some Retirement Village units that have multiple uses e.g. a Serviced Apartment may also be used as a Residential Care Suite. The same unit may therefore show in several places on Eldernet.
14561