Retirement Village
At a glance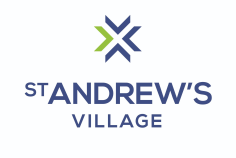 Name

St Andrews Village

Category

Retirement Village

Address

207 Riddell Road
Glendowie
Auckland 1071

Postal Address

PO Box 18376
Glen Innes
Auckland 1743

Region

Central Auckland

Phone

Fax

Mobile

Email

Web
Personnel
Manager

Carmen Stadler-Hanekom - 09 585 4020

Owner

St Andrew's Village Trust Inc

Director of Care

Carmen Stadler-Hanekom - 09 585 4020

Clinical Managers

Cyrene Villocillo & Daulette dela Cruz - 09 585 4020

Admission Manager

Francis Gacad - 09 5854018
Other services
Upcoming Open Days
Upcoming Open Days
No open days are currently scheduled.
Agent's Details
Agent's Details
Details
Name
Judy Armour
Address
207 Riddell Road, Glendowie
City/Town
Auckland
Phone
09 575 4164
Mobile
027 3044436
Email
View Email Address
Updated: 7 Mar 2022
Statutory Supervisor's Details
Statutory Supervisor's Details
Details
Name
Mr Garreth Heyn
Address
191 Queen Street
City/Town
Auckland
Company
Covenant Trustee Services Limited
Phone
09 827 3883
Updated: 7 Mar 2022
Composition of Village
Composition of Village
Type
Details
1 bedroom detached units (Glen Macky) (1 Bedroom)
Total
8
Low Price
$620,000
High Price
$660,000
Garage
Carport
Tenure Terms
Licence to Occupy
Service Charge Details
$650 per month
1 bedroom villas (1 Bedroom)
Total
2
Low Price
$600,000
High Price
$700,000
Tenure Terms
Licence to Occupy
Service Charge Details
$700 per month
2 bedroom units & villas, Apartments Inc Study (2 Bedrooms)
Total
76
Low Price
$950,000
High Price
$1,400,000
Garage
Yes
Tenure Terms
Licence to Occupy
Service Charge Details
$700 per month
3 bedroom villas & apartments (3 Bedrooms)
Total
54
Low Price
$1,400,000
High Price
$1,900,000
Garage
Yes
Tenure Terms
Licence to Occupy
Service Charge Details
$700 per month
Updated: 7 Mar 2022
Personnel & Services
Personnel & Services
Personnel / Service
Hours Per Week
Status
Details
Hairdresser
Yes
Hairdressing is available in the main care facility.
Podiatrist
Yes
Physiotherapist
Yes
Occupational Therapist
Yes
Diversional Therapist
Yes
Chaplain/Spiritual Advisor
Yes
Activities Co-ordinator
Yes
A registered Diversional Therapist and a team of Activities Co-ordinators work five days a week organising events for residents ranging from indoor bowls all the way through to cruises on the Pacific Pearl.
Meals - Available On-site
Yes
Meals can be delivered to your home should you require. There is a charge for this service.
Registered Nurse
Yes
Enrolled nurses are available on site throughout the weekdays from 8.30am to 5pm. They are on call for emergencies outside normal hours.
Nursing Care
Yes
Other Personnel
Yes
Maintenance staff are available from 7am to 5pm Monday to Friday and are on call outside those hours in the event of an emergency.
Updated: 7 Mar 2022
Facility Features
Facility Features
Feature
Status
Details
Social/Recreational Programme
Yes
There is an events committee which is run by an elected group of residents in conjunction with our events co-ordinator. Their sole purpose is to organise great events that all the residents can enjoy.
Community Complex
Yes
The community centre is open to residents between the hours of 6am and 10pm. It is also available for residents to book for private functions.
Emergency Call System
Yes
All homes have an emergency call bell system which is monitored 24/7.
Newsletter
Yes
Newsletters are prepared every 6 months encompassing the whole of St Andrew's Village. In addition, activities/events calendars are distributed to village residents each month.
Negotiate To Bring Own Pet
Yes
It is possible to bring your pets with you when you move to St Andrew's (by agreement with management).
Outings
Yes
Transport Available
Yes
Bus stops are conveniently situated directly outside the main gate on Riddell Road, and also from the new entrance/exit on West Tamaki Road.
Fitness Complex
Yes
A gym is available to all our village residents as well as access to a personal trainer who can customise a programme for any need.
Library
Yes
Games Room
Yes
Lounges
Yes
Gardens
Yes
Updated: 7 Mar 2022
Interests & Activities
Interests & Activities
Activity programme, Art, Big print books, Bingo, Board games, Bowls, Care and Craft, Chapel, Cooking, Craft, Dancing, Email, Entertainers, Entertainment, Exercises, Games, Garden, Happy Hour, Indoor Games, , Library, Minibus, Movies, Newspaper reading, Organ, Outings, Quizzes, Reading, Sing-a-longs
Updated: 7 Mar 2022
Religious/Spiritual Affiliations
Religious/Spiritual Affiliations
Religious/Spiritual Affiliations
Status
Details
(Other comments)
No
Multi-denominatinal
Updated: 7 Mar 2022
Distances
Distances
Location
Distance
Details
Public Transport
0.10 Km
Bus stop
Shops
We have a small shop in the main care facility which stocks confectionery, toiletries, stationery and other small items.
Mall
0.50 Km
A couple of cafes and a small dairy are situated nearby in Roberta Avenue. For a more varied selection of shops, cafes and banking, the township of St. Heliers is approximately 3km from St. Andrew's.
Parks
Opposite the main gate to St. Andrew's is Churchill Park and approximately 500m away is the entrance to the Roberta Avenue reserve which leads onto scenic walkways through Tahuna Turea reserve all the way through Point England to Panmure.
Library
A library, media room, snooker table and gym are all situated in our stunning community centre which was completed in June 2009 and which enjoys spectacular views over the Tamaki estuary and out to the distant Coromandels.
Updated: 7 Mar 2022
NOTE: The Retirement Villages Act 2003 (The Act) is designed to provide improved protection for people who 'buy' into a retirement village. If you intend to 'purchase' you must get independent legal advice before signing your occupation right agreement as required under The Act. Some Retirement Village type facilities are not required to register under The Act so different legal requirements apply. Please make sure you investigate fully.
In some villages there may be some Retirement Village units that have multiple uses e.g. a Serviced Apartment may also be used as a Residential Care Suite. The same unit may therefore show in several places on Eldernet.
891