Retirement Village
Settlers Lifestyle Village
At a glance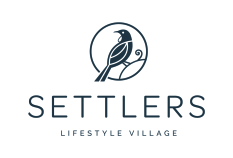 Name

Settlers Lifestyle Village

Category

Retirement Village

Address

550 Albany Highway
Albany
Auckland 0632

Postal Address

Same as above

Region

North Shore/West Auckland

Phone

Fax

Mobile

Email

Web
Personnel
Manager

Linda Neale, Sales Manager - 020 4112 1451.

Owner

D McFarlane & S Vernon

Weekend tours

Reception

Village Manager

Gary Jarvis
Other services
Media
Map
Downloads
Reviews
Given the current COVID-19 environment we have temporarily disabled our 'feedback' feature. We apologise for any inconvenience.

A home of your choice:

Set upon 12 acres of beautifully landscaped gardens and fringed by native bush alive with birdsong, Settlers exudes a contemporary environment of luxury, independence and resort-style facilities combined to create an outstanding lifestyle for people over 65. Our quality homes are a collection of 246 attentively designed apartments and townhouses where you may choose between one, two or three-bedroom dwellings, according to your individual needs. Our spaces are fresh, light and airy, flattered by shades of tasteful natural tones. Bathroom and kitchen facilities have been fitted with ultra-modern conveniences to keep you comfortably in the quality lifestyle you're used to.

Hub of the village – The Lodge:

Our dwellings are all in easy walking distance surrounding our magnificent Lodge – the social heart of the village. It's here where all the action happens, from enjoyable theatre productions to touching musical recitals, it all takes place within the elegant walls of this grand hub. Big-screen sporting events, wining, dining, dancing and everything fun in between, The Lodge sustains our remarkable camaraderie.
There is no clash at Settlers between community and privacy, for they are both well respected. One can live as privately and quietly as one desires while knowing that friendly connection is only an easy stroll away in moments when you feel that you want it. This enables Settlers to remain a highly desirable choice for discerning people, regardless of where they may find themselves in life.

Dedicated Team:

The exceptional culture of our village is the result of dedicated management with a team of caring staff. We take immense pride in providing a high standard of service to our residents, including supportive and compassionate registered nurses for 24-hour emergency response and day clinic. Our nurses take a holistic approach to supporting our residents in keeping well, both physically and mentally.
Our sister villages are Fairview Lifestyle Village and Fairview Care. Fairview Care is a private hospital which offers priority access for both Settlers and Fairview residents.

Compliance:

Because Settlers is a registered retirement village as well as being part of the Premier Lifestyle Villages Group, we offer residents the full confidence of knowing we operate according to the Retirement Village Act of 2003, and its Code of Practice, due to our membership with the Retirement Villages Association.

Thinking of joining us?

Settlers is open seven days a week, so if you would like to see what vibrant village life looks like at its best, please come by for a full tour between the hours of 10 – 4. We would love to show you our wonderful village and your potential new home.

Call in and visit Settlers Lifestyle Village today – we'd love to see you!

For more information, please make an inquiry via our website www.settlersalbany.co.nz or phone our Sales Manager Linda Neale on 0800 102 652
Upcoming Open Days
Upcoming Open Days
No open days are currently scheduled.
Agent's Details
Agent's Details
Details
Name
Linda Neale Sales Manager
Address
550 Albany Highway Albany
City/Town
North Shore, Auckland
Company
Settlers Albany Limited
Phone
Sales 0800 102 652
Fax
(09) 415 2618
Mobile
020 4112 1451
Email
View Email Address
Updated: 15 Jul 2021
Statutory Supervisor's Details
Statutory Supervisor's Details
Details
Name
Covenant Trustee Services Limited.
Address
Level 9, 191 Queen Street PO Box 4243, Shortland Street
City/Town
Auckland City
Company
Covenant Trustee Services Ltd
Phone
(09) 302 0638 DDI 09 302 8074
Fax
(09) 302 1037
Updated: 27 Feb 2018
Solicitor's Details
Solicitor's Details
Details
Name
McVeagh Fleming Lawyers
Address
Level One, 5 Corinthian Drive
City/Town
North Shore City.
Updated: 15 Jun 2018
Composition of Village
Composition of Village
Type
Details
Spacious Apartment (1 Bedroom)
Low Price
$530,000
High Price
$530,000
Tenure Terms
Licence to Occupy
Brand new apartments (2 Bedrooms)
Low Price
$795,000
High Price
$959,000
Garage
Yes
Tenure Terms
Licence to Occupy
Updated: 26 Feb 2021
Respite, Carer Support or other Short Stay
Respite, Carer Support or other Short Stay
Respite, Carer Support or other Short Stay
Status
Details
Respite
No
.
Updated: 7 Dec 2018
Personnel & Services
Personnel & Services
Personnel / Service
Hours Per Week
Status
Details
Hairdresser
Yes
Monique, a professional hairdresser, has her salon located in the Lodge. She is open on Wednesdays & Thursdays.
Meals - Available On-site
Yes
Evening meals coincide with Happy Hour Wednesday and Friday. Cafe cabinet available Tuesday to Friday.
Registered Nurse
24/7
Yes
We have three Registered Nurses who cover a 7 day working week, including nights. One of our nurses is always on site. Additionally, a Day Clinic runs from 11:00 am to 1:00 pm five days a week and is free for all residents.
Updated: 15 Feb 2019
Facility Features
Facility Features
Feature
Status
Details
Social/Recreational Programme
Yes
We are a very active village, never a dull moment. You will never be without fun or friends at Settlers. Visit and see our notice board for yourself.
Community Complex
Yes
Settlers Village is fully constructed & totals 246 dwellings (54 townhouses & 192 apartments) in a variety of configurations. The Lodge communal facilities include café/restaurant, bar, gym, pool, spa, stage theatre, movie theatre, library & hairdresser.
24 Hour Security
Yes
Swipe cards/electronic access ensures only residents have access to their building and communal facilities. Our entry gates open at 7am & close at 8pm (daylight saving hours).
Emergency Call System
Yes
Our Nurse Emergency Response is 24/7 and a free "Nurse Clinic" held five days a week.
Newsletter
Yes
"Settlers News" published weekly (print & email) is for residents with news from our Village Manager, contributions from residents & a schedule of regular activities. "Settlers e-News" is a monthly email. You are very welcome to subscribe via our website.
Pets In Residence
Yes
We do have pets in residence and policy determining their conditions of occupation.
Negotiate To Bring Own Pet
Yes
All pets are subject to approval by our village manager.
Outings
Yes
Settlers residents are not short of outings and entertainment. Our notice board is regularly updated. There is always something new to do!
Transport Available
Yes
Settlers provides a free village bus. Designated drivers currently take residents to Albany Mall twice weekly for shopping. Our lovely Mercedes bus is always available to residents for outings/events.
Restaurant
Yes
Named the "Settlers Kitchen" our restaurant is located within The Lodge facilities and situated adjacent to our licenced bar. Our bar is run by residents with profits being returned to Settlers Resident's Committee.
Gay / LGBT QI Friendly
Yes
Settlers provides a friendly and caring environment for residents where everyone is treated respectfully.
Fitness Complex
Yes
Settlers "Precious McKenzie Gym" (named after our Resident Ambassador) is kept to a Gold Medalist standard, large, well equip & beautifully maintained. Precious also runs free morning fitness classes on site.
Swimming Pool
Yes
Settlers swimming pool is kept at an inviting temperature and for ease of access it has steps and a ramp. Join an aqua class or take your friends for a swim if you wish.
Spa Pool
Yes
We also have a large spa pool.
Craft Room
Yes
Our Craft Room is in The Lodge. Residents with a variety of talents enjoy sharing time to create, up-skill or learn a new hobby. Perfect to catch up with other residents. A Blokes Shed is also situated in the Lodge.
Library
Yes
Settlers library comprises an extensive range of books, DVD's & games. Free Wi-Fi is accessible by residents within The Lodge facility. There are also two computers and a printer for use by residents.
Games Room
Yes
Full size pool & snooker tables are situated adjacent to the Avenues Lounge, the area utilised by the art club, also for table tennis, line dancing and darts. Tucked away is a comfortable chess nook with another large screen TV (with SKY).
Chapel
Yes
A Chapel service run by residents is on the morning of the last Sunday of every month in our movie theatre. We also have two Justices of the Peace residing in the Village.
Lounges
Yes
There is a large lounge area together with dining facilities on the ground level of the Lodge. There are also several designated smaller lounge areas which include large screen televisions (with free SKY).
Gardens
Yes
Set upon 12 acres of beautifully landscaped gardens and fringed by native bush alive with birdsong, our gardens, which border historic Kell Park, are maintained by our own dedicated gardening team.
Other details
Yes
Reception is open 7 days a week (business hours). Professional and experienced, our staff includes nurses, a gardening team, housekeeping team and maintenance team. Download our Questions & Answers pages or for further information visit our website.
Updated: 15 Feb 2019
Special Features
Special Features
Settlers is very proud of being a privately owned village with a culture of outstanding camaraderie and friendship.
Updated: 15 Feb 2019
Interests & Activities
Interests & Activities
Visit our website www.settlersalbany.co.nz to view a full list of village activities.

Below is a list of our current village activities. New groups are
starting all the time so for an up to date list then please feel free to
contact our office.

Settlers Village Activities

Weekly:
• Aqua size
• Bridge
• Chess Group
• Craft Group
• Line Dancing
• Mahjong/Card Group
• Table Tennis - Ladies
• Table Tennis (Mixed & Invites)
• Table Tennis (Mixed)
• Ukulele Group
• Weekend movies
• Walk n Talk (walking group)

Twice Weekly:

• Darts Club
• Happy Hour - Full bar available
• Indoor Bowls
• Keep Fit Classes
• Outdoor Bowls
• Petanque
• Shopping Bus to Mega Centre

Three Times Weekly:

• Art Group
• Croquet

Fortnightly:

• Bible Study & Prayer Group
• Genealogy Group
• Lucas Creek Film Society - Movies
• Quiz Night
• Movies
• Singing Group

Monthly:

• Bingo
• Opera DVD's (gold coin donation)
• Photography Group
• Sharing Books
• Sunday @ Seven
• Wine Appreciation Group, Age Concern, BBQ
Updated: 15 Feb 2019
Languages Spoken
Languages Spoken
Language
Status
Details
Afrikaans
No
Dutch
Yes
English
Yes
German
Yes
Other Information
No
.
Updated: 7 Dec 2017
Religious/Spiritual Affiliations
Religious/Spiritual Affiliations
Religious/Spiritual Affiliations
Status
Details
Anglican
No
.
Non denominational
Yes
Residents and family are welcome to attend an inter-denominational service held in the Settlers Movie Theatre on the last Sunday of every month.
Updated: 7 Dec 2018
Distances
Distances
Location
Distance
Details
Public Transport
2.00 Km
We have a bus stop almost at the gate and we are also only a short drive to the Albany Park and Ride.
Shops
Short stroll to the old Albany Village.
Mall
2.00 Km
Very close to the Albany Mega Centre Shopping Centre Mall. Our Village Bus takes a trip twice a week to the Mall for shopping / groceries or a coffee.
Parks
Short stroll to Kell Park and local walks. A walking group has been organised and villagers get good exercise exploring the beautiful paths and tracks tucked away around Albany.
Updated: 7 Dec 2017
Credentials & Membership
NOTE: The Retirement Villages Act 2003 (The Act) is designed to provide improved protection for people who 'buy' into a retirement village. If you intend to 'purchase' you must get independent legal advice before signing your occupation right agreement as required under The Act. Some Retirement Village type facilities are not required to register under The Act so different legal requirements apply. Please make sure you investigate fully.
In some villages there may be some Retirement Village units that have multiple uses e.g. a Serviced Apartment may also be used as a Residential Care Suite. The same unit may therefore show in several places on Eldernet.
10281