Riversdale Lifestyle Village
At a glance
Name

Riversdale Lifestyle Village

Category

Retirement Village

Address

233 Guppy Road
Taradale
Napier 4112

Postal Address

Same as above

Region

Hawke's Bay

Phone

Email
Other services
Photos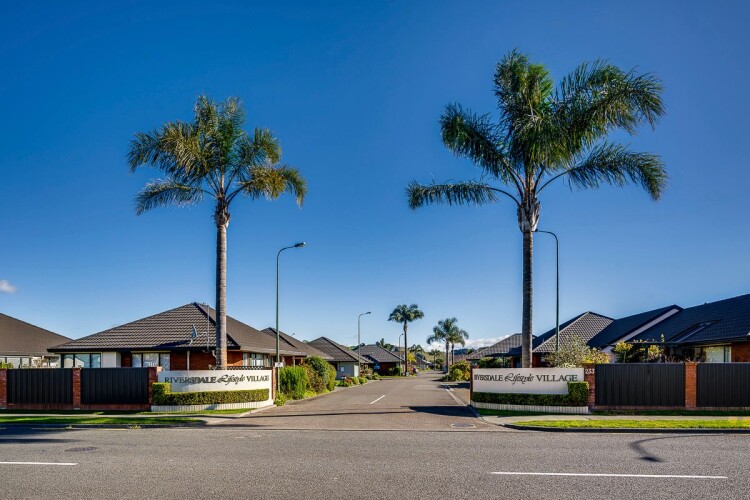 Map
Reviews
Riversdale Village, located in the Taradale community of Napier, offers an attractive range of homes with one to two bedrooms, making everyday life easy and comfortable for its residents.

The village is conveniently situated just a short distance from the Taradale shopping centre, where residents can find all the essential amenities they need. Additionally, a quick drive will take them to the Napier city centre, providing access to a wider range of services and entertainment options.

At Riversdale Village, residents enjoy a sense of independence, community, and security. The village offers a variety of on-site services, including hairdressing and podiatry, ensuring that residents' needs are met conveniently. Meals are also available on site, making dining hassle-free.

The village fosters an active and engaging lifestyle with a range of recreational and social activities. Residents can participate in indoor and outdoor bowls, petanque, pool/snooker, and the garden club. For those seeking relaxation, there is a swimming pool and spa pool to enjoy. The Resident Committee organizes outings, providing opportunities to explore and socialize outside the village.

With its array of amenities and services, Riversdale Village offers a vibrant and fulfilling living experience for individuals looking for an independent and secure community to call home.
Upcoming Open Days
Upcoming Open Days
No open days are currently scheduled.
Available Properties
Available Properties
Details
Photo

#43 Style, Sunshine and Serenity

$550,000

1 1 1

Property Type: Unit

Available soon, register your interest now... This sunny villa, currently undergoing a full renovation, the perfect place for you to put your feet up. Surrounded by great green space and a beautifu...

$795,000

2 1 1

Property Type: Villa

Currently under refurbishment this villa will tick all the boxes if you are looking for ease of living, comfort and style. Interior photos are indicative only and actual photos will be posted when t...
Agent's Details
Agent's Details
Details
Name
Sam Elder, Village Manager
Address
233 Guppy Road
City/Town
Taradale
Company
Riversdale Lifestyle Village L.P.
Phone
(06) 845 9820
Fax
(06) 845 9821
Email
View Email Address
Updated: 15 Aug 2023
Statutory Supervisor's Details
Statutory Supervisor's Details
Details
Name
Covenant Trustee Services Ltd
Address
Level 6/191 Queen Street
City/Town
AUCKLAND CBD, AUCKLAND 1010
Phone
0800 746 422 / 09 302 0638
Email
View Email Address
Updated: 8 Aug 2023
Solicitor's Details
Solicitor's Details
Details
Address
Mansfield Terrace, Box 1042,
City/Town
Whangarei, 0140
Company
Thompson Wilson Law
Phone
09 430 4380
Email
View Email Address
Updated: 8 Aug 2023
Personnel & Services
Personnel & Services
Personnel / Service
Hours Per Week
Status
Details
Hairdresser
Yes
Podiatrist
Yes
Meals - Available On-site
Yes
Meals - External Provider
Yes
Home Help - External Provider
Yes
Other Personnel
Yes
Updated: 26 Jun 2023
Facility Features
Facility Features
Feature
Status
Details
Social/Recreational Programme
Yes
Indoor & Outdoor Bowls, Petanque, monthly Church Service, Occassional Friday entertainment, Pool/snooker, Garden Club, Chat & Craft, many other social events
Community Complex
Yes
Large, multi functional
24 Hour Security
Yes
emergency response service available
Emergency Call System
Yes
HSM personal alarm pendant - included in village fees, so no extra cost to resident
Newsletter
Yes
Fortnightly from the office - 'Riversdale Times', Alternate weeks - events notice
Negotiate To Bring Own Pet
Yes
Case by case - to be discussed on application.
Outings
Yes
Arranged by Resident's Committee, Garden Club and anyone who wishes to organise an outing
Transport Available
Yes
Age Concern van
Restaurant
Yes
Tuesday lunches, Friday meal last Friday of month (very reasonable cost)
Fitness Complex
Yes
Some exercise equipment available
Swimming Pool
Yes
Beautiful heated, indoor pool - very popular
Spa Pool
Yes
In the colder months - great to soak in
Craft Room
Yes
Library
Yes
Great selection of donated books - many popular authors - & local Library large print rotated 6 wkly
Games Room
Yes
Pool/Billiards, Darts
Chapel
Yes
Doubles as activities room
Lounges
Yes
One large multi function room - x2 daily papers available
Gardens
Yes
Village gardens are looked after by our Caretaker - always a picture! Resident's are to care for their own gardens.
Other details
Yes
We have facilities for outdoor bowls (organised every Saturday morning) and a petanque court. Our very active and wonderful Residents' Committee organise various activities, games days and entertainment.
Updated: 26 Jun 2023
Special Features
Special Features
Our village offers spacious and attractive homes varying from one to two bedrooms.

Some of our residents call us 'boutique' - we have no plans in the future for expansion and thus enjoy a 'smaller village feel' even though we have 57 units.

The one bedroom homes vary in size but all have their own garden and access. They are very cozy and warm with their own conservatories. Some have their own garage, others have parking close by.

The two bedroom homes are very spacious, with well endowed kitchens, a hallway extending to a large main bedroom, spacious spare room, bathroom with walk-in shower and separate toilet and internal garage access.

A feature which becomes evident on entry to the village is the keen interest residents take in their gardens.
Updated: 23 Dec 2014
Interests & Activities
Interests & Activities
Age Concern - van comes every Friday for grocery shopping (on call)

BBQ - Every 3rd Sat lunchtime - great fun!

Big print books - available in our Library from Taradale Library - rotated 6 wkly

Board Games

Bowls - wonderful outdoor bowling green with many keen players, every Sat. Also indoor bowls played every week.

Cooking - Lunches every Tuesday, roast dinner and dessert every fourth Friday night

Craft - Chat n Craft

Chapel/Activities Room - Large area used for many other activities as well.



Darts - dart board - play antime

Entertainment - As arranged by Committee

Happy Hour - four times weekly at 4.30pm - Jackpot Tuesday nights

Jigsaw - Always one on the go!

Library - Great Library, plus a change of large print books every 5-6 weeks.

Newspaper reading - The Dominion and Hawkes Bay Today in Centre every day.

Outings - Impromptu outings arranged

Parties - Mid winter Christmas, Christmas, special birthdays (eg 70, 80, 90, 95 year celebrations).

Petanque

Piano - available to play any time

Pool - Lovely, heated pool all year round.

Pool/snooker table

Spa - During the winter months - wonderful for relaxing in!
Updated: 26 Jun 2023
Languages Spoken
Languages Spoken
Language
Status
Details
English
Yes
Updated: 23 Dec 2014
Religious/Spiritual Affiliations
Religious/Spiritual Affiliations
Religious/Spiritual Affiliations
Status
Details
Anglican
Yes
Christian
Yes
Inter denominational
Yes
Updated: 23 Dec 2014
Distances
Distances
Location
Distance
Details
Public Transport
1.50 Km
Taradale
Shops
1.50 Km
Taradale
Mall
1.50 Km
Taradale
Parks
1.50 Km
Taradale
Library
1.50 Km
Taradale
Updated: 23 Dec 2014
Credentials & Membership
NOTE: The Retirement Villages Act 2003 (The Act) is designed to provide improved protection for people who 'buy' into a retirement village. If you intend to 'purchase' you must get independent legal advice before signing your occupation right agreement as required under The Act. Some Retirement Village type facilities are not required to register under The Act so different legal requirements apply. Please make sure you investigate fully.
In some villages there may be some Retirement Village units that have multiple uses e.g. a Serviced Apartment may also be used as a Residential Care Suite. The same unit may therefore show in several places on Eldernet.