Coromandel Lifestyle Village
At a glance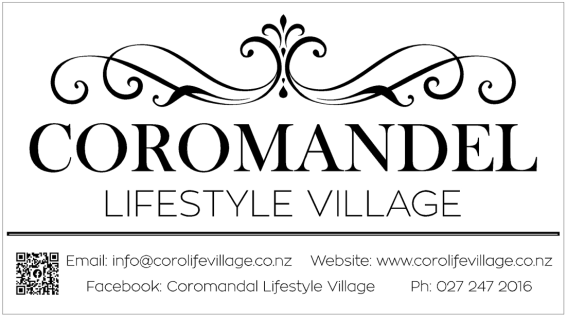 Name

Coromandel Lifestyle Village

Category

Retirement Village

Address

1737 Rings Road
Coromandel
Coromandel 3506

Postal Address

Same as above

Region

Waikato

Mobile

Email

Web

Facebook
Personnel
Manager

Wayne Besley - 0272472016

Owner

Wayne Besley - 0272472016
Wayne and Kathryn Besley purchased the Colonial Cottages Motel in 2021 as they could see it would make a perfect retirement village. The Communal area Villa was built around 1895 for Captain Albert Argall, he was the first of a succession of mine managers to live here. In 1937 the Coromandel Hospital Board bought the house to use as the medical superintendent's residence. It became a motel in the late 1970's. Now Wayne and his team of builders have transformed it again.
The villa is completely renovated with new piles, new carpet, new kitchen and dining area and an extension made for the toilet block – all done to match this heritage building. To conform to regulations for community spaces, we removed the two brick chimneys and rebuilt them using fiberglass and slices of the original bricks. The fireplaces now look exactly the same, but are structurally safe. Every care has gone into this project, with no expense spared on getting this building perfect and fit for another 100 years or so.
This villa is going to be the communal area for residents to interact together and spread out if they have family over. There is a modern kitchen, cosey games room, library, lounge, bathroom and large room complete with chandeliers that we called the ballroom – it has a huge 86 inch TV in it which residents can watch sport on, plus the room can be used for residents meetings. Around the villa there is 2 large decks and 3 / 6 burner BBQs.
We have 2 x 2 bedroom units complete These were the former motel cottages and have all been completely renovated, insulated, painted, and new appliances. It is plenty spacious enough to live in with open plan kitchen/lounge, two bedrooms, a shower room and a carport out the back door. Six of these cottages face each other across a tidy lawn. There are also two one-bedroom cottages which will be renovated, plus we are building five more new two-bedroom cottages on the site. The village is small enough to be personal so you don't end up being one of the great masses in the larger villages
But that's not all! There is also a residents hobby room and workshop area, and at the back of the section there will be room to park motorhomes, caravans and boats, and grow some veggies or fillet the fish.
The Village is well protected from adverse weather events as with all the storms and rain that's occurred this year we have had no flooding and only lost a small branch off one tree during cyclone Gabriel.
As a retirement village, owners will need to be at least 65 years old. The village will have an on-site manager during normal weekly working hours. The first two renovated two-bedroom cottages are now on the market. More will follow, and the whole site is expected to be completed in 2024. Please register your interest now.
Upcoming Open Days
Upcoming Open Days
No open days are currently scheduled.
Available Properties
Available Properties
Details
Photo

2 Bedroom villa nestled in heart of Coromandle Peninsula- Unit 5

$450,000

2 1 1 86m2

Property Type: Unit

Our village is based around the original Coromandel gold mine managers house that is 146 years old. This beautifully restored house has become the communal area complete with large BBQ decks, library,...
Statutory Supervisor's Details
Statutory Supervisor's Details
Details
Name
Bridget McCormick
Address
Duncan Cotterill Plaza 148 Victoria Street P O Box 5 Christchurch 8140 New Zealand
City/Town
Christchurch
Company
Anchorage Trustee Services Ltd
Phone
03 3726534
Mobile
027 5225235
Email
View Email Address
Updated: 12 Jun 2023
Solicitor's Details
Solicitor's Details
Details
Name
Dale Thomas
Address
Level 6, 586 Victoria Street
City/Town
Hamilton
Company
McCaw Lewis Lawyers
Phone
07 9587428
Mobile
027 3459253
Email
View Email Address
Updated: 12 Jun 2023
Facility Features
Facility Features
Feature
Status
Details
Community Complex
Yes
Relax and socialize in our inviting communal sitting room, designed for comfort and fostering connections among residents.
Library
Yes
Our extensive collection of books and reading materials provides ample opportunity for relaxation and mental stimulation.
Games Room
Yes
Whether you prefer card games, board games, or table tennis, our games room has plenty of options for entertainment.
Lounges
Yes
Gardens
Yes
Enjoy outdoor cooking and dining with friends and family on our spacious BBQ decks.
Other details
Yes
Host dances, events, and gatherings in our elegantly decorated ballroom. Ideal for functions and events, our fully equipped kitchen makes cooking and catering a breeze.
Updated: 8 Sep 2023
Special Features
Special Features
Our retirement village is conveniently located in the heart of Coromandel town, just a short stroll away from local shops, cafes, and restaurants. This means that residents have easy access to all the amenities they need, without having to travel far.

Coromandel Lifestyle Village is situated in a picturesque location, surrounded by stunning natural beauty. With views of the ocean and the hills, residents can enjoy the tranquility and peacefulness of the area, making it an ideal place to retire.
Updated: 8 Sep 2023
Interests & Activities
Interests & Activities
BBQ, Cooking, Craft, Games, Garden, Indoor Games, Library, Picnic facilities, Reading
Updated: 8 Sep 2023
Distances
Distances
Location
Distance
Details
Shops
Just a short stroll away from local shops, cafes, and restaurants.
Updated: 8 Sep 2023
NOTE: The Retirement Villages Act 2003 (The Act) is designed to provide improved protection for people who 'buy' into a retirement village. If you intend to 'purchase' you must get independent legal advice before signing your occupation right agreement as required under The Act. Some Retirement Village type facilities are not required to register under The Act so different legal requirements apply. Please make sure you investigate fully.
In some villages there may be some Retirement Village units that have multiple uses e.g. a Serviced Apartment may also be used as a Residential Care Suite. The same unit may therefore show in several places on Eldernet.