Rest Home
At a glance
Vacancy

Yes

Name

Leighton House

Category

Rest Home

Address

2 Cheeseman Road
Inner Kaiti
Gisborne 4010

Postal Address

PO Box 803
Gisborne 4040

DHB

Tairawhiti

Phone

Fax

Email

Web

Facebook
Personnel
Manager

Teresa McGregor (operations manager)

Owner

Dementia Care NZ
Other services
We are open and accepting admissions!



We invite you to experience the very special character of Leighton House.

OUR VISION
To accept all people with kindness and love
To provide peace, comfort and joy
To be proactive, innovative and courageous
To enrich each person, the community and the world

OUR VALUES
We strive to achieve this vision by working
with openness, honesty, integrity and passion

THE WORK WE DO
We establish trusting relationships based on
respect and acceptance
We encourage people's participation in
companionship-based care in their small homes
We are privileged to accompany people as they
journey towards the end of their life
We welcome family/whanau and the wider
community as integral to people's lives
We promote inclusion and the rights and
values of each person
We celebrate unity in diversity




Dementia Care New Zealand is one of New Zealand's highly regarded aged care providers.
We provide a full range of residential care including general rest home care, dementia rest home care, general hospital level care, and dementia hospital level care. At many of our facilities, a full continuum of care is available.
We specialize in person-centred care for people who live with dementia. This is the work we have passionately chosen to do.
We care for people in small, cosy homes with a loving, warm and homely atmosphere where each person is supported to experience each moment richly. Our small homes concept means that people with dementia experience life in a less clinical and more normalised, familiar way. Small homes that inter connect, also bring a sense of 'community' for a person with dementia.

We offer 24 hour Registered Nurse coverage to all of our residents at Leighton House.
Service/Facility Details
Service/Facility Details
Detail
Status
Contract with DHB
Yes
Certification
Yes
ORA Applies
No
Updated: 14 Oct 2015
Bed and Vacancy Details
Bed and Vacancy Details
Detail
Status
Approximate number of beds at this level of care
30
Vacancy
Yes
Our rooms at Leighton House are spacious, warm and bright. Please see our comprehensive website for further information at www.leightonhouse.co.nz
Impending vacancy
No
Premium Room Charges
Yes
MOH Certification and Audit Report
View MOH certification and audit report (opens in a new tab)
Extra admission requirements due to COVID-19
Please enquire
Updated: 28 Jun 2022
Testimonials
Testimonials
April 2019

Transition to retirement home care can be a complicated and difficult process when dealing with the limitations of ageing. My recent experience in supporting and guiding my 93-year-old mother to a successful and happy outcome in this change in her life has been enlightening and reassuring and has seen her comfortably installed in Leighton House.
After more than 70 years in the family home she loved, it was apparent that her safety and security at home had become compromised. After careful consideration of residential care options available in Gisborne, I made an initial visit to view Leighton House. I was received by Teresa McGregor and given an extensive tour of the facility and I arranged to bring my mother for a viewing. Teresa's welcome to my mother was warm, informative and fun. A wheelchair tour made the experience convenient and comfortable. My mother formed a clear impression immediately of an efficiently and professionally-run organisation offering a safe, supportive and inclusive care plan operating in a comfortable and beautiful home environment. Leighton House offers a 'family home' style of living, providing privacy and a restful environment while encouraging social contact and support among its residents. My mother was fortunate in being offered a trial week almost immediately and this was followed by the option of transfer to resident status. The approval process was conducted professionally and sensitively and my mother felt fully consulted and informed. Together we prepared her for a significant life change. The attention and care of Leighton House staff, at all levels of care, was faultless and my mother felt reassured and confident that this was the perfect next stage in her life and she settled in happily.
From an administrative point of view, Teresa provided extensive paperwork and the formalities of entry including funding, partnership and responsibility were clear.
My mother is enjoying a safe and restful life at Leighton House. She has rekindled old friendships with residents she has known through her long life lived in Gisborne and has established valued new friendships with other residents, enabled through the easy, warm and social nature of daily life and routines. The staff at Leighton House have been responsive and attentive and have established friendly relationships with my mother and my family. They understand her needs, and she feels safe and protected.
My family and I unreservedly recommend Leighton House as the provider of professional care for our mother and grandmother, meeting her medical, emotional and physical needs.

Jude Conway


3rd August 2017

Our initial request, when we visited Leighton House, was for seven weeks of respite care for Dad. After his first five weeks of settling in and enjoying the environment, care, compassion, security and support he was receiving, we noted how happy and relaxed he was. As a family we were not surprised that Dad had decided he wanted to stay. This is a true testament and credit to the management and staff at Leighton House. We are always welcomed with respect and dignity by the cheerful, friendly staff who go the extra mile to assist us, nothing is too difficult, and the whole family has been welcomed aboard.

Dad's room is lovely and bright with great outdoor views, and has a private adjoining ensuite which is an excellent size. The kitchen provides traditional homemade food which is plentiful and fresh. Residents are encouraged to mobilise to the dining area and the care services are optimum. Any changes or happenings are immediately communicated to family members. The process and documentation was easy to follow and well explained to us, so we were well informed for any current or future decisions that we may have to make.

At Leighton House residents are encouraged to participate in various group activities each week, but nothing is a must and family traditions, values and beliefs are greatly respected in every way. This is an aspect of Leighton House that is very much appreciated.

We congratulate Leighton House on their Excellent Accreditation Results - 2017.

As a family we feel very blessed, happy and secure, knowing that we have made the best decision for our Dad's ongoing care and support.

Special thanks from the extended Geuze family.




28th July 2017

Dear Teresa and Staff of Leighton House

The decision to approach Leighton House for Pa's care was based on a very high recommendation from my colleagues who had family members living in the facility.
The professionalism and genuine care and the time the manager took to discuss with me Pa's needs/likes/dislikes was what made my decision easy. However it was Pa's opinion that counted most. Pa is extremely independent and a very social person and he decided that he thought it would be a good idea to see what Leighton House had to offer. Pa was always under the understanding that he would be able to go home and that this respite was short term only.
About a week into his stay Pa decided that he quite liked the staff and the people and made up his mind that he "would quite like to stay" and has made Leighton House his home permanently. He enjoys the banter he has with the staff, the flexibility of being able to come and go as he pleases and most of all he loves the food.
For us as a whanau it is the care, consideration, social company and most of all Pa's safety that Leighton House staff from the manager, nurses, aids, cleaning and kitchen staff that are the highlights for us.
Thank you to the staff of Leighton House for making some difficult decisions easy when your whanau member genuinely wants to make Leighton House their new home.

Kind regards

J. Edwards
Daughter of Martyn James Dunnet (Pa)




24th July 2017

Our mother started her journey into aged care last year when she became very ill and was unable to look after herself as well as she might have expected. She first entered Leighton House under respite care and made the transition easily. The NASC team were instrumental in helping us get the respite care for our mother and also later with helping her recognise that she might need to consider full time care.
She was welcomed by very caring staff and management at the time, and we as family members were made to feel part of the Leighton House family which was very reassuring. Mum was made to feel at 'home' with little touches such as fresh flowers in her room, and plenty of activities to keep her occupied.
A month later our mother was to become a full time resident. Though the process of getting her to acknowledge that she might need 24 hour care was hard for us as a family, Leighton House staff were there in support for both her and us in meeting her requirements. Her every need is taken care of and nothing is too much trouble.
The staff and management always have a friendly 'hello' every time we visit and it is reassuring for us to know she is in good hands and that the right decision has been made for our mum to be in care.

M. Alley



20th July 2017

To anyone who is deciding to allow Leighton House and their staff to care for their loved one, I thought I'd share the last year with you.
As we all know it's not an easy decision to give your loved-ones care over to others; to know that you need to consider their care well above what you can provide.
My beloved mum broke her leg a year ago from a fall. After a period of time in hospital, it was decided she needed 24 hour care. As much as I wanted to do this myself, I knew that I couldn't do this alone as I have a shoulder injury, so mum chose Leighton House to care for her. We went and checked it our before, and I agreed with Mum that this place had a lovely feeling and staff seemed really friendly.
This was one of the best decisions we could ever have made. The staff are truly amazing and they make Mum feel special in so many ways. Teresa, who is in charge, is totally awesome, and her door is always open for any concerns the family have, nothing is ever a bother. We are welcomed to share meals with Mum anytime, or take Mum out if the occasion arises.
Mum loves going to Mission Hall church on Sundays and the girls always have her dressed, ready and in a happy spirit for her outing.
There are always flowers from their beautiful gardens in her room, which is really lovely as Mum has always had a beautiful garden, even entered in a competition one year for Gisborne Beautiful Gardens and had her photo in the paper.
Mum has been at Leighton House for almost a year now and my sister Marg, my brother Graham, and I couldn't express our thanks any more for the excellent care every one takes of our wonderful Mum. I thank God daily for you all and for your kindness to our Mum, and we wouldn't have entrusted her to you if you didn't cherish her as we do. I've thought about baking the staff a cake to show our appreciation, but truly, you guys have it all there. The cooks always have such lovely meals and yummy cakes so I know you have such things on tap.
So truly if you are considering care for your loved one, you truly couldn't ask for better care than Leighton House.
Bless you all. On behalf of Marg, Graham and I, plus all Mums grandchildren and great grandchildren, we say bless you.

J. Bekkers
Updated: 29 Apr 2019
Personnel
Personnel
Type
Hours Per Week
Status
Details
Registered Nurse
Yes
Monday through Friday 8am - 5pm and also on call
Physiotherapist
0.00
Yes
As required if arrangements are made and at resident's own expense
Occupational Therapist
0.00
Yes
Can be arranged through Gisborne Hospital
Social Worker (on site)
0.00
No
A Social Worker can be arranged through Gisborne Hospital
Activities Co-ordinator
Yes
Organises a daily programme of activities in the home Monday through Friday. Also organises regular outings to join other groups in the community or to attend public events.
Hairdresser
Yes
Hairdresser visits Tuesday through Friday. Appointments are made and residents pay privately
Podiatrist
Yes
Visits to the home are arranged as necessary
Dietitian
Yes
Arrangements made as requied through Gisborne Hospital
Kaumatua
Yes
Chaplain/Spiritual Advisor
Yes
A Catholic Lay Minister holds a communion service weekly. The Anglican Church holds a communion service monthly. The Presbyterian Church holds a service 3-monthly. Other ministers visit as required for their parishoners.
Updated: 21 Feb 2012
Specialities or Areas of Expertise
Specialities or Areas of Expertise
Specialities or Areas of Expertise
Status
Details
Oxygen Management
Yes
End of Life/Palliative Care
Yes
Available On Call
Wound Care
Yes
Nurse Specialist advice availabel on request from Gisborne Hospital
Diabetic Care
Yes
Nurse Specialist advice availabel on request from Gisborne Hospital
Continence Advice
Yes
Nurse Specialist advice availabel on request from Gisborne Hospital
Stomal Therapy
Yes
Nurse Specialist advice availabel on request from Gisborne Hospital
Stroke Rehabilitation
Yes
Nurse Specialist advice availabel on request from Gisborne Hospital
Infection Control
Yes
Nurse Specialist advice availabel on request from Gisborne Hospital
Surgical Followup
Yes
Available as needed
Psychiatric Care
Yes
Crisis Team available On Call
Clinical Management
Yes
Liz is supported by Ara Cartagena, our Regional Clinical Manager. Liz McRobbie is a Registered Nurse with experience in a variety of clinical roles, including registered nursing, practice nursing, community nursing, education, and quality coordination. Her most recent positions have included clinical roles in residential aged care, including resthome, hospital and dementia level care. Liz has a passion for working with older people, as her experience in residential aged care reflects. She has a strong focus on quality and on providing a high standard of client centred care. Most importantly, Liz cares deeply about the people she works with, whether residents, family members or colleagues. Liz has previously worked at Leighton House for a period of six years, progressing from registered nurse to Clinical Nurse Manager. She is delighted to be returning home.
Other Specialties
Yes
Simon Hamley is a Registered Nurse and also our Education Coordinator. He ensures all staff are compliant with their training, coordinates staff in-services and special training programs, and instructs Managing of Actual or Potential Aggression (MAPA).
Updated: 11 Feb 2019
Features
Features
Feature
Status
Details
May Bring Own Furniture
Yes
Residents may bring any furniture that fits into their room. Lazy boy chairs encouraged
Single Rooms
Yes
Fifty single rooms - 17 with a private en-suite, 20 with a shared en-suite, and 13 non en-suite rooms.
Ensuite
Yes
Thirty seven rooms have either a private en-suite or a shared en-suite.
Alcohol Permitted
Yes
Some residents have wine with their meal
Pets In Residence
Yes
A cat is in residence, dogs visit from time to time
Negotiate To Bring Own Pet
Yes
Under special circumstances this can be arranged
Phone Access In Own Room
Yes
Telephone points are available in all rooms
Resident can adjust heating in own room
Yes
Central heating provided thoroughout the home
Cater for under 65 yrs with Disability
Yes
Age related disabilities are catered for people under 65 yrs
Lounges/seating areas
Yes
Three lounges with lovely outlooks, two overlooking the river, and one overlooking the garden entrance. Other outdoor seating areas are available.
Palliative Care Contract
Yes
Palliative Care Team available when arrangements are made by the resident's own doctor and our Registered Nurse
Day Programme for day stay clients
Yes
Day Care includes the midday meal. Evening meal can be arranged if needed.
Outings
Yes
Families and friends are encouraged to take their loved ones out, but we do arrange regular outings also.
Maori Kaupapa
Yes
Residents Committee
Yes
Residents' meetings held bi-monthly
Newsletter
Yes
Monthly
Policy for management of challenging behaviour
Yes
Crisis Team On Call
Confused Residents
Yes
Mildly confused elderly are accepted in our home
Rural Setting
Yes
Set on the banks of the Waimata River in a residential area
Smokers Room
Yes
Residents may smoke in the court yard and garden area
Smoking Permitted
Yes
However, not encouraged. Any smokers in residence do so outside the building
Semi-Secure
Yes
Secure indoor and outdoor areas including the gardens
Updated: 25 Jul 2017
Special Features
Special Features
Leighton House is situated in spacious grounds with stunning views of the Waimata River and the two spectacularly-lit bridges which span it. Our gardens have been well placed in recent garden competitions.

Originally built as a convalescent home near the heart of the city, Leighton House has been extensively renovated and extended and is now a fully-licensed stage 2 rest home, with fire safety and health standards which exceed current stringent fire and safety requirements.

Leighton House is the only Rest Home in Gisborne who has four years Certification awarded by the Ministry of Healthy. This is the highest level attainable.

All of Leighton House's 50 beds are in comfortable single rooms, all attractively decorated and well appointed with ensuites, wardrobes, chairs and telephone points, and SKY TV is available.

Extensive decks give residents an opportunity to sit outside and enjoy Gisborne's famous sunny weather.

Enquiries are welcome.
Updated: 7 Aug 2017
Interests & Activities
Interests & Activities
Activities are arranged by our on site Activities Coordinator to cater for the needs and interests of the residents.

These include outings to join residents from other rest homes for morning tea, lunches at the Cosmopolitan Club.

Visits to clubs where possible are encouraged, e.g. Sherwood Club run by the Alzheimer's Society, Care & Craft, the Stroke Club, Senior Citizens, Enliven and the Blind Association.

Group activities include Bowls, Movement with Music, Painting & Art, Cooking, Word Games & Quizes, Housie.

Visiting pets are popular with the residents.

Weekly visits by local musicians, singers and dancers provide a cheerful, light atmosphere as the music filters throughout the home.
Updated: 21 Feb 2012
Additional Information
Additional Information
Topic
Details
What's included in your fees and what's not
Hair cutting/perms/sets, podiatry, bus trips, special outings, personal hygiene, personal shopping are available at the resident's own expense.
Staffing qualifications and details
Registered Nurse daytime hours and On Call
Details about meals
Seasonal Menu, Main Meal served at midday
Updated: 21 Feb 2012
Languages Spoken
Languages Spoken
Language
Status
Details
English
Yes
Fijian Indian
Yes
Staff Member
Interpreter
Yes
Local interpreters are available through Leighton House include speakers of Tongan, Mandarin, Cantonese, Dutch, Deaf, German, French, Japanese.
Maori - Te Reo
Yes
Staff Member
Samoan
Yes
Staff Member
Tongan
Yes
Staff Member
Updated: 21 Feb 2012
Religious/Spiritual Affiliations
Religious/Spiritual Affiliations
Religious/Spiritual Affiliations
Status
Details
Anglican
Yes
Minister visits regularly Communion Service held the second Thursday of every month
Baptist
Yes
As requried
Christian
Yes
As required
Denominations/Faiths represented
Yes
As required
Hindu
Yes
As required
Inter denominational
Yes
Monthly Church Service
Jehovah Witness
Yes
Members visit those who belong to their church
Methodist
Yes
As required
Non denominational
Yes
Presbyterian
Yes
Holds a service 3 monthly
Ratana
Yes
As required
Roman Catholic
Yes
Lay Minister visits weekly to give communion
Salvation Army
Yes
As required
Seventh Day Adventist
Yes
As required
(Other comments)
Yes
All religions and denominations are always welcome
Updated: 21 Feb 2012
Distances
Distances
Location
Distance
Details
Public Transport
0.30 Km
The City Bus stops in Rutene Road, one block away. However we rely on the Sunshine Bus Service which is operated by a community trust for those who are less mobile.
Shops
0.50 Km
Dairy and other shops are in Wainui Road, two blocks away.
Mall
1.00 Km
Kaiti Mall shopping centre includes doctors' surgery, a pharmacy, grocery and other shops. The town centre is 1 km away.
Parks
0.20 Km
Anzac Park is in easy walking distance with a beautiful river running along side.
Library
1.00 Km
The city library also services our home and books are changed monthly.
Updated: 21 Feb 2012
Credentials & Membership
Credentials & Membership
Credentials & Membership RC
Status
Details
New Zealand Aged Care Association (NZACA)
Yes
Other details
Yes
Our Education Coordinator Simon Hamley is a trained instructor for Management of Actual or Potential Aggression (MAPA) from the Crisis Prevention Institute. Simon works across all facilities ensuring our staff are trained in this valuable course.
Updated: 1 Sep 2017
What's New
What's New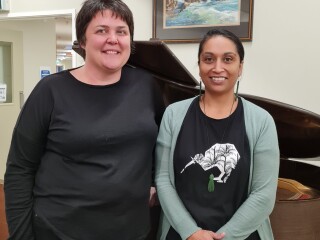 June 22nd 2022
Kia ora everyone

We're excited to introduce Angela Knowles, our new Clinical Manager.
Angela was born in Gisborne and lived there until she was 20 when she went to train as a nurse in the Hawkes Bay.
Angela continued in Aged Care for several years in various roles, before branching out to the DHB where she spent some time on a Stroke/Neurology/General Medical ward, but soon realised Aged Care was her home.
Most recently she has been the Clinical Manager for a 69 bed psychogeriatric home and a Community Nurse in Gisborne, coordinating home supports for over 65s.
Angela is looking forward to getting to know the residents and their families. She loves hearing tales from 'younger' years and hopes to be an amazing support to the team at Leighton House.
Please do introduce yourself to Angela when you see her.
March 21 2020
IMPORTANT NOTICE REGARDING COVID-19 AND VISITATION.
We have decided to temporarily close our home over the weekend to visitors as we work towards implementing the latest advice from the Ministry of Health as of 21st March 2020. We are reviewing our processes to ensure they meet the new recommendations from the Ministry. We will advise you of the new process for visiting our home on Monday, 23rd March 2020.
We acknowledge the importance of visits for our residents and their loved ones. Closing our doors is not a step we take lightly. However, preventing the spread of COVID-19 has to take priority.
Andrew Sheard
Director
Welcome to our new Clinical Manager Liz!
Liz McRobbie is a Registered Nurse with experience in a variety of clinical roles, including registered nursing, practice nursing, community nursing, education, and quality coordination. Her most recent positions have included clinical roles in residential aged care, including resthome, hospital and dementia level care.
Liz has a passion for working with older people, as her experience in residential aged care reflects. She has a strong focus on quality and on providing a high standard of client centred care. Most importantly, Liz cares deeply about the people she works with, whether residents, family members or colleagues.
Liz has previously worked at Leighton House for a period of six years, progressing from registered nurse to Clinical Nurse Manager. She is delighted to be returning home.
Liz is supported by our National Clinical Manager, Arah Cartagena.
March 2018:
We're blessed to live in such a socially bustling community here in Gisborne. For many years, a number of rest homes here have held monthly afternoon tea gatherings where we all have the opportunity to catch up with dear friends and make new ones too. Each quarter it is our turn to host. These lovely photos show the wonderful day we had with friends and family from Beetham and Dunblane rest homes. A staff member brought in her 2 week old grandson "Mahaki" who was passed around to all the ladies and Eva Richards (99 this year) enjoyed her moment holding him. We even had the pleasure of catching up with Therese Shivnan who was the manager of Leighton House some 30 years ago and wanted to see how Leighton had changed. She was very impressed with the view and reminisced about her time as manager here. A wonderful and special afternoon.
January 2018:
Christmas is a time when treasured family and social traditions are renewed and enjoyed by us all. Christmas card making is an time-honoured tradition that seems to be dying out as email communication becomes more popular. At Leighton House we have loved helping each other to write Christmas cards to family and friends. There's nothing quite as special as receiving a card made especially for you by a person you love.
December 2017:
To our dear friends
It's the end of 2017, a time of reflection on the past year. As always, there have been many moments of joy, laughter, peace and wonder: what we call 'magic moments'. We are full of gratitude and would like to say thank you to you all. Thank you for encouraging us by being part of this online community. Thank you to the people who visit our homes - it is always lovely to see you. Most of all a very big thank you to those of you who share your family membe...r or friend with us. It is a huge privilege to take care of the people who live here with us in their home. They are a wonderful inspiration to us and we love them dearly.
We would also like to say an enormous thank you to each and every member of our staff team. We appreciate you and value you so much. Thank you for everything you do.
We are grateful for the highs and lows, the challenges and opportunities this past year has brought. Thank you for being part of it.
October:
Meng Foon, our Mayor, recently asked if he could show a group of Chinese government officials around Leighton House, as China is looking at developing aged care facilities and the officials wanted to see some New Zealand examples. Our Clinical Manager Walter hosted the group and took them on a tour of the facility. Mayor Meng Foon, who is very popular with our residents, took time to stop and talk with them, which was much appreciated.
A group photo was taken and a gift was presented to Leighton House as a gesture of thanks.
September 2017:
Our Diversional Therapist Sandra was thrilled to pass on donations made by Leighton House residents and staff to Gisborne pet rescuer Lauren recently. Lauren saves and rescues all sorts of animals, including reptiles. Lauren's work with the animals is not for profit and she pays all overheads herself so is very grateful for any donations. She is well known within the Gisborne community for her hard work, love, care and dedication. Awesome work Lauren!
(Lauren is holding her bearded dragon and baby rabbit. Sandra is holding Lauren's blue-tongued lizard)
Colleen Stone is a real Leighton House 'Good sort'.
Not only is she busy in her role as cleaner but she always finds the time to share special moments with residents, not to mention ensuring there are always fresh flowers in every person's room.
We wish her well with retiring in November. She will be selling up and traveling New Zealand with her husband in their camper van. She will be very much missed!
Colleen Stone is a real Leighton House 'Good sort'.
Not only is she busy in her role as cleaner but she always finds the time to share special moments with residents, not to mention ensuring there are always fresh flowers in every person's room.
We wish her well with retiring in November. She will be selling up and traveling New Zealand with her husband in their camper van. She will be very much missed!
10th July 2017- Four years certification for Leighton House:
We are delighted to announce that Leighton House has recently received four years certification from the Ministry of Health audit. This is the highest result possible and is a testament to the commitment and professionalism of our management and staff team in maintaining exceptional quality standards.
Leighton House is currently the only rest home in Gisborne to have 4 year certification.
We would like to acknowledge the wonderful work of our staff team in achieving this result. We are enormously proud of you all.
5th May 2017
Warmest Greetings
NEW CLINICAL MANAGER JOINS LEIGHTON HOUSE
With great pleasure we would like to announce the appointment of Walter Aupouri as the Clinical Manager of Leighton House, Gisborne.
Walter, who is originally from Gisborne, has spent a number of years working in Brisbane caring for people with chronic illness. With this valuable experience combined with post graduate nursing study Walter is well equipped in terms of both qualifications and experience to join Teresa in leading our Leighton team into the future.
Walter joined us on 6th March 2017, and is already well established in his new role.
We would love to welcome you to Leighton to meet him and hear more about the special care we offer at both Rest Home and Hospital level.
Warmest regards
Ruth Babonnick
National Clinical Manager
29th January 2014
Warmest greetings!
HOSPITAL CARE FOR LEIGHTON HOUSE
We are writing to advise you about an important extension to the service we provide at Leighton House.
We have recently undertaken a special audit to enable us to provide hospital care at Leighton House This will be in addition to the existing rest home care, and will represent a significant extension of the service we currently provide to our residents.
Hospital care will be provided in the East Wing. This bright and sunny area of our home has its own lounge with ample decking and views of the gardens. The bedrooms are sunny and spacious. We will soon be installing a homely kitchenette which will create a very special little self-contained home for just 11 people. It will be a very warm, cosy, comfortable place to be. The unique environment will be welcoming and tranquil, a home away from home for those frail people requiring this specialised care.
A registered nurse will be on duty 24 hours a day seven days a week.
The addition of hospital care to our services at Leighton means that when our residents become more frail they will be able to stay on at Leighton instead of needing to transfer elsewhere. It is important that residents can stay here in the place that is their home, with the people who know them well and know just how to care for them. It brings a measure of comfort to residents and their families and friends knowing that they will not have to move.
Hospital care will be delivered with the same loving care and uncompromising standards Leighton House is known for. The service will be available from 3rd February onwards.
We will be delighted to answer any questions you may have regarding this new service.
Yours sincerely
Teresa McGregor Jill Moroney
Operations Manager Clinical Manager
New era for Leighton House
Dementia Care NZ has purchased Leighton House and takes over the facility on 11 July 2013.
The group of companies is co-owned and run by business partners Alison Hume and Jim Haines.
Their expertise is in the redevelopment of aged care facilities, specialising in the care of elderly people.
They are currently successfully running seven facilities, two in Christchurch, one in Blenheim, one in Nelson, one in Waikanae, one in Levin and one in Wellington. They are highly experienced in all aspects of the development and management of a successful aged care facility.
The key to the success of the organisation is its total focus on providing best care for residents. "Our staff are a vital element in the successful provision of the person-centred care we provide," said Alison Hume. " It is essential to have caregiving and nursing staff with appropriate qualification and experience, and above all, with the 'knack' of working positively with the elderly, vulnerable and frail. Choosing the very best staff is key to the successful running of our homes."
Alison Hume and Jim Haines are working closely with the outgoing management of Leighton House to ensure a successful handover. "We have experience in ensuring that transitions of this nature occur smoothly and with the least possible stress. We are known for our open communication, transparency and highly person-centred approach to care, and for our strong focus on providing love and support to residents and their families at every stage of the residential care journey," says Alison Hume.
"This is the work we have chosen to do. In each of our homes we create a loving, warm and homely atmosphere where each person is supported to experience each moment richly. Each person has their greatest chance of being physically healthy and emotionally the best they can be."
"Above all, openness, honesty and integrity are central to our philosophy of care.
Updated: 22 Jun 2022
The Ministry of Health conducts regular audits of Residential Care Facilities. They can be found HERE.
531