Rest Home
At a glance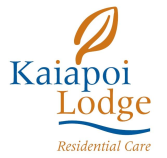 Vacancy

No

Name

Kaiapoi Lodge

Category

Rest Home

Address

6 Cass Street (Cnr Smith and Cass St)
Kaiapoi 7630

DHB

Canterbury

Phone

Fax

Email

Web

Facebook
Personnel
Manager

Jonathan Prangnell - (03) 327 8487

Owner

Kaiapoi Lodge Residential Care Ltd - (03) 327 8487
Other services

Our mission is to see models of care revolve around the needs of the residents not the institution, AND where those who reside at Kaiapoi Lodge are placed in the middle of a connected, caring community of friends, family, services and care providers.

Our philosophy is based one a fundamental belief: this is our residents' home.

We want do everything in our power to meet the physical, psychological, social, cultural and spiritual needs of each person who resides here.

We want Kaiapoi Lodge to be part of a connected, caring community of friends, family, services and care providers. Where people can dwell with independence, dignity, hope and happiness. Where the privacy of each person is respected.

Overall we want Kaiapoi Lodge to be a place that celebrates life and enriches lives by providing meaning and a sense of belonging.
Service/Facility Details
Service/Facility Details
Detail
Status
Contract with DHB
Yes
Certification
Yes
ORA Applies
No
Updated: 25 Sep 2013
Bed and Vacancy Details
Bed and Vacancy Details
Detail
Status
Approximate number of beds at this level of care
22
Vacancy
No
Impending vacancy
No
Premium Room Charges
Some Rooms from $15.00/day up to $45.00/day as at 07 Jan 2022
MOH Certification and Audit Report
View MOH certification and audit report (opens in a new tab)
Extra admission requirements due to COVID-19
No
Updated: 27 Jun 2022
Personnel
Personnel
Type
Hours Per Week
Status
Details
Registered Nurse
Yes
Registered nursing staff in the rest home led the care giving team and are involved in assessing, directing and implementing care of the residents. The associated hospital means there is 24 hour registered nursing coverage.
Physiotherapist
Yes
Physiotherapy is available to residents who have been assessed by their physician as requiring this service.
Social Worker (on site)
0.00
Yes
Activities Co-ordinator
Yes
Kaiapoi Lodge employees a full time Diversional therapist who has either completed or is working towards completing a Diversional therapy national certificate.
Hairdresser
Yes
A wide range of hair care services is available for both men and women. A hairdresser is available most days and residents may schedule appointments for this on-site service as frequently as they wish.
Podiatrist
Yes
Regular foot care clinics are arranged at the facility. Foot care services are provided by a registered Chiropodist/Podiatrist. Kaiapoi Lodge does pass this cost onto the resident.
Dietitian
Yes
There may be occasions where a resident will require review from a Dietitian and Nutrition Consultant. Kaiapoi Lodge has a NZ Registered Dietitian who visits the facility when required. The Dietitian also works in approving our facilities menu.
Kaumatua
Negotiable
Chaplain/Spiritual Advisor
Negotiable
The services currently in Kaiapoi Lodge are run by the following, Anglican Church, Baptist Church, Catholic Church and the Kaiapoi Co-operating Church. Anyone of these church's are happy to come out and offer individual spiritual support and guidance.
Other Personnel
Negotiable
Updated: 25 Sep 2013
Features
Features
Feature
Status
Details
May Bring Own Furniture
Yes
Feel free to bring in a favourite furniturer, lamps, plants etc to make the room more homey, personal and comfortable.
Single Rooms
Yes
All of the rooms in the rest home are single rooms
Ensuite
Yes
Whilst most rooms have ensuites around 15% of our rooms still require this upgrade.
Alcohol Permitted
Yes
Many residents enjoy the occasional alcoholic beverage and for that reason alcohol is permitted and there is a Happy Hour from 5:00pm -5:30pm. However, mixing alcohol with some meds can produce serious reactions resulting in a resident being discouraged.
Pets In Residence
Yes
A Number of years ago a cat walked into the home and took up residence and presently shows no sign of leaving.
Negotiate To Bring Own Pet
Yes
Generally we do not accept pets, however please approach us to discuss this and we may look at bending the rules.
Phone Access In Own Room
Yes
Telephones are available to accommodate phone calls for residents. Should daily telephone calls be part of the resident's routine, we suggest the installation of a private line. Resident bedrooms have already been pre-wired to accommodate individual lines
Resident can adjust heating in own room
Yes
Residents control their own heating: Each room has its own independent heating thermostat so residents can get the temperature they desire.
Lounges/seating areas
Yes
There is one main central lounge overlooking the garden. The lounge serves as a meeting and entertainment site. There is also various seating places dotted around the home where two or more residents will often sit to chat.
Day Programme for day stay clients
Yes
Outings
Yes
Outings are an important part of our recreational therapy programme.
Residents Committee
Yes
We have regular residents' meetings so that everyone has an opportunity to discuss all aspects of life in their home. These meetings give residents a chance to talk about any changes, improvements and activities they would like.
Family Committee
Yes
With the permission of the resident family are invited to be involved with planning of residents care.
Policy for management of challenging behaviour
Yes
Smoking Permitted
No
Whilst smoking is not permitted within the home residents are welcome to smoke anywhere outside the building.
Semi-Secure
No
Kaiapoi Lodge is not a secure facility. Residents with the potential to wander are not suitable for Kaiapoi Lodge. As residents mental state can change all doors are alarmed and will alert staff at night.
Updated: 25 Sep 2013
Special Features
Special Features
.
Updated: Unknown
Interests & Activities
Interests & Activities
Cards, gardening. Intedenominational Church sevices. Housie.Activity programme. Bowls. Entertainers. Happy hour. Exercises.Library service. Outings. Picnics.Qizzes.Shopping. Music.
BBQ. Breakfast in bed.Games.
Meal choices.Reading.
Updated: Unknown
Additional Information
Additional Information
Topic
Details
Details about meals
The way we see it, meals need to be both nutritious and delicious. Nutritional goals are developed by our Food Service Supervisor and staff, with input from a Consulting Dietitian, and the Residents' Council. Three meals a day plus three nutritious snacks are provided. Likes and dislikes are taken into consideration and a alternate will be offered. As far as special and therapeutic diets are concerned, they are prepared in accordance with doctor's orders and a nutritional supplement is provided when need be. Special devices for eating, such as rimmed plates, special cups and built-up utensils are also available for residents, whenever necessary. For the most part, meal service is offered in the dining rooms. If a resident is ill or not up to dining with others, a meal will be provided in his or her room.
Updated: 25 Sep 2013
Languages Spoken
Languages Spoken
Language
Status
Details
English
Yes
Updated: Unknown
Religious/Spiritual Affiliations
Religious/Spiritual Affiliations
Religious/Spiritual Affiliations
Status
Details
Anglican
Yes
Baptist
Yes
Christian
Yes
Inter denominational
Yes
(Other comments)
Yes
We will endeavour to source spiritual support to meet our residents' needs.
Updated: 25 Sep 2013
Distances
Distances
Location
Distance
Details
Public Transport
0.10 Km
Bus stops to both Christchurch and Rangiora are around 100m away.
Shops
0.25 Km
The main shopping district of Kaiapoi is just five minutes walk away. The shops include everything you would expect of a small town.
Parks
0.10 Km
Library
0.25 Km
The library is located on the main street. For those who can't get out the library visits each week bring a selection of books, audio cassettes and CD's.
Updated: 25 Sep 2013
Credentials & Membership
The Ministry of Health conducts regular audits of Residential Care Facilities. They can be found HERE.
454