Pier Law Lawyers
At a glance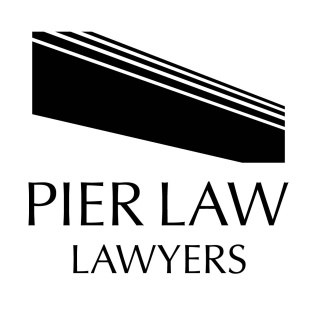 Name

Pier Law Lawyers

Category

Legal

Address

1 Radcliffe Road
Northwood
Christchurch 8051

Region

Canterbury

Phone

Fax

Email

Web
Personnel
Director

Bill Herbison - 03 366 5540

Director

Caroline Davey - 03 388 1639

Director

Indira Sirisena - 03 366 5540
Photos
Downloads
You need Adobe Reader to view PDF files.
Preview
File
Description
Elder Law Guide

Often legal information can be complex and confusing. We put together this Elder Law Guide to provide this information to our clients in an easy to understand way.

If you have any questions about anything in this guide, please reach out to one of our friendly team.
Reviews
We are a Christchurch law firm that understands and can relate to the needs, requirements and situations of our local residents. We specialise in elder law but offer a wide range of legal solutions.

The Pier Law team is comprised of lawyers who very much take an interest in our clients as individuals and work with them individually to achieve their goals. The quality of the services we offer to our clients is given the highest priority.

We have offices in Northwood, New Brighton and Kaiapoi and we offer a mobile lawyer service that will come to you home or place of work during the day or after 5pm by arrangement.

We also offer a SuperGold Card discount of 10% off our fee, please mention this when contacting us for an appointment.

Our Elder Law Team can assist with a wide range of legal matters, including:
- Wills
- Powers of Attorney
- Occupation Right Agreements
- Rest Home Subsidies or Loans
- Property Ownership
- Sale of your home
- Funeral Trusts
- Family Trusts
- Estate Planning
Additional Branch Locations
Testimonials
Testimonials
We have been working with Pier Law since 2013 and they are amazing. Going out of their way to make life easy. Caroline and Miria are both wonderful people a pleasure to deal with. We have already recommended them to multiple friends & colleagues and have no hesitation in recommending them again. - Matthew

Extremely professional and friendly service. We are very happy and completely satisfied with Caroline Davey and her team.
I will definitely use them for all of my legal issues. - David Baines

Very friendly helpful lady on the phone when we called to review and update our wills etc. She set us up with an appointment to meet with Bill, who took us through the process of making a will, and setting up EPAs ( Enduring Powers of Attourney). He was very relaxed and friendly and took time to put us at ease. His advice was clear and very professional. The whole process was very calm and non- threatening. His lovely little West Highland Terrier supervised the whole interview from his bed in the corner of the office. If you are looking for legal advice, I would recommend this law office in Kaiapoi. Apparently they also have other offices in the District. It's worth looking them up , and remember; if you don't have a will, you should. I have seen two families where there was no will, after a bereavement, and both could only be described as a mess. - Keith Douthett

Pier Law is a legal firm that would provide you with the best possible legal services that you need. If they know of a more experienced legal provider then they would refer you on to them. Their services are prompt, fair and well priced. They have a great team of lawyers who have an extensive depth of knowledge and experience in this industry. Well worth considering for any legal matters. - Murray Quartly
Updated: 28 Feb 2022
Meeting the needs of older people
Meeting the needs of older people
We can meet you at any of our convenient office locations or come to your home or rest home for appointments. We will work with you to get your legal affairs in order.
Updated: 21 Jan 2022
Legal
Legal
Experienced in
Status
Details
End of life
Yes
Enduring power of attorney
Yes
Family Law
Yes
Retirement Village
Yes
Residential care contracts
Yes
Trusts
Yes
Wills
Yes
Updated: 21 Jan 2022
Access
Access
Access
Status
Details
A mobile service
Yes
Easy access
Yes
Updated: 21 Jan 2022
Payment
Payment
Payment
Status
Details
SuperGold Card Discount
Yes
10% discount if Super Gold Card presented at initial appointment
Updated: 21 Jan 2022
Languages Spoken
Languages Spoken
Language
Status
Details
English
Yes
Updated: 28 Feb 2022