The Good Companion
At a glance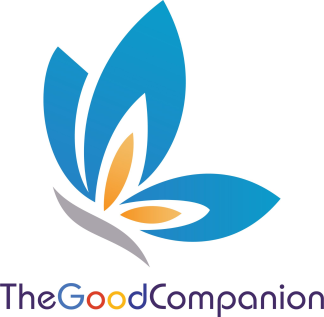 Name

The Good Companion

Category

Home help & personal care

Address

18 Broadway
Newmarket
Auckland 1023

Postal Address

Same as above

Regions

Canterbury, Northland, Waitemata, Auckland, Counties Manukau, Waikato, Bay of Plenty, Lakes, Tairawhiti, Taranaki, Whanganui, Hawke's Bay, Wairarapa, MidCentral, Capital & Coast, Hutt Valley, Nelson Marlborough, West Coast, South Canterbury, Southern (Otago), Southern (Southland)

Phone

Email

Web

Facebook
Personnel
Manager

Pamela Hewison - 021717884
http://www.thegoodcompanion.co.nz

Home Care Provider

About Us

We started with a simple idea: provide companionship that has a positive impact on the lives of others.

Our success comes from the fact that we love what we do. Our team of Companions is primarily growing when existing Companions or clients and their families introduce family and friends.

Companionship goes beyond personal care and aims to achieve a stable bond between the client their family, friends and the Companions.

Our client requirements range from ongoing daily companionship, periodic weekly care and reliving family or other care staff.
We are at times contacted 1-3 months ahead of service commencement and at other times when urgency arises due to unforeseen circumstances.
From your initial contact with TGC and throughout the service period, a case manager whom you first were in contact with, will accompany the service that you or your loved ones receives, The case manager will work with you right form the start to assemble Companions who best suit your needs.

Our Team

Our team consists of skilled Companions with a mature life experience who are passionate about providing companionship and care.
Homecare by The Good Companion. Your Care. Your Choice.


The Good Companion provides in-home care services in order to maintain and support our clients' independence, enabling them to continue to remain in their own home for as long as possible. Our versatile service provides anything from a two hour shopping trip to full 24 hour care. Our aim is to help our clients to enjoy the fullest life possible, and to provide peace of mind to their families.
Testimonials
Testimonials
"The Good Companions have been with Mum for over a year now and her care over this time has been wonderful. The service provided is very reliable and to an excellent standard. Pam has put together and maintains a really good team of staff and really seems to understand the needs of her clients. All the Good Companions are doing a marvelous job in every aspect - in so many big and little ways. Mum often tells me she is happy, contented and I can really see that the care and attention she receives has made a big difference to her health and happiness. Mum and I both feel that the Good Companions have her best interests at heart. Chloe (the dog) is also very well looked after and the house is spotless, and feels like a home. Thank you to everyone for such a professional and caring service that has enabled Mum to stay in her own home comfortably and safely. Both Mum and I have no hesitation in recommending the Good Companions Service." Cynthia (daughter)

"We wish to acknowledge the wonderful job you and your team of companions did in lovingly and respectfully caring for Mum. Her comfort and her wishes were always paramount..it enabled Mum to remain in her own home - this was her utmost wish"
Read family

"The girls have been so excellent and have added so much enjoyment to mother's daily life... they have changed her life from existing to living."

Polly Warren
Updated: 22 Feb 2016
Service Description
Service Description
WHAT WE OFFER

For those wanting to stay in their own homes but are unable to manage alone -

Respite Care - Relief for a relative or caregiver, respite care can be provided in your own home from 4 hours to 2 weeks, whatever you need. Carer support funding can be used towards this.

Temporary care - can be arranged at difficult or busy times, after discharge from hospital, during periods of illness or as relief for a relative.

Overnight Care - can be arranged to give reassurance and peace of mind in case of an emergency at night.

Daily Care - is available for those requiring assistance with all tasks. A 24 hour live in companion can assist with personal care, medication reminders, shopping, cooking, housework, laundry,accompanying you on outings and appointments, coordinating your care and other agencies, and home administration.

Weekly Care - ask us about the various care packages that span over a 7 day period which provide effective care/cost balance. Packages range from a 7 X 24 care to a combination of daily 4-6 hour stays, overnights and 24 hour care.



Part time Care and Companionship

Companionship - Someone to accompany and support your older family member in their day to day activities either at home or at their resthome. This may include transport and assistance to attend hospital or specialist appointments, outings or activities, or simply a friendly visit.

Household Management - Grocery shopping, Organising and preparation of meals, housework, Laundry, Home administration ( correspondence, diary, bills, dealing with tradesmen, care of pets etc)

Personal care - Assistance with personal matters such as showering and dressing
Errands and appointments - Anything you have trouble doing on your own The Good Companion can assist.
How has The Good Companion helped you?

"they have been a great support to my elderly mother, and have helped to keep my mind at rest. They help with cooking and shopping as necessary, take my mother on outings and to appointments, and generally help to keep her happy, well and entertained. They always stay in touch with me, and when I'm away from Christchurch, I know that they are keeping an eye on my mother and will let me know if they have any concerns."
R. Judkins..

"My mother suffered a stroke 18 months ago and was only eligible for 2 hours of subsidised care per week. The stroke affected my mother's mobility and independence and she really needed more help than this. She has been able to stay in her own home as her Companion called daily to help with meals, laundry and household administration until she had recovered. We have found that the Companions have a natural affinity with the elderly and their care has given my mother the confidence to stay on in her own home.
Updated: 26 Jul 2023
Suburbs/Districts/Towns Serviced
Suburbs/Districts/Towns Serviced
Auckland
Blenheim
Christchurch
Coromandel Peninsula
Dunedin
Hamilton
Nelson District
Wellington
Updated: 25 May 2023
Personal Assistance
Personal Assistance
Type
Self Funded
Subsidised
After Hours
Hospice
No
No
No
at home - refer palliative care
Carer Support
Yes
Yes
Yes
Contact your GP or Needs Co-ordinator to see if you are entitled to Carer Support subsidy
Sitter Service/Companions
Yes
Yes
Yes
Live In Care (24 Hr)
Yes
Yes
Yes
Personal Care (Showering, Dressing)
Yes
Yes
Yes
Updated: 3 Mar 2014
Specialities or Areas of Expertise
Specialities or Areas of Expertise
Specialties or Areas of Expertise
Status
Details
End of Life/Palliative Care
Yes
Our carers can assist with palliative care in the home, in conjunction with hospice/District Nurse services.
Dementia Care
Yes
We have experienced carers who can assist wth dementia care at home
Updated: 22 Feb 2016
Domestic Assistance
Domestic Assistance
Type
Self Funded
Subsidised
After Hours
Meals (Frozen)
Yes
No
Yes
Meals (Fresh or Hot)
Yes
No
Yes
Home Help (Housework/Cleaning etc.)
Yes
No
Yes
Shopping Assistance
Yes
No
Yes
Transport Assistance
Yes
No
Yes
Updated: 3 Mar 2014