Home help & personal care
Connies Angels Homecare Ltd
At a glance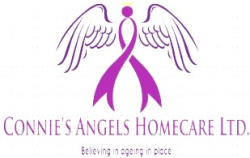 Name

Connies Angels Homecare Ltd

Category

Home help & personal care

Address

24 The Avenue
Paraparaumu
Paparparaumu 5032

Postal Address

24 The Avenue
Paraparaumu Beach
Paraparaumu 5032

DHBS

Capital & Coast, Hutt Valley

Phone

Email

Web

Facebook
Personnel
Manager

Connie Paul - 0800102463
Our mission is "To provide excellent standard of care by promoting successful ageing in place."

Connie's Angels Homecare is a boutique care service provider who prides ourselves in providing care to our clients in a consistent and personalized manner. We take time to really understand how to provide the best for our clients, to follow the everyday routine that clients prefer. We are not like the big agencies who have lots of different carers. We commit to our client and take time to find the best match, looking at skills, training, expertise and personality. As the owner, Connie often provides initial care herself to fully understand what is required and she is always there as a back-up.

Connie's Angels was born on February 2016. It is a locally owned company. Connie has 10 years of experience in the healthcare in NZ. Now that her children have their own families, she lives alone with her husband. It is about time that she expresses her values by setting up a home health service that can cater the high needs clients.
Testimonials
Testimonials
Connie is helping us with care. She is punctual, professional, considerate and compassionate and we are very pleased.

- CT & C
Connie was there when I needed her. I required extensive support, 7 days per week for several weeks. Connie got it sorted at short notice. Very happy with the service and her reasonable rates. Happy to recommend her.

- SJ
Connie is hard working, caring and pleasant. She tends to my needs with dignity and humour as well as encouraging me to get better and improve when I was not feeling well. I wish to give a picture of her caring nature and the way she deals with me-firm, caring and helpful. I wish her success in all she is doing.

- BVG,qsm
Connie's skills as a carer are manifold. She is empathetic, knowledgeable and most practical, all without being sentimental. She is thus able to provide efficient care in an encouraging context.

- LAP
Updated: 26 Aug 2021
Service Description
Service Description
Connie is a medical doctor by profession in the Philippines. She decided not to pursue her medical career in New Zealand. Instead, she studied and finished a postgraduate diploma in Health and Sciences major in Gerontology (study of the elderly) at University of Auckland last November 2014. Filipinos are very respectful to the elderly and she follows her culture. She provides good quality care bearing in mind the rights of the elder people. She is culture-sensitive as she has done cares with various cultures in NZ. She uses her medical profession to explain about their condition and the medications they are taking. She can be an advocate when discussing with the GP during consultation.
Updated: 26 Aug 2021
Meeting the needs of older people
Meeting the needs of older people
Our Services

Connie's Angels Homecare Ltd in Paraparaumu Beach, Paraparaumu is a boutique care service provider that offers quality and personalized health care. We go the extra mile to ensure that we pair you up with the perfect caregiver for you.

Unparalleled Support

The homecare setting now has evolved into a mixture of subsidized and private services. Most of the clients are qualified for a half an hour to a quarter of an hour government subsidized care. But it is not enough as the clients have more needs. Connie's Angels Homecare Ltd is happy to provide the other cares that free subsidy cannot provide such as cooking lunch or dinner, companionship to ensure safety while the main caregiver is away, hanging clothes or taking it from the line (elderly with arthritis). The services needed goes on. You can purchase a service per hour from us and you can think of the chores you need us to do for you.



The initial care process is often conducted by our founder, Connie. This is in order to ensure that we craft the perfect specialized everyday routine for you. Connie will be there to support you even after the initial care process is over.
Updated: 26 Aug 2021
Suburbs/Districts/Towns Serviced
Suburbs/Districts/Towns Serviced
Paraparaumu, Lower Hutt, Kapiti Coast, Otaki
Updated: 26 Aug 2021
Personal Assistance
Personal Assistance
Type
Self Funded
Subsidised
After Hours
Hospice
Yes
No
Negotiable
Carer Support
Yes
No
Yes
Work as relief carer when primary carer is on a break.
Personal Care (Showering, Dressing)
Yes
No
Yes
Showers, cooking meals, assisting in wearing support stockings. We provide sleep over as well
Nail Cutting (Home Visits)
Yes
No
No
If you are diabetic it is better for you to go to a podiatrist
Updated: 26 Aug 2021
Specialities or Areas of Expertise.
Specialities or Areas of Expertise.
Specialities or Areas of Expertise.
Status
Details
Community Health Nursing
Yes
Updated: 26 Aug 2021
Domestic Assistance
Domestic Assistance
Type
Self Funded
Subsidised
After Hours
Meals (Fresh or Hot)
Yes
No
Negotiable
Home Help (Housework/Cleaning etc.)
Yes
No
Yes
Vacuum carpet, clean and tidy the kitchen, washing laundry and iron them if needed.
Shopping Assistance
Yes
No
Negotiable
Transport Assistance
Yes
No
Negotiable
Updated: 26 Aug 2021
Payment
Payment
Payment
Status
Details
Payment required
Yes
Updated: 26 Aug 2021
Languages Spoken
Languages Spoken
Language
Status
Details
Spanish
Yes
Updated: 26 Aug 2021
13927