Elder Abuse Response Service (EARS)
At a glance
Name

Elder Abuse Response Service (EARS)

Category

Formal groups & organisations

Address

Nationwide

Regions

Capital & Coast, Northland, Waitemata, Auckland, Counties Manukau, Waikato, Bay of Plenty, Lakes, Tairawhiti, Taranaki, Whanganui, Hawke's Bay, Wairarapa, MidCentral, Hutt Valley, Nelson Marlborough, West Coast, Canterbury, South Canterbury, Southern (Otago), Southern (Southland)

Phone

Email

Web
Photos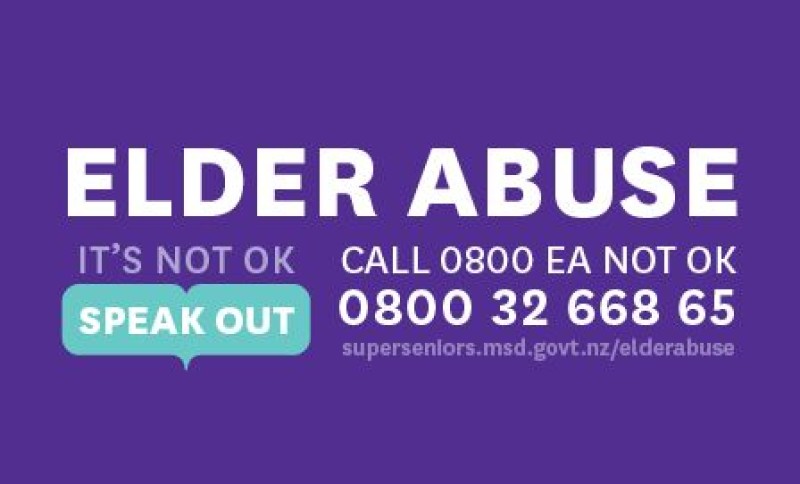 Reviews
Promoting elder abuse awareness
As many as one in 10 older people in New Zealand will experience some kind of elder abuse. Most abuse isn't recognised or is ignored.

The Office for Seniors helps raise national awareness of elder abuse and the Elder Abuse Response Service. We work with partners and stakeholders throughout New Zealand to support a better understanding of the signs of abuse.

This awareness activity includes a campaign to mark World Elder Abuse Awareness Day on the 15th of June each year.

Is a confidential 24 hour, free phone, helpline, 0800 32 668 65. Registered nurses will listen and advise anyone who needs information or support about elder abuse – whether they are enquiring for themself or whether they are someone who's concerned it might be happening to a friend or family member. Callers will then be referred to local elder abuse services to get the help they need.
Service Description
Service Description
If you have concerns about how you are being treated or feel frightened or at risk, help is available. It's free, and available 24 hours a day.

Freephone: 0800 32 668 65
Text: 5032
Email: support@elderabuse.nz

If you are in immediate danger, call 111 and ask for the Police.
Updated: 2 Jun 2022
After Hours
After Hours
After Hours
Status
Details
After Hours
Yes
When you call the helpline, you'll be put in touch with a trained coordinator who works in your region. The coordinator will: ask for consent to assess your situation work with you to make sure you are safe and help you manage the risk of abuse or neglect identify and work with other organisations who can help and support you, including police, health providers, lawyers, banks and government agencies.
Updated: 2 Jun 2022